(CNN)Debbie Matthews was "petrified" of horses growing up. She would turn down the opportunity to attend race days with her father and had no interest in the sport.
But all that changed when life dealt her the cruelest of hands.Matthews suffered the tragic loss of her baby and was later diagnosed with post-traumatic stress disorder (PTSD). She continues to battle with mental health problems today. However, in the depths of her struggles in 2015, a freak meeting with a horse in her own back garden proved to be a tonic. A thoroughbred from a nearby livery yard began regularly escaping and would turn up at the bottom of her garden almost every morning to eat from the compost heap.Read More"I ended up talking to him from afar and he just came to me," she told CNN Sport from her home in Somerset, England. "I spent that whole summer, every day just talking to him. I would go out at 5 a.m. in the morning and talk to him."It was such a hard thing to understand, why that had happened to me, there were just no answers and I felt no one understood. I was upset, I was cross and he became my therapy."READ: Meet the racehorse superheroesREAD: Meet the schoolteacher who handicapped the world's biggest races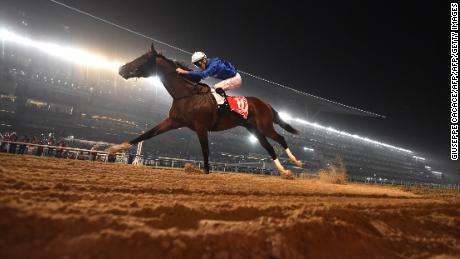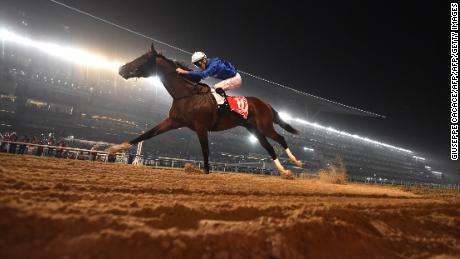 JUST WATCHEDDubai World Cup returns with record $35M purseReplayMore Videos …MUST WATCH (10 Videos)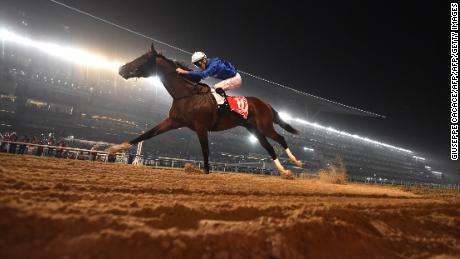 Dubai World Cup returns with record $35M purse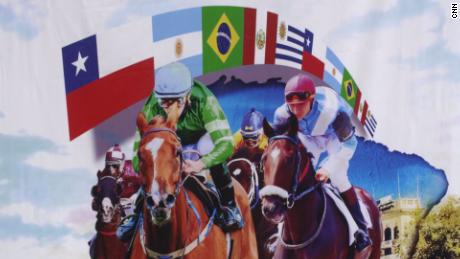 Gran Premio Latinoamericano: South America's showpiece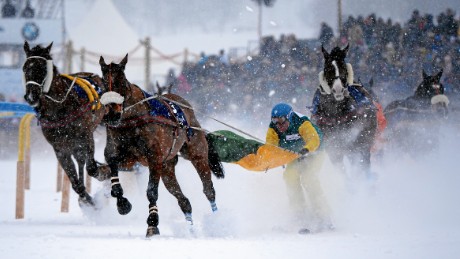 Skijoring: The crazy cocktail of skiing and horse racing
St. Moritz's beautiful and glamorous White Turf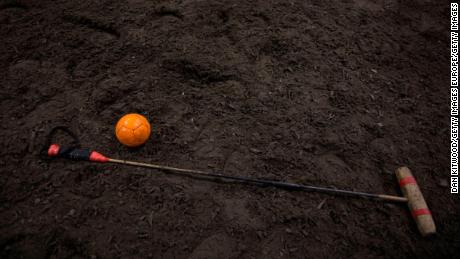 Winning Post's Aly Vance learns to play polo in Uruguay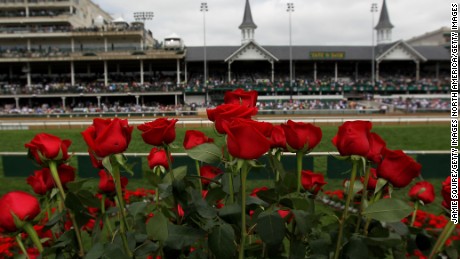 Inside the 'most exciting 2 minutes in sports'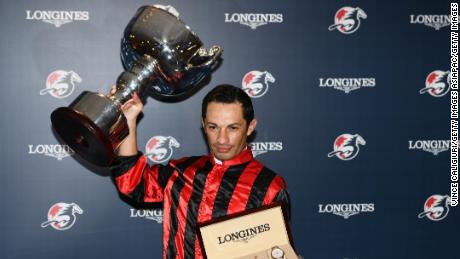 The Hong Kong Jockey Championships
Training the "horse America bred" in Kentucky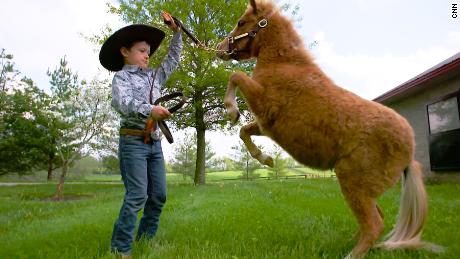 The Laytown Races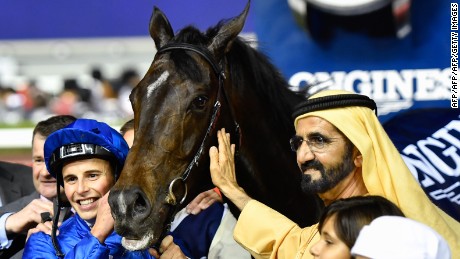 Five reasons why Winx has been unbeatable'Social anxiety and panic attacks'Those early encounters led to an unlikely sanctuary in horses and the world of horse racing. Matthews' growing love for horses escalated in 2017 when, pregnant with her youngest child, she watched champion race horse Altior jump for the first time on television. Impressed by his magnificent ability, she started following his races and it was her desire to see Altior jump in the flesh that pushed Matthews to attend Ascot in January 2019 — the first time since her struggle with mental health.Watching her beloved horse parade offered Matthews a rare therapeutic experience but she never felt entirely happy at the track."Racecourses are not generally environments I'm comfortable in because I suffer with social anxiety, panic attacks and all sorts of things," she said. "It's quite a chaotic environment, it can be very busy, it can be very noisy. Generally you get a lot of groups going, more male-orientated, so it can be hard for people on their own. It can be a volatile environment at times."She is now on a mission to make racecourses more accessible to others with invisible illness.
Altior, Matthews' hero, racing at Cheltenham in January 2019. Before heading off alone to Ascot, Matthews had posted a simple message on Twitter explaining her decision to face her fears and attend the meeting.Unbeknown to her, the tweet was shared hundreds of times and her story was published in the Racing Post.She subsequently received thousands of messages from people online, all inspired by her bravery and many confirming she was not alone in her fear of racetracks. Champion trainer Nicky Henderson sent a message of support and he invited Matthews to meet her hero Altior, a trip she will forever treasure.
So, I am not going to be hiding in the safety of my home today watching @itvracing and saying "I wish I had gone". I am off to @Ascot, my first time there, and I am going on my own. Just a day out for most, a massive step for me… #socialanxiety #MentalHealthAwareness #Altior pic.twitter.com/kddVD8NDny
— Novice Filly (Debbie Matthews) (@novicefilly) January 19, 2019 #GoRacingGreen initiative Overwhelmed by the reception she received, Matthews attended race meetings more regularly and was convinced there was a need for helping others with mental health issues.Having worked in accessibility tourism, where she consults businesses on how best to cater for visitors with both physical and mental disability, Matthews felt confident in transferring her knowledge to racetracks.
New research on horse eyesight could improve racecourse safety"Courses are very good at marketing toward the groups but not to the massive sector of people who are facing some invisible illness which is preventing them from going," she said. With that in mind, she set up #GoRacingGreen, an initiative that offers support to vulnerable people when attending race days and create a community where people feel safe. Thanks to a donation made by trainer Tom Lacey, Matthews was able to buy branded hats to help spread awareness of her cause — profits from which are split between Samaritans and the re-homing of racehorses. READ: How to own a racehorse: Equine economics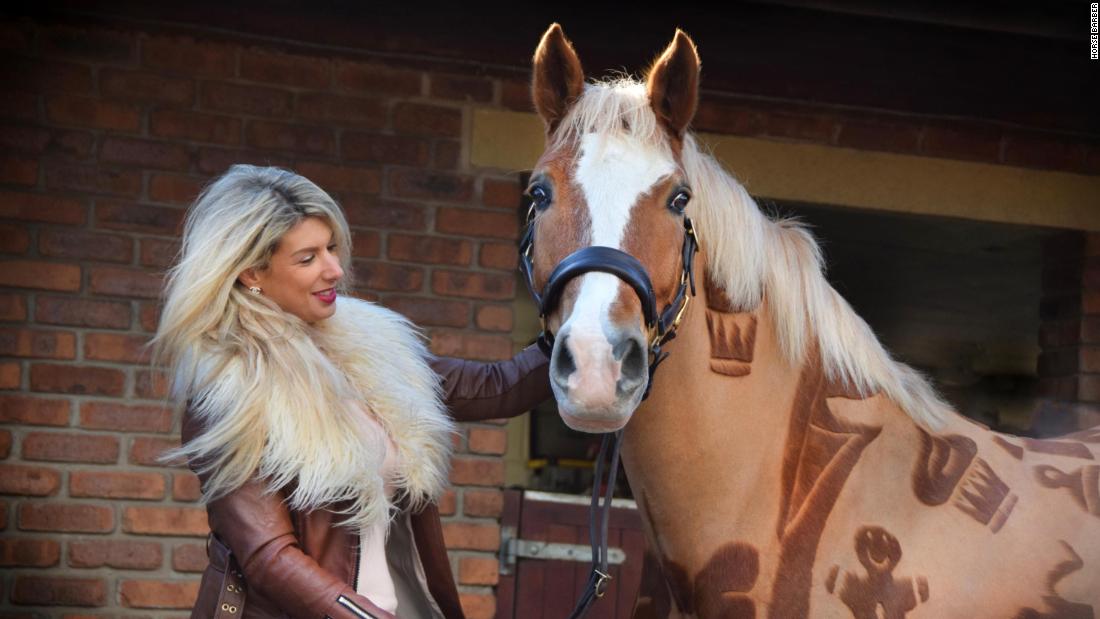 Photos: Amazing equine artwork Melody Hames combines her two loves — art and horses — to create striking designs by clipping her equine subjects' coats. Hide Caption 1 of 6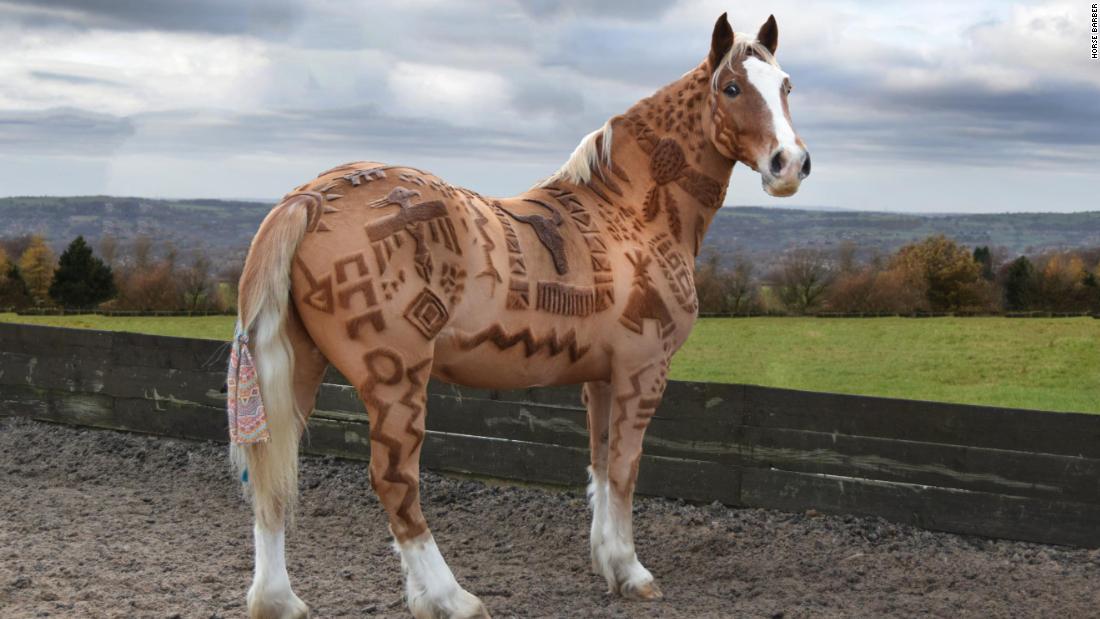 Photos: Amazing equine artwork Dubbed the "Horse Barber," Melody has set up a business clipping creative designs. She also takes pride in educating others about her skill and loves to inspire others to share her craft. Hide Caption 2 of 6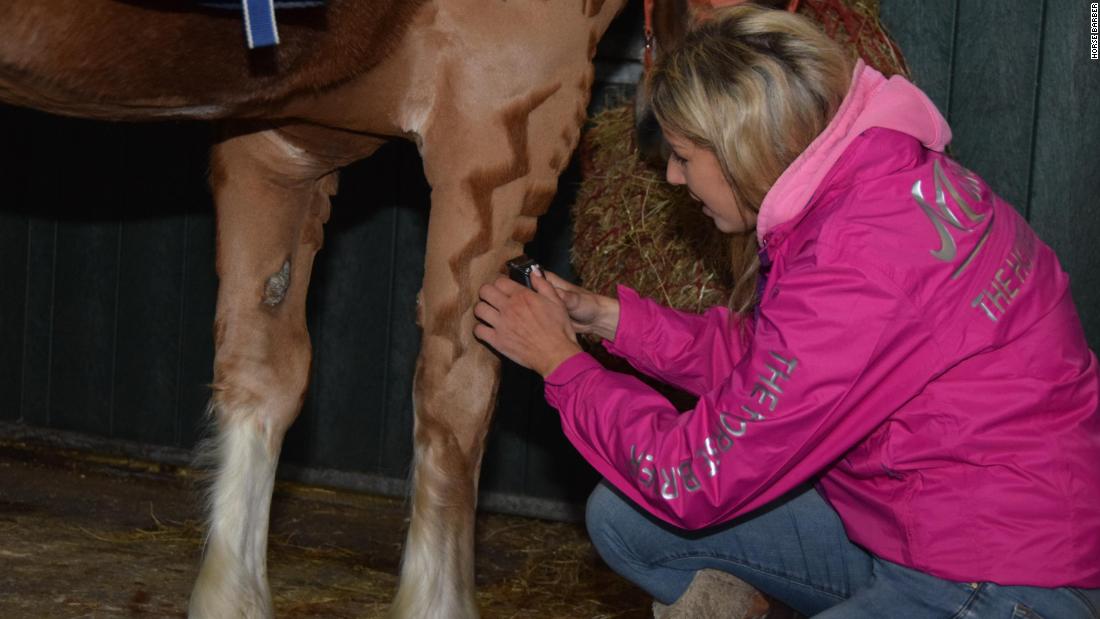 Photos: Amazing equine artwork Melody started clipping as a child but identified a business model when pictures of her work began to be shared on social media. Hide Caption 3 of 6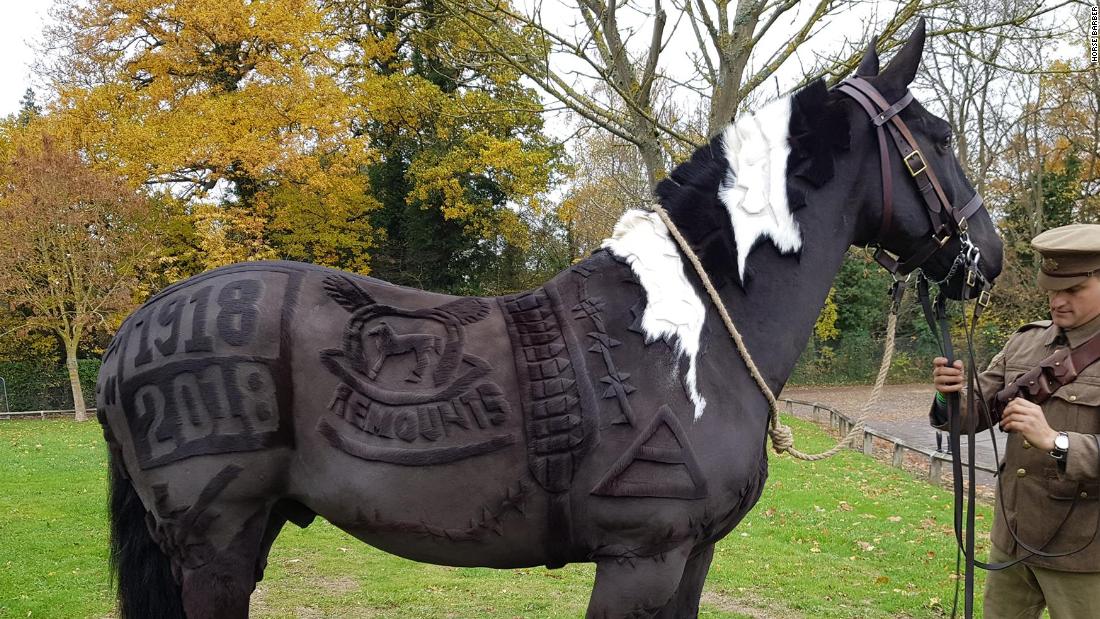 Photos: Amazing equine artwork In November 2018, she was invited to create a design to mark the armistice centenary — 100 years since the end of World War I. The piece took six weeks of research and the physical clip took 10 hours to complete. Hide Caption 4 of 6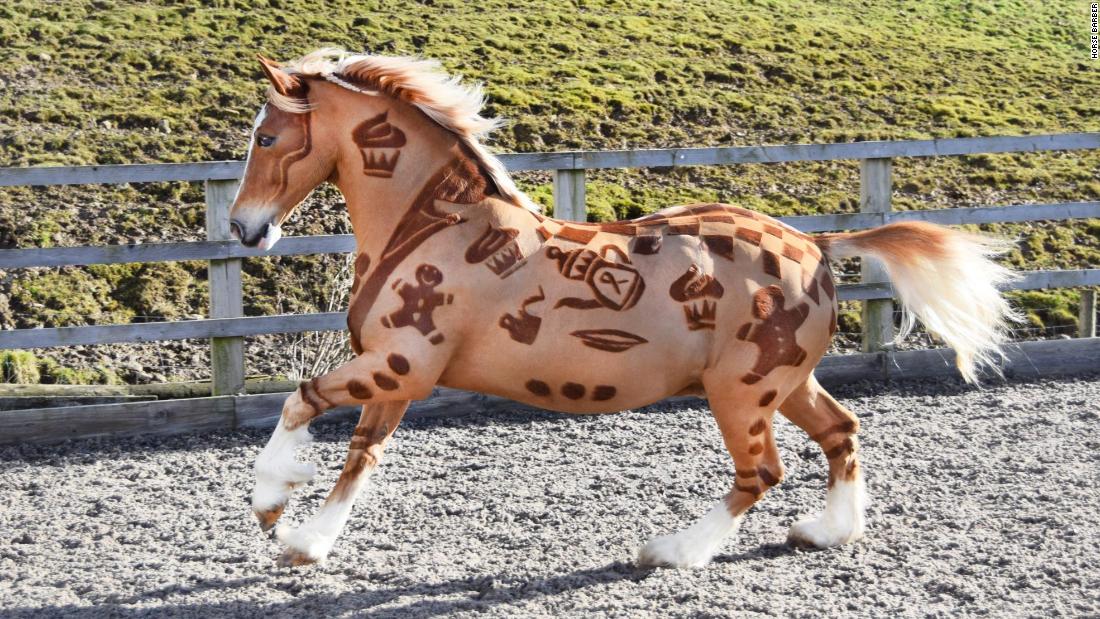 Photos: Amazing equine artwork Melody can't pick a favorite design but some do mean more than others. In March 2018, she did a charity clip for MacMillan Cancer Support — in memory of a close friend who had passed away. Hide Caption 5 of 6
Photos: Amazing equine artwork The design graduate insists welfare is at the center of her work. She assures that horses have been clipped for more than 100 years and that her subjects are not harmed by her art. Hide Caption 6 of 6





'Couldn't live without it'Using horses for therapy has gained credibility over the years although it still lacks extensive research from within the scientific community. However, Matthews knows first-hand what a difference horses can make.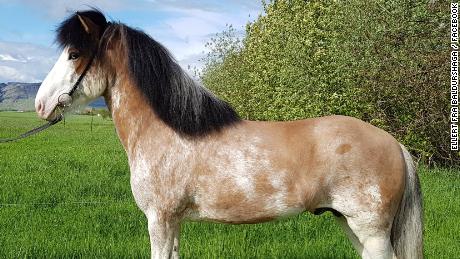 New horse coat color pattern called 'ýruskjóttur' discovered in Iceland"People say they couldn't manage without it. Not everyone goes racing for the drinking and the betting," she said. "There are a lot of people who want to go for the horses." She is now working on a package in which she will advise racecourses on how to utilize existing facilities to help those with mental illness, including quiet areas and safe places for people to go for a bit of peace and quiet. "It's not actually asking them to build anything or doing anything special," she said, explaining how the initiative shouldn't have to cost racetracks a penny."The financial reward will be that there are more people going racing, so hopefully it's a win-win situation."
Photos: 10 of the most picturesque racecoursesMeydan Racecourse, Dubai – Boasting the world's first five-star trackside hotel, restaurants and a museum, Dubai's Meydan Racecourse is a first-class racing destination.Hide Caption 1 of 10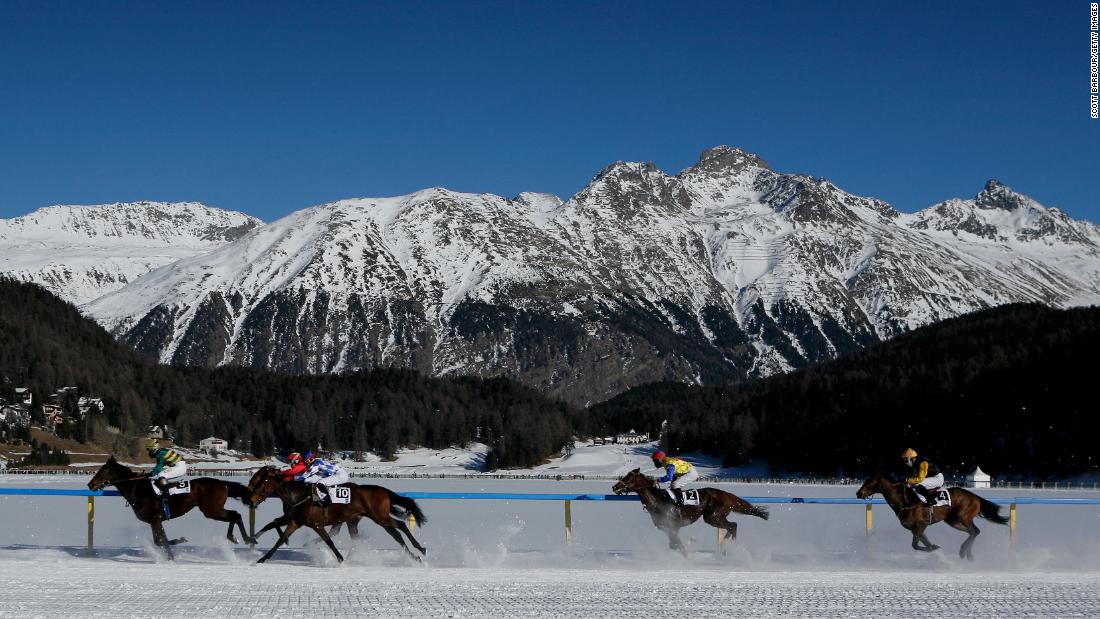 Photos: 10 of the most picturesque racecoursesSt. Moritz, Switzerland – St. Moritz is known for world-class skiing, glitz, glamor and…horse racing? The venue for the White Turf event, held three days a year, isn't your typical racecourse. Instead, it's held on a frozen lake.Hide Caption 2 of 10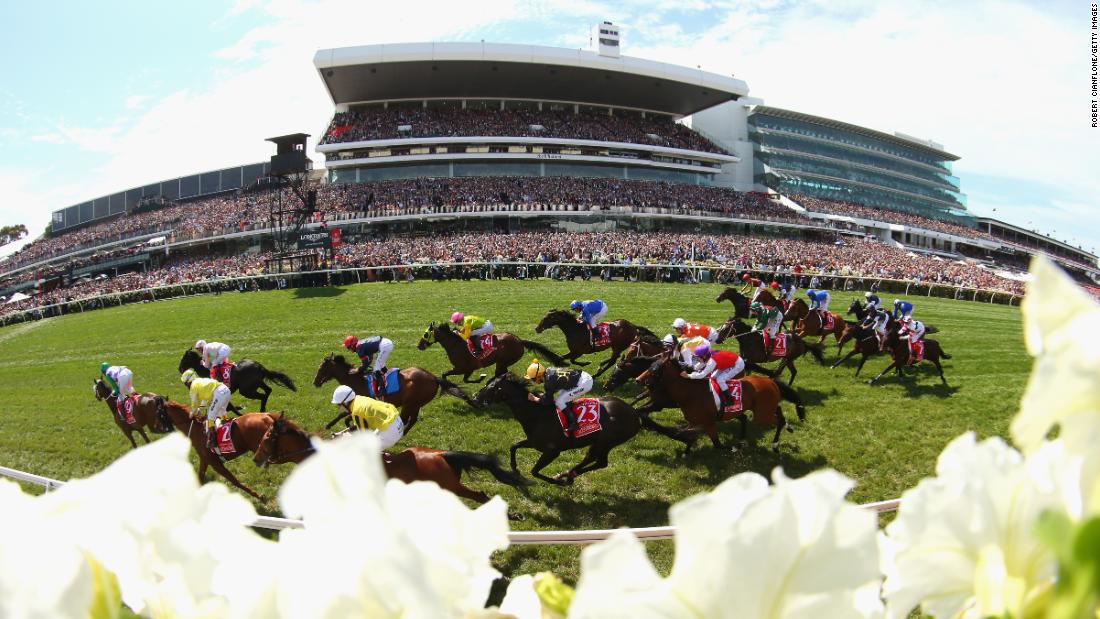 Photos: 10 of the most picturesque racecoursesFlemington Racecourse, Australia – Flemington is Australia's oldest metropolitan racecourse and home to the famous Melbourne Cup. The revamped venue was first used in 1840 when the town of Melbourne was just five years old. Hide Caption 3 of 10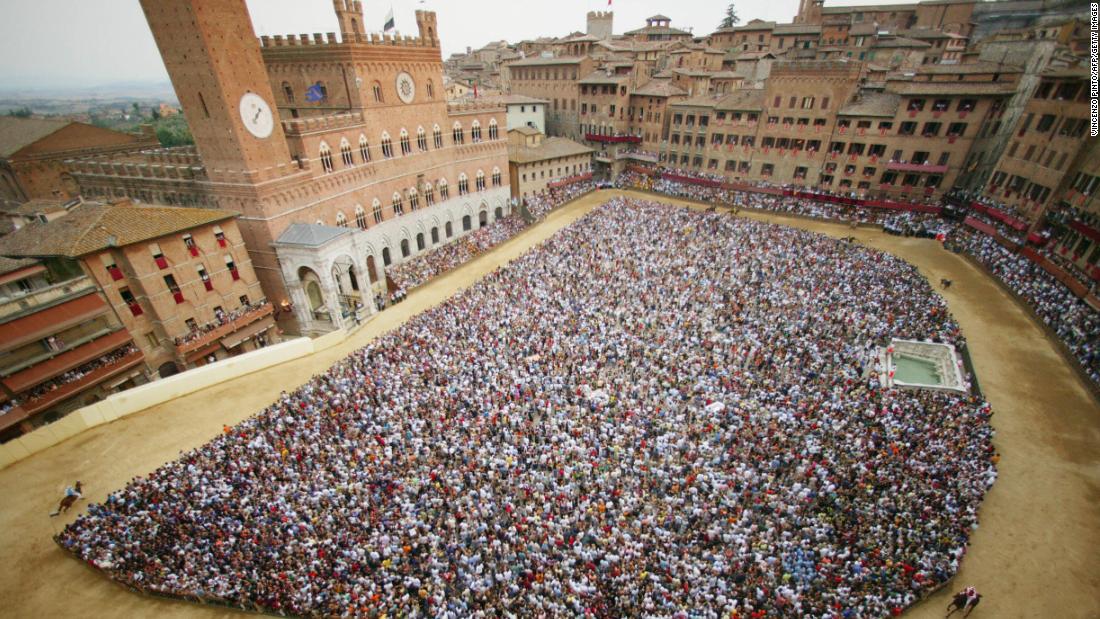 Photos: 10 of the most picturesque racecoursesPiazza del Campo, Italy – Simply put, there is no racecourse in the world quite like the Piazza del Campo in Italy. Its origins date back to medieval times when jockeys rode buffalo. The piazza is packed with spectators with racing around the outside.Hide Caption 4 of 10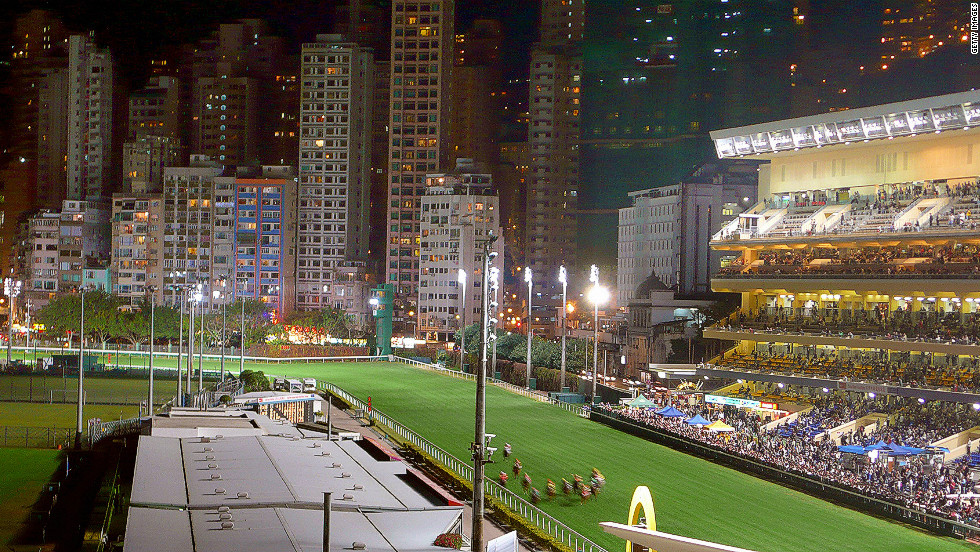 Photos: 10 of the most picturesque racecoursesHappy Valley, Hong Kong – Happy Valley Racecourse was built in 1845 to provide horse racing for expat Britons living in Hong Kong. It's surrounded by giant apartments and skyscrapers — giving visitors an unusually beautiful scenic view.Hide Caption 5 of 10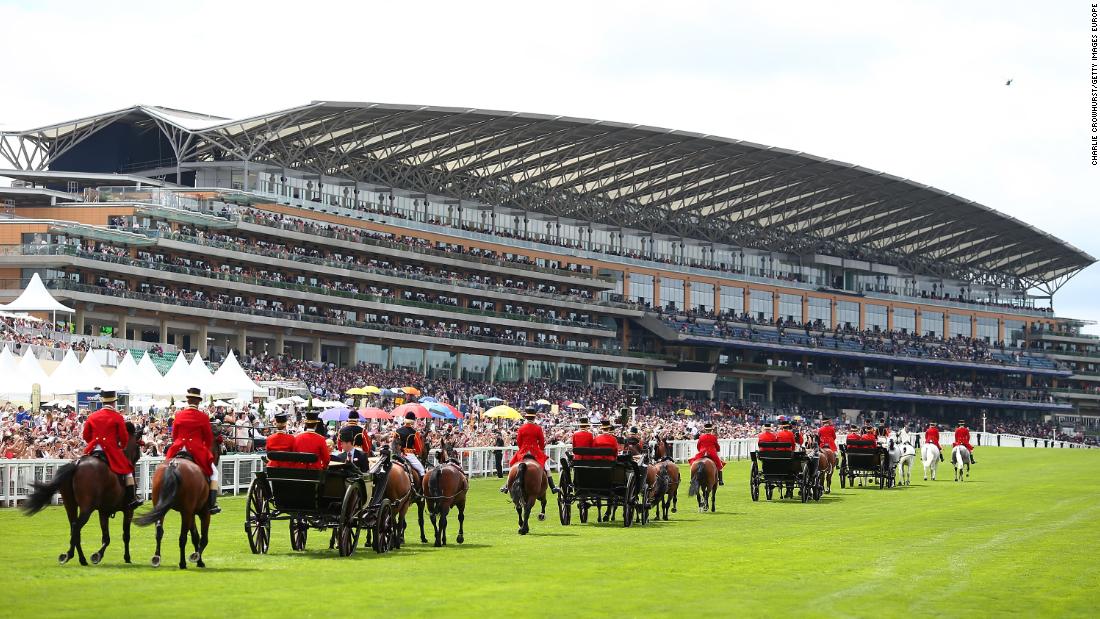 Photos: 10 of the most picturesque racecoursesAscot, England – Just the name "Ascot" conjures visions of royalty, elegance, high fashion and world-class racing. The racecourse was opened in 1711 by Queen Anne, and Royal Ascot is still one of the most celebrated meetings on the calendar.Hide Caption 6 of 10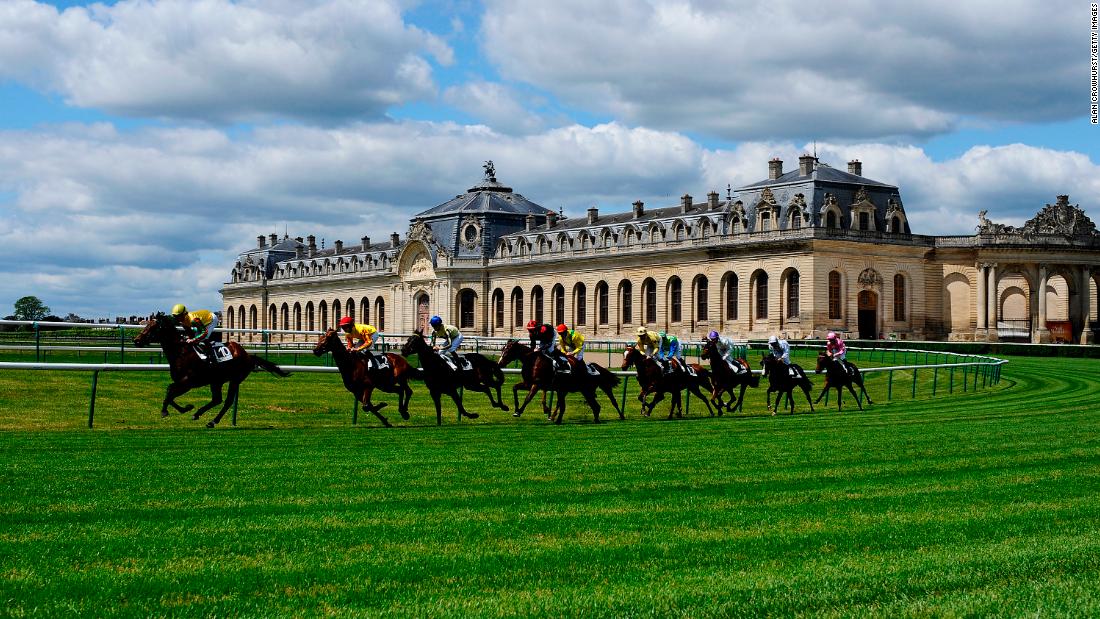 Photos: 10 of the most picturesque racecoursesChantilly, France – Spectacular and timeless, historic Chantilly sits in front of the 16th-century Chateau de Chantilly and the majestic Great Stables (pictured) amid forests 30 miles north of Paris.Hide Caption 7 of 10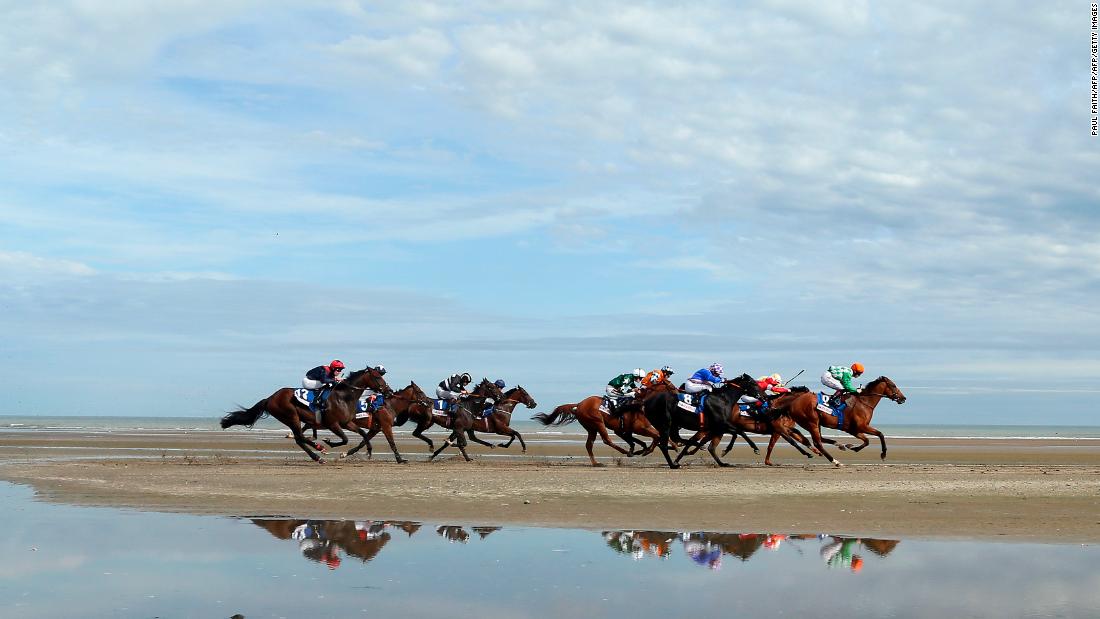 Photos: 10 of the most picturesque racecoursesLaytown Races, Ireland – Laytown Races is the only official beach race in Europe. Situated on the Irish coast, the 150-year-old tradition attracts more than 5000 regular visitors every year. Horses race along the sands on a makeshift course. Hide Caption 8 of 10
Photos: 10 of the most picturesque racecoursesGoodwood Racecourse, England – The rolling Sussex countryside unfolds in front of one of the most iconic venues in flat racing. Goodwood has hosted racing since 1802 and offers the perfect setting for the famous Glorious Goodwood meeting. Hide Caption 9 of 10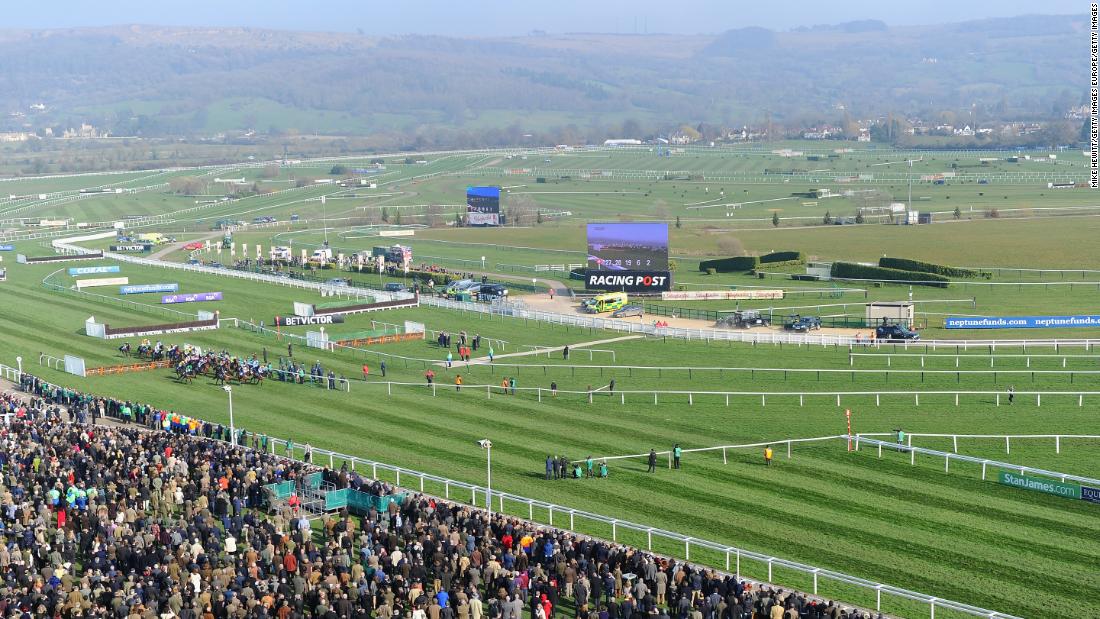 Photos: 10 of the most picturesque racecoursesCheltenham Racecourse, England – Cheltenham is a shrine to jump racing against the idyllic backdrop of the Cotswold hills. It hosts the prestigious Cheltenham Festival every March, the highlight of the world's jump racing calendar. Hide Caption 10 of 10









Courses from across the UK have already registered interest in her idea and Matthews is keen to secure sponsorship. Nottingham Racecourse in England, was very first track to adopt the initiative. It plans to setup a specialized room for racegoers in need of some time away from the crowds and will train staff in how best to deal with a variety of mental health conditions. "The real intention of this is that it becomes a consistent message and a consistent 'service'," Matthews wrote in her blog."So if people planning a day at the races see that a course is supporting #GoRacingGreen, they know exactly what staff training has been carried out, and what they can expect in terms of facilities and support at that course — a huge factor in planning their day out."
Source Link:
https://www.cnn.com/2019/04/24/sport/mental-health-horse-racing-altior-therapy-winning-post-spt-intl/index.html
[0.550047]
Comments
comments