Hong Kong (CNN Business)In 1979, 22-year-old Neil Vining spotted a job advertisement that took him by surprise.
Japanese automaker Honda was hiring American workers for its first plant on US soil. "It was a bit of shock that Honda decided to come to Ohio," says Vining, now a chief engineer at Honda's Marysville auto plant. Back then, Marysville was a quaint, rural town with about 7,000 people. There was one high school, a few mom-and-pop stores and a single drive-through restaurant. It was a world away from the gritty, industrial US motor heartland of Detroit.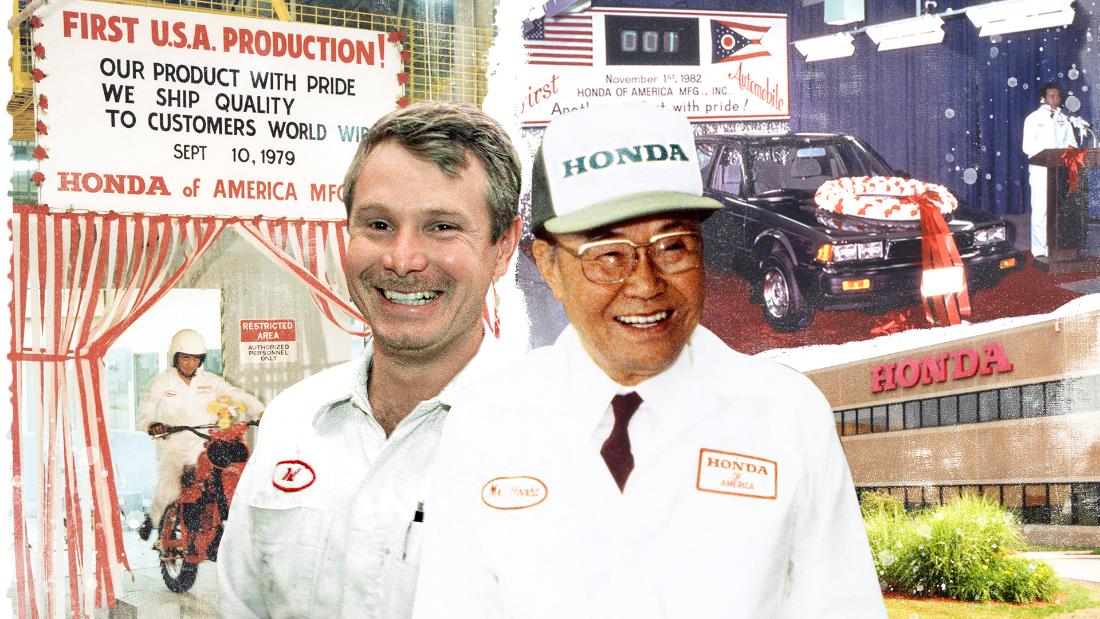 Photos: How Japan met America in rural OhioNeil Vining, left, was one of 64 original hires made when Honda set up its first, ground-breaking plant on US soil in 1979.Hide Caption 1 of 12
Photos: How Japan met America in rural OhioA local newspaper announces Honda's intention of setting up a manufacturing plant in Marysville, Ohio.Hide Caption 2 of 12
Photos: How Japan met America in rural OhioSoichiro Honda, the founder of Honda Motor, inspects plans for the construction of the new motorcycle plant in Marysville.Hide Caption 3 of 12
Photos: How Japan met America in rural OhioShige Yoshida, American Honda's retired vice president, was tasked with exploring the possibility of setting up a Honda production plant on US shores in the 1970s.Hide Caption 4 of 12
Photos: How Japan met America in rural OhioProduction began at Honda's Marysville motorcycle plant on September 10, 1979. The CR250R motocross bike was the very first model to be built.Hide Caption 5 of 12
Photos: How Japan met America in rural OhioHot off the assembly production line, a Japanese worker showcases the CR250R motorcycle model at Honda's Marysville plant.Hide Caption 6 of 12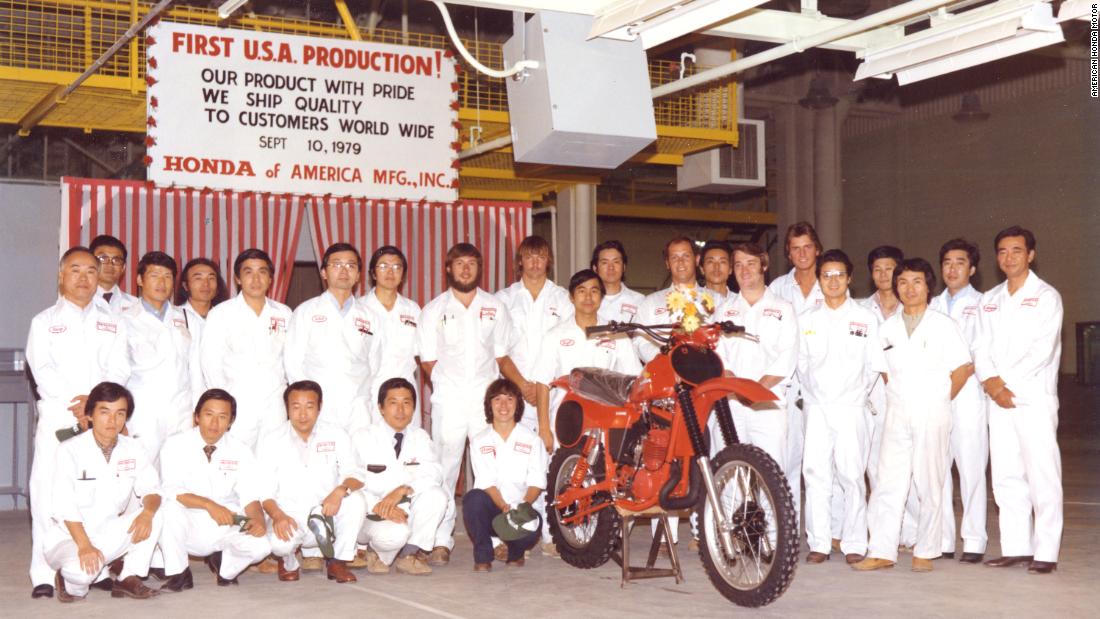 Photos: How Japan met America in rural OhioAssociates pose alongside the CR250R motorcycle model at Honda's first motorcycle plant. Hide Caption 7 of 12
Photos: How Japan met America in rural OhioNeil Vining was hired to work in the Marysville motorcycle plant in Ohio in 1979Hide Caption 8 of 12
Photos: How Japan met America in rural OhioThis Honda Accord, also known as VIN 001, was the first product to come out of the Marysville Auto Plant in 1982.Hide Caption 9 of 12
Photos: How Japan met America in rural OhioThe front of the Marysville motorcycle plant where Neil Vining and Shige Yoshida first worked in 1979.Hide Caption 10 of 12
Photos: How Japan met America in rural OhioOhio Gov. James A. Rhodes and Honda Motor President Kiyoshi Kawashima attend the Marysville auto plant groundbreaking ceremony in 1980.Hide Caption 11 of 12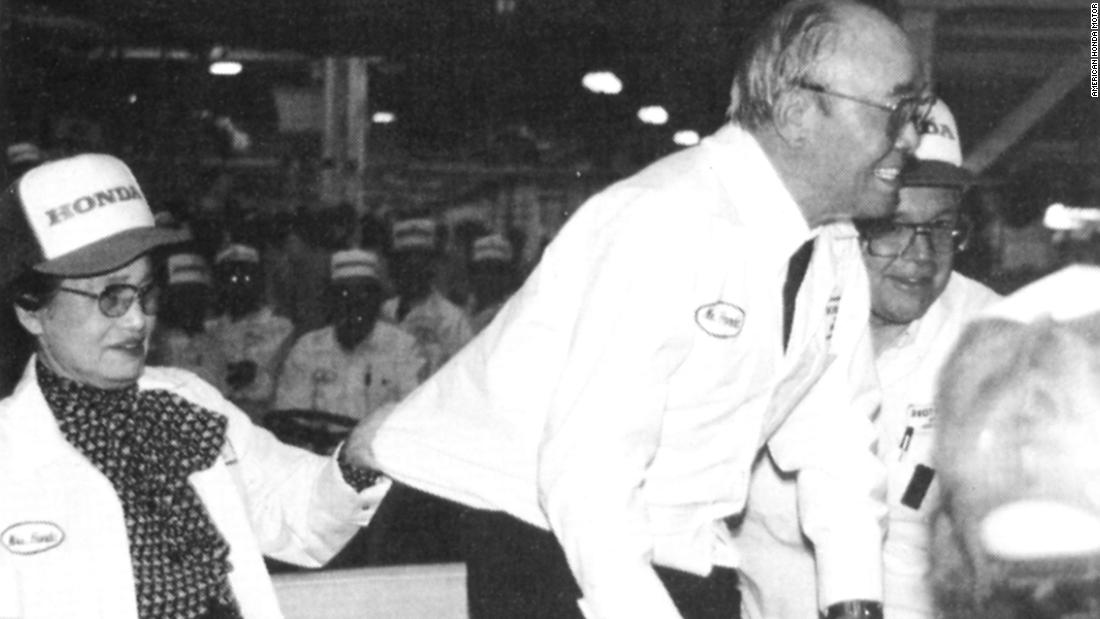 Photos: How Japan met America in rural OhioSoichiro Honda's wife clutches his shirt to prevent him falling while he bows and greets associates at the Marysville plant. Hide Caption 12 of 12





Vining, who was working for a small engine manufacturer, says getting a job at the new Honda plant felt like the opportunity of a lifetime. "Honda was a household name," he says. "We recognized it for its quality and reasonable price."Vining was one of the 53 American and 11 Japanese original hires at Honda's (HMC) first US motorcycle plant, which expanded to include an auto plant in 1982. Since then, Japan has become deeply embedded in the US auto economy.Read MoreToday, Honda, Nissan (NSANF), Toyota (TM) and Subaru (FUJHF) all operate manufacturing plants across the United States, with Toyota and Mazda planning a new $1.6 billion auto assembly plant in Alabama that will employ around 4,000 people when it opens in 2021. Last year, Japanese car makers employed 1.6 million Americans, according to the Japan Automobile Manufacturers Association. While Japanese car makers claim to build one third of all vehicles in the United States, and purchased $61.2 billion in US auto parts in 2018, many of those cars use imported Japanese parts, which were worth $16 billion last year. President Donald Trump sees that as a problem. In May, he declared imported auto parts and vehicles a national security threat and threatened to slap up to 25% tariffs on them. That has left the future of Japan's auto industry on American soil looking uncertain. As Trump and world leaders descend on Osaka, in Japan, Thursday for the G20, tariffs and the trade war with China will be high on the agenda. But this isn't the first time Japanese motor brands have been threatened by a trade war. In the 1980s, the United States also hit Japanese automakers with tariffs designed to bring motor manufacturing back to America.Those measures only helped Japanese brands like Honda thrive.Made in JapanWhen Honda arrived in the United States, the "made in Japan" label was tarnished by bad memories of World War II and associated with poor quality workmanship, due to low levels of economic development in Japan in the post-war years. "[Japanese automakers] had to overcome a lot of prejudice and mockery," says Wanda James, author of "Driving from Japan: Japanese cars in America." During the 1950s, however, quality Japanese products such as the Minolta and Pentax cameras entered the United States market, shifting American attitudes.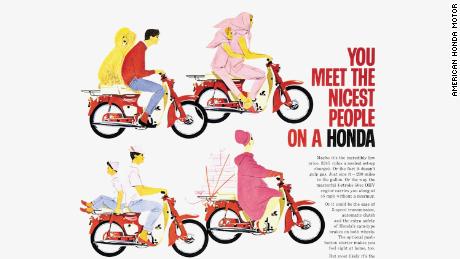 Honda's 1963 marketing campaign dubbed 'You meet the nicest people on a Honda' aimed to disconnect motorcycles from the rugged, counterculture biker image embodied by US brands.In 1959, the American Honda Motor Co. was established in Los Angeles and, after partnering with a few local dealerships, began importing small bikes such as the Honda 50 to the United States. By the 1960s, American Honda sales were shooting through the roof, going from $500,000 in 1960 to $77 million in 1965 — fueled by a 1963 marketing campaign, sloganed "You meet the nicest people on a Honda," which inspired the Beach Boys' hit song "Little Honda." By deliberately attempting to disconnect motorcycles from the counterculture image embodied by acolytes of the Harley-Davidson brand, the campaign created a new market, selling Hondas as a lightweight, lower-cost option to people who had never before thought of buying a motorcycle. Oil crisis … or a blessing?The next decade gave Honda another big break. In 1973, tensions between the United States and the Arab world sparked an oil embargo that sent gas prices soaring. The embargo was lifted in 1974, but high oil prices remained. Four Honda facts 1948
Soichiro Honda and Takeo Fujisawa establish Honda Motor Co., Ltd. In 1949, they introduce their first product, the "Dream" D-type motorcycle.
1959
Honda establishes its first overseas subsidiary in Los Angeles, California.
1974
Honda engineers create a CVCC engine, making the Honda Civic the first vehicle to meet the strict emissions standards of the US Clean Air Act — a law established in 1970 against air pollution.
1982
The Accord became the first car from a Japanese manufacturer to be produced in the US at Honda's Marysville Auto Plant in Ohio.
Source: Honda As Americans started seeking smaller, more fuel-efficient vehicles, Japanese car makers had an advantage over gas-guzzling US brands. "That's what sold a lot of the US public to the Japanese brands to this day," says David Emerling, the director of the Center of Automotive Research (CAR) in Ohio.Sales were also supercharged by the introduction of the 1970 Clean Air Act, which restricted the amount of lead in gasoline. In 1974, Honda engineers created a new type of combustion engine, which made the Honda Civic the first vehicle to meet the strict new limits on auto emissions, as the car could run on both leaded and unleaded petrol. Honda bosses decided to expand the business and, in 1975, Shige Yoshida, then vice president of American Honda, was dispatched to scout out a location for an automobile plant. The goal was to source parts locally and make products suited to local consumers. Yoshida says Honda Motor chose Marysville owing to the friendly, hardworking locals, presence of a testing track in East Liberty, Ohio, and a favorable investment climate. As the plant prepared to open, Yoshida, now age 87, started visiting auto factories in Detroit to get a feel for how Americans operated. "I really liked how people-oriented one manager I met seemed," says Yoshida. "He walked through the production aisles greeting and smiling at everyone."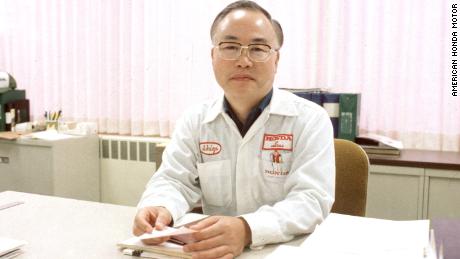 Shige Yoshida was tasked with exploring the possibility of setting up a Honda production plant on US soil in the 1970s.Later in the 1980s, Yoshida welcomed US automakers to visit the Honda plants in Marysville. The collaboration, he says, was a good thing for the industry. "Everyone saw Honda as an advantage, not a threat," says Emerling. "Because they knew that job creation in a very rural state in Ohio would have an immense impact on the economy." Trade war of the 1980sWhen recession hit the United States in the 1980s, Japan was the world's second largest economy. Many Americans feared they were about to be overtaken. After President Ronald Reagan took office in 1981, the United States began pressuring Japan to open its market to American companies and reduce the trade imbalance between the countries — much as Trump today is trying to reduce the trade deficit with China, now the world's second largest economy.A trade war began between Washington and Tokyo, as the US administration introduced Voluntary Export Restraints (VER), which capped the number of imported vehicles to the United States. In 1981, Japanese automakers were only allowed to export 1.68 million vehicles to America. Before the quotas were introduced they had exported 2.4 million in 1980, according to JAMA.
Honda produces its 3 millionth vehicle on January 21, 1993, a special Anniversary Accord model to commemorate 10 years of US auto production in Marysville, Ohio.American consumers, caught up in the battle for global economic dominance, bore the cost by paying more for Japanese cars. A similar effect is being seen today, with retailers reporting that tariffs on Chinese products are driving up prices on consumer goods at home.To avoid the quotas of the 1980s, more Japanese automakers decided to move manufacturing on to American shores and establish alliances with domestic car makers.Nissan set up its first motor manufacturing plant in 1983 in Tennessee and Toyota set up shop in Fremont, California, in partnership with General Motors, in 1986. Faced with import restrictions, Japanese automakers also pivoted to selling more lucrative, luxury vehicles, such as the Honda Acura and Toyota Lexus, which competed with the medium-sized cars that had traditionally been the bread-and-butter of American brands.As Japanese automakers adapted to the political climate, they flourished. Almost one in three passenger cars sold in the United States was made by a Japanese-owned firm in 1991. By 2007, Toyota had overtaken General Motors (GM) to become the world's leading automaker. New automotive realityFast forward 12 years and Japanese manufacturers are once again under the gun. But while Trump is threatening tariffs to boost the US economy, experts say the President's tactics could actually deal a devastating blow to American consumers and workers.
Production began at Honda's Marysville plant on September 10, 1979. The CR250R motorcross bike was the first model to be built."With history as a guide, a tight quota on Japanese auto produced cars or auto parts will hurt not just American consumers, but also American firms," says Thomas J Prusa, an economics professor at Rutgers University. "That's because many American jobs are tied to the supply chain that comes from Japan."It's not just jobs that are at risk.
With history as a guide, a tight quota on Japanese auto produced cars or auto parts will hurt not just American consumers, but also American firms. —Thomas Prusa, Rutgers University
Currently, Japanese automakers fund research into manufacturing and advanced technologies such as artificial intelligence in tech hubs such as Silicon Valley. Tariff costs could squeeze budgets for such initiatives, says Manny Manriquez, general director of the Japan Automobile Manufacturers Association USA."The US auto industry can't function and thrive if it's cut off from international trade," adds Manriquez. "Trade restrictions and continued uncertainty will not just weaken the entire automotive industry, they could result in lost opportunities for the US."Last year, in a bid to cement his "America First" strategy, Trump withdrew from the Trans-Pacific Partnership agreement, a trade deal between the United States and 11 other countries. Since then, Tokyo has spearheaded a revised pact with the remaining signatories. And in 2019, Japan's free trade agreement with the European Union — which benefits automakers — also took effect. Such deals position Japan well for doing business with partners outside America. Toyota Motor said that Trump's position "sends a message to Toyota that our investments are not welcomed, and the contributions from each of our employees across America are not valued."The company added that it hopes trade negotiations can be resolved quickly.Made in AmericaSince setting up shop in the United States, Honda has crossed many milestones. It produced its 25 millionth US-made car in 2018, and employs more than 31,000 people in the United States to make products that include cars, trucks, vans, SUVs, motorcycles, lawn mowers, and even robots.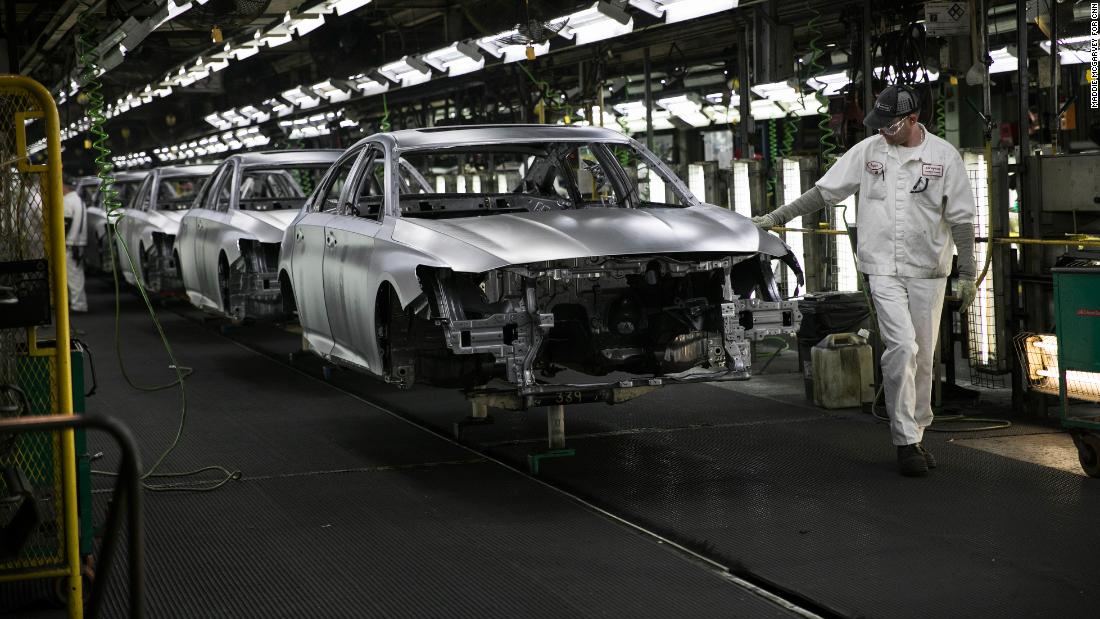 Photos: Inside Honda's historic car plant in the USA worker inspects cars on the line in the welding department at the Honda plant in Marysville, Ohio.Hide Caption 1 of 11
Photos: Inside Honda's historic car plant in the USA clock showing the time in Ohio, California and Japan hangs in the Heritage Center in Marysville. Honda Motor chose Marysville owing to the friendly and hardworking locals, presence of a testing track at the Transport Research Center in East Liberty, Ohio, and a favorable investment climate.Hide Caption 2 of 11
Photos: Inside Honda's historic car plant in the USNeil Vining was one of the 64 original hires at Honda's first motorcycle plant in Marysville. He is now a chief engineer. He says it's Honda's work culture, which challenges workers to keep growing, that made him want to stay. "Mr. Honda believed ordinary people could do extraordinary things," Vining said.Hide Caption 3 of 11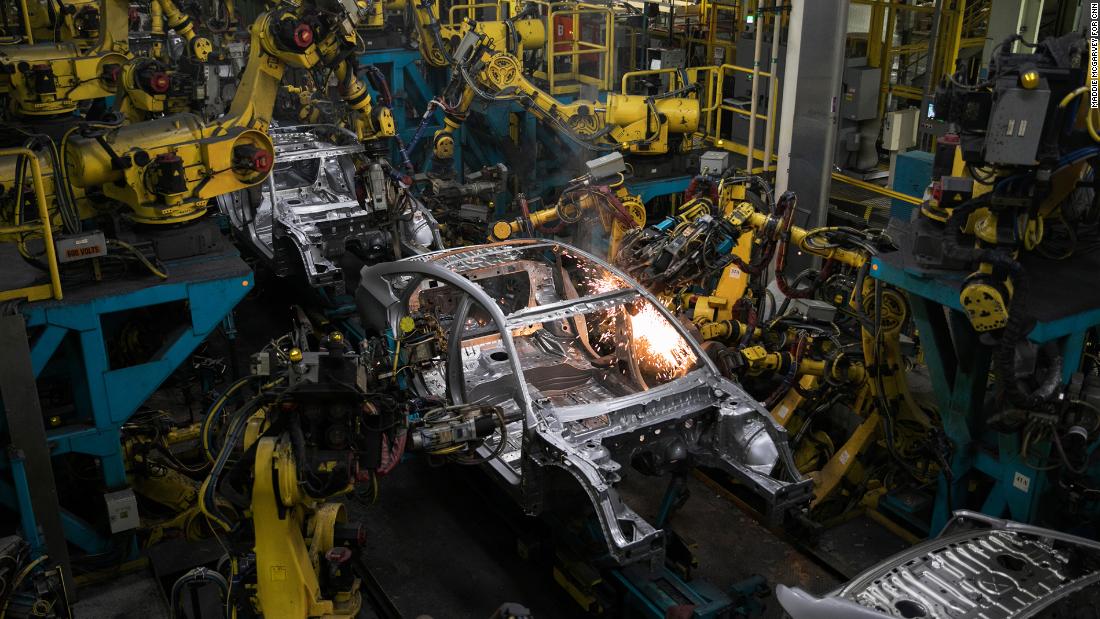 Photos: Inside Honda's historic car plant in the USWorkers at Honda learn the "Honda Way" — an engineering and management ethic that emphasizes efficiency and constant innovation. Hide Caption 4 of 11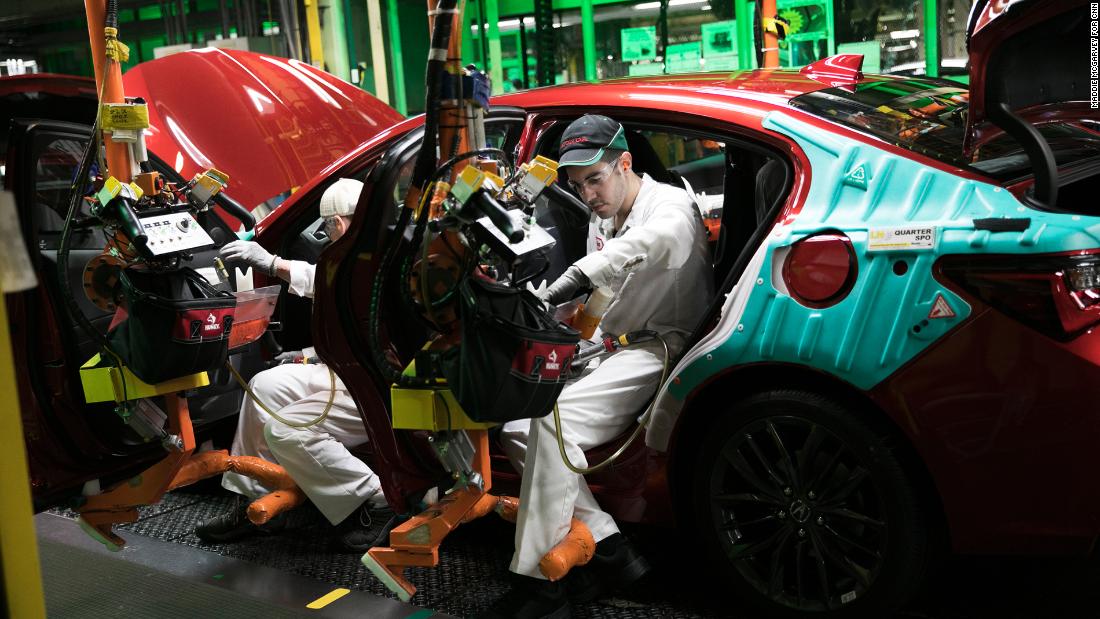 Photos: Inside Honda's historic car plant in the USNew Honda employees are called "associates." The titles aim to stress equality and collapse hierarchies between workers.Hide Caption 5 of 11
Photos: Inside Honda's historic car plant in the USAssociates gather for a pre-shift meeting. Everyone at Honda dresses in white.Hide Caption 6 of 11
Photos: Inside Honda's historic car plant in the USAssociates abide by Honda's strict production standards, making sure they spot and call out any defects along the assembly line. Hide Caption 7 of 11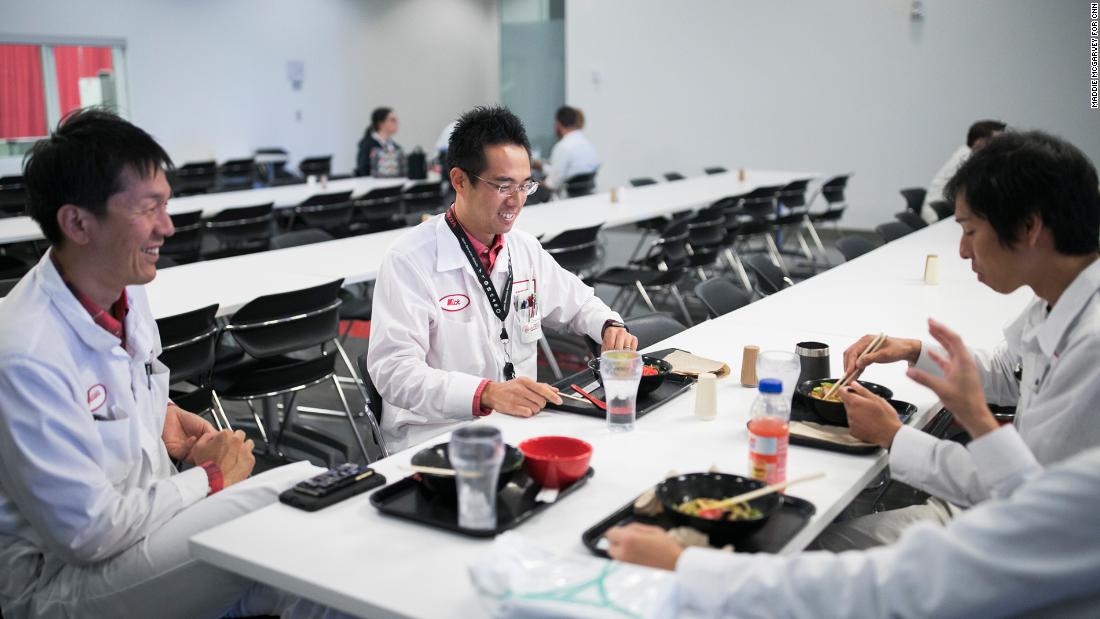 Photos: Inside Honda's historic car plant in the USJapanese associates eat lunch at the Honda plant. The cafeteria's options include Japanese cuisine. Over the decades, local businesses in Ohio have expanded to cater to the Japanese population. Hide Caption 8 of 11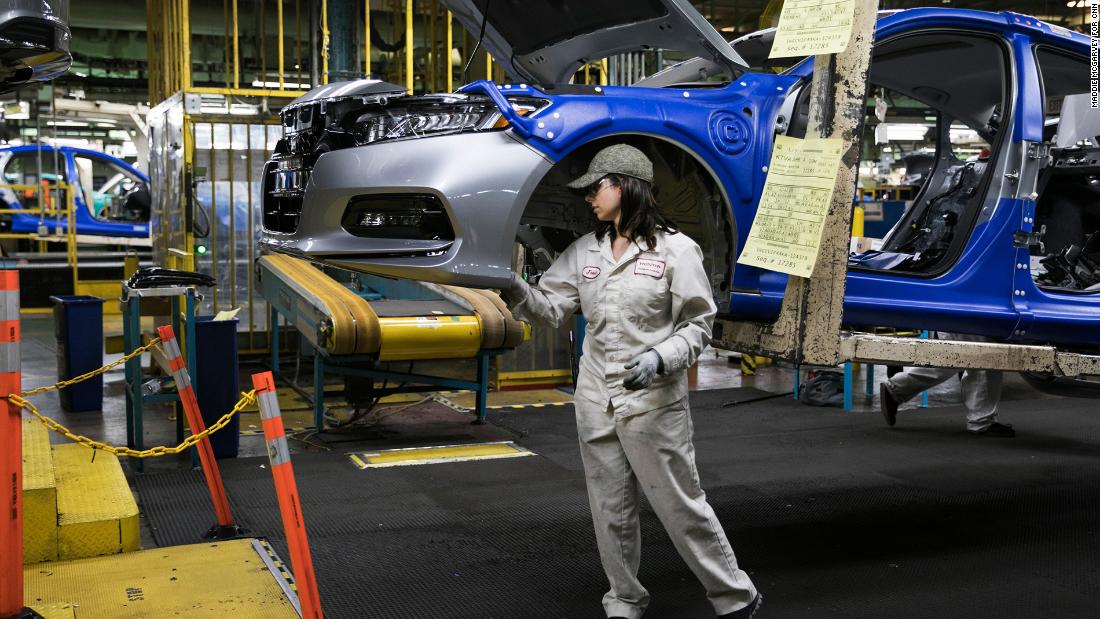 Photos: Inside Honda's historic car plant in the USJosie Marshall works on the bumpers of a car. In 2018, Honda produced its 25 millionth US-made car.Hide Caption 9 of 11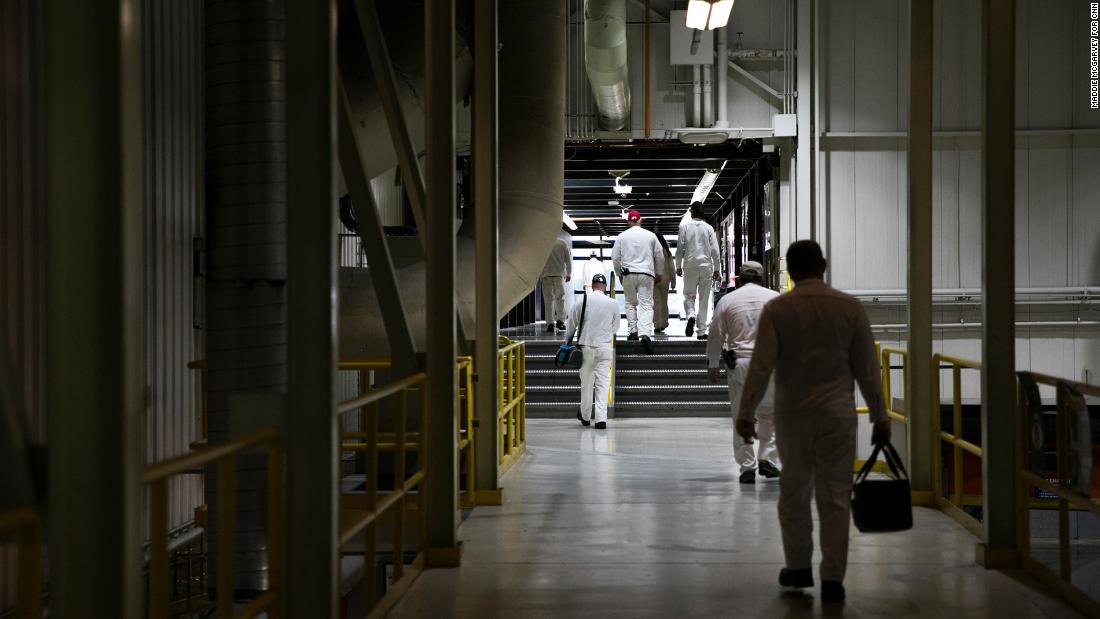 Photos: Inside Honda's historic car plant in the USHonda now has 12 plants in Ohio. The company makes products that include cars, trucks, vans, SUVs, motorcycles, lawn mowers, and even robots. Hide Caption 10 of 11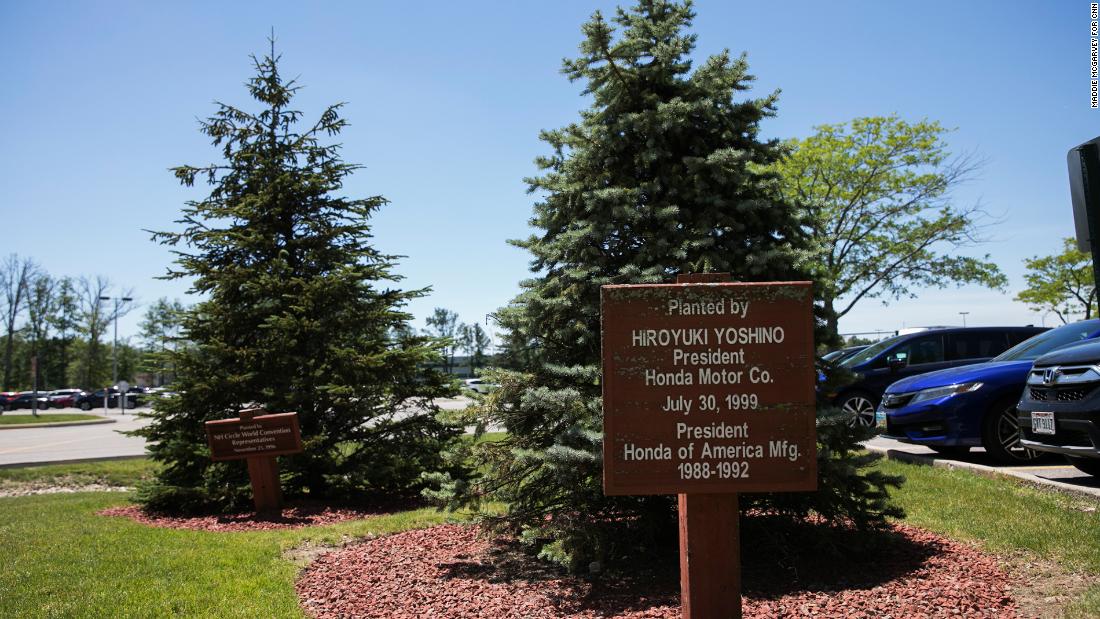 Photos: Inside Honda's historic car plant in the USAround the Honda plant, 64 trees were planted to represent the company's 64 original hires in Marysville. Over the decades, Honda Motor has embedded itself in Ohio and now counts more than 15,000 associates and over 134 suppliers.Hide Caption 11 of 11








Since being hired in 1979 as the ninth production associate for the ground-breaking Marysville motorcycle plant, Vining has witnessed Honda evolve. He has worked in everything from manufacturing to information technology. He has seen the company grow from making motorcycles to engines, to setting up research and development facilities. Vining says in upholding both Japanese and American ideas in Marysville, Honda merged two cultures. "In the beginning, we talked about the Japanese culture and we also had an American way of doing things. But what we found is that we created what we called the 'Honda way,'" says Vining. "It became the best of the American and Japanese ways."
Source Link:
https://cnn.it/2XxQ4DS
[-0.250805]
Comments
comments