Amsterdam (CNN Business)Amsterdam has bold plans to ban all gasoline and diesel vehicles from the city by 2030. But if it is to meet that target, it has only a decade to build the infrastructure to power a city of electric cars.
As part of the plan, from next year certain diesel vehicles will be banned from Amsterdam's city center. From 2022, buses and coaches will only be allowed in the city center if they have electric or hydrogen-powered engines, and by 2030, all transportation in the city must be emissions free.Cleaner transport, cleaner air "For Amsterdam, it is a health issue, with climate goals as a direct counterpart," explained Sharon Dijksma, the city's deputy mayor. "We are pursuing clean air for everyone in Amsterdam by making traffic emissions-free and reducing emissions from other sources." The city hopes that cleaning up its air will increase its residents' average life expectancy by three months and reduce CO2 emissions by up to 9%.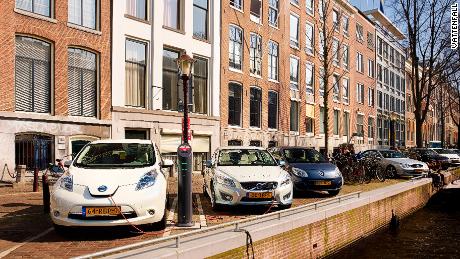 Vattenfall, a European energy company, is providing Amsterdam with an infrastructure of charging points for electric cars.Read MoreOther cities have also started to cut back on polluting vehicles. Paris, Madrid, Athens and Mexico City pledged in 2016 to ban diesel vehicles by 2025. London this year started imposing steep charges on vehicles in its city center that don't meet strict emissions standards, and several cities in Germany have already imposed restrictions on diesel vehicles.Amsterdam currently has five low emission zones, where vehicles that cause the most pollution are banned. These zones will be expanded, and the regulations tightened. Residents are being encouraged to switch to electric vehicles through car-share programs and subsidies. But the city anticipates that powering so many new electric vehicles may require as many as 23,000 charging points by 2025.Amsterdam already has around 3,000 charging points at public parking spaces. Up to 1,000 new charging points are being installed on its streets and anyone who buys an electric car will be able to apply for a charging point in their neighborhood. Smart charging and flexible powerVattenfall, a European energy company that provides energy from wind and solar farms, as well as some gas-powered plants, is providing Amsterdam with charging points for homes, businesses and public places. "We are the first in the world to be rolling out this on a large scale," said Pieter van Ommeren, Vattenfall's head of e-mobility.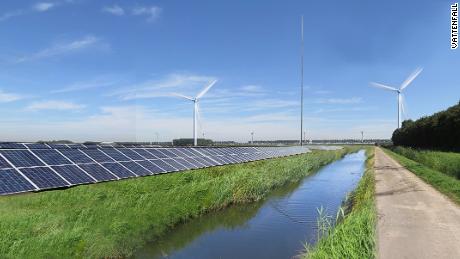 Vattenfall provides energy to Amsterdam from wind and solar farms, as well as some gas-fired plants.But that scale brings its own challenges. If the whole city wanted to charge its vehicles at the same time, the system would break down, says Ommeren. So Vattenfall is building in flexibility to cope with changes in demand.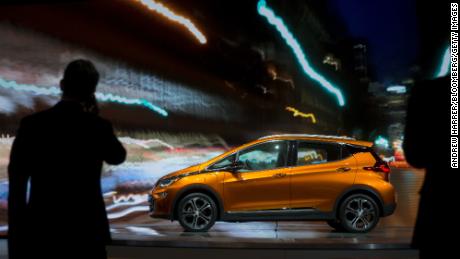 The electric car revolution is coming. This is what has to happen first"If there is high demand of electricity in a certain area, we slow down the charging of electric cars in that area," he explained. There are currently are about 17,000 electric cars in Amsterdam but that could quadruple in the next three years, according to Vattenfall. Many taxi and chauffeur services have already gone electric, but not all private car owners can afford to make the switch.Dijksma acknowledges the challenge."We need cheap zero emission cars and also a second-hand market by the year 2025," she says. "We need a lot of things at the same time, but I am optimistic because I think there is the political will to succeed and there is also a societal will to succeed."
Source Link:
https://www.cnn.com/2019/08/26/business/amsterdam-zero-emissions-vehicles/index.html
[0.522572]
Comments
comments