House Republicans are requesting two years of visitor logs from President Biden's home in Wilmington, Delaware, after classified documents from his time as vice president were discovered there.
"Given the serious national security implications, the White House must provide the Wilmington residence's visitor log," House Oversight Committee Chairman James Comer, R-Ky., wrote in a Sunday letter to White House chief of staff Ron Klain. "As Chief of Staff, you are head of the Executive Office of the President and bear responsibility to be transparent with the American people on these important issues related to the White House's handling of this matter."
Comer went on to argue that in order to fully address the situation, it is necessary to know who may have been privy to the confidential information.
"Without a list of individuals who have visited his residence, the American people will never know who had access to these highly sensitive documents. The Committee demands transparency into whether any individuals with foreign connections to the Biden family gained access to President Biden's residence and the classified documents that he has mishandled for years," he wrote.
5 MORE CLASSIFIED DOCUMENTS FOUND AT BIDEN'S DELAWARE HOME, WHITE HOUSE LAWYER SAYS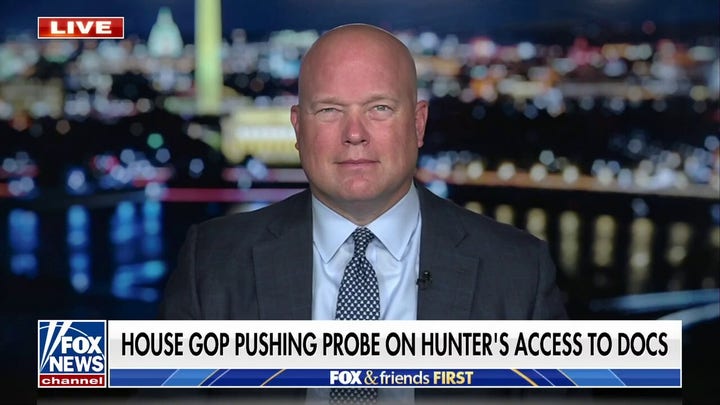 Video
In addition to the visitor logs, Comer also asked for records of any and all searches of the home conducted by Biden aides. The letter noted that Biden's aides and personal attorneys had searched the premises even though the Justice Department was already investigating the situation, and that the lawyers continued to go there even after the appointment of a special counsel.
JIM JORDAN LAUNCHES FIRST INVESTIGATION AS JUDICIARY CHAIR INTO BIDEN CLASSIFIED DOCS SCANDAL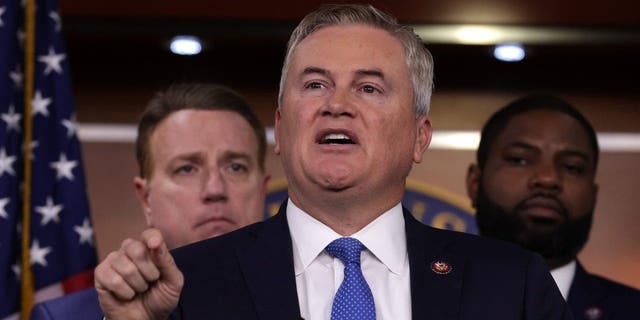 WASHINGTON, DC – NOVEMBER 17: Flanked by House Republicans, U.S. Rep. James Comer (R-KY) speaks during a news conference at the U.S. Capitol on November 17, 2022 in Washington, DC. House Republicans held a news conference to discuss "the Biden family's business dealings." (Photo by Alex Wong/Getty Images) (Photo by Alex Wong/Getty Images)
Classified material was found in the garage of the home, which Biden insisted was locked. On Saturday, Biden's lawyers revealed that five more pages of classified documents were found at the home. This was after classified materials had already been found at the Penn Biden Center think tank in Washington, D.C.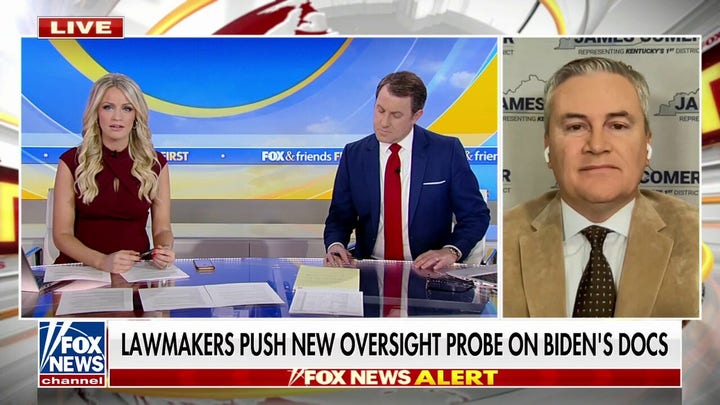 Video
When contacted by Fox News, a White House spokesperson appeared to express doubt over Comer's sincerity.
"I would simply refer you to what Congressman Comer himself told CNN Sunday morning: 'At the end of the day, my biggest concern isn't the classified documents to be honest with you.' That says it all," the spokesperson said.
CLICK HERE TO GET THE FOX NEWS APP
Comer told CNN on Sunday that what he was more concerned with was the "discrepancy" between how Trump's case was handled – with an FBI raid on his home – compared to Biden's case, where his personal lawyers without security clearance were free to search the premises.
"That's not equal treatment," Comer said.
Ronn Blitzer is a reporter for Fox News Digital covering politics and breaking news.
Source Link:
https://www.foxnews.com/politics/house-republicans-seek-visitor-logs-bidens-delaware-home-following-discovery-classified-documents
Comments
comments