Hong Kong (CNN)Hong Kong leader Carrie Lam has warned the United States and other countries against interfering in the city's domestic affairs, two days after thousands of protesters gathered outside the US consulate to ask President Donald Trump to "liberate" the city.
Lam said Tuesday it would be "totally unacceptable" for Washington or any other country to intervene in the semi-autonomous Chinese region. "The Hong Kong government completely disagrees and expresses deep regret that foreign parliaments are interfering in our internal affairs through legislation," she said during her weekly news conference. "We will never allow them to be stakeholders in Hong Kong's internal affairs."The Hong Kong protests entered their 14th consecutive week on Sunday. Tens of thousands marched through the city's financial district and submitted a letter to officials of the US consulate, urging for greater action to help the protesters.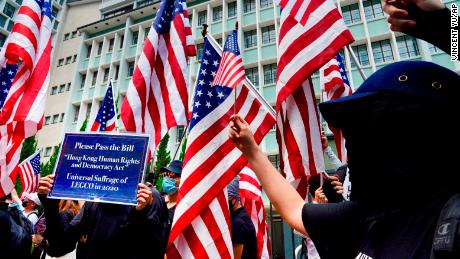 Protesters wave US national flags as they march to the US consulate in Hong Kong on September 8.Read MoreThe protests largely started off peacefully but violence has escalated as the summer has dragged on.On Sunday, many of the protesters expressed support for the Hong Kong Human Rights and Democracy Act of 2019, which calls upon the US government to take a host of steps if Hong Kong does not "remain sufficiently autonomous from the People's Republic of China." Lam was asked Tuesday about the possibility that the US Congress might pass the bill, which could affect trade relations between the city and the US.She said some 1,400 US companies in Hong Kong currently benefit from Washington's relationship with the city and that "any particular provisions applied to Hong Kong by the Americans are not exclusively for the benefit of Hong Kong."A potential passing of the bill could further damage the city's economy. The US-China trade war, coupled with months of unrest, has already slowed down businesses and forced restaurants to lay off workers.The bill currently enjoys bipartisan support in Congress."Democrats and Republicans continue to stand united with the people of Hong Kong in demanding the hopeful, free and democratic future that is their right," US House Speaker Nancy Pelosi said last week. Hong Kong maintains a separate political, legal and economic system from the China due to a "one country, two systems" framework that was agreed when the territory was handed over by the United Kingdom to China in 1997.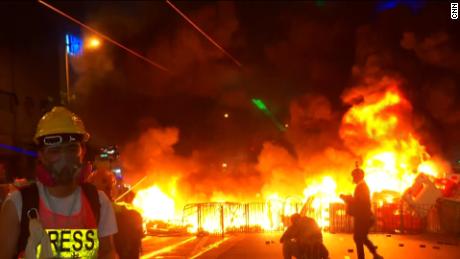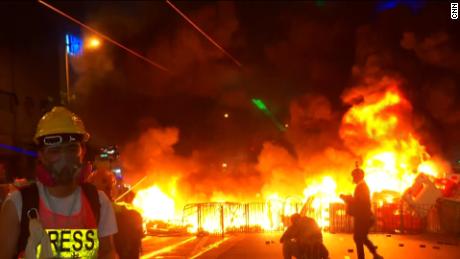 JUST WATCHEDProtesters are pointing lasers at government buildingsReplayMore Videos …MUST WATCH
Protesters are pointing lasers at government buildings 02:21'Violence cannot solve the issues'Lam on Tuesday also called on the public to stop resorting to violence, while stressing that she remains sincere in her desire to work with the public to resolve the current political deadlock."Escalation and continuation of violence cannot solve the issues faced by our society now. It will only deepen the conflict, contradiction, splits, and even hatred in society," she said."To mend the society and to bring back peace, we are very willing to engage people directly in a dialogue."Hong Kong protesters' 5 demands
Fully withdraw the extradition billSet up an independent inquiry to probe police brutalityWithdraw the characterization of protests as "riots" Release those arrested at protestsImplement universal suffrage in Hong Kong
Hong Kong's protests started as a single-issue campaign against the controversial extradition bill, but have now grown to include other demands as weeks went by. Among their demands is the introduction of universal suffrage.Many protesters do not trust Lam, who announced plans to withdraw the bill last week after weeks of unrest, but stopped short of giving ground on other demands. Many protesters have said they would continue to take to the streets until all their demands are met.On Sunday, protesters could be heard chanting, "Five demands, not one less."
Source Link:
https://www.cnn.com/2019/09/10/asia/carrie-lam-hong-kong-us-intl-hnk/index.html
[-0.473968]
Comments
comments