(CNN)The Republican National Convention kicked off Monday night, with most of the action coming from an auditorium near the White House.
Although President Donald Trump promised a more optimistic and bright convention — in contrast to what his team castigated as a dark and depressing vision of America offered by Democrats last week — most of the speeches were anything but. The overall tone was that if Trump isn't reelected, doom will assuredly follow.Below my hits — and misses — from the night that was.HITS* Nikki Haley: The former South Carolina governor is seen as a near-certain presidential candidate in 2024 — and her speech on Monday night will do nothing to quiet that buzz. In fact, it will likely increase after an address that was, without question, the highlight of the first night. "Whether you agree with her argument or version of events, @NikkiHaley is delivering by far the most effective speech for @realDonaldTrump," tweeted former Obama chief strategist — and now CNN contributor — David Axelrod. Haley's vision of America? A muscular foreign policy. A belief in the fundamental rightness — and righteousness — of America. In short: A foreign policy not all that different from Donald Trump's, but couched in much less over-the-top rhetoric and, therefore, much more effective. She was terrific. And she dropped a line that you will definitely be hearing in about two and a half years in Iowa: "I was a brown girl in a black-and-white world."Read More* Tim Scott: The South Carolina senator told his personal story well. He was likeable, funny — he said he failed civics in his freshman year of high school! — and entirely relatable. Scott's optimism was a stunning change from the angry tone adopted by Donald Trump Jr., who directly preceded him on stage, and Kimberly Guilfoyle. (Much more on them below.) Scott's hit on "cancel culture" was also quite successful, as he noted that some Democrats want people to believe that things right now are worse than they were in either 1860 or 1960. For a party that promised optimism and positivity and delivered very little of it on Monday night, Scott was a welcome and effective change of pace. Also, this line from Scott: "My family went from cotton to Congress in one lifetime" might have been the best one of the night.* Jim Jordan: Anyone who watches how the Ohio Republican congressman operates on Capitol Hill would not have expected that he would be the chosen messenger to present the more human side of Trump. And yet, Jordan did it. While he did his trademark, rapid-fire put-downs of Democrats at the top of the speech, Jordan then turned to tell the story of his nephew who had been killed in a car accident. And how Trump had gotten on the phone with the boy's father and consoled him. That's a side of Trump you almost never see — empathy is not his strong suit — told by a guy who isn't usually a fount of emotion.*Andrew Pollack: The father of a teenager gunned down in Parkland, Florida, in 2018, Pollack told the story of his daughter's death — and why he believes gun control laws had nothing to do with it — powerfully. * "Woketopia": This is the word Florida Rep. Matt Gaetz (R) used to refer to how the liberal left sees the world — and the world they want to live in. I'll admit, it made me laugh. MISSES*Kimberly Guilfoyle: I JUST WONDER WHY NO ONE TOLD GUILFOYLE THAT SHOUTING YOUR WHOLE SPEECH LIKE YOU ARE IN THE MIDDLE OF A MASSIVE TRUMP RALLY DOESN'T PLAY AS WELL WHEN YOU ARE SPEAKING TO AN EMPTY AUDITORIUM? BECAUSE, WELL, HER SPEECH LANDED SOMEWHERE BETWEEN WEIRD AND TERRIFYING. WHICH I DON'T THINK WAS WHAT SHE WAS GOING FOR. (Side note: Had Guilfoyle not delivered her speech, the address by Donald Trump Jr. might have been regarded as over-the-top. But following Guilfoyle, Don Jr. sounded almost soft-spoken!)
THE POINT — NOW ON YOUTUBE!
In each episode of his weekly YouTube show, Chris Cillizza will delve a little deeper into the surreal world of politics. Click to subscribe!
* Trump's "interview" with front-line workers: Early in the night, a video ran — I don't think it was live? — in which the President kind of, sort of interviewed a handful of front-line workers (nurses, truck drivers etc.). Trump never asked their names and engaged in some of the most awkward small talk I have ever witnessed. (And that means something coming from someone who spent my teen years as a walking advertisement for social awkwardness.) It was abundantly clear that Trump was deeply uncomfortable with asking the questions and then listening. It's not a role he is familiar with; he's usually the one talking while other people listen. Also, why was everyone standing??? It's like whoever came up with this idea was going for a perfect 10 in the Awkward Olympics.* Charlie Kirk: The millennial founder of Turning Point USA, Kirk kicked off the four-day convention on a decidedly strange note. After days of promises of the positivity that would be emanating from the convention, Kirk took things in a very different direction — suggesting that if Trump lost, the end of civilization as we know it would soon be here. "The American way of life is being dismantled by a group of bitter, deceitful, vengeful activists," he said at one point. Um, OK? It just felt tonally off — from beginning to end — for me.* The McCloskeys: You know the McCloskeys — the armed couple that was photographed defending their house from protesters. These folks.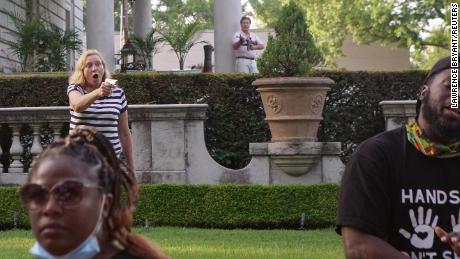 Well, they were invited to speak at the GOP convention, and it went just about how you probably thought it would go. Not well. Much of their speech felt like I was watching a "Saturday Night Live" skit as Patricia McCloskey repeatedly warned that "no matter where you live, your family will not be safe in the radical Democrat America." Scare tactics, anyone? Also, the couple closing their speech by saying "God Bless America" in unison was a chef's kiss.
Source Link:
https://www.cnn.com/2020/08/24/politics/republicans-analysis-best-worst-rnc/index.html
Bad Request
Your browser sent a request that this server could not understand.
Size of a request header field exceeds server limit.
Comments
comments