(CNN)Brian Hahn said he knew the tornado was coming as he listened from the basement.
"You know the sounds," he said. "It's a rumble." And then the air pressure changed. He huddled up under a mattress with his teenage daughter, wife and dog in the lower level of his home and looked up to see everything fly away. "I could hear it was over us and I saw my bedroom just leave," he told CNN affiliate KMBC. "It was gone."Read MoreThe tornado that ripped through Linwood, Kansas, where Hahn's home was, devastated homes around the city.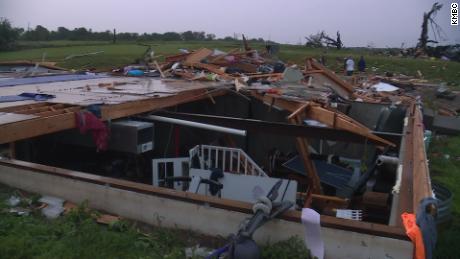 Brian Hahn and his family were under the only part of the house that the tornado didn't wipe away.Linwood Mayor Brian Christenson told CNN dozens of houses outside the city limits were "all gone." The mayor had also taken shelter in his basement with 20 other residents as the twister tore the area apart a little before 7 p.m. Tuesday. Downed trees, power lines and debris made many nearby roads impassable. Hahn said he and his family were under the one part of their home that wasn't swept away. "Thank God we were in the one spot that didn't get hit," he said. "We knew it was coming, I was just hoping it wasn't coming right at me," he told the affiliate. "But it did."Now, there's nothing left of what used to be his home but shredded wood. Still, he says he feels lucky to be alive.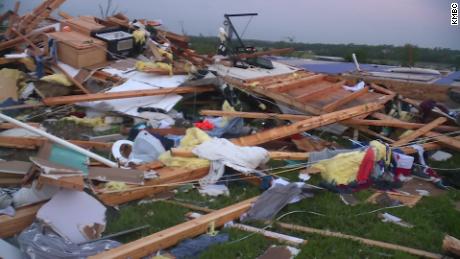 "It's all gone," Hahn said."How much luckier can you be?" As Hahn recounted the devastating moment when the tornado ruined his home, he said there's damage he doesn't know about yet, including, for example, the fate of the family's livestock. "I'm sure they're buried underneath the stuff," he said. "I haven't been able to make it over there."And as he looks around at the scraps left, he says, "That was my house." Further down, a dairy farm with a barn once stood. "It's all gone."
Source Link:
https://www.cnn.com/2019/05/29/us/linwood-kansas-man-home-mattress/index.html
[-0.499758]
Comments
comments