Brett Kavanaugh, President Donald Trump's nominee to fill Justice Anthony Kennedy's seat on the Supreme Court, faces a likely contentious confirmation hearing before the Senate Judiciary Committee starting Tuesday. We asked dozens of lawyers, activists and other experts what they would ask Kavanaugh, who currently sits on the U.S. Court of Appeals for the D.C. Circuit, if they had the chance. Below is a running selection of their questions, categorized by topic and edited for clarity.
On Abortion Rights
WHY: Abortion rights activists are concerned that Kavanaugh, a social conservative who opposed an undocumented teenager's request to obtain an abortion while in federal custody last year, could be open to further restricting access to the procedure.
Nicole Austin-Hillery, U.S. program director at Human Rights Watch: What do you believe are constitutionally reasonable restrictions that might be placed on women accessing reproductive health care? What are your views on whether women have the right to access accurate and complete information about the full range of reproductive health care offered by a provider?
Erwin Chemerinsky, dean of Berkeley Law: If you had been on the Supreme Court in 1973, how would you have voted in Roe v. Wade [the landmark decision affirming a constitutional right to access safe, legal abortion nationwide]? The question is not "What would you do in the future?" but "How would you have voted then?"
Sara Rosenbaum, professor at George Washington University's Milken Institute School of Public Health: What are your views on fundamental freedoms and what burdens individuals should be asked to bear and what evidentiary standards you would demand? On abortion, as with religious freedom, the issue is how heavy a burden to impose on individuals who claim that government is burdening the exercise of their rights. This court has made it very easy to claim burden when religious freedom is at stake, but far harder to show undue burden in laws that impair access to abortion.
David Cole, legal director of the American Civil Liberties Union: Do you believe the Constitution's guarantee of individual liberty protects the right to make personal decisions regarding one's own body and intimate relationships, including whom one chooses to marry, how to raise one's children, whether to use contraception, and whether to obtain an abortion?
Ira L. Black / Corbis via Getty Images The second annual Women's March passes in front of Trump International Hotel and Tower on Jan. 20, 2018. On Executive Power and Investigations of Sitting Presidents
WHY: Kavanaugh has argued that a sitting president shouldn't be burdened by lawsuits, investigations and indictments ― a position that may put him at odds with special counsel Robert Mueller as the latter continues his investigation into Russian interference in the 2016 election. Kavanaugh also told a conservative group two years ago that he would "put the final nail" in Morrison v. Olson, a 1988 Supreme Court ruling that affirmed the constitutionality of naming independent counsel.
Kristen Clarke, president and executive director of the Lawyers' Committee for Civil Rights Under Law: Why do you think the decision in Morrison v. Olson was wrong? Do you oppose the appointment of a special counsel in all circumstances?
Cole: President Trump has nominated you to the career opportunity of your lifetime. If presented with a case involving his personal interests, what standard will you use in deciding whether to recuse yourself from the case?
On Gun Control
WHY: Kavanaugh argued in his 2011 dissent in Heller v. District of Columbia that a ban on semiautomatic rifles was unconstitutional. (Don't be confused by the name: This Heller case challenged D.C.'s legislative response to the Supreme Court's 2008 landmark gun rights decision, District of Columbia v. Heller.) The 2011 opinion has gun control advocates worried that Kavanaugh supports an expansion of gun rights.
Eric Tirschwell, director of litigation and national enforcement policy for Everytown for Gun Safety: You state in your Heller dissent that you can't rely directly on history and tradition and have to reason by analogy when it comes to "new gun regulations because of conditions that have not traditionally existed." What is an example, for the purposes of this test, of a "condition that has not traditionally existed"? What about mass shootings ― like Parkland, Newtown, Pulse nightclub, Las Vegas and so many others ― which are relatively new phenomenon?
Tirschwell: Without getting into how you would decide the cases, how would you go about analyzing relatively new gun laws, including laws closing the background check loophole for gun sales from unlicensed sellers at gun shows or over the internet, laws that prohibit domestic violence offenders and abusers under restraining orders from possessing guns, laws that require surrender of guns in such circumstances, red flag laws that allow family members or law enforcement to get a court order to temporarily block firearm access from those likely to harm themselves or others, and prohibitions on bump stocks?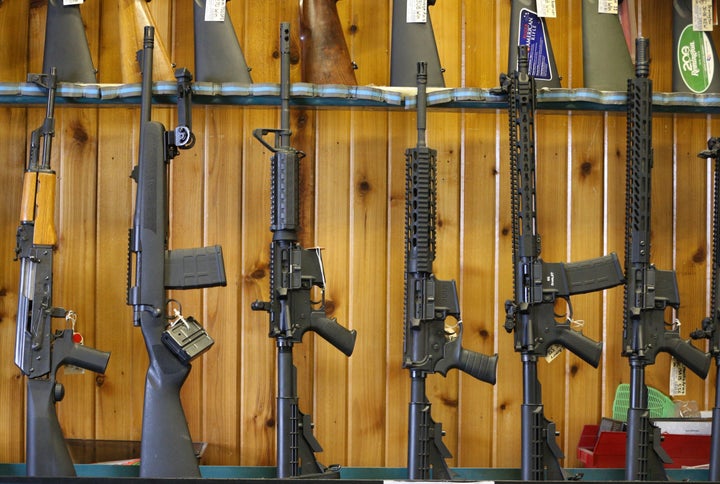 George Frey via Getty Images Semi-automatic AR-15 rifles for sale at Good Guys Guns & Range on Feb. 15, 2018, in Orem, Utah. On Covert Government Surveillance of Americans and Torture
WHY: In 2015, Circuit Judge Kavanaugh strongly defended the National Security Agency's broad, covert collection of domestic phone call records in a case called Obama v. Klayman. Questions about Kavanaugh's earlier days as an official in the George W. Bush administration and his role, if any, in crafting counterterrorism policies have also been raised. Kavanaugh has previously denied that he was involved in shaping those policies.
Austin-Hillery: What are your views on whether mass, large-scale or discriminatory surveillance is permissible in and outside the U.S.? Do you agree that call records and other data about communications can be highly sensitive? What are your views on how the warrant requirement applies to modern communications technology?
Austin-Hillery: Do you believe that the techniques used on detainees in secret CIA detention sites ― not just waterboarding, but the painful stress positions, days of sleep deprivation, forced nudity, diapering and denial of food, individually or in isolation ― amounted to torture? Did you play any role in formulation of any detention-related policies when you served under the Bush administration, and if so, what was that role?
Cole: In your 2006 confirmation hearings for a federal court judgeship, you said that you "absolutely" believed President Bush's statements that the United States does not torture and does not condone torture. Knowing what you know now about the United States' use of waterboarding and other coercive methods against detainees, do you still believe that the United States did not torture?
On LGBTQ Rights
WHY: Kavanaugh has no judicial record on gay rights cases, but he did serve in the Bush White House when the president pursued a constitutional amendment that would have banned same-sex marriage, which has raised alarm among advocates for equal rights.
Cole: Do you agree that a core function of the Supreme Court in our democratic society is to protect the rights of minorities that cannot protect themselves in the political process? Does that principle justify the court's precedents protecting LGBT individuals?
Austin-Hillery: Do you believe that Obergefell v. Hodges [the Supreme Court ruling that gave same-sex couples the right to marry nationwide] was correctly decided? What do you understand the term "substantially" to mean in the context of the Religious Freedom Restoration Act [which generally bars federal laws that substantially burden a person's exercise of religion], and what is the court's role in scrutinizing whether any burden imposed is substantial?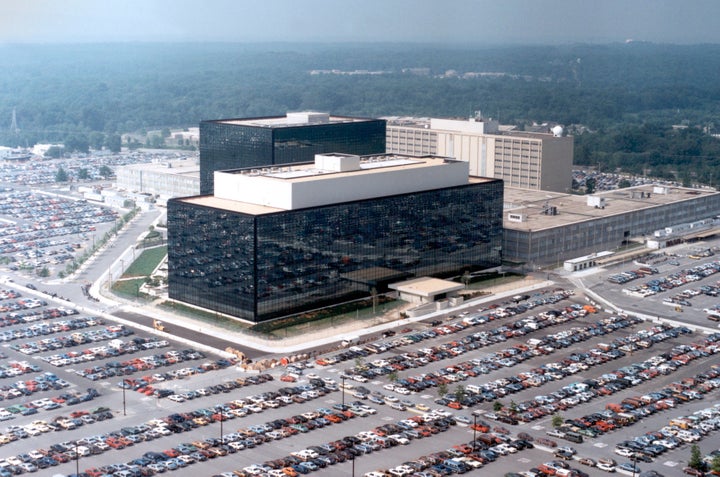 Handout / Reuters The Fort Meade, Maryland, headquarters of the National Security Agency. On Foreign Money in U.S. Elections
WHY: In 2011, Kavanaugh wrote an opinion upholding the ban on foreign spending for or against candidates in U.S. elections.
Ciara Torres-Spelliscy, law professor at Stetson University College of Law: You stated in Bluman v. Federal Election Commission that foreigners should not be allowed to spend in U.S. elections. Do you still believe this is true? If so, why? And does it trouble you that according to an indictment from special counsel Robert Mueller, Russian nationals allegedly purchased political ads on Facebook during the 2016 election in contravention of the ban on foreign political spending?
On Kavanaugh's Personal Debt
WHY: In 2016, Kavanaugh had between $60,000 and $200,000 in debt through three credit cards and a personal loan, according to his financial disclosure forms. The White House has said that he built up the debt by buying Washington Nationals season tickets and tickets for playoff games for himself and a group of friends.
Torres-Spelliscy: Is there paper backup that can prove that your debts were really all caused by sporting event tickets?
On the Affordable Care Act
WHY: A future Supreme Court ruling might strike down President Barack Obama's signature health care law, which has made health care more accessible to millions. Kavanaugh has expressed deep skepticism about the statute.
Rosenbaum: What are your views on the severability doctrine, which underlies Texas v. Azar, the case in which the challengers assert that the zeroing out of a tax penalty means that the most critical insurance protections under the ACA no longer can be enforced?
Austin-Hillery: Do you believe the Affordable Care Act is constitutional? What are your views on how to balance the rights of religious freedom with the right to be free from discrimination?
On Voting Rights and Voter ID Laws
WHY: In 2012, Kavanaugh wrote the decision in an unanimous ruling to uphold a South Carolina law that required a government-issued photo ID to vote. The Obama administration said the law would disenfranchise tens of thousands of minority citizens. That ruling has sparked fears that Republican efforts to suppress voters could get worse if Kavanaugh is confirmed.
Clarke: Do you view that vote dilution claims based on discriminatory results are cognizable under Section 2 of the Voting Rights Act of 1965 and that the act is constitutional for permitting such claims? Do you believe that Section 2 of the Voting Rights Act is facially constitutional?
Austin-Hillery: Do you believe the protections afforded under the Voting Rights Act prior to the Shelby County decision in 2013 [a Supreme Court ruling that severely limited the Voting Rights Act] are still needed by the states to ensure fair and equal access to the ballot? Given the recent findings of lower courts in cases challenging voter ID and other forms of voter suppression, do you think the mechanisms afforded by the Voting Rights Act, pre-2013, to combat discrimination in voting should be reinstated or updated?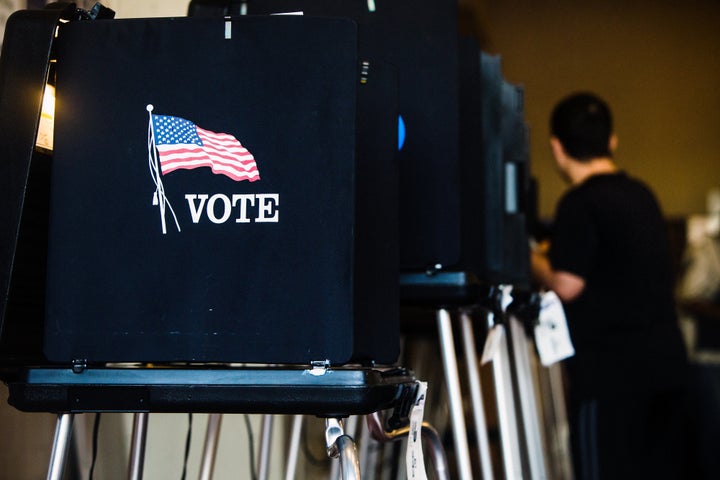 Scott McIntyre / Bloomberg via Getty Images A Miami Beach, Florida, polling place during the Aug. 28, 2018, primary elections. On Net Neutrality and Broadband Regulation
WHY: Kavanaugh is not a supporter of government-enforced internet neutrality. In a dissent last year, he wrote that the Obama-era net neutrality rule was "unlawful and must be vacated," alarming advocates for equal treatment of data online.
Austin-Hillery: What are your views on the right to access information and freedom of expression in the digital age? In your view, does the Federal Communications Commission have the responsibility and authority to protect these rights for all people ― not just cable companies?
Electronic Frontier Foundation: Can paid prioritization practices run afoul of consumer protection or civil rights laws? How should the broadband internet market be analyzed under current competition laws? Does the Federal Communications Commission have the authority to determine the classification of broadband internet service providers? Does the Communications Act occupy the field and pre-empt states and municipalities from passing their own laws blocking throttling, paid prioritization, and zero rating by broadband internet service providers? How would the Constitution view federal attempts to limit state broadband regulation?
On Environmental Protection
WHY: Advocates for robust protection of the environment have been disturbed by Kavanaugh's jurisprudential record, which reveals a deeply unsympathetic view of environmental interests.
Austin-Hillery: To what extent does the Environmental Protection Agency have discretion in combating health risks associated with environmental degradation and climate change?
On Affirmative Action
WHY: In a 1999 legal brief on behalf of the Center for Equal Opportunity, a group that opposes race-based affirmative action in college admissions, Kavanaugh argued that it is "inevitable" that the Supreme Court will eventually conclude that "we are all one race in the eyes of the government." The Trump administration decided to file a brief in support of a current lawsuit against Harvard University seeking to end affirmative action practices.
Clarke: Do you oppose the consideration of race in university admissions in all circumstances? Do you consider the holding in the University of Texas cases as settled law?
Cole: Do you believe that public colleges and universities have a compelling interest in ensuring that they have diverse student bodies?
Source Link:
https://www.huffingtonpost.com/entry/brett-kavanaugh-questions-confirmation-hearing_us_5b89c221e4b0511db3d8a8b5
[-0.0571079]
Comments
comments