Thousands of people who attended the national 'Families Belong Together' rallies on Saturday marched in solidarity with parents who have been separated from their children at the U.S.-Mexico border. And they brought some pretty powerful signs with them.
More than 600 protests were planned across the country for those fighting back against President Donald Trump's zero tolerance policy, which allows officials to separate children from their parents and detain them at shadowy facilities across the U.S.
Dozens of activist organizations, including the American Civil Liberties Union, MoveOn and the Leadership Conference on Civil Rights, came together to organize the protests. See some of the signs protesters brought out below.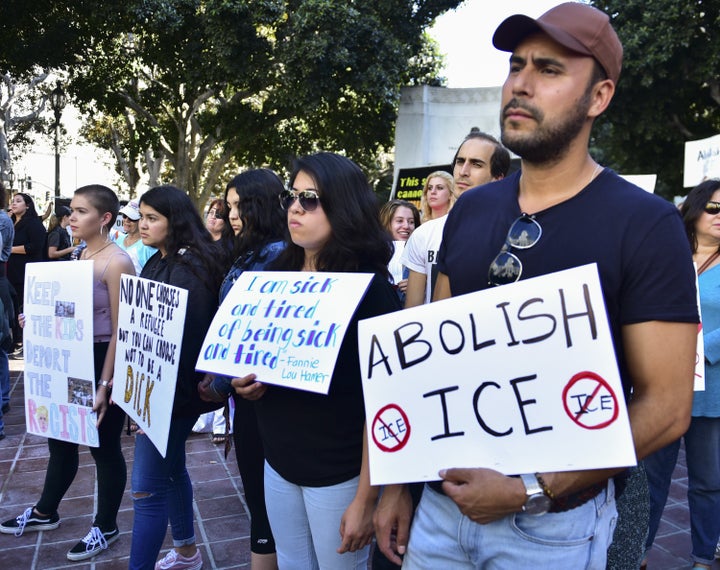 Rodin Eckenroth via Getty Images Rally signs at The Women's March LA Rally for Families Belong Together – A Day of Action at Los Angeles City Hall on June 28, 2018 in Los Angeles, California.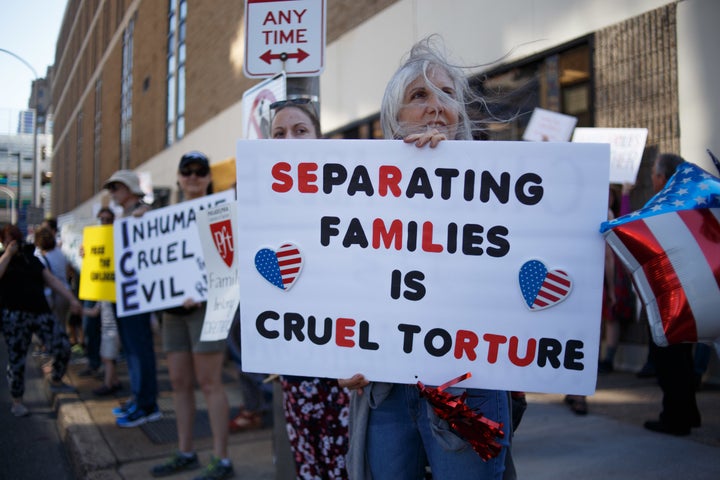 Pacific Press via Getty Images A protester holding a placard during the protest. Protesters participate in a rally organized by Families Belong Together, speaking out against the Trump administration's policies separating immigrant families across from one of the city's Immigration and Customs Enforcement (ICE) offices.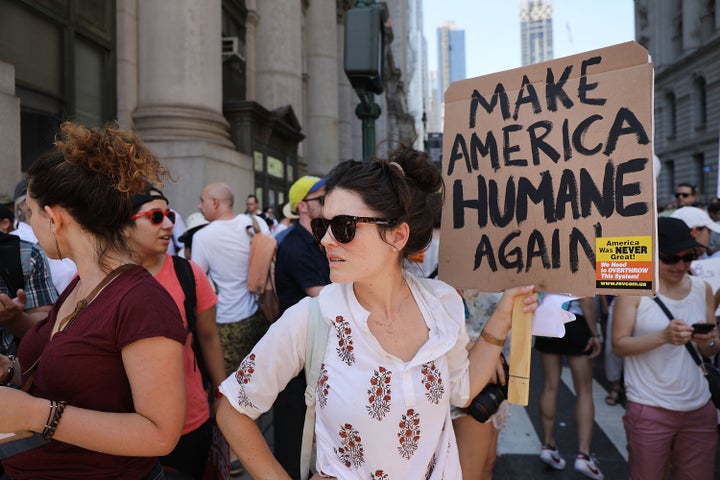 Spencer Platt via Getty Images NEW YORK, NY – JUNE 30: Thousands of people march in support of families separated at the U.S.-Mexico border on June 30, 2018 in New York, New York. Across the country marches under the banner 'Families Belong Together' are being held to demand that the Trump administration reunite thousands of immigrant children who have been separated from their families after crossing into the United States. (Photo by Spencer Platt/Getty Images)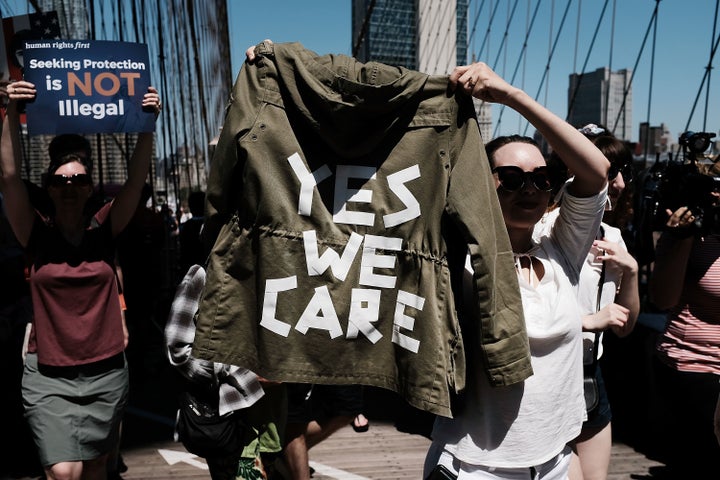 Spencer Platt via Getty Images NEW YORK, NY – JUNE 30: Thousands of people march in support of families separated at the U.S.-Mexico border on June 30, 2018 in New York, New York. Across the country marches under the banner 'Families Belong Together' are being held to demand that the Trump administration reunite thousands of immigrant children who have been separated from their families after crossing into the United States. (Photo by Spencer Platt/Getty Images)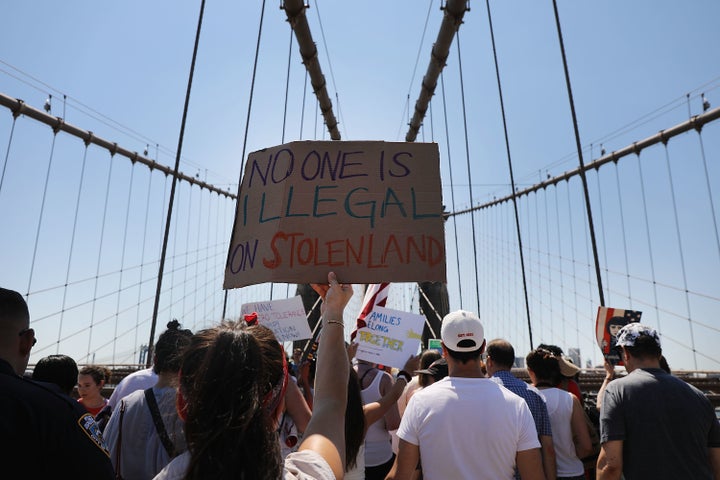 Spencer Platt via Getty Images NEW YORK, NY – JUNE 30: Thousands of people march in support of families separated at the U.S.-Mexico border on June 30, 2018 in New York, New York. Across the country marches under the banner 'Families Belong Together' are being held to demand that the Trump administration reunite thousands of immigrant children who have been separated from their families after crossing into the United States. (Photo by Spencer Platt/Getty Images)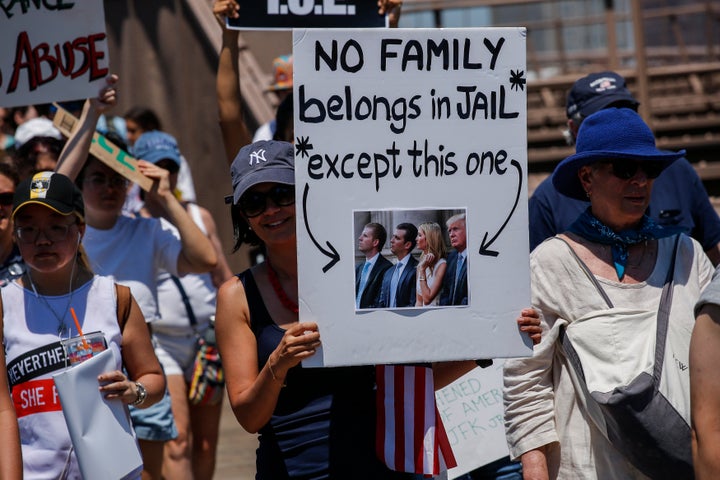 Kena Betancur via Getty Images NEW YORK, NY – JUNE 30: People take part during the nationwide 'Families Belong Together' march as they walk by the Brooklyn Bridge on June 30, 2018 in New York City. As thousands of migrant children remain separated from family, rallies are planned across the U.S. calling for them be reunited. (Photo by Kena Betancur/Getty Images)
You'll notice she's pregnant and marching in the 90 degree heat. pic.twitter.com/m3tGdfaUJq
— Molly Jong-Fast (@MollyJongFast) June 30, 2018
— Walter Shaub (@waltshaub) June 30, 2018
Jerry has a point: #FamiliesBelongTogether pic.twitter.com/oLFy4HyK8s
— Christie Brown (@profclbrown) June 30, 2018
Scenes from the #FamiliesBelongTogetherMarch in #NYC pic.twitter.com/Um1Euf0ZN5
— Azure Gilman (@AzureGilman) June 30, 2018
#familiesbelongtogether ❤️ great signs think alike (not sure who made this but it's rul good!) pic.twitter.com/6rNn9M5tab
— Aparna Nancherla (@aparnapkin) June 30, 2018
Spotted at #FamiliesBelongTogetherMarch – photo by @Gomab4lif – amazing. pic.twitter.com/CyQtSojF7i
— MadDogPAC (@maddogpac) June 30, 2018
Love this sign! #FamiliesBelongTogetherMarch pic.twitter.com/wQzkiqNUj2
— Dolores caudillo (@lolarick) June 30, 2018
I'm at the protest in McAllen, Texas. @maddow pic.twitter.com/rohDbK47YZ
— Dianne Norris (@bandidonorris) June 30, 2018
Almost 90 degrees in NYC today but people are out and mad #FamiliesBelongTogetherMarch pic.twitter.com/wVBJdoBHWm
— Charlotte Alter (@CharlotteAlter) June 30, 2018
It's been 20 years since I participated in something like this. Baby jails is just too much even when the World Cup is on #FamiliesBelongTogther pic.twitter.com/jElzZok2XJ
— Jason Marshall (@__JasonMarshall) June 30, 2018
A New York retiree who says she felt like she had to be here today #FamilesBelongTogether pic.twitter.com/BhioNtRcE3
— Alice Ollstein (@AliceOllstein) June 30, 2018
This will never stop being my favorite sign. #FamiliesBelongTogetherMarch pic.twitter.com/PSH562zcRk
— ChuckModi (@ChuckModi1) June 30, 2018
Mood #FamiliesBelongTogetherMarch pic.twitter.com/AMA7wAsJbb
— Jessica Valenti (@JessicaValenti) June 30, 2018
Some signs at the #FamiiesBelongTogether rally in front of the White House pic.twitter.com/0hrvhD1T3E
— Alice Ollstein (@AliceOllstein) June 30, 2018
"Kids nap, not kidnap!" sign at the #FamiliesBelongTogetherMarch in DC pic.twitter.com/Tj0rHswxOA
— Kyle Cardine (@Kyle_Cardine) June 30, 2018
Another great sign from the #FamiliesBelongTogether pic.twitter.com/UAP1UA8h4S
— Molly Jong-Fast (@MollyJongFast) June 30, 2018 Download
Source Link:
https://www.huffingtonpost.com/entry/here-are-the-best-families-belong-together-march-signs_us_5b379dc2e4b007aa2f807852
[0.46953]
Comments
comments