Washington (CNN)Four first-term, progressive Democratic congresswomen — known as "The Squad" on Capitol Hill — were the target of racist tweets from President Donald Trump this weekend.
Reps. Ilhan Omar of Minnesota, Alexandria Ocasio-Cortez of New York, Rashida Tlaib of Michigan and Ayanna Pressley of Massachusetts have found themselves at odds with leaders in their own party, as well as the subject of attacks by the President. On Sunday, the President used racist language to attack the representatives — all women of color — falsely implying they weren't American and suggesting they "go back and help fix the totally broken and crime infested places from which they came." Trump then doubled down Monday on his racist attacks on the congresswomen, insisting they leave the United States if they continue complaining about his policies.During a press conference Monday evening, the four Democratic lawmakers responded to Trump's tweets and made it clear they aren't going anywhere. Read MoreAlexandria Ocasio-Cortez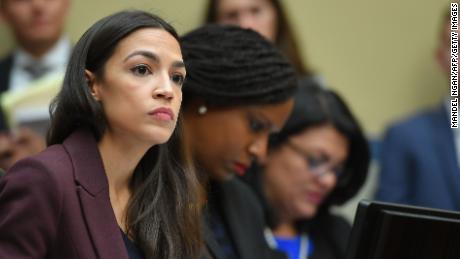 Ocasio-Cortez is the youngest woman ever elected to Congress. Last year, she defeated 10-term incumbent former Democratic Rep. Joe Crowley in the then-28-year-old Latina's first campaign.Born and raised in the Bronx, Ocasio-Cortez is the daughter of working class Puerto Rican parents. She represents New York's 14th Congressional District, which includes the eastern Bronx and northern Queens. Ocasio-Cortez, a member of the Democratic Socialists of America, introduced the Green New Deal Resolution — a sweeping proposal to combat the global climate crisis and poverty in the US — along with Massachusetts Sen. Ed Markey, another Democrat. The congresswoman is a proponent of progressive ideas like "Medicare for All," a $15 dollar minimum wage and student loan forgiveness. She has called for abolishing Immigration and Customs Enforcement, and has forcefully spoken out against conditions in migrant detention centers. The freshman Democrat, who previously worked as a bartender, has risen to become one of the most high-profile members in the House and boasts nearly 5 million Twitter followers. Rashida Tlaib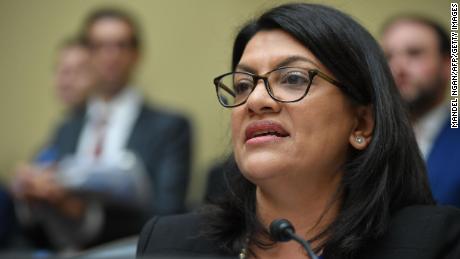 Tlaib, who was elected in 2018, is the first Palestinian-American woman to serve in Congress, and she and Omar are the first two Muslim women ever elected to Congress. She represents Michigan's 13th Congressional District, and was the first Muslim woman to serve in the Michigan state Legislature. Tlaib is the first of 14 children born to Palestinian immigrant parents and the first in her family to graduate from high school as well as college. Like Ocasio-Cortez, Tlaib has embraced progressive ideas like Medicare for All, a $15 dollar minimum wage, debt-free college and has called for abolishing ICE. Hours after being sworn into Congress, Tlaib grabbed headlines when she told the audience at a progressive event, "We're gonna go in there and we're going to impeach the motherf****r" in reference to Trump. Tlaib aligned herself with a political cause far outside the Democratic mainstream when she said that she supports the controversial Boycott, Divestment and Sanctions movement targeting Israel.Ayanna Pressley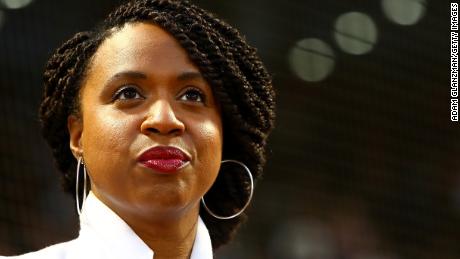 Pressley is the first black congresswoman to represent Massachusetts. Last year, Pressley defeated Massachusetts Rep. Mike Capuano, a 20-year incumbent, in the Boston-area 7th Congressional District, which was once represented by John F. Kennedy.Nearly a decade ago, Pressley became the first black woman ever elected to Boston's city council, and has long been seen as a rising star in Democratic politics. Pressley has spoken publicly about her father being incarcerated for much of her childhood and how she is a rape survivor. She has said, "The people closest to the pain should be closest to the power."Earlier this month, Pressley spoke out about poor conditions for detained migrants and the growing humanitarian crisis on the southern border after touring Texas border facilities with other Democratic lawmakers. Ilhan Omar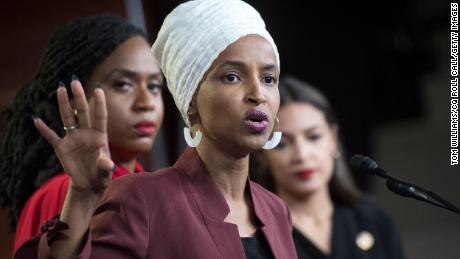 Omar is the first Somali-American member of Congress, and she and Tlaib are the first two Muslim women ever elected to Congress.The congresswoman came to the US more than two decades ago as a refugee and became an American citizen in 2000 at the age of 17, according to the New York Times. She won her election last year, and now represents Minnesota's 5th Congressional District. Omar ran with the support of the Justice Democrats, the same progressive group that helped bring Ocasio-Cortez into politics, and is also a proponent of Medicare for All, abolishing ICE, tuition-free college and raising the minimum wage to $15 an hour.Omar has been a vocal critic of Israel's treatment of Palestinians, calling its government the "apartheid Israeli regime" in a tweet. Earlier this year, Omar apologized after receiving backlash for suggesting Republican support of Israel is fueled by donations from a prominent pro-Israel group, the American Israel Public Affairs Committee (AIPAC). Omar's controversial views on Israel have come under scrutiny in Washington, and the congresswoman previously told CNN that "it's not surprising" her positions are generating attention and that she finds it "exciting" to be sparking debate.
Source Link:
https://www.cnn.com/2019/07/15/politics/who-are-the-squad/index.html
[-0.334179]
Comments
comments