A massive river of lava is moving down Kilauea volcano on Hawaii's Big Island as the ongoing eruption intensifies, forcing even more people out of their homes and injuring at least one man.
Hawaii County Civil Defense said Saturday evening that a lava flow moving at 300 feet-per-hour was half a mile from Highway 137, one of the main highways in the Puna district, where the lava is active. The agency warned that it may cross the road within the next few hours.
Brushfires caused by the lava forced the agency to ask residents on Kamaili Road to "evacuate the area immediately" on Saturday around 6:40 p.m. County and state firefighters were going door-to-door in that area informing residents of the evacuation and assisting them when necessary.
"Everyone needs to stay clear of this area," the agency said in an update.
If the lava crosses the highway, officials will shut down the road on both sides.
These flows began forming on May 3, after several fissures opened up in the Leilani Estates subdivision of Puna, located on the volcano's lower east rift zone. Since then, at least 44 structures have been consumed by lava, including dozens of homes.
On Friday, lava swallowed four more homes and a flow from fissure 20 crossed a part of Pohoiki Road, near Malama Ki Place, cutting access to a remote neighborhood with 40 homes. As a result, four people had to be evacuated, according to officials.
Over the past two weeks, an estimated 1,700 residents have been evacuated from Leilani Estates and neighboring Lanipuna Estates subdivisions.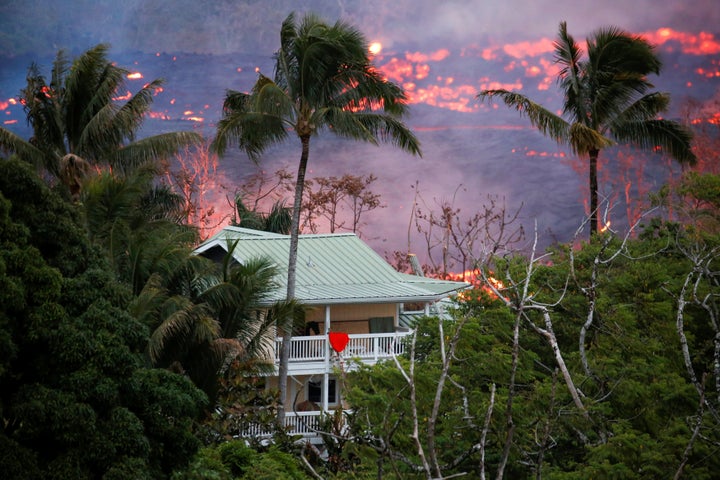 Terray Sylvester / Reuters The ongoing eruptions on Kilauea volcano have claimed dozens of structures and forced 1,700 residents out of their homes over the past two weeks.
The U.S. Geological Survey's Hawaiian Volcano Observatory, which has been monitoring the eruption for over two weeks, said that several fissures have merged together to form a "continuous line of spatter and fountain" in an update sent Saturday afternoon.
Hawaii County Civil Defense administrator Talmadge Magno said during a news conference on Saturday afternoon that one man sustained a "serious" injury after a spatter of lava hit his leg while he was sitting on the porch of a house earlier in the day.
The "lava bomb hit his leg and he got injured," Magno told reporters. "The injury was quite bad."
Aerial footage of the lava shows several large flows from a number of fissures swallowing the land in a fiery, loud and explosive display.
Helicopter overflight of a fast-moving lava flow emerging from fissure 20, Kīlauea Volcano's Lower East Rift Zone, May 19, 2018, at 7:52 AM HST. https://t.co/UcyANZarC6 pic.twitter.com/k5AMD7z2jX
— USGS Volcanoes? (@USGSVolcanoes) May 19, 2018
Janet Williams-Downing, a resident of Nanawale Estates, a few miles north of Leilani Estates, told HuffPost that she has been feeling about 100 earthquakes every day with "a little shake every once in a while."
"You can hear the explosions" from the fissures, Williams-Downing told HuffPost in a message. "It sounds like a war zone right outside my door."
Williams-Downing said that the explosions and sounds similar to that of "jet engines" are normal now that numerous fissures have been cracking open and spewing lava for nearly two weeks.
"It was scary at first with all the explosions and not knowing which way the lava was going to go," she said.
A crater on Kilauea's summit erupted with a giant ash plume on Thursday, launching ash and volcanic debris up to 30,000 feet high. As expected, more eruptions followed and on Saturday, another large ash plume could be seen exploding from the Halema'uma'u Crater.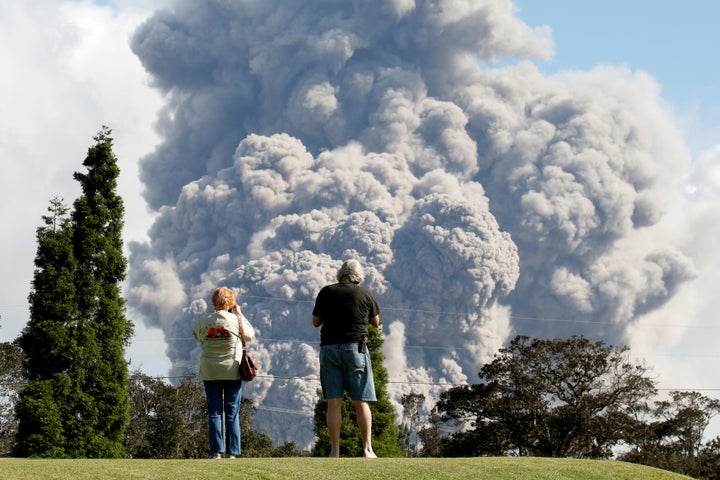 Terray Sylvester / Reuters People watch ash erupt from the Halemaumau Crater near the community of Volcano on Saturday.
Earlier Saturday, Hawaii County Civil Defense asked residents between Kamaili Road and Pohoiki Road, located southwest of Leilani Estates, to decide whether they wanted to voluntarily leave the area.
Officials believe the active flows are headed in the general direction of MacKenzie State Park, located on the island's eastern coast. If the lava enters the ocean, laze, another type of volcanic gas, may endanger nearby residents.
Laze is formed when hot lava makes contact with ocean water, sending hydrochloric acid, steam and fine glass particles into the air.
RELATED… Everything We Know About The Volcanic Eruptions In Hawaii Photos And Videos Capture Hawaii Lava Consuming Car, Destroying Buildings Explosive Eruption Rocks Kilauea Volcano's Summit Explosions And 'Vog' From Hawaii Volcano Spark Red Alert For Aviation Massive New Fissures Open On Hawaiian Volcano, Prompting More Evacuations Download
Source Link:
https://www.huffingtonpost.com/entry/hawaii-lava-river-leilani-estates_us_5b00d526e4b07309e05905bf
[-0.425931]
Comments
comments