(CNN)Hawaii residents faced the threats of more earthquakes, lava and high levels of gas Saturday after the Kilauea Volcano erupted, spewing sulfuric acid and molten rocks into neighborhoods.
More than 1,700 people were evacuated from Big Island neighborhoods after the Kilauea volcano erupted Thursday. Adding to the fear and chaos, a magnitude-6.9 struck the area Friday, jolting homes already threatened by a volcanic eruption. The earthquake, one of dozens to hit the area in 24 hours, was the most powerful on the island since 1975, the US Geological Survey said. Ikaika Marzo, who lives in the Big Island, said the jolts and tremors have been consistent. "There are still plumes going out. There's a couple cracks that's close by that still have steam coming out," Marzo told CNN affiliate KHON. "There's a lot of glow, a lot of fires." Read MoreThe activity will continue, Civil Defense Administrator Talmadge Magno said Friday. "It doesn't look like it is slowing down," he said.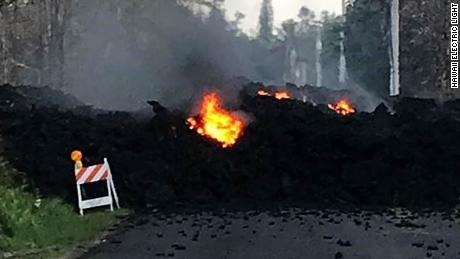 Lava has threatened communities on the Big Island beforeMore volcanic ventsAt least five volcanic vents have opened, Magno said, indicating that at least one home and another structure were destroyed by lava.Hundreds of people have evacuated from Leilani Estates, a community of about 1,700 people, and Lanipuna Gardens. Harry Kim, mayor of Hawaii County, said the government will support residents, including those who want to go back to their homes to pick up some belongings."We have to work with them as to how we are going to minimize (the inconveniences) as best as possible," he said. The mayor said people who want to check on their homes would be allowed into the neighborhoods.Hundreds without power Cracks in Kilauea volcano's rift zone — an area of fissures miles away from the summit — erupted Thursday and early Friday, spurting lava near the island's eastern edge.Video posted on social media showed lava spewing several feet into the air from a new crack in a Leilani Estates street. Aerial videos showed lava searing a long orange and smoky line through a wooded area.Stephen Clapper was one of hundreds of residents to flee the threats from the volcanic eruption. He said he told his mother on Friday to pack a bag, just in case. "We had to evacuate. My mother was out of portable oxygen, so that's a first concern. She's 88 years old," he told CNN affiliate KHON. Lava set trees ablaze and threatened homes as gas spewed out of cracks in the ground. Clapper went back to the house, got his mother and the dogs, swept up some of his clothes in one arm, and took off for a shelter.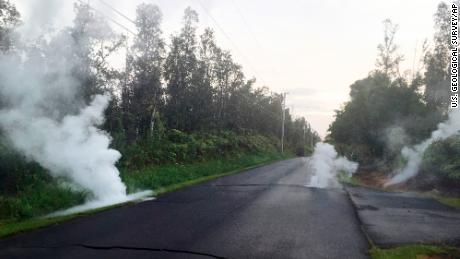 Steam rises from cracks in the road near Leilani Estates on Friday.'Just basically heartbreak'Neil Valentine and his family left Leilani Estates Thursday night. A video posted on social media this morning sent chills up his spine. It captured lava splashing and bubbling up just feet from his home. Leilani Estates resident Neil Valentine told CNN affiliate KITV that he and his family left Thursday night."Just basically heartbreak, my wife and I have been married going on 26 years, it was pretty much our dream home that we've been looking for all this time. Just knowing that we're not going to have a house, my wife is still in tears," he said. "When I bought here 14 years ago, I knew that this day might eventually come, but I had no idea the reality of (it) … It's sinking in now, for sure," another Leilani Estates resident told CNN affiliate KHNL.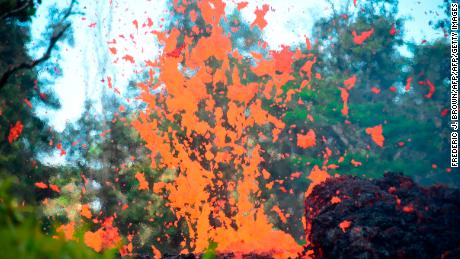 Lava escapes from a fissure in Leilani Estates May 4.About 14,000 customers of Hawaii Electric Light lost power immediately after the earthquake. Spokeswoman Rhea Lee-Moku said power has been restored to about half of the customers, but sulfur gas levels in some areas are beyond what Hawaii Electric Light deems safe so they cannot work in those places."When you are exposed to that level of SO2 in the Leilani Estates area you need more protection than we have available to us," she said. KHON reported that some viewers on the island of Oahu, about 200 miles away, felt the shaking.Jeremiah Osuna, who used a drone to record one of the videos Thursday, said the area "sounded like if you were to put a bunch of rocks into a dryer and turn it on as high as you could," according to KHON.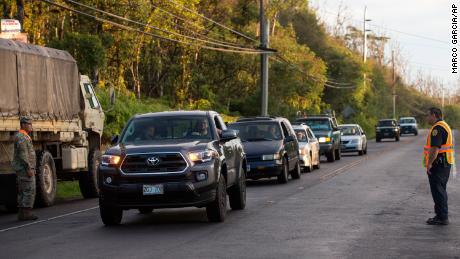 As authorities watch, Leilani Estates residents line up on the road leading to the area."You could just smell sulfur and burning trees and underbrush and stuff," Osuna said. "I couldn't believe it. I was kind of shaken a little bit and realizing how real everything is, and how dangerous living on the East Rift can be."Concerns about sulfur dioxideDestructive molten flows weren't the only concern. Volcanic eruptions can release potentially dangerous sulfur dioxide — and fire department personnel have detected high levels of the gas in the evacuation area, the civil defense agency said.Exposure to high levels of sulfur dioxide could be life-threatening, according to the federal Agency for Toxic Substances and Disease Registry. Breathing large amounts of sulfur dioxide could result in burning of the nose and throat and breathing difficulties, the agency says.Senior citizens, the young and people with respiratory issues are especially vulnerable to the gas, the state's Emergency Management Agency said.
Gov. David Ige said he's activated the Hawaii National Guard to help with evacuations and security. "I urge residents in Leilani Estates and the surrounding areas to follow instructions. … Please be alert and prepare now to keep your family safe," he tweeted. Kilauea is one of the world's most active volcanoes. It's in Hawaii Volcanoes National Park, which closed Friday and evacuated all visitors and nonemergency staff. Since Monday, several hundred earthquakes — most of them around magnitude 2.0 — have been recorded in the area. The series of quakes came after a collapse of a crater floor of Puu Oo.
Source Link:
https://www.cnn.com/2018/05/05/us/kilauea-volcano-hawaii-earthquakes/index.html
[-0.193463]
Comments
comments