(CNN)The encounter between the teen phenom and her idol didn't disappoint as the drama continued at the women's WTA year-end championships.
In this case it was the elder superstar in Simona Halep who downed the ailing Canadian trailblazer Bianca Andreescu 3-6 7-6 (8-6) 6-3, saving a match point in the process. Halep didn't enjoy the greatest of preparation for the elite tournament due to a lingering back complaint, but it was Andreescu's back that ultimately gave way in the grueling two-and-a-half hour thriller.
This @Simona_Halep @Bandreescu_ match is a final… @WTAFinals
— Chris Evert (@ChrissieEvert) October 28, 2019 The earlier match in the Purple Group went into the record books, with defending champion Elina Svitolina winning the longest ever tiebreak at the WTA Finals 14-12 as part of a 7-6 (14-12) 6-4 triumph over Karolina Pliskova. The first two days in the event's new home of Shenzhen, China haven't disappointed — both matches Sunday went to a third set. Andreescu's parents hail from Romania and their daughter spent chunks of time in Romania when younger. Later, she got the chance to meet Halep, who fielded questions and gave her some advice. It was the Wimbledon champion who ultimately had the right answers on court Monday against Canada's maiden grand slam singles winner. Read MoreREAD: Naomi Osaka: 'I want to leave some sort of legacy'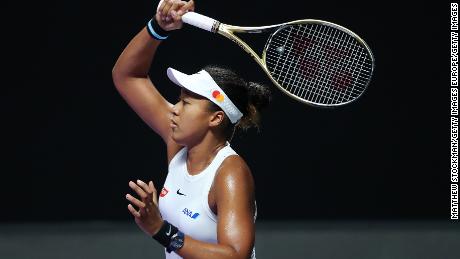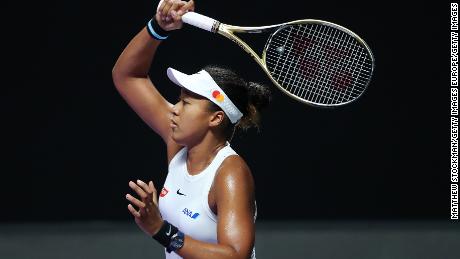 JUST WATCHEDNaomi Osaka reflects on a rollercoaster 2019ReplayMore Videos …MUST WATCH
Naomi Osaka reflects on a rollercoaster 2019 02:54They both beat the same player, all-time great Serena Williams, in the Wimbledon and US Open finals. Svitolina, meanwhile, lost to Andreescu in Indian Wells, California in March, when the latter truly announced herself to the tennis world. Her record this year stood at 48-5 and was even better against the top 10 — a win-loss record of 8-1. All that despite withdrawing from the French Open in the first week and missing Wimbledon altogether with a troublesome right shoulder injury.Those figures seemed like getting even better when the feisty all-rounder led by a set and 6-5 in the second. She took it to Halep, especially when returning second serves, and was the aggressor for most of the first two sets.
Simona Halep beat Bianca Andreescu in three sets at the WTA Finals on Monday. Early upper hand for AndreescuThinking on her feet — literally — she struck a tweener from the baseline facing the net at 2-4 in the second set and overcame a slight graze to her lower left leg that necessitated a rare medical timeout not during a changeover. One sensed it was a win for Halep just to be competing in Shenzhen after missing last year's showpiece in Singapore courtesy of the back, but she despises losing and it showed on the match point. Andreescu held the upper hand in the rally but Halep defended admirably, finally getting an unforced error from her opponent.
Biance Andreescu suffered just her sixth loss of the season. Halep only struck three unforced errors in the Wimbledon final and while that wasn't the case against Andreescu, the match point sums up her counter punching brilliance. In the tense tiebreak, Halep slapped her thigh in frustration when a set point went astray, while Andreescu bounced her racket in disgust at 6-6 after a backhand miss. After Andreescu missed a second-serve return wide to end the set, Halep smiled to her box, which included influential Australian coach Darren Cahill. Both players took medical timeouts, though in Halep's case it seemed to be for a tape issue to her foot. Andreescu was in more distress and Halep, from a 2-1 break deficit in the third, cruised home. Svitolina went undefeated last year and an unblemished champion this year would give the winner a check of $4.725 million, the biggest ever payday in tennis. The counter punching Svitolina had won three in a row against ace queen Pliskova, so the Czech dropping the first set in an hour and five minutes and in such dramatic fashion was a massive blow. Tiebreak keySvitolina converted on her seventh set point in the tiebreak — Pliskova had one.The Ukrainian broke early in the second set, Pliskova drew level but the reigning champion prevailed after hitting four good first serves to escape from 15-40 in the final game.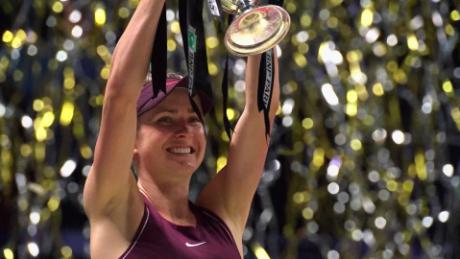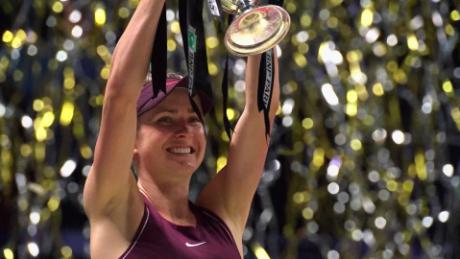 JUST WATCHEDElina Svitolina on the WTA Finals and SerenaReplayMore Videos …MUST WATCH
Elina Svitolina on the WTA Finals and Serena 03:25Svitolina made her grand slam breakthrough this season, making semifinals at Wimbledon and the US Open. If she wins the title in Shenzhen, the world No. 8 would become the first back-to-back winner since Williams claimed three in a row from 2012-2014. Sunday's winners, Australian Open champion Naomi Osaka and French Open titleist Ashleigh Barty, face off in the Red Group Tuesday, while Melbourne runner up Petra Kvitova meets US Open semifinalist Belinda Bencic. Osaka beat current world No. 1 Barty in the gripping Beijing final earlier this month.
Source Link:
https://www.cnn.com/2019/10/28/tennis/halep-andreescu-svitolina-pliskova-wta-finals-tennis-intl-spt/index.html
[0.323363]
Comments
comments