(CNN)After slamming Cuba twice in fewer than 24 hours, Hurricane Ida is expected to pummel Louisiana on Sunday, urging evacuations in New Orleans and the surrounding coastal region.
On Saturday morning, Ida was moving away from Cuba and into the Gulf of Mexico, where it is expected to rapidly intensify over the next 24 to 36 hours prior to landfall across the Louisiana coast on Sunday afternoon or evening.Ida is anticipated to reach at least Category 4 strength before landfall, the National Hurricane Center said, maintaining its earlier forecast. Sign up for email updates for significant storms "Ida is expected to be an extremely dangerous major hurricane when it approaches the northern Gulf Coast on Sunday," National Hurricane Center forecasters said Saturday morning. At 5 a.m. ET, the storm sustained winds of 80 mph.Read MoreOfficials implored people to evacuate, with some issuing mandatory orders to do so.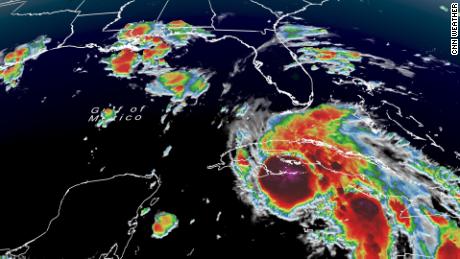 After slamming Cuba, Hurricane Ida churns through the Gulf of Mexico New Orleans Mayor LaToya Cantrell issued a mandatory evacuation of all city areas that are outside its flood protection system, and urged other residents to evacuate voluntarily or shelter in place. "The city cannot issue a mandatory evacuation because we don't have the time," Cantrell said Friday at a news conference, speaking about areas inside the levee system. "We do not want to have people on the road, and therefore, in greater danger because of the lack of time." A dangerous storm surge of 10 to 15 feet is expected from Morgan City, Louisiana, to the mouth of the Mississippi River on Sunday as Ida makes landfall, the NHC said. Hurricane conditions are likely in areas along the northern Gulf Coast beginning Sunday, with tropical storm conditions expected to begin by late Saturday night or early Sunday morning. These conditions will spread inland over portions of Louisiana and Mississippi Sunday night and Monday. Rainfall can amount to 8 to 16 inches, with isolated maximum totals of 20 inches possible across southeast Louisiana and southern Mississippi through Monday– which will likely lead to significant flash and river flooding impacts.A hurricane warning remains in effect from Intracoastal City, Louisiana, to the mouth of the Pearl River and includes Lake Pontchartrain, Lake Maurepas and New Orleans. In Louisiana, a hurricane watch is in effect from Cameron to west of Intracoastal City and the mouth of the Pearl River to the Mississippi-Alabama border. Tropical storm warnings and watches are also issued stretching east to the Alabama-Florida border. The city is anticipating impacts from damaging winds of up to 110 mph, according to Collin Arnold, director of the New Orleans Office of Homeland Security and Emergency Preparedness. TRACK IDA'S PATH >>>"If you are going to evacuate, you know that's a responsibility that you take on — do so as soon as possible," he said. "You do not want to be stuck on the road, when the storms impacts arise."If Ida makes landfall in Louisiana, it would be the fourth hurricane to do so since last August and Louisiana's third major hurricane landfall in that span. Sunday, which is the forecast landfall day, is also the 16th anniversary of Hurricane Karina, a devastating Category 3 storm with winds near 127 mph that caused severe flooding to cities along the Gulf Coast, from New Orleans to Biloxi, Mississippi. More than 1,800 people were killed in the Gulf region directly or indirectly from the storm and in the days after, according to a NOAA report.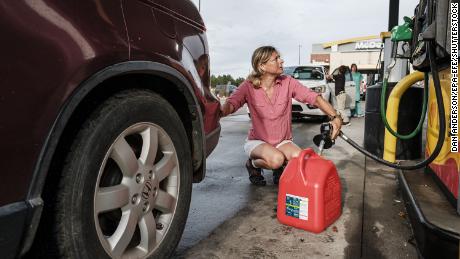 Jennifer Tate fuels up a gas can as she prepares for the arrival of Hurricane Ida in Pass Christian, Mississippi, USA on 27 August 2021. Hurricane Ida is expected to make landfall on the Louisiana coast on the evening of 29 August as a major hurricane.Ida raises health concerns amid Covid-19 pandemic Hospitals in New Orleans will not evacuate and instead shelter in place while Ida makes its way through the region, the city's health department director Dr. Jennifer Avegno said. Capacity at nearby hospitals in Texas and Florida is "extremely limited," Avegno said, as Covid-19 hospitalizations are on the rise. She added that the city's hospitals are familiar with plans during storm season. "I would ask our residents, if you do not need to go to the hospital this weekend, if you do not have a life-threatening emergency, please do not go," Avegno said. "This is not the time to go to the hospital for a routine thing that could wait until later." Meanwhile, Louisiana had no plans Friday to separate vaccinated and unvaccinated people in shelters in state assisted emergency facilities during Ida, according to Mike Steele, a spokesperson for the state Homeland Security and Emergency Management.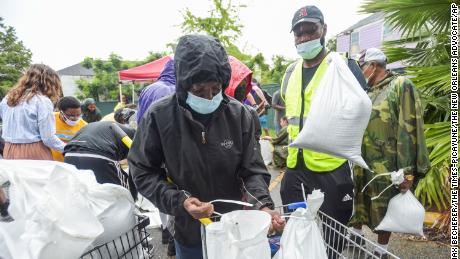 New Orleans mayor says there's not enough time to order new mandatory evacuations ahead of Hurricane Ida Steele noted that municipalities issue evacuation orders, and those operations start at the local level. He added that masks are required at all shelters in the state along with social distancing. Louisiana Gov. John Bel Edwards expressed concern about sheltering while Covid-19 are on the rise in the state. "The prospect of sheltering potentially thousands and thousands of people at the height of the fourth surge is very, very daunting," he said during a news conference about hurricane recovery efforts. The governor acknowledged the challenge of bracing for a potential hurricane in the midst of recovery efforts from the 2020 hurricane season."We're not recovered. Not by a long shot," the governor said of Hurricanes Laura and Delta impacts last year. "We still have businesses boarded up from the last (hurricane.) Homes have not yet been repaired and reoccupied. Or if they are damaged to the point where they need to be demolished and removed, in many cases that hasn't happened either."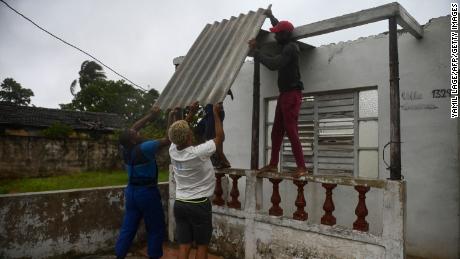 Men place a corrugated metal sheet on the roof of a house under the rain in Batabano, Mayabeque province, about 60 km south of Havana, on August 27, 2021, as Hurricane Ida passes through eastern Cuba. Ida made two landfalls in Cuba FridayBefore entering the Gulf, Ida made landfall twice over Cuba as a Category 1 hurricane.First forming as a tropical storm in the Caribbean on Thursday, Ida hit Cuba's Isla de la Juventud, or Isle of Youth, on Friday afternoon, the US National Hurricane Center said. A second landfall occurred in western Cuba around 20 miles (30 km) east of La Coloma, according to satellite images, radar data and NOAA Hurricane Hunter data.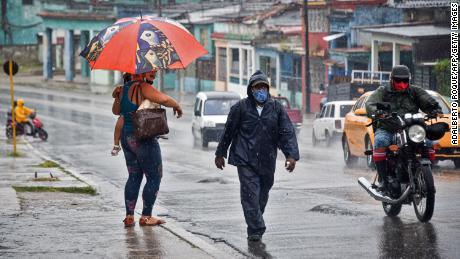 People walk under the rain in Havana on August 27, 2021, as Hurricane Ida passes through eastern Cuba.More than 4 inches of rain were recorded in Pinar del Rio, according to the Cuban Meteorological Institute. Jagüey Grande Matanzas experienced around 2.4 inches of rain and the Isle of Youth had 1.89 inches, the institute said. Havana recorded 0.94 inches.Isolated instances of 5 to 15 inches of rain in some parts of western Cuba are expected, according to hurricane center forecasters."These rainfall amounts may produce life-threatening flash floods and mudslides," the hurricane center said. Swells generated by Ida are expected to affect the western part of the island through Saturday morning.
Source Link:
https://www.cnn.com/2021/08/28/weather/hurricane-ida-saturday/index.html
Bad Request
Your browser sent a request that this server could not understand.
Size of a request header field exceeds server limit.
Comments
comments