(CNN)President Donald Trump's choice of Rep. John Ratcliffe to replace respected former Sen. Dan Coats as Director of National Intelligence in one of the most powerful and sensitive jobs in government, has gotten a tepid response to this point from Republican senators, signaling the Texas Republican, a Trump loyalist who lacks intelligence experience, could face a fight to be confirmed.
The handful of GOP senators who initially put out public statements about the change mostly praised the professionalism and integrity of the departing Coats. This includes Senate Majority Leader Mitch McConnell, and two GOP members of the Senate Intelligence Committee, Roy Blunt of Missouri and Susan Collins of Maine."When I have something to say about the nominee, I will let you know," McConnell told reporters on Capitol Hill on Monday. He released a statement praising Coats on Sunday. "I was reassured knowing that a man who took such a deliberate, thoughtful, and unbiased approach was at the helm of our intelligence community," McConnell said in that statement.Read More"Dan Coats and I served on the Senate Intelligence Committee together. His questions were always tough and he demanded the best from the agencies that reported to us. He had the same standards as Director of National Intelligence. He handled a hard job well," Blunt said in a statement Monday.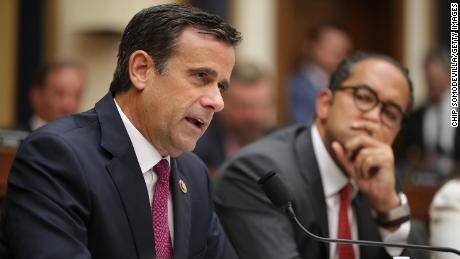 Rep. John Ratcliffe, a Texas Republican, is seen questioning former special counsel Robert Mueller as he testifies before the House Intelligence Committee in Washington last week. (Photo by Chip Somodevilla/Getty Images)"Dan Coats is one of the finest public servants I have ever known," Collins said in a statement Sunday. "He led the intelligence community with integrity and skill, and his departure is a huge loss to our country." Sen. John Cornyn, a Texas Republican, said he does have some concerns about Ratcliffe's lack of experience in intelligence but said he holds the congressman in "high regard" and said, "I have confidence he'll do a good job." "Admittedly, I mean, he doesn't, you know, he's been a US attorney. He hasn't been on the (House Intelligence Committee) for that long, but I think, you know, how many DNIs have we had? Maybe two? Two or three? It wasn't even created until post-9/11," Cornyn said. "I have confidence he'll do a good job."GOP Sen. Chuck Grassley of Iowa said Ratcliffe is a "qualified congressman," but said "I don't know anything about his background to be head of … Intelligence."The New York Times reported that Intelligence Committee Chairman Richard Burr, a Republican from North Carolina, "cautioned the president's advisers that he considered Mr. Ratcliffe too political for the post, according to people familiar with the discussions."But a source familiar with the matter disputed the Times' characterization, telling CNN that Burr did not offer the White House any guidance about their nominee, and that Burr did not give his personal opinion of Ratcliffe.Burr put out his own statement on Monday afternoon praising Coats' service and said he spoke with Ratcliffe on Sunday to congratulate him. "When the White House submits its official nomination to the Senate Intelligence Committee, we will work to move it swiftly through regular order," Burr said in the statement. "In the meantime, I look forward to working with DNI's Principal Deputy Director Sue Gordon, who has been a trusted partner to our Committee."Sen. John Boozman, an Arkansas Republican, underscored GOP senators' uncertainty surrounding Trump's pick, responding to questions on Ratcliffe with praise for Coats and saying repeatedly that he doesn't know anything about Ratcliffe."To be honest, I really don't know anything about the gentleman, the congressman, he's talking about selecting," Boozman told CNN on Monday. "You know, this was kind of a sudden thing. So that's something that we'll be looking at."While it's far too early to know if Ratcliffe, who is a member of the House Intelligence Committee, is endangered, Burr's opinion is sure to carry weight with rank-and-file Republican senators who were comforted with the gravitas and heft that Coats — who as a senator was a member of the Intelligence Committee — brought to the post, especially when he clashed with Trump on key intelligence matters. GOP senators may also not know Ratcliffe very well, seeing him in the public eye for the first time just last week when the conservative congressman made a high-profile challenge to former special counsel Robert Mueller, defended Trump, and downplayed the threat from Russia. Senate Minority Leader Chuck Schumer slammed the choice of Ratcliffe, saying he is a "partisan player" who "exhibited blind loyalty" to Trump when he took on Mueller. Schumer's views signal Democrats are unlikely to provide many — if any — votes for Ratcliffe. Republicans hold a 53-47 majority in the Senate. That means if Democrats stand together against Ratcliffe, Republicans can lose no more than three GOP senators and still get him confirmed with the tie-breaking vote of Vice President Mike Pence. This story has been updated with additional developments Monday.
Source Link:
https://www.cnn.com/2019/07/29/politics/ratcliffe-nomination-republican-reaction/index.html
[-0.314954]
Comments
comments