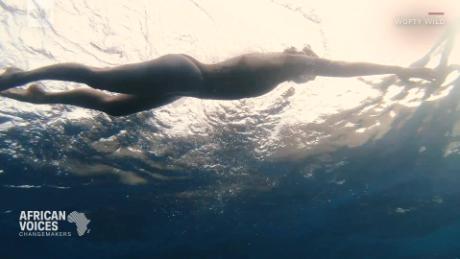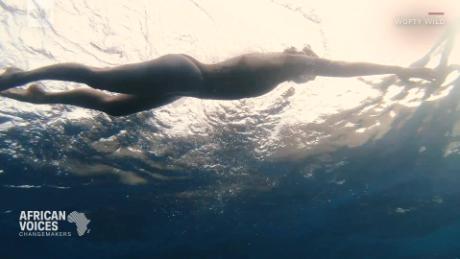 JUST WATCHEDSarah Ferguson is creating awareness about plastic pollution one stroke at a time.ReplayMore Videos …MUST WATCH
Sarah Ferguson is creating awareness about plastic pollution one stroke at a time. 01:41
Cape Town, South Africa (CNN)
For someone who spends most of her time in the water, Sarah Ferguson's routine is airtight. An ocean swim before work, a pool session at lunchtime, Pilates coaching in the evening, followed by a healthy dinner, and then bed.This record-setting endurance swimmer is not preparing for a race or aiming for a world title. She's putting in countless strokes and sacrifices for something much larger than herself, or anything else — the ocean. A cleaner, plastic-free ocean.Ferguson, half fish, half eco-warrior, founded Breathe Conservation, a nonprofit dedicated to solving the plastic pollution problem, in 2012."Our motto with 'Breathe' is to live deeply and to tread lightly. So that means follow your passions but at the same be aware of the daily choices that you make," Ferguson said. On land, the NGO organizes beach cleanups all over the world. In the sea, Ferguson swims unthinkably long distances in trash-laden waters to raise awareness of the issue.Read MoreShe doesn't expect anyone to join her in these feats; she only hopes to inspire change. "Just like I get to my destination one stroke at a time, every single individual decision you make … to bring your own bag, to refuse a straw, over time, it makes a big difference," she told CNN.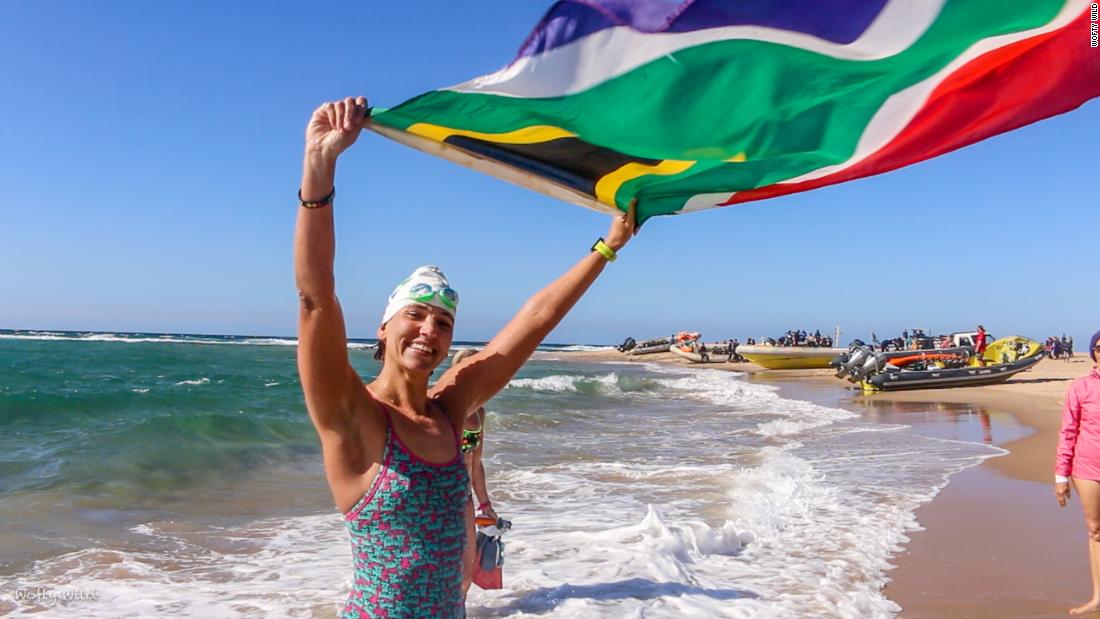 Photos: Sarah Ferguson upon completing a 100km swim from Mozambique to South Africa to raise awareness of plastic pollution in the ocean.Hide Caption 1 of 5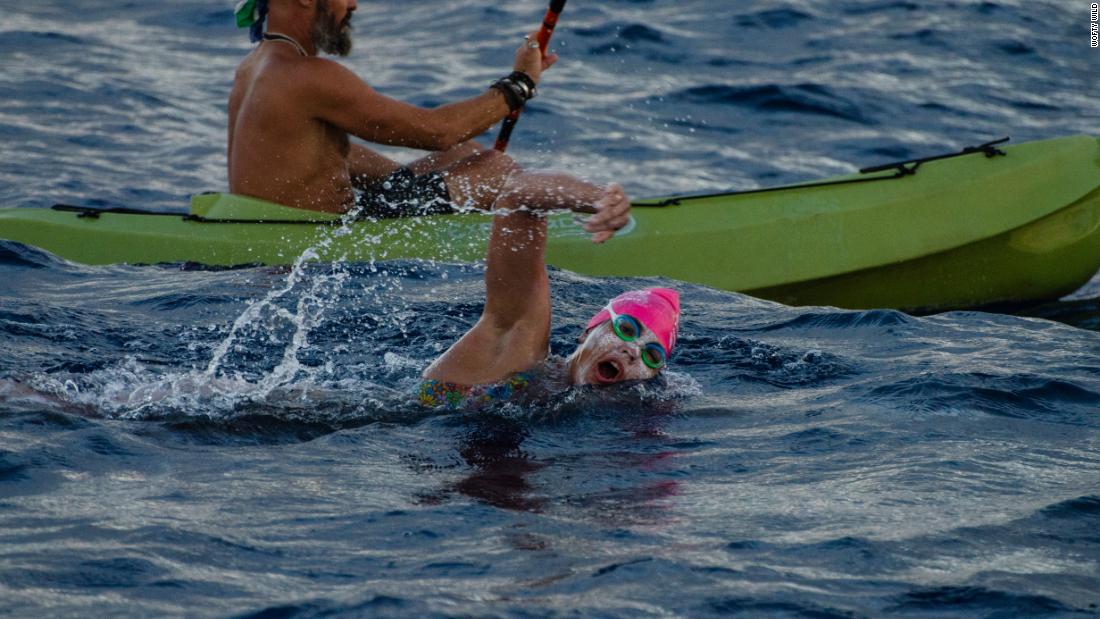 Photos: Sarah Ferguson during her 65km circumnavigation swim around Easter Island.Hide Caption 2 of 5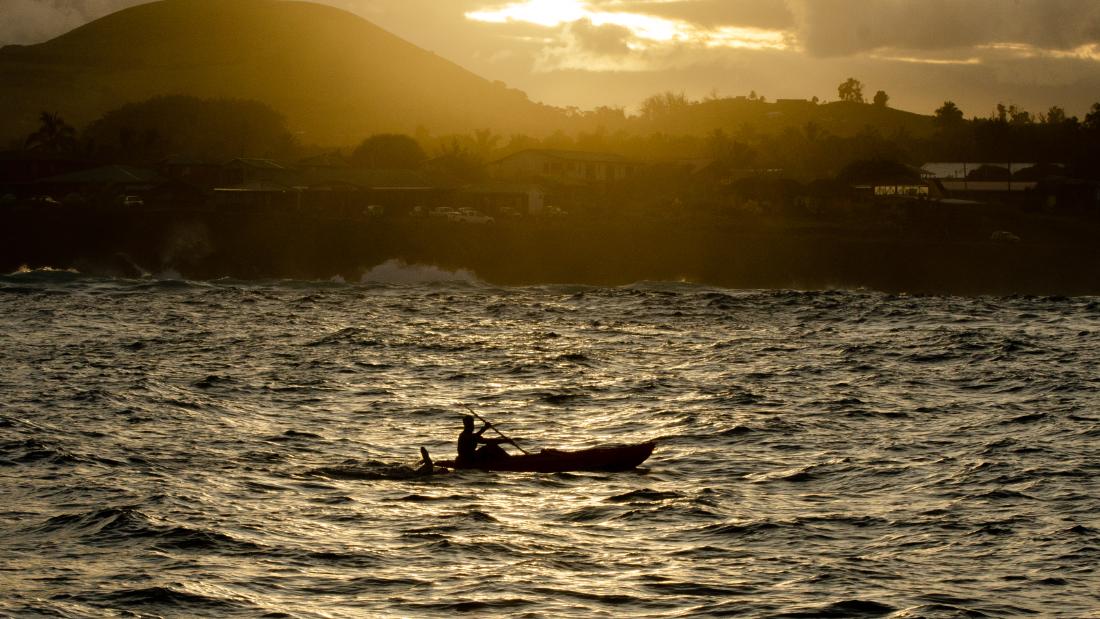 Photos: Sarah Ferguson at sunset during her world record setting swim around Easter Island. Hide Caption 3 of 5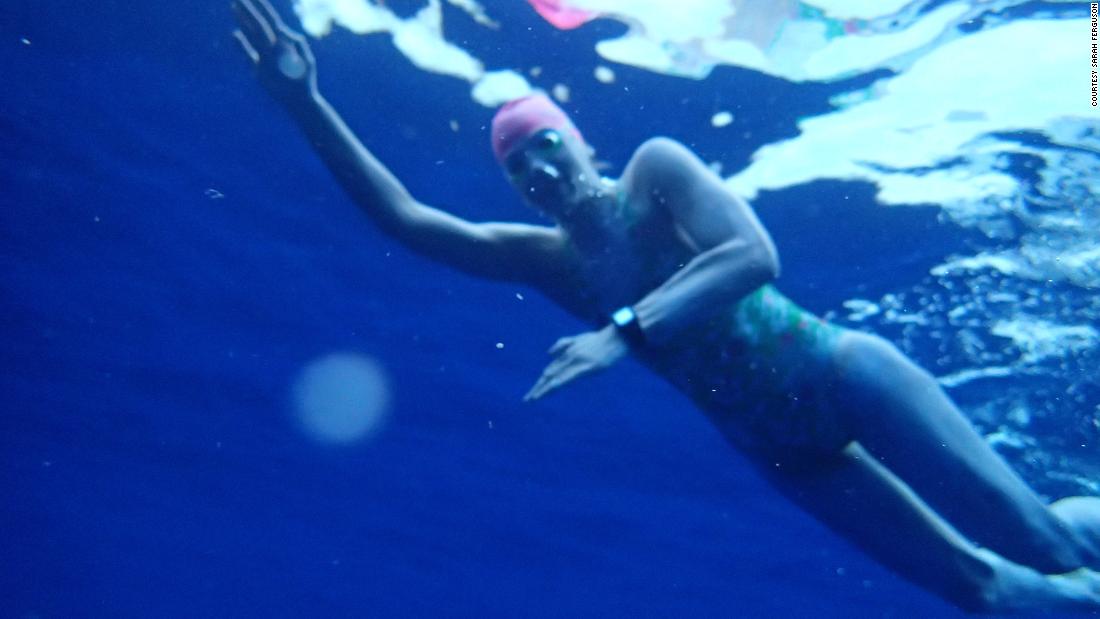 Photos: Sarah Ferguson crossing the Kaiwi Channel in Hawaii.Hide Caption 4 of 5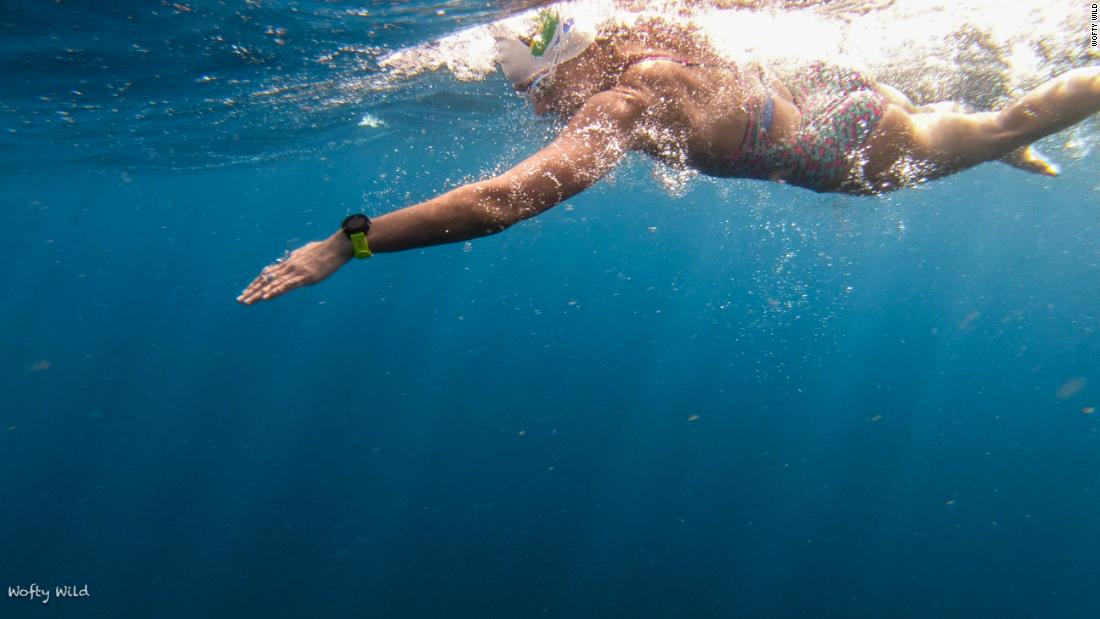 Photos: Sarah Ferguson uses swimming as a platform to educate people on plastic pollution in the ocean.Hide Caption 5 of 5





Circumnavigating Easter IslandIn March, she swam the perimeter of Easter Island, located 3,540 kilometers off the coast of Chile. The remote island is situated near the South Pacific Garbage Patch, a debris-filled vortex, which spans 1 million kilometers, according to the latest report. Some of the waste found here comes from places thousands of miles away.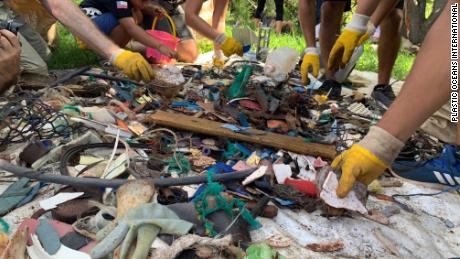 A crew sorts through marine debris on Easter Island.Microplastics (plastic pieces smaller than 5 millimeters) make up the majority of the garbage patch, and some of it washes up onto the iconic UNESCO World Heritage Site. According to Plastic Oceans, the nonprofit that partnered with Ferguson for her circumnavigation swim, Easter Island has one of the highest concentrations of microplastics in the world."It's one of the most remote places in the world and yet it's getting inundated with the world's trash. That's why we decided to have the swim there," she said.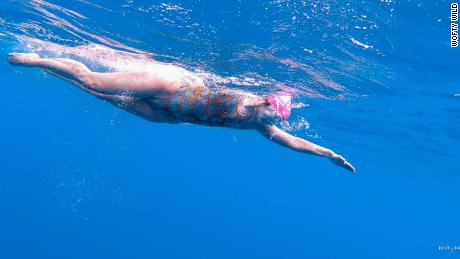 Ferguson during her 65 kilometer swim around Easter Island.Ferguson completed the grueling 65 kilometer swim in a little over 19 hours, becoming the first person ever to swim the entire perimeter of the island."Having a language barrier, being so remote, there were a lot of challenges. But that's where the teamwork came in," she said.Humble and inclusive, she credits a worldwide team for the success in their mission and her background in swimming for getting her through all those miles.The making of a swimmer"Before I could walk, [my parents] put me on the beach, and I'd just go straight for the ocean. And they'd have to come and get me. So, I've always had a love for the water," said Ferguson.After she was victrix ludorum on her school's swim team in 1995, Ferguson's parents realized her potential and enrolled her into a swimming squad. That marked the start of her competitive swimming career for South Africa."[Swimming] was very self-driven. And it was very much driven through faith. But I lost my joy in it. And that's when I felt that God told me to stop swimming competitively. And I fought it. But I eventually decided, 'Okay, I'm going to stop,'" she said.Competitor turned ocean advocateAfter hanging up her swimming cap, Ferguson continued on in the fitness arena: becoming a physiotherapist and Pilates instructor. The former national swimmer still yearned to incorporate her passion for the water into a profession, but struggled to find the means to do so.
Ferguson during her trip to India, which highlighted a problem that would become her passion.A trip to India in 2011 highlighted an issue she had not thought about much: trash. "I think seeing the rubbish in India was a huge eye-opener for me. And I think that was definitely also the start of my journey into being a changemaker, just seeing that rubbish. And not wanting that for the future of my kids one day."From there she traveled to Hawaii, where she was introduced to endurance swimming and fell in love with it.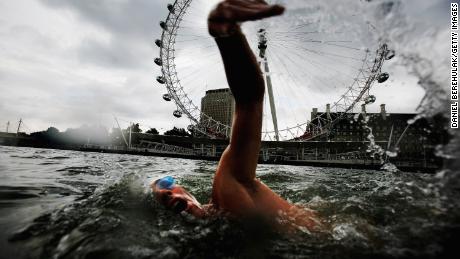 Endurance swimmer and conservationist Lewis Pugh swims in the Thames River in London.In Hawaii, Ferguson started reading Lewis Pugh's book 'Achieving the Impossible,' which detailed his unimaginably cold swim in the North Pole to raise awareness for climate change."That [book] kind of triggered something in me to maybe try and do something more meaningful with my talent and my love of swimming," she said.Her first big open-water swim with her "cleaner oceans" mission in mind was in Hawaii, where she became the first South African to swim the Kaiwi Channel. Here, the seemingly pristine-looking beaches are, in fact, littered with tons of plastics. Kamilo Beach in Hawaii is considered one of the dirtiest beaches in the world, according to the Algalita Marine Research Foundation."When I started getting involved in this, you know it was 'this is an issue,' but the more you get involved, the more you realize it's affecting every part of this planet. There's not a beach in the world that has not been affected by our throwaway society," she said.A long journey aheadIn between her epic swims and beach cleanups, she visits schools across Africa, giving educational speeches and explaining how plastic impacts us all."It's a circle of life. We need the phytoplankton that's sitting in the ocean in order to breathe and if that's getting suffocated by our plastic pollution, we're not getting enough oxygen. Also, the fish are eating plastic, we're eating the fish, we're getting plastic. It's so interconnected," she said.Still riding the wave of her Easter Island accomplishment, Ferguson is not planning another big swim for a while, but she's always advocating for a plastic-free planet."Just think of one thing that you can change in your life. Don't think that it's too small, because nothing's too small. If everyone had that attitude, nothing would be done. And if everyone does the little bits, then over time we can really create change."
Source Link:
https://www.cnn.com/2019/09/06/africa/sarah-ferguson-swim-against-plastic/index.html
[0.411041]
Comments
comments