Republican Virginia Gov. Glenn Youngkin slammed education officials in his state after seven schools declined to inform students that they had won national merit awards, with the governor arguing the move came in the name of "equity."
National merit awards are among the most prestigious honors a high school student can receive, with just 50,000 students from the top 1.5 million PSAT scores receiving it. Youngkin's administration opened an investigation into the public schools last week, and he has also called for an inquiry into how the schools are using public funds.
"[The schools] have a maniacal focus on equal outcomes for all students at all costs. And at the heart of the American dream, is excelling, is advancing, is stretching and recognizing that we have students that have different capabilities," Youngkin told ABC 7.
"Some students have the ability to perform at one level, others need more help, and we have to allow students to run as fast as they can to dream the biggest dreams they can possibly dream and then go get them," he added.
VIRGINIA LT. GOV. SEARS TORCHES HIGH SCHOOL'S EQUITY-BASED RULE ON MERIT AWARDS: 'THIS IS NOT AMERICA'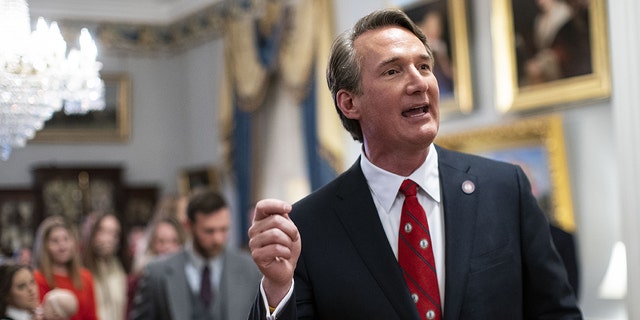 Glenn Youngkin, governor of Virginia, speaks to members of the media following a cabinet swearing-in ceremony at the Virginia Executive Mansion, in Richmond, Virginia, U.S., on Saturday, Jan. 15, 2022. Youngkin, former co-CEO of the Carlyle Group Inc., is the first Republican elected to the office since 2009. (Al Drago/Bloomberg via Getty Images)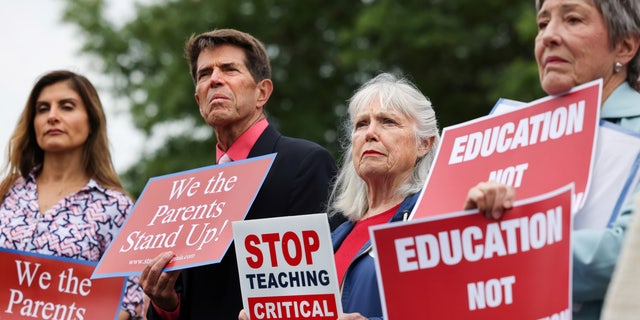 Virginia has been a hotbed of conflict between parents and far-left school administrators. (REUTERS/Evelyn Hockstein)
The schools that withheld awards from top-performing students included Annandale, West Potomac, John R. Lewis, Edison, Thomas Jefferson for Science and Technology, Westfield, and Langley High, according to the Daily Mail. Some of the schools, like Thomas Jefferson, eventually notified students but waited until after important deadlines for college scholarships had passed.
VIRGINIA PARENTS SOUND OFF ON POLITICIZATION OF SCHOOLS: 'AN ATTACK ON THE FAMILY AND THE CHURCH'
"We need to get to the bottom of what appears to be an egregious, deliberate attempt to disadvantage high-performing students at one of the best schools in the country," Youngkin said in a statement last week. "Parents and students deserve answers and Attorney General Miyares will initiate a full investigation. I believe this failure may have caused material harm to those students and their parents, and that this failure may have violated the Virginia Human Rights Act."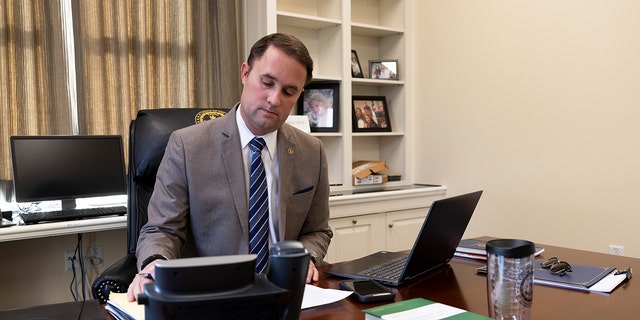 The newly sworn-in Attorney General of Virginia, Jason Miyares works from his office January 19, 2022 in Richmond, Virginia. (Julia Rendleman for The Washington Post via Getty Images)
The misconduct comes after Fairfax County Public Schools recently adopted a new strategy that aims to provide "Equal outcomes for every student, without exceptions."
CLICK HERE TO GET THE FOX NEWS APP
The FCPS says its own preliminary investigation found that the delay in merit award notifications was a result of human error.
"As a reminder, once this error was brought to light, school staff reached out to colleges to update records where commended scholars had applied," FCPS said in a statement.
Fox News' Landon Mion contributed to this report.
Anders Hagstrom is a reporter with Fox News Digital covering national politics and major breaking news events. Send tips to [email protected], or on Twitter: @Hagstrom_Anders.
Source Link:
https://www.foxnews.com/politics/glenn-youngkin-outraged-va-schools-withhold-national-merit-awards-top-students-equity
Comments
comments