(CNN)Germany's anti-Semitism commissioner has asked all citizens to wear the kippah in solidarity with the Jewish community, in the run-up to planned anti-Israel protests Saturday.
"I call on all citizens of Berlin and across Germany to wear the yarmulke (as the skullcap is known in Yiddish) next Saturday if there are new, intolerable attacks targeting Israel and Jews on the occasion of Al-Quds Day in Berlin," said Felix Klein in a statement."By doing this we can show a great sign of solidarity with the Jewish community and make a statement for the freedom of religion and the diversity of our society," Klein told CNN via email.
Angela Merkel warns against dark forces on the rise in EuropeAl-Quds Day is an annual event marked by protests against Israel, on the last Friday of Ramadan, with attendees expressing support for Palestinians.Demonstrations, parades, and seminars are held in various countries, but are especially large in Iran, where Al-Quds Day was established in August 1979. Al-Quds is Arabic for Jerusalem.Read MoreKlein called on Germans to attend rival pro-Israel rallies that are also planned for Saturday.His latest comments come after he was criticized after apparently discouraging German Jews from wearing the kippah."I cannot advise Jews to wear the kippah everywhere all the time in Germany," he told the Funke media group Saturday.Klein suggested that a rise in "social disinhibition and coarseness" was partly to blame for worsening anti-Semitism. "The internet and social media have also strongly contributed to this — but also the continuous attacks on our culture of remembrance," he added.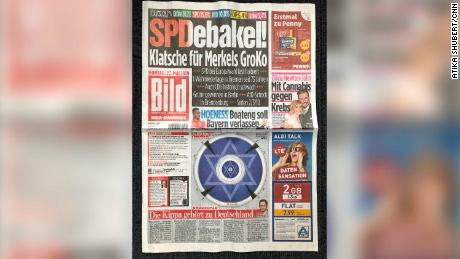 Germany's Bild newspaper published a cut-out kippah in a campaign against anti-SemitismIn response German newspaper Bild published a cut-out kippah skullcap on its front page Monday, urging readers to show their solidarity with the country's Jewish community in the face of rising anti-Semitism. ()"If even one person in our country cannot wear the kippah without putting themselves in danger, then the only answer must be that we all wear the kippah," wrote Editor-in-Chief Julian Reichelt. "The kippah belongs to Germany!"There is mounting concern over the rise of anti-Semitism in Germany, and government figures point to an increase in attacks on Jews.Data released by the interior ministry reveals that anti-Semitic hate crimes rose by nearly 20% from 2017 to 2018, while the number of physical attacks on Jews increased from 37 in 2017 to 69 last year.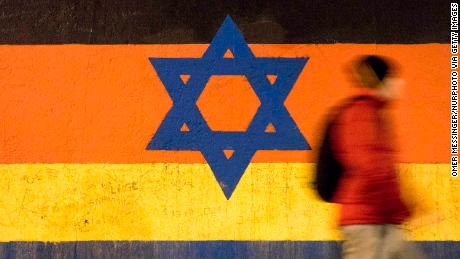 'The word Jew was not a common insult when I went to school…it is now.'German Chancellor Angela Merkel addressed rising anti-Semitism in an interview with CNN's Christiane Amanpour on Monday.Germany has "always had a certain number of anti-Semites among us, unfortunately," said Merkel."There is to this day not a single synagogue, not a single daycare center for Jewish children, not a single school for Jewish children that does not need to be guarded by German policemen," she added.Rising anti-Semitism in Germany was also reflected in an exclusive Europe-wide poll carried out by pollster ComRes for CNN. About one in four people in Germany said Jews had too much influence on wars and conflicts, and one in five said Jews had too much influence in the media.For Doron Rubin, leader of Berlin's Kahal Adass Jisroel community organization, these attitudes are reflected in the rise in anti-Semitic violence that he says raises questions about whether Jews should stay in Germany."You have people questioning where are we heading… not only directed towards Germany, it's a question directed towards Europe," he told CNN in October."Is it possible to live in this society?"
Source Link:
https://www.cnn.com/2019/05/28/europe/germany-kippah-solidarity-scli-intl-grm/index.html
[-0.863569]
Comments
comments