George Conway, the husband of White House adviser Kellyanne Conway, lambasted President Donald Trump's appointment of Matthew Whitaker as acting attorney general as "unconstitutional" in a fiery op-ed in The New York Times.
"President Trump's installation of Matthew Whitaker as acting attorney general of the United States after forcing the resignation of Jeff Sessions is unconstitutional. It's illegal. And it means that anything Mr. Whitaker does, or tries to do, in that position is invalid," said Conway, a lawyer, in a piece co-written by former acting U.S. Solicitor General Neal K. Katyal.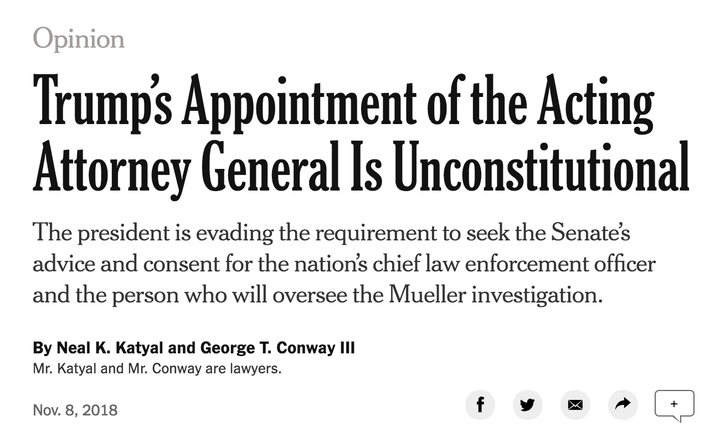 The New York Times The op-ed written by Neal K. Katyal and George Conway.
On Wednesday, Trump announced Whitaker as his pick to replace Attorney General Jeff Sessions, who resigned earlier that day at the president's request. Whitaker, a former federal prosecutor who will now oversee special counsel Robert Mueller's Russia investigation, had served as Sessions' chief of staff since September 2017.
Conway and Katyal's central argument is that a principal officer, such as acting attorney general of the United States, must be confirmed by the Senate. By evading such a procedure, Conway argues, it "defies one of the one of the explicit checks and balances set out in the Constitution, a provision designed to protect us all against the centralization of government power."
The op-ed says the American people "cannot tolerate such an evasion of the Constitution's very explicit, textually precise design. Senate confirmation exists for a simple, and good, reason."
"Constitutionally, Matthew Whitaker is a nobody. His job as Mr. Sessions's chief of staff did not require Senate confirmation," reads the piece.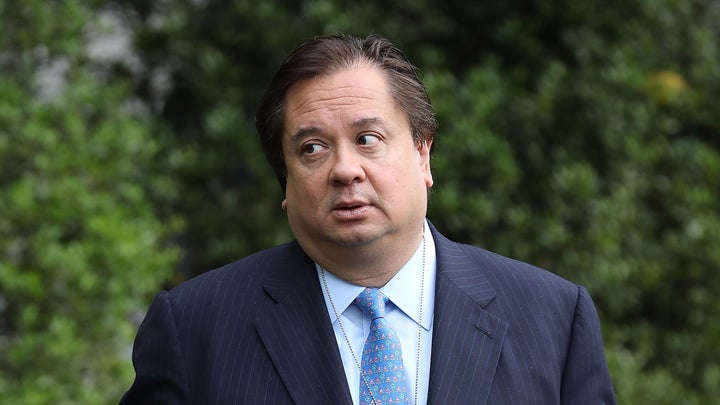 Chip Somodevilla via Getty Images George Conway, the husband of White House adviser Kellyanne Conway.
Conway goes on to say that for Trump to allow Whitaker to take this position is to "betray the entire structure of our charter document."
These sentiments were also recently shared by Andrew Napolitano, senior judicial analyst for Fox News, who said on Wednesday that he believed Trump's appointment of Whitaker was illegal.
"Under the law, the person running the Department of Justice must have been approved by the United States Senate for some previous position. Even on an interim post," Napolitano told Fox News' Dana Perino.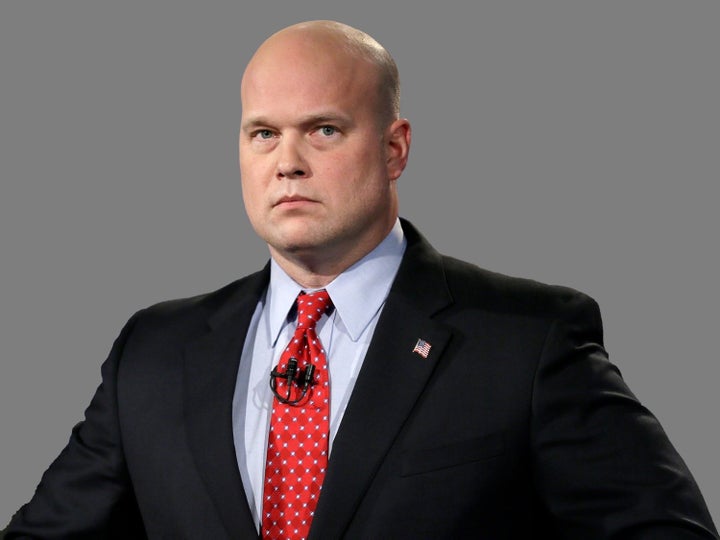 ASSOCIATED PRESS Matthew Whitaker was named acting U.S. attorney general on Wednesday.
A consistent critic of the president, Conway hasn't shied away from speaking his mind about Trump and has been extremely vocal in the last few weeks. Last week, in just one day, he both encouraged social media users to "pile on" the president for his attacks on journalists and slammed the president's proposal to use an executive order to end birthright citizenship.
As of Thursday afternoon, Kellyanne Conway did not share her husband's op-ed on her Twitter page or appear to comment on it publicly.
Source Link:
https://www.huffingtonpost.com/entry/george-conway-new-york-times-op-ed_us_5be47732e4b0e843889555ac
[-0.00518333]
Comments
comments