New Delhi (CNN)He is the scion of India's most influential political dynasty — the son, grandson and great-grandson of former Prime Ministers, who has often been described as a reluctant inheritor of a storied legacy.
But on Saturday, Rahul Gandhi will finally be sworn in as the next president of the country's main opposition Congress Party, replacing his mother, Sonia, just days before the results of a closely watched election that has become a critical political test for India's Prime Minister Narendra Modi.Modi, and his Hindu nationalist Bharatiya Janata Party, are fighting to retain control of the local assembly in Gujarat, the western Indian state that was ruled by Modi for more than a decade before he became India's leader. If the December 18 results of a recently concluded election in that state show big losses for the right-wing BJP, it could give a major boost to the Congress — and to Gandhi's reputation.A big win for Modi's BJP, on the other hand, could damage Gandhi's image just as he formally takes the reins of a political party that has become synonymous with his family.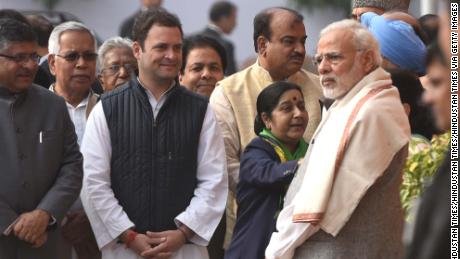 Indian Prime Minister Narendra Modi (R) stands near Rahul Gandhi (L) during the anniversary of the 2001 Parliament Attack at Parliament House on December 13, 2017, in New Delhi. Inevitable riseRead MoreBorn in 1970, Gandhi is the son of former Indian Prime Minister Rajiv Gandhi. His grandmother Indira was India's first female leader, and his great grandfather, Jawaharlal Nehru, was the country's founding Prime Minister. His grandmother was assassinated while in office and his father was killed by a bomb blast while he was campaigning in Tamil Nadu.Gandhi entered politics in 2004, when he was elected to the Lok Sabha, India's lower house of parliament, from the Amethi constituency in northern Uttar Pradesh state — a seat once held by his father and his mother. In subsequent years, he moved up the Congress Party's hierarchy, becoming vice president in 2013.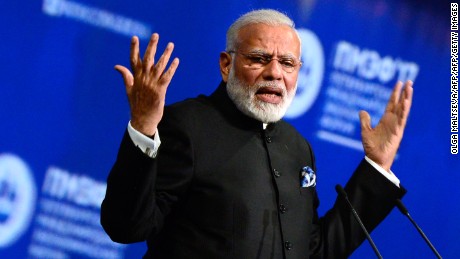 Indian Prime Minister faces growing criticism as economy bites But he has been slow to take the top job, even though he was the face of the Congress Party's campaign during the 2014 national elections. The results were a blow to the party, which suffered its worst ever electoral loss, ceding power in Delhi to Modi, who promised to usher in an era of economic revival. The BJP campaign also targeted Gandhi, portraying him as entitled and out of touch. It worked. The Congress Party won just 44 Parliamentary seats to the BJP's 282. "The most powerful barb that Modi used to make about him was 'shahzada,' which is the Urdu word for prince," said Tavleen Singh, a New Delhi based columnist and longtime political observer. "He (Modi) would taunt him for being born with a silver spoon in his mouth, (and that) he didn't understand India."Modi 'under stress'More than three years on, Modi remains the most powerful and popular politician in India. But he is facing growing questions about his economic record following a slowdown that has dented his image.Although growth in the most recent quarter recovered to 6.3% after slumping to a three-year low, it remains below levels seen last year, leaving India lagging behind China, which grew at 6.8% over the same period. Many economists blame the slowdown on two of Modi's signature policies. The first of which was last year's sudden ban on high-value currency notes, a move that led to widespread chaos in India's cash based economy. This was then followed, earlier this year, by the introduction of a new national goods and services tax to replace a patchwork of local levies that businesses said restricted growth. But critics allege the new tax was implemented in a way that, at least at the outset, made doing business in India even harder. In recent months, many small businesses have struggled to adapt to what they say is still too complicated a system. As a result, Modi is "definitely under stress," Shekhar Gupta, a prominent Indian journalist and editor-in-chief of the online news website The Print, told CNN. "For the first time he's facing questions."The Congress Party has been seeking to build on these concerns — especially in Gujarat, Modi's home state. Gandhi has tried to build alliances and take advantage of waning fanfare for the ruling party by relentlessly campaigning in Gujarat, says Prashant Jha, associate editor at the Hindustan Times and author of the book, How the BJP Wins (Juggernaut 2017)."Congress has campaigned vigorously and formed alliances with important caste leaders," Jha says. "It has adopted a different kind of campaign with Rahul going temple-hopping to wash off the perception that Congress is a pro-Muslim, anti-Hindu party and it is trying to capitalize on the anti-incumbency that exists against the BJP."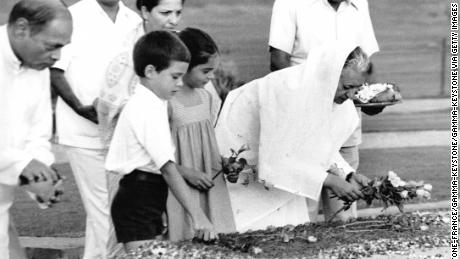 Indira Gandhi, accompanied by her grandchildren Rahul Gandhi and Priyanka Gandhi, in New Delhi, May 27, 1980. Emergence of a 'robust opposition'The key challenge for Gandhi will be to capitalize on the subdued economic mood to rebuild what was once a formidable national party machine that occupied the center-ground in Indian politics. "The Congress could be the party for the working class and rural poor," Neelanjan Sircar, Senior Fellow at the Delhi-based Centre for Public Policy Research, tells CNN. "It's an identity the Congress has but hasn't been fully able to take advantage of. If they're able to come up with a class-based identity, it becomes a very serious challenge to the BJP.""That's Rahul's big job over the next year or two, to construct a party identity." Although the result is hard to predict, Gujarat could help him in this project. "Indian elections are very hard to predict," Jha says. "There are just too many variables and the last few elections have thrown up some surprises."But the Congress Party has put up a strong fight, he observes. "(The BJP has) faced a tough opposition campaign, (and) their vulnerabilities have also come to the fore," Jha says. "This election shows the internal checks and balances that exist within Indian democracy and the fact that there is an emergence of a robust opposition to take on a dominant BJP."
Source Link:
https://www.cnn.com/2017/12/15/asia/rahul-gandhi-scion-elected-india/index.html
[-0.570921]
Comments
comments