Paris (CNN)A court in Paris has ordered the founder of France's #MeToo movement to pay thousands of euros in damages for defaming a man by accusing him of making lewd comments about her.
In October 2017, French journalist Sandra Muller accused television producer Eric Brion of making the comments about her at a party and shared the details on Twitter, using the hashtag #balancetonporc, which roughly translates to "squeal on your pig."Ultimately, her story inspired thousands of others to share their experiences of sexual harassment and assault, catapulting France's national discourse on sexualized violence into the global spotlight.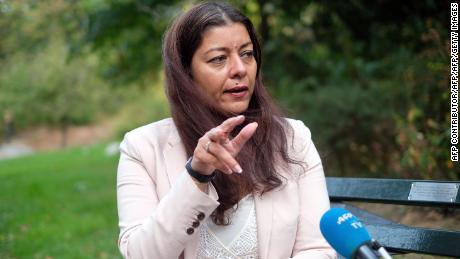 French journalist Sandra Muller was ordered to to pay thousands of euros for defaming a man on social media.On Wednesday a French court ordered Muller to pay €15,000 ($16,500) in damages to Brion, as well as €5,000 ($5,500) of legal fees, Muller's lawyer confirmed to CNN. She has also been ordered to delete the tweeted comments and to share the court's statements on her account, according to the Agence France-Presse (AFP) news agency.Read MoreIn June, Brion acknowledged to the court that he made the inappropriate remarks, but said he apologized for them by text message the day after.
Men are suing women who accused them of harassment. Will it stop others from speaking out? He said he did not receive a response to his apology and that "Muller's violence against me has never stopped. The violence of people hiding behind their phones."His lawyer, Marie Burguburu, previously told CNN that while he admitted to the comment, the reason they were filing a defamation suit was because Muller had accused him of "sexual harassment at work" on Twitter.While he has said that he regretted his words, Brion previously noted in Le Monde that he would rather have been tried in a court of justice than in the court of social media.Muller told CNN affiliate BFMTV after the verdict that the sentence was "disappointing" and that she will "keep fighting every day.""This decision does not mean women have to stop talking. Women have to keep expressing themselves, women have to continue denouncing reprehensible behaviors — all of them," she said. "Fear must not win."Meanwhile, Muller's lawyer, Francis Szpiner, tweeted that that they would be appealing the court's decision.
Source Link:
https://www.cnn.com/2019/09/25/europe/french-metoo-founder-defamation-intl/index.html
[-0.687367]
Comments
comments