New York (CNN Business)A version of this article first appeared in the "Reliable Sources" newsletter. You can sign up for free right here.
Welcome to DetroitOliver Darcy emails: Good afternoon from Detroit! The entire area downtown around the Fox Theatre has been transformed into a CNN-land. There are signs everywhere, an outdoor "game day" set where anchors have been broadcasting since Sunday, and restaurants and bars filled with reporters and staffers preparing for the two-day event. The first debate starts at 8 p.m. ET. Elizabeth Warren and Bernie Sanders will be center stage. With opening statements, two hours of debate time, commercials, and closing statements, it will end around 10:30 p.m… Fast facts — If you're not near a TV tonight, you can watch the debate on CNN.com without logging in to a cable provider… Details here…Read More — Moderators Jake Tapper, Dana Bash and Don Lemon have been in debate prep for days… — Gregory Krieg has a handy list of six things to watch for… — There will be no show of hands or one-word, down-the-line questions… — CNN says "a candidate who consistently interrupts will have his or her time reduced…" — My personal favorite detail: Q's posed by the moderators will appear on the bottom of the screen, so you can tell when candidates aren't answering… — Anderson Cooper and Chris Cuomo will anchor CNN's post-debate coverage from the spin room and other locations… — Trevor Noah, Stephen Colbert and Seth Meyers are all hosting live editions of their late-night shows to react to the debate… How many will watch?The first night of the NBC debate drew about 15 million viewers. The second night drew about 18 million. But those face-offs were the first of the season and they were televised across two broadcast networks and one cable news channel. CNN doesn't have those advantages.CNN's highest-rated debate in history was the September 2015 GOP debate featuring Donald Trump, when 23 million tuned in. So what's likely this time? Something between 10 and 15 million? My guess was way off for the NBC debate, so I'm not venturing a guess this time…Fox Theatre: The "natural" venue choiceOliver emails: The Fox Theatre looks magnificent. Speaking with reporters here, CNN DC bureau chief Sam Feist called it the "natural choice" for the venue when the city of Detroit was selected to host the second pair of debates. And when you see it, it becomes clear why. I walked in earlier with a group of CNN staffers and I think it is fair to say we were all taken aback at how gorgeous the venue truly is. Built during the Great Depression, you can feel the weight of history as you walk the halls of the Fox Theatre…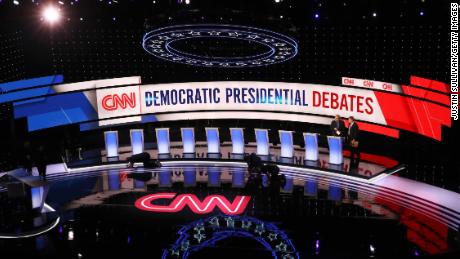 Workers prep the stage during a media briefing ahead of tonight's Democratic Presidential Debate at the Fox Theatre Setting the stageOliver adds some stats: The stage is brand new. It took a team of more than 100 people eight days — and more than 1,000 hours — to assemble the set at the Fox Theatre, CNN's VP of Special Events Kate Lunger told reporters.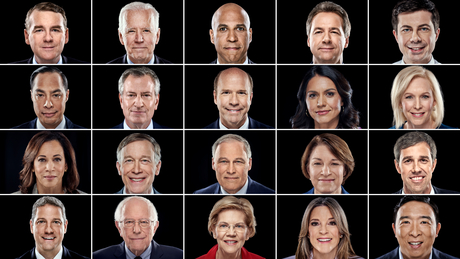 How to watch the second Democratic presidential debate on CNNThere are more than 25 cameras at the location, and 500+ lights in the theater, 40,000 pounds of equipment, and 110 pallets/crates of gear! In fact, Lunger said that there was so much equipment, it took nine 53-foot semi-trucks to haul it all in.Tonight's formatOliver writes: Candidates will get to deliver opening and closing statements tonight. Viewers can also expect to see three commercial breaks during the debate. Moderators will try to allow all the candidates to address questions on the major topics, Feist said. After the debate, candidates will likely greet guests in the crowd, and then head over to the spin room… → CNN has been asking viewers which questions are most important to them. Feist said that the network has "received topic ideas and questions from people all over the world." That said, there will be no audience Q's… → Approximately 3,500 people will be in the audience, including community members, guests from the various campaigns and the DNC…The top tier versus everyone elseTo qualify for the debates, "candidates had to either achieve at least 1% support in three polls from an approved list of pollsters or receive campaign contributions from 65,000 unique donors, including 200 donors each from 20 different states," CNN's Kyle Blaine notes. The bar was purposefully set low for the first debates of the cycle. But it will be set quite a bit higher for the third set of debates, which will be televised by ABC and Univision in September.And it already feels like voters have made some determinations. "To me," NBC's Benjy Sarlin tweeted, "the biggest and most consistent 2020 polling story is that voters have decided on a manageable top tier and seem to be tuning out virtually everyone else." Poll after poll bears this out… → This might make you laugh: Ahead of this week's debates, "we at the Cut have a message for pretty much just about everyone who is currently attempting to try to be president," Kelly Conaboy wrote Tuesday. Here it is: "You can still enjoy a little bit of summer if you drop out right now."The spin tentMore from Oliver: Fun fact: the spin room is actually a tent that has been erected nearby to accommodate the candidates and reporters. The tent is also serving as the press filing center for journalists. A lot of reporters are also holed up in Hockeytown Cafe, just outside the debate hall… "One of the most-credentialed debates that CNN has hosted…"Oliver emails one more: The interest in this debate is huge. CNN DC comms director Lauren Pratapas told me that "this is probably one of the most credentialed debates that CNN has hosted from the press perspective. Pratapas said that CNN has credentialed more than 700 journalists, adding, "There's a lot of interest…"
Source Link:
https://www.cnn.com/2019/07/30/media/detroit-democratic-debates/index.html
[0.372625]
Comments
comments