Just over 10 months ago, Fox News host Sean Hannity told his audience that North Korea was led by an evil regime that should not be appeased since it would break any agreement with the U.S. On Tuesday, following the Singapore meeting between President Donald Trump and North Korean leader Kim Jong Un, Hannity praised Trump's efforts to negotiate with the dictator and said it exceeded White House officials' expectations.
It was a stark reversal ― one that dominated much of Fox News' programming on Tuesday. As Trump has softened his stance toward North Korea in the past several months, dropping his "rocket man" insults and threats of military action, Fox News pundits have followed suit.
Across a slew of Fox News shows, hosts on Tuesday lauded the president and trotted out a number of close Trump allies as guests to do the same. Former Trump adviser and Fox News contributor Sebastian Gorka ― who called North Korea an "evil, evil regime" less than a year ago, called the summit "stunning, absolutely stunning."
Hannity, who sat down with Trump for an interview after the summit, even compared Tuesday's event to former President Ronald Reagan's meeting with Soviet leader Mikhail Gorbachev at the height of the Cold War.
"ABSOLUTELY STUNNING" –@SebGorka reacts to "history in the making" as President Trump gets Kim Jong Un to denuclearize in less than a day pic.twitter.com/1wp5AjLiMs
— FOX & friends (@foxandfriends) June 12, 2018
While many North Korea experts and defectors welcome the ease in tensions between the U.S. and North Korea, they faulted Trump for overtly praising an authoritarian leader and failing to bring up human rights violations within North Korea. Foreign policy experts also argued that, although the summit was a potentially positive first step, the signed agreement lacked reference to "verifiable" and "irreversible" denuclearization.
However, much of Fox's coverage was fiercely defensive of the summit and lambasted the "mainstream media" for criticizing the effort. Pundits gave obligatory acknowledgment of North Korea's human rights abuses but offered little criticism of why Trump didn't bring those issues up to Kim.
Former White House communications director Anthony Scaramucci told "Fox & Friends" hosts that he was "hate watching" the general news coverage and called it "dishonest" that other media outlets weren't praising the president.
"When I watch some of those things, I'm kind of embarrassed for those people, as great things are going on," Melissa Francis, the co-host of "Outnumbered," said after the program aired a reel of journalists criticizing Trump's praise of Kim and the president's slapdash approach to the summit.
The lone dissenting voice on the show was co-host Jessica Tarlov, who called it a missed opportunity that Trump didn't forcefully bring up North Korea's horrific human rights abuses. She was immediately shouted down by some of the other hosts.
"He did!" Francis told Tarlov.
"If people didn't think the president was focused on human rights, they wouldn't be asking for his help," added co-host Harris Faulkner.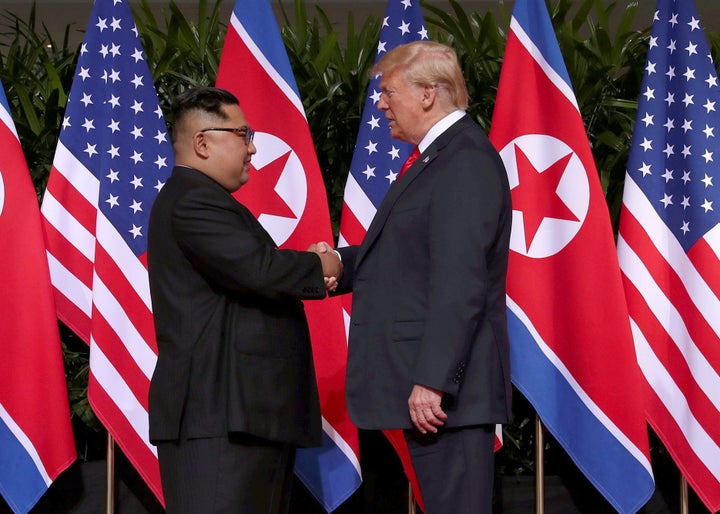 Jonathan Ernst / Reuters U.S. President Donald Trump shakes hands with North Korean leader Kim Jong Un at the Capella Hotel on Sentosa island in Singapore June 12, 2018.
In fact, Trump and Kim's agreement made no mention of North Korea's human rights abuses, and Trump said following the summit that Kim "loves his people." Trump did not mention human rights in his opening remarks at the news conference that followed the two leaders' meeting, giving only a vague answer to a reporter's question about whether his legitimization of Pyongyang betrayed North Korean human rights victims.
Source Link:
https://www.huffingtonpost.com/entry/trump-kim-summit-fox-news_us_5b200a0fe4b09d7a3d77c378
[-0.531635]
Comments
comments