(CNN)A former Mexican defense secretary arrested in the US last month on charges of being a drug cartel boss is going to be returned to Mexico with a promise by Mexican authorities to investigate him, US and Mexican top prosecutors announced Tuesday.
Gen. Salvador Cienfuegos Zepeda, Secretary of National Defense in Mexico from 2012 to 2018, is accused of taking bribes in exchange for permitting a cartel to operate in Mexico, federal prosecutors said when he was arrested in October. He was charged in Brooklyn, New York City, with money laundering and narcotics conspiracy.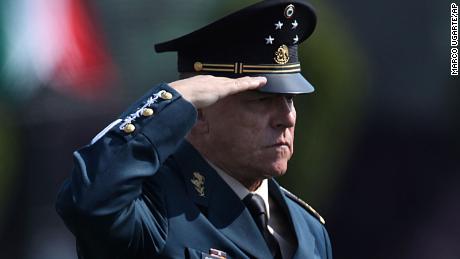 Arrest of former defense minister shatters trust in Mexico's armed forcesUS Attorney General William Barr announced a deal with Mexican Attorney General Alejandro Gertz Manero under which US prosecutors will seek to dismiss charges against Gen. Salvador Cienfuegos Zepeda, who will be turned over to Mexican authorities who have opened their own investigation into him.A federal judge in New York's Eastern District scheduled a hearing Wednesday, where prosecutors are expected to ask the judge to dismiss the charges.The October 15 arrest of Cienfuegos while on vacation in Los Angeles was the culmination of a yearslong effort by Drug Enforcement Administration investigators and US prosecutors who worked to uncover senior-level government officials who helped protect violent drug trafficking groups in Mexico.Read MoreEmbarrassment and angerBut the arrest also embarrassed and angered many in the Mexican government, who complained that US authorities hadn't provided enough notification, according to US and Mexican officials briefed on the matter. High-level talks ensued in recent weeks to allow Mexican authorities to try to prosecute the general, a US official said.Mexico's Foreign Secretary Marcelo Ebrard said on Tuesday evening in a news conference that he had a conversation with Barr following Cienfuegos' arrest, expressing Mexico's "discontent" for "the lack of information shared in the investigation" and detention of Cienfuegos.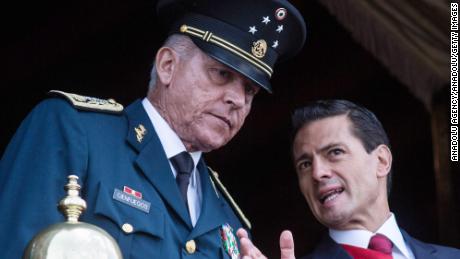 Mexico's former defense minister arrested on federal drug charges in Los Angeles"We have an alliance against organized crime and it was not, for us, the government of Mexico, understandable that being allies we would not be notified," Erbard said.Tensions between the countries had grown in the month since the arrest, prompting the Mexican government to weigh what action it should take in response, a Mexican government official told CNN."We had already been looking at the security relationship already with the DEA and others saying, is this the right way to go? Is this working or not? (The arrest of Cienfuegos) did not help." The official said he did not have direct knowledge of any ultimatums Mexico might have made during negotiations, such as limiting the DEA's ability to work jointly with Mexican security forces, but said senior Mexican diplomats definitely expressed their unhappiness with the US. "It's unacceptable to treat an ally this way," the source said.The source added that the decision to request charges be dropped against Cienfuegos so he could potentially face charges in Mexico was seen as a major step toward improving bilateral relations that had threatened to continue to sour.Mexican prosecutors had opened their own investigation into Cienfuegos after his arrest in the US, the joint US-Mexico statement said. And "in the interest of demonstrating our united front against all forms of criminality" and "so that he may be investigated and, if appropriate, charged under Mexican law," the US Department of Justice decided to seek the dismissal of charges, the statement said. Officials cracking down on cartelsThe New York prosecutors who charged Cienfuegos were in the same office that successfully prosecuted Joaquín "El Chapo" Guzmán, who was sentenced in 2019 to life in prison plus 30 years. In July, the same US, attorney's office brought charges against Genaro García Luna, former Secretary of Public Security, Mexico's top federal investigative agency, for allegedly aiding the Sinaloa cartel's drug trafficking operations.Barr, who has fashioned himself as a tough law and order man during his current tenure, has also boasted internally about his work with Mexican authorities to gain extradition of top drug trafficking suspects. The deal to return Cienfuegos with only a promise by Mexican authorities to investigate him has angered investigators and prosecutors who have spent years working to target Mexican drug traffickers and the corrupt officials who protected them, according to current and former officials briefed on the matter.Last month, Mexican President Andrés Manuel López Obrador, who has vowed to crack down on the cartels and corruption, called Cienfuegos's arrest, "a very regrettable fact."
Source Link:
https://www.cnn.com/2020/11/18/americas/mexican-defense-secretary-drug-trafficking-investigation/index.html
[-0.784772,"negative"]
Comments
comments