Boston (CNN)Jordan Greenway hasn't yet finished college, but he's already made history: He's the first African-American competing on a Olympic US hockey team.
"I dreamed of [it] as a kid, and I didn't think it was going to happen before I graduated college, but I'm fortunate that it did, and I just couldn't be more excited!" Greenway told CNN before traveling to this year's Winter Olympics in Pyeongchang, South Korea.Greenway — who plays forward for Boston University — enjoyed a nice warmup for PyeongChang when he helped the Terriers defeat Harvard in double overtime last week at Boston's TD Garden. When the game ended, the thrill of victory sent players hugging, jumping and high-fiving across the ice.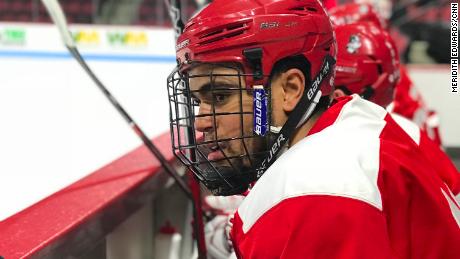 "What a great way to head off," said Greenway.Late last year, Greenway got word he'd been chosen for Team USA. "My coach called me … and it was probably the greatest Christmas present I've ever gotten," Greenway recalled. Read MoreThis 6-foot-5, 230-pound junior has already been drafted by a pro team — the Minnesota Wild. But instead of going pro, he chose to stay in school — opening the door for this gentle giant to make history as an amateur athlete.In fact, this is the first time in three decades that the US men's Olympic hockey team has been comprised of amateur athletes. The reason: the professional National Hockey League chose not to send any of its players to compete in the Olympics this time. Born to skateAs a kid, Greenway proved to be a natural on the ice, beginning when he first put on skates at the early age of 3. "Jordan always played football and lacrosse, but hockey was the one sport he always went 110%," Greenway's mother, Shannon Sullivan, recalled.Hockey was everywhere in the upstate New York town of Canton where he grew up — not far from the Canadian border. Greenway remembers that everyone played hockey and ice rinks were peppered all over town.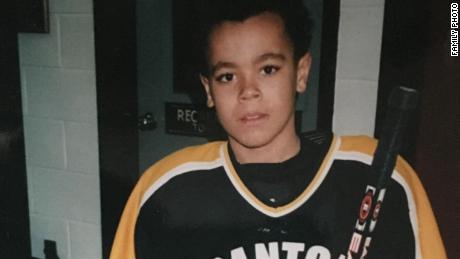 Greenway has been playing hockey since childhood. Greenway and his younger brother JD were both standouts on the ice and very competitive. "JD was probably the better athlete in the family, but yeah, no matter whether we were playing hockey or football or rock, paper, scissors, whatever the case was, we always wanted to win, so I think that's really allowed us to continue to work hard and have the success that we've had up to this point," Greenway said.JD — who has been a big influence on Greenway's life — grew up to be a powerhouse on the ice like his brother. He now plays hockey at the University of Wisconsin. The Greenway brothers are helping to change the face of hockey. The majority of NHL players are white, but that's has never stopped Greenway."There wasn't a lot of African-Americans playing and I think, honestly, outside of my brother and I, I can't think of a ton … so I just kind of grew up around it and it was kinda the norm."Sullivan taught her sons to be open-minded and to not see stereotypes. "She prepped me and my brother pretty well," he said. "She always let us know that yeah, we'd probably be a little bit different than a lot of the other people in the town, but it's just the way it is and you're just like everyone else."'He's making history'"It's no secret that there's not as many African-Americans playing hockey," Greenway said. His mother says it's surreal. "It brings tears to my eyes every time because … my son's going to the Olympics, and then he's also breaking the color barrier as well…I don't know how to describe it. It's just something that you would never think of."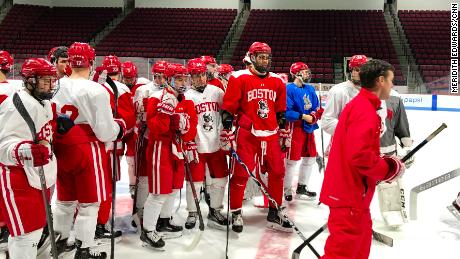 Greenway, a 6-foot-five junior, has already been drafted by the Minnesota Wild."I mean he's making history and I'm so proud of him."His coach, David Quinn, says it's an incredible opportunity and is excited for Greenway. "He's come a long way in the last two-and-a-half years and we're kind of joking if you'd ever told both of us he'd be playing on the Olympic team, when he got here nobody would've believed it. But it's a deserving honor."'Try something different'Sullivan will be watching from home as her son makes history on the Olympic stage."My advice to him is going to be, do your best. That's what I expect of you is to do your best, whether you bring home the gold or not …Try to bring home the gold, and if you don't, that's okay. Know that mom will be watching you from home. We'll all be supporting you from Canton."Greenway's ultimate goals include playing in the Olympics more than once, competing in the NHL and becoming a role model to other African Americans in hockey."I'm the first African American to play hockey for the United States at the Olympics but hopefully I'm the first of many," Greenway said. "Hopefully these kids go out, try something different, play hockey, and hopefully I see a lot more playing in the near future."
Source Link:
http://www.cnn.com/2018/02/10/sport/olympics-hockey-first-african-american-greenway-trnd/index.html
[0.584164]
Comments
comments