Washington DC (CNN Business)A federal judge on Tuesday said he will rule late this week or early next on whether to block the White House from suspending Playboy correspondent and CNN political analyst Brian Karem's hard pass.
The White House told Karem earlier this month that it would suspend his pass following a Rose Garden confrontation with pro-Trump radio host Sebastian Gorka on July 11. White House press secretary Stephanie Grisham made good on that promise on August 16, suspending it until September 14.
White House suspends reporter Brian Karem's hard passThe case has become the latest flashpoint among the rising tension between the Trump White House and the press corps, but the case's facts, the judge said, are murkier than some of the other stand-offs. US District Judge Rudolph Contreras prompted an in-court discussion of Karem's behavior. He said parts of the legal decision he'll have to make in this suit are "a closer call" compared to CNN correspondent Jim Acosta's suit. In Acosta's case, his pass was suspended by the White House press office abruptly. Acosta challenged the decision in court and, following suggestions from the judge, the White House restored it. The Justice Department argues that the White House took appropriate steps before suspending Karem's access.Read MoreIn this case, Karem's lawyers say his Constitutional right to due process and his First Amendment freedom have been hurt. Karem's side has tried to cast it as a reflection of the President's views on journalists, with the suspension of a press pass "damaging a great thing"—access to the White House as a public forum, the columnist's attorney said in court.But Justice Department lawyers seek to distance the White House from Karem's push to make this about a bigger fight between the press and the administration. James Burnham, the Justice Department's attorney, said the administration believes this is a narrow, specific situation that was properly handled.
Playboy columnist sues Trump White House over press pass suspensionThe high stakes were apparent in the courtroom during the almost two-hour hearing, with Karem sitting in the front row next to Washington Post media columnist Erik Wemple, while the head of civil litigation at the Department of Justice, Jody Hunt, sat a few rows back watching his attorneys argue on Trump's behalf. Karem's attorney, Theodore Boutrous, showed four videos at the hearing taken from different angles of the exchange between Karem and Gorka, as well as a video of Gorka promoting his radio show by talking about Karem after their exchange. Judge Contreras said "This has to be the most well documented event" he's handled."Even bank robbery videos are not this clear," Contreras added.Boutrous criticized Grisham's ability to revoke press passes (the Secret Service should be more of an independent arbiter, he says) and the specific steps she's taken such as giving Karem only a day to respond after President Trump approved suspending his pass.Boutrous called her discretion in this case "unbridled, unwieldy, standardless."He also called Grisham the "President's arm who's in direct hostility to what they call the enemy."Boutrous off-handedly remarked he'd love to depose Grisham for this case, but that possibility wasn't discussed seriously.He closed his arguments by pointing to recent news—even citing the New York Times story that details how Trump allies have systematically attempted to discredit journalists.Judge Contreras asked Burnham more probing questions and told him he disagreed with the press secretary's assessment in some respects. Contreras believed Karem meant what he said initially as a joke and was taken as a joke (until Gorka reacted), and that the administration's arguments so far ignored others' behavior in the Rose Garden that day."There was a lot of misbehavior there that was apparently tolerated," Contreras said. "'Punk' has a certain connotation," especially in jails, the judge said. ""Punk ass' even more so."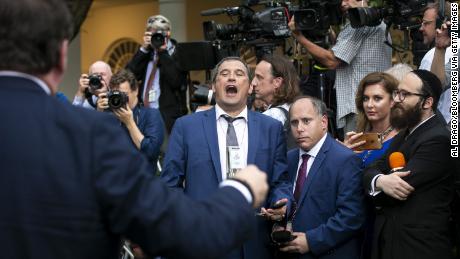 A new battle brews between the White House and a member of the media Contreras separately has asked the administration to give him confidentially any documents written by the Secret Service agent after the incident—considering them as a possible third-party with a less politicized view of the situation. Contreras asked about how the Secret Service responded to the situation, and whether they considered Karem at some point to be a threat.Karem, a veteran columnist and editor, is a highly controversial figure within the White House press corps. His critics say his aggressive conduct hurts his cause and the press corps as a whole. But his fans admire his blunt questioning at Q&A's with Trump and White House aides.In this instance, Gorka and Karem exchanged words following a speech Trump gave in the Rose Garden that Karem and other members of the press corps observed. Some in the crowd had taunted Karem, and he joked in response, "This is a group of people that are eager for demonic possession." Gorka then approached Karem, saying he was "not a journalist, you're a punk." Karem responded, "Go home," and "Get a job." A guest of the White House then said to Karem "he'd kick your punk ass."
Source Link:
https://www.cnn.com/2019/08/27/media/brian-karem-playboy-press-pass-hearing/index.html
[-0.333346]
Comments
comments