(CNN)Elijah Little laid his head on his father's shoulder, the warmth of the packed hall in West Des Moines, Iowa, wearing on him. But the 6-year-old boy's eyes continued to dart back and forth during the political rally, between the people cheering in the crowd and the California senator speaking at the microphone, Kamala Harris.
Here were people who looked like his own diverse family — still more often the rarity than the norm in this state.And there on stage was Harris herself — a biracial woman of color running for president.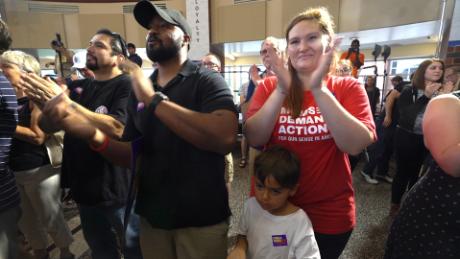 Eric and Jessica Little took their son Elijah to see Kamala Harris in person.It's an image Elijah's parents think will be part of his path to racial awareness. They also want for it to be a sign of hope amid the recent tumult of the allegedly racist El Paso massacre and reports of hate crimes across the country."He's aware that his dad is black, his mom is white," said Elijah's mother, Jessica. "We push really hard to make sure that's not bad, it's beautiful. That's what the United States is."Read MoreElijah's father Eric adds: "It's important we give him a sense that it's OK for him to be who he is in this community. We need to have him see what the political process is about, so he gets an idea of it and he gets a feel for what it means to be a part of this country."Presidential candidates can engage and sometimes empower those who share some part of their identity. Barack Obama's candidacy and victory felt like it opened doors to other African Americans, while Hillary Clinton's loss represented to many women the unwillingness of the country to break the last glass ceiling on the way to the Oval Office.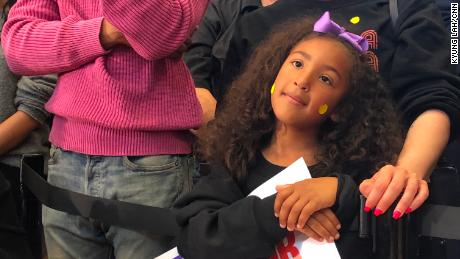 A young girl stands amid a diverse crowd at a Kamala Harris rally in Los Angeles.The 2020 Democratic hopefuls are historically diverse, with more women and people of color than ever before. But Harris carries both gender and race on the stage as a visual promise for the next generation.Diverse parents and their children say her very presence in the 2020 race, amid a rising tide of hateful rhetoric, is meaningful. CNN has seen families of color bear witness at Harris rallies from Iowa to South Carolina to Nevada this year.That is not lost on the candidate herself, who weaves a fundamental philosophy from her mother into her stump speech. Shyamala Gopalan, an immigrant from India, peppered her daughters Kamala and Maya with many sayings, among them, "You may be the first to do many things. Make sure you're not the last."It's a lesson that Harris appears to embody, repeatedly pausing and talking to children at her events.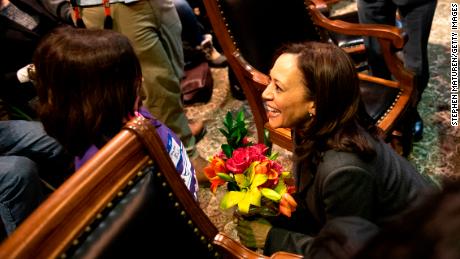 Harris said she is energized by meeting children on the trail, as here in the Iowa statehouse."When I see those little girls in particular, I see myself," said Harris in an interview with CNN. "I see the children of my family. I see the children of our country. And I see the promise of our country. It means the world to me. It is about helping all children to see what's possible. This is what's possible. Don't you ever accept what anyone tells you are the limitations of what you can do based on your race or gender."She gets energy from inspired children on the long campaign trail."It is my true hope that my career, and whatever I can do, empowers other people of any age. It's about mentorship. It's about those kids who show up."Sheldon Shadrach, a Harris fan at a rally in Denver, Colorado, said: "It doesn't matter if she wins or loses. She's already made a statement. It's opened the door for women of color."He added that seeing Harris in action would be a clear sign to children that change does happen.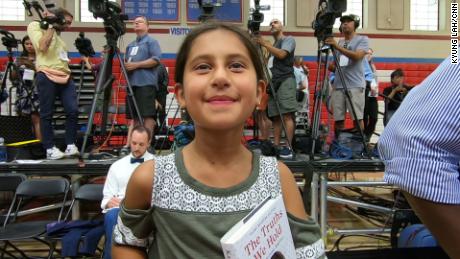 Katerina Shadrach holds a book by Kamala Harris as she waits to see the senator take the stage.Shadrach surprised his daughter, Katerina, by bringing her to the Denver rally for her 10th birthday. The Shadrachs are South Asian and white. Harris is South Asian and black. While the Shadrachs try to de-emphasize racial differences for their daughter, Katerina was immediately drawn to Harris on television, her father says."I feel like Kamala Harris is my role model," says Katerina, noting all the presidents she's learned about in school have been white men except for Barack Obama. Shadrach clutched the young reader's edition of Harris' autobiography, "The Truths We Hold," as she watched the senator speak. "I've been watching the debates and I feel like she has her strong ideas and she knows what she's talking about."On another day, far away in Peoria, Illinois, Anna Maddox and her sister Leah Chau started driving across the state. Two hours later, they arrived at Harris' Davenport, Iowa, rally."I'm half-Mexican, half Vietnamese," said Maddox, 24, pointing out she wanted to see the top tier, biracial Harris with her own eyes. She also wanted her little sister to see Harris.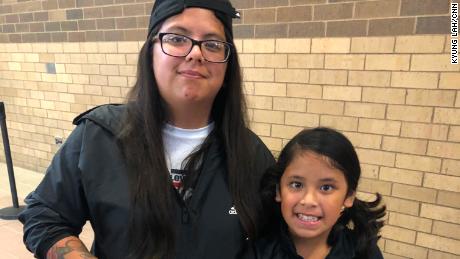 Anna Maddox and her little sister Leah Chau traveled two hours to get to a Harris rally."She's only 9," said Maddox, referring to her little sister. "So imagine when she's 24. She's not going to think this is abnormal. She's just going to think, women can do this. Especially women of color."Despite their efforts to be at the rally, Maddox said she still remained undecided on who to back for the Democratic nomination.It's a sentiment echoed by most of the voters CNN spoke with for this story — that even with their admiration for Harris as a barrier-breaker, especially for children, most felt it was still too soon to back Harris or any candidate yet.In Henderson, Nevada, Heidi Foreman-Toney counts herself as one who needs to be won over. But she noticed her 11-year-old daughter, Skylar, lit up as Harris entered the auditorium for her Nevada rally."The connection we feel when they look and see someone who looks like them," Foreman-Toney said. "It lets them visualize their future and see what's possible for them, as children. It's a powerful thing. To know, you are a part of the political process. You're not an outsider. You'll never be an outsider."
Source Link:
https://www.cnn.com/2019/08/28/politics/kamala-harris-families-of-color/index.html
[0.479917]
Comments
comments