(CNN)In early May, North Korea test fired short-range ballistic missiles, the first such launch since late 2017 and the first since President Donald Trump began meeting with North Korea's leader, Kim Jong Un. Speaking to reporters over the weekend about these missile tests, US national security adviser John Bolton took a strong line.
"The UN Security Council resolution prohibits the launch of any ballistic missiles and there is no doubt that North Korea has violated the resolution," said Bolton. President Donald Trump downplayed the tests, tweeting Saturday that "North Korea fired off some small weapons, which disturbed some of my people, and others, but not me." He went on to say he has "confidence that Chairman Kim will keep his promise to me" in regards to the de-nuclearization of North Korea.Facts first: Bolton is correct, current UN resolutions demand that North Korea not launch any ballistic missiles.Back in October 2006, the UN responded to North Korea's first nuclear test by passing Resolution 1718 which imposed sanctions and demanded that North Korea "not conduct any further nuclear test or launch of a ballistic missile." During this time Bolton served as US ambassador to the UN, playing a significant role in the resolution.Read MoreThese sanctions were expanded in 2009 with resolution 1874, following North Korea's second nuclear test. In 2012, when North Korea tested ballistic missile technology, the UN condemned the country saying that the use of this tech was in violation of resolutions 1718 and 1874.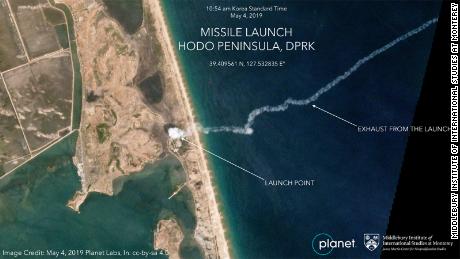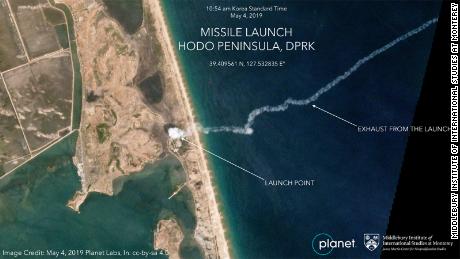 JUST WATCHEDSatellite images show North Korea launchReplayMore Videos …MUST WATCH
Satellite images show North Korea launch 02:42While these recent tests are "short range" (reaching 186 miles before falling into the ocean, according to NBC News) the Congressional Research Service noted in a January paper on the country's "Nuclear and Ballistic Missile Program" that these tests "may be intended to increase the reliability, effectiveness, and survivability of their ballistic missile force." According to the report, North Korea is attempting to create a nuclear warhead to fit on a ballistic missile — and these short to medium range ballistic missile tests are working to beat any missile defense system they might face.Trump does not see these tests as related to his stated goal of de-nuclearization, telling Politico in an interview following the missile tests "these were short-range missiles and very standard stuff. Very standard." While working to negotiate trade deals with China (one of North Korea's few allies) and working to re-engage with North Korea on de-nuclearization negotiations that failed in February, Trump is downplaying North Korea's missile tests — in clear disagreement with his national security advisor.
Source Link:
https://www.cnn.com/2019/05/27/politics/trump-bolton-north-korea-missile-test-fact-check/index.html
[-0.877603]
Comments
comments