(CNN)When President Donald Trump was asked Wednesday what victims of mass shootings are telling him about gun laws, he did not answer directly. Instead, he boasted of "the love for me" among the people he visited in hospitals in El Paso and Dayton after the August massacres in those cities.
"Not only did they meet with me, they were pouring out of the room. The doctors were coming out of the operating rooms. There were hundreds and hundreds of people all over the floor," he said.Facts First: Doctors did not leave any active operating rooms, spokespeople for both the El Paso and Dayton hospitals said. The Dayton spokesperson said doctors did not even leave any patient rooms."At no time did (or would) physicians or staff leave active operating rooms during the presidential visit. Our priority is always patient care," said Ryan Mielke, director of public affairs for the University Medical Center of El Paso.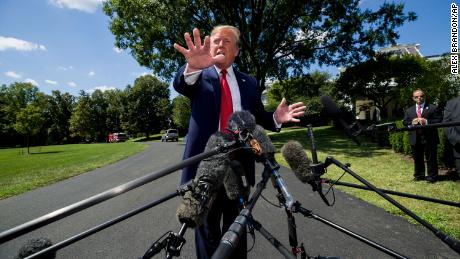 Fact check: Trump makes at least 11 false claims to reporters, including two about Greenland"Our physicians and staff at no time leave an active operating room, procedural area, or patient room to greet anyone," said Ben Sutherly, director of system communications for the Premier Health network, of which Miami Valley Hospital in Dayton is a part.Read MoreThe hospital spokespeople first made these comments to The Washington Post, which did not immediately receive a response from the White House. We'll update this fact check with any comment CNN receives.Trump has been open about his unhappiness with the media coverage of his hospital visits, which followed the El Paso shooting in which a gunman killed 22 people and the Dayton shooting in which a gunman killed nine people. The White House did not permit any journalists to accompany Trump in the hospitals, saying the visits were not meant to be a "photo op." It later released its own photos and campaign-style video, which showed some members of both medical staffs smiling and posing with him.CNN has reported that the overwhelming majority of El Paso patients contacted by the White House in preparation for Trump's visit said they did not want to meet with him.
Source Link:
https://www.cnn.com/2019/08/23/politics/fact-check-trump-wrong-doctors-el-paso-dayton/index.html
[-0.602242]
Comments
comments