After more than two weeks of destructive fissures, poisonous smog and a towering ash plume, Hawaii's Kilauea volcano erupted early Thursday morning.
U.S. Geological Survey cameras on the Big Island captured the explosion:
Webcam image from HVO Observation Tower of ash plume from this morning's explosive eruption at Kīlauea Volcano's summit. https://t.co/lV7HjT956l pic.twitter.com/8QEqFrWNsY
— USGS Volcanoes? (@USGSVolcanoes) May 17, 2018
Wide angle @USGSVolcanoes camera shows incandescence in Halema'uma'u prior to this morning's eruption. Timelapse starts late yesterday afternoon pic.twitter.com/5tDcVkiQIg
— Ian Nesbitt (@paleosurface) May 17, 2018
"A little bit after 4:00 a.m. we had an explosion that lasted a few minutes," USGS volcanologist Michelle Coombs said in a Thursday press update. "We expect activity could wax and wane like this in the near future."
Coombs noted rain in the area has helped minimize ash fall, limiting it mostly to the Kilauea summit area.
Although the explosion subsided within a few minutes, the USGS warned that it could restart without any advance warning.
"At any time, activity may again become more explosive, increasing the intensity of ash production and producing ballistic projectiles near the vent," the agency said Thursday.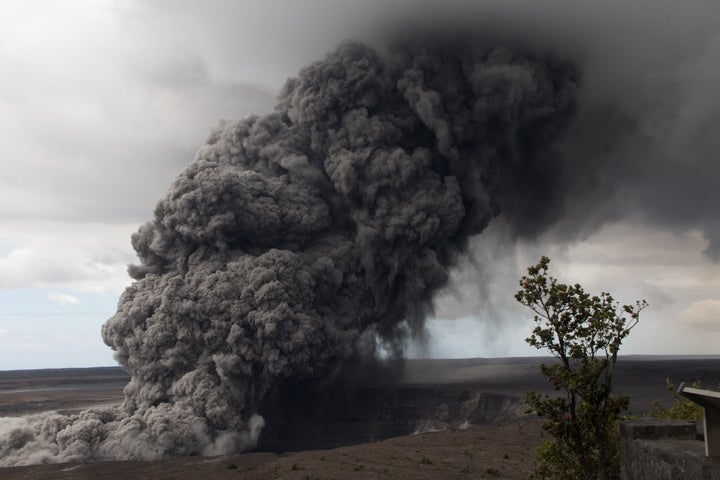 USGS/Anadolu Agency via Getty Images An ash plume rises following a major eruption on Hawaii's Kilauea volcano on May 17, 2018.
Big Island resident Linda Ugalde told the Honolulu Star Adviser that she didn't hear or feel the explosion itself but noticed a fine layer of ash in her yard afterward.
"It's totally weird," Ugalde said. "I mean, I expected there would at least be one of the bigger earthquakes just before, or a boom or something."
Residents of the Big Island are being advised to shelter in place if they're in the path of the ash plume and to avoid driving in conditions of poor visibility.
Roads coated in volcanic ash can also become extremely slippery.
"During explosive eruptions, volcanic ash can disrupt downwind populations by causing breathing problems, impacting water quality, clogging air filters, shorting out power systems and making transportation difficult," the USGS warned Thursday.
The agency advised people in the area to seal windows and doors, cover air intakes and open water sources, and remain indoors. Anyone who has to go outside should cover their mouths with a mask or cloth.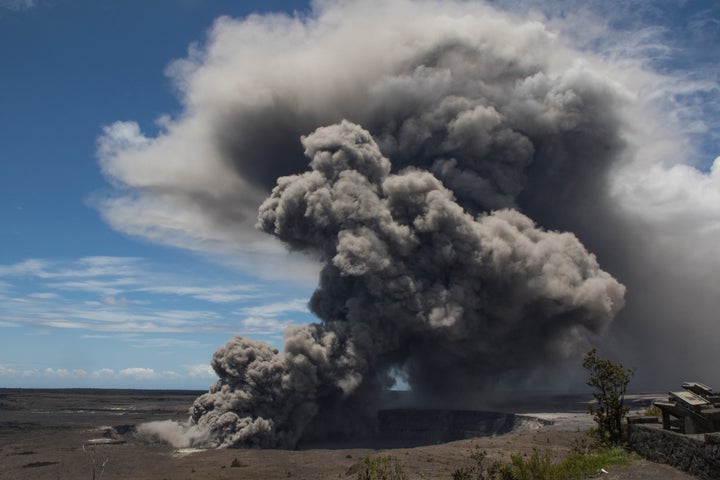 USGS/Anadolu Agency via Getty Images The ash plume billows upward from Kilauea.
The ash plume, which was already 12,000 feet high on Wednesday, soared to 30,000 feet after Thursday's explosion, according to the USGS.
Also on Wednesday, a vent inside the crater began emitting what the agency calls "ballistic blocks." The dense, microwave-sized boulders traveled a few hundred yards before coming to rest in a parking lot nearby:
Looks like a moonscape at the old Halema'uma'u parking lot; rock and ash from the explosive event last evening, May 15, Kīlauea summit. https://t.co/yEUJFxRqfC pic.twitter.com/syCe7ruqSw
— USGS Volcanoes? (@USGSVolcanoes) May 17, 2018
Researchers believe the latest activity may portend more frequent and more powerful steam-driven explosions. Those explosions could be strong enough to launch boulders as large as 12 tons up to half a mile, the USGS said.
The volcano, which began erupting on May 3, has since destroyed 37 homes and other structures. It has also forced the evacuation of around 2,000 residents. Hawaii Volcanoes National Park, where Kilauea is located, has been closed since May 11.
RELATED COVERAGE Insane Photos Show Massive Ash Plume Looming Over Hawaii's Big Island Download
Source Link:
https://www.huffingtonpost.com/entry/kilauea-volcano-erupts-hawaii_us_5afda862e4b06a3fb50eb361
[-0.558322]
Comments
comments