(CNN)Rain is a good thing for the drought-parched Southwest, but too much at one time is fueling worries about significant flooding beginning Friday through the weekend.
Eight states in the West have flash flood watches in effect through the weekend, where monsoon rains are expected to expand outward from the desert Southwest. "Monsoonal moisture continues to bring much needed rainfall to the drought-stricken regions of the western U.S," the Weather Prediction Center (WPC) said. "The broad area of monsoonal showers and thunderstorms is expected to show increasing focus across central Colorado as well as spreading further north into the northern Great Basin during the weekend, where the threat of heavy rainfall will increase,"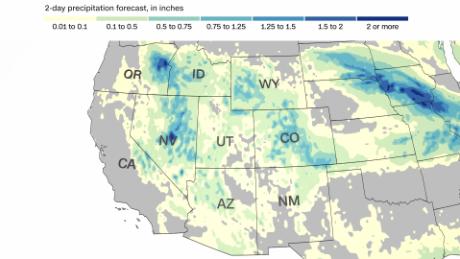 Heavy monsoon rains are possible across the West through the weekendUp to an inch and a half of rainfall is possible in some areas of the Southwest on Friday and the WPC has issued a slight risk for excessive rainfall in Colorado, Wyoming, Utah, Nevada, California, and Arizona to account for the potential for heavy rain. Read MorePotential drought improvement California is in desperate need of restorative rainfall this summer. The latest drought monitor indicated that 50% of the state is enveloped in exceptional (the highest level) drought conditions. At the start of 2021, only 1 percent of California was in exceptional drought.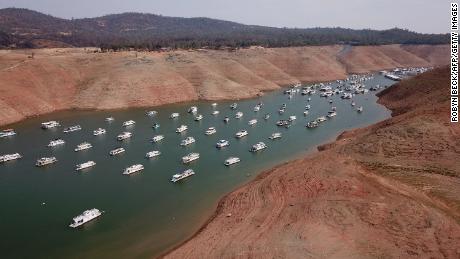 Drought worsens in California as region faces more triple-digit heat, making it tougher to control the wildfiresMonsoon rains this weekend will make their way into California on the east side of the Sierras near the Nevada border, with up to an inch and a half of rain expected. The potential for heavy rain also carries a flash flooding threat. "Another round of high monsoonal moisture is expected through the weekend that will lead to an increased risk for flash flooding across much of the region. Isolated to scattered thunderstorms capable of very high rainfall rates will be possible each afternoon Friday and Saturday and could linger into the overnight hours as well," according to the National Weather Service's office in Las Vegas. Monsoon rains have been both a blessing and a curse for the desert Southwest the past few weeks. They have improved Arizona's drought conditions significantly but also causing harrowing scenes of flooding in areas with burn scars, which are areas of charred land left behind after wildfires have moved through. The burnt soil doesn't absorb rainfall well, exacerbating flash flooding. "In Arizona, Tucson received more rain in 6 days (4.20 inches fell from July 20-25) than during all of 2020, when annual precipitation of 4.17 inches was the lowest on record," the US Drought Monitor said. Prior to the rainfall, half of the state was in the worst level of drought conditions. After last week, the exceptional drought significantly improved, along with the extreme (second highest) drought levels.
Latest drought monitor shows substantial improvement in the D3 (extreme) and D4 (exceptional) categories. 52% of Arizona is now in D3 or D4, compared to 84% last week. #azwx pic.twitter.com/dl3kUyQqEw
— NWS Phoenix (@NWSPhoenix) July 29, 2021 "In addition to Arizona, improvement was noted in parts of New Mexico, southwestern Colorado and southern portions of Utah and Nevada," CNN Meteorologist Brandon Miller said. This weekend's round of monsoon moisture could help to further improve some of the drought conditions in the region. The heaviest rainfall on Friday is expected in one of Wyoming's worst drought regions. By Saturday, the moisture surges into the Great Basin bringing excessive rainfall to Oregon and Idaho. Along the Rockies, up to three inches of rain could fall. Boise, Idaho has been a bulls eye for the Pacific Northwest heatwaves this summer and seen little moisture over the past month. Since the beginning of July, the city has only recorded 0.08 inches of rainfall, 0.12 less than the average. This weekend Boise could see up to an inch and a half of rainfall by Sunday. Arizona is also expected to see even more rainfall this weekend, and more flooding. Flash flood dangersWhile the regions getting rainfall are desperate for the reprieve, recent and previous large wildfires have left behind burn scars in much of the West. The Great Basin has been ravaged by wildfires this summer while overwhelmed by drought and heat. Flash flooding becomes significant in burn scar areas due to the hydrophobic (water resistant) nature of the soil left behind, scorched by the flames. Runoff quickly develops and can become a dangerous situation. "Burn scars will be particularly susceptible to heavy rainfall, leading to quick runoff and possible debris and mud flows," said NWS Denver. Flash flooding in Tuscon this week saw washes overrun with wildfire burn scar debris and rushing water.
McClellan Wash just northeast of I-10 between Red Rock and Picacho. A #FlashFloodWarning remains in effect through 10:30 AM MST between Cortaro and Eloy in areas around and northeast of I-10. #azwx pic.twitter.com/o9kEY6DS9B
— NWS Tucson (@NWSTucson) July 25, 2021 "People near slot canyons, swimming holes and recent wildfire scars should be prepared for rapidly changing conditions," warned NWS Flagstaff. Burn scars across the West could be at risk this week due to the potential for heavy rainfall. The monsoons moisture will bring heavy rainfall to the region throughout the beginning of the week, calming down after Tuesday.
Source Link:
https://www.cnn.com/2021/07/30/weather/flash-flooding-west-drought-forecast-friday/index.html
[-0.460403,"negative"]
Comments
comments