Hong Kong (CNN)As Beijing threatens the United States with the possibility of a rare earths export ban amid rising trade tensions, Chinese state media has sent an ominously worded warning to Washington: "Don't say we didn't warn you."
The People's Daily, the newspaper of the ruling Communist Party, used the loaded phrase in a commentary on Wednesday, in which it said that China would "never accept" the US' suppression of Chinese development.On May 15, the Trump administration signed an order that potentially banned major Chinese companies, such as technology giant Huawei, from buying vital components such as computer chips from the US.Many of those chips are made using rare earths, of which China is a major exporter.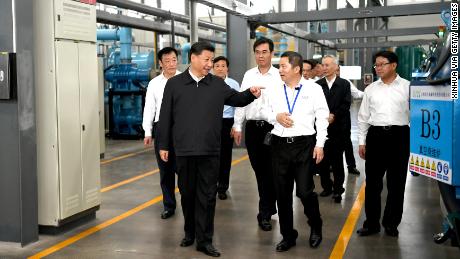 Chinese President Xi Jinping at JL MAG Rare-Earth Co. Ltd. in the city of Ganzhou in east China's Jiangxi Province on May 20."At present, the United States completely overestimates its ability to control the global supply chain and is due to slap itself in the face when it sobers up from its happy, ignorant self-indulgence," said the commentary published under the pseudonym Wuyuehe. "Don't say we didn't warn you."Read MoreThe phrase has, in the past, been reserved by the Chinese state media for times of serious conflict.The People's Daily used it in 1962 before going into armed conflict against India and again in 1978 before the Vietnam invasion. More recently, though it has appeared in several People's Daily commentaries on issues ranging from Taiwan to the trade war.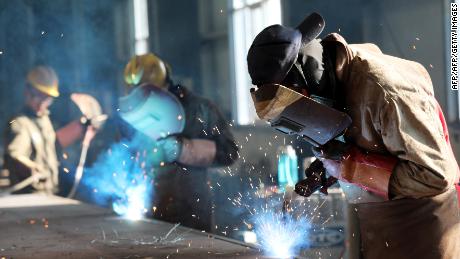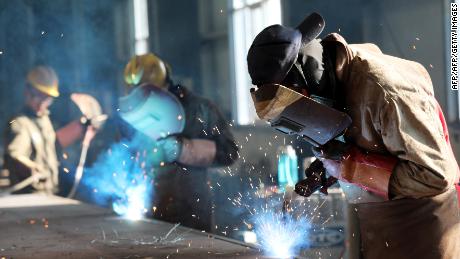 JUST WATCHEDChina's new propaganda song goes viralReplayMore Videos …MUST WATCH
China's new propaganda song goes viral 02:03War of wordsOn May 10, the US raised tariffs on $200 billion of Chinese imports from 10% to 25%, after talks between the two countries broke down less than a week earlier.Negotiations have now stalled, with each side blaming the other for the recent setbacks. Speaking in Japan on Monday, US President Donald Trump said he was "not ready" to make a deal.The US imports far more from China than China does from the US — one of the reasons for the trade war. As China runs out of US imports to tariff, it has turned to its rare earth exports as a new potential battleground. China accounted for 80% of all rare earth imports by the US between 2014 and 2017, according to the United States Geological Survey, and are were among the few items not hit by US tariffs.In statements posted on its website Wednesday, a representative of China's powerful National Development and Reform Commission again hinted at the possibility of action on rare earths."What I can tell you is that if anyone wants to use products made of China's rare earth exports to contain China's development, the people of Ganzhou and across China will not be happy with that," the official said, referring to a city in Jiangxi province.
China's latest trade war card isn't as strong as Beijing thinks On May 20, Chinese President Xi Jinping visited a rare earth factory in Jiangxi province, an unusual personal touch which many analysts and state media saw as a clear message to Washington."Will the rare earth become a counter-control weapon against China's unwarranted suppression (by the US)? The answer is not mysterious," the People's Daily commentary said. "In fact, consumer electronics, military equipment and many other products produced in the US are highly dependent on China's rare earth resources An editorial in state media tabloid Global Times Wednesday was headlined: "US will rue forcing China's hand on rare earths."But while rare earths could prove a potential pain point for Washington, they may not be the advantage some in China think.Eugene Gholz, who has advised the US government on rare earths, wrote in a report for the Council on Foreign Relations that China's leverage over the rare earths market peaked in 2010 and even then it had been difficult to exploit in Beijing's favor. Furthermore, the US also maintains stockpiles of many key rare earth materials, not least those used in the defense industry.
Source Link:
https://www.cnn.com/2019/05/30/asia/china-us-peoples-daily-trade-war-intl/index.html
[-0.472663]
Comments
comments