(CNN)On August 15, Khalida Popal watched from Denmark as her country fell into the grip of the Taliban.
Following nearly two decades of conflict, the insurgent militant group reclaimed Afghanistan's capital and took over the country's presidential palace, barely a month after the US began the final withdrawal of military troops from its longest running war.Earlier that day, ousted President Ashraf Ghani fled Afghanistan to the UAE as the Taliban broke through Kabul, and the US completed its evacuation of its embassy in Afghanistan, lowering the American flag at the diplomatic compound.In the last few days, images have emerged of people clambering over one another at Kabul's Hamid Karzai International Airport, trying to cling onto planes as they leave the runway in a desperate attempt to flee the country.With foreign governments flying out their citizens first, they provide little hope to the Afghan people to whom many feel they owe protection for helping them in the 20-year conflict.Read More"I feel heavy in my chest. I am sad. I feel sleepless and it hurts," former Afghan football player Popal tells CNN Sport's Amanda Davies."I just want my phone to be away so I can just feel freedom in my brain, but I cannot. I have been stuck with my phone the past few weeks, watching the country collapsing, watching our enemies," she adds. 'It's traumatizing for me'This isn't the first memory Popal has of her country being threatened by foreign invasion and guerrilla war groups.In 1989, the Soviet Union withdrew from Afghanistan, after they had invaded and occupied the country for 10 years.Seven years later, when Popal was nine years old, the newly-formed Taliban seized Kabul and ruled Afghanistan for the next half-decade. "It's traumatizing for me and […] my generation," she says. "Our childhood is repeating again, and the history is repeating again."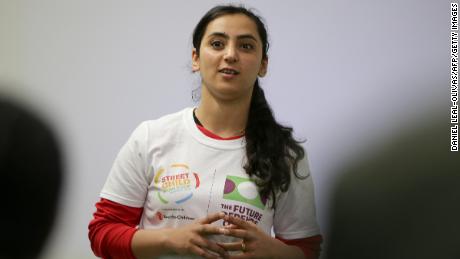 Popal grew up in Afghanistan during the Taliban's first reign from 1996 to 2001 and refers to that era as a "very dark, scary time."During their rule, the Taliban declared the country the Islamic Emirate of Afghanistan, imposing strict laws on women — forced head-to-toe coverings, the prohibition of school or work outside the home and being banned from traveling alone. "It was very dark, scary time. I remember my childhood at the age of eight, nine years old, when Taliban took over the country, when they started […] killing […] and putting people in prison," Popal says. She says that, as her family had been beaten by the Taliban — some "shot dead" — they would live in fear, "being so scared, sitting at home" and "waiting that, any time, the door will be knocked and they will be taken." "I remember asking the questions because I had so many questions on it as every other kid, not understanding […] the politics. Asking a lot of question, 'My father, why don't they let me go to school?' How about if I want […] to play football outside, if I want to go and meet my friends in the street? Why? Why my mom is not allowed to go to work?" Popal tells Davies.In the shadow of the TalibanPopal says that after the Taliban began to lose its major strongholds with the invasion of US and coalition forces in 2001, she didn't expect them to return to power. "We were never prepared," she says. "All the Afghan community, everybody is shocked."Of course, Taliban has […] always existed. They have been fighting for such a long time around the borders, around the rural areas of Afghanistan. There was always threat."When Popal was 16 a few years later, she started to play football in the shadow of the Taliban, who had prohibited women from taking part in sports or going to stadiums. Even though the group had been expelled from power, they still waged war against coalition forces and the US-backed Afghan government, and therefore had socio-political influence in some parts of the country.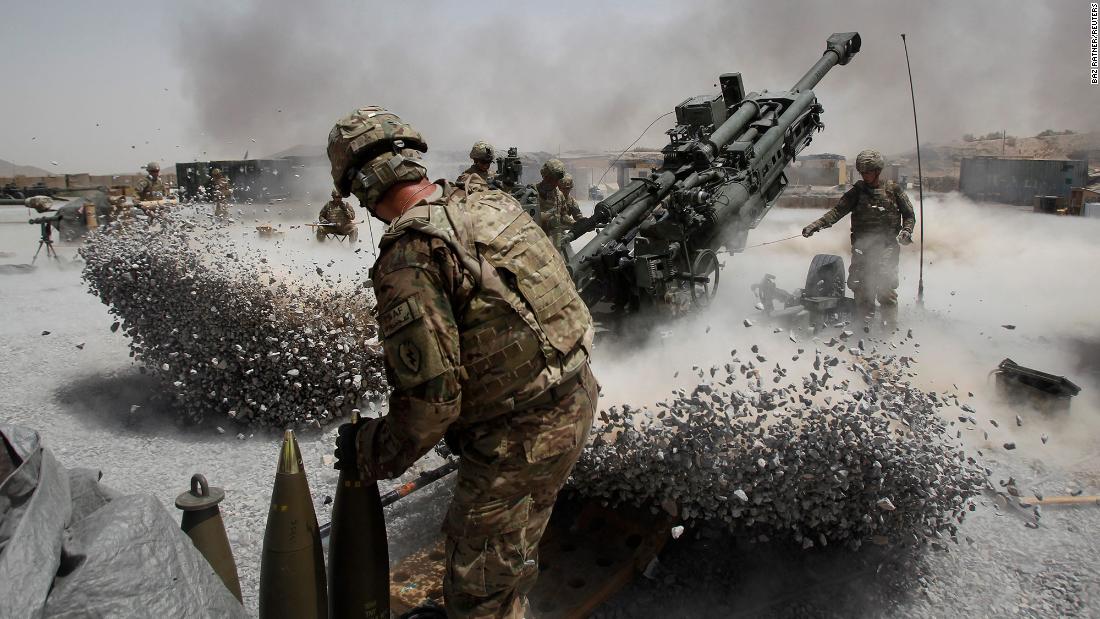 Photos: America's longest warUS soldiers fire artillery in Afghanistan's Kandahar province in June 2011. Operation Enduring Freedom was launched in October 2001 to stop the Taliban regime from providing a safe haven to al Qaeda and to stop al Qaeda's use of Afghanistan as a base of operations for terrorist activities.Hide Caption 1 of 60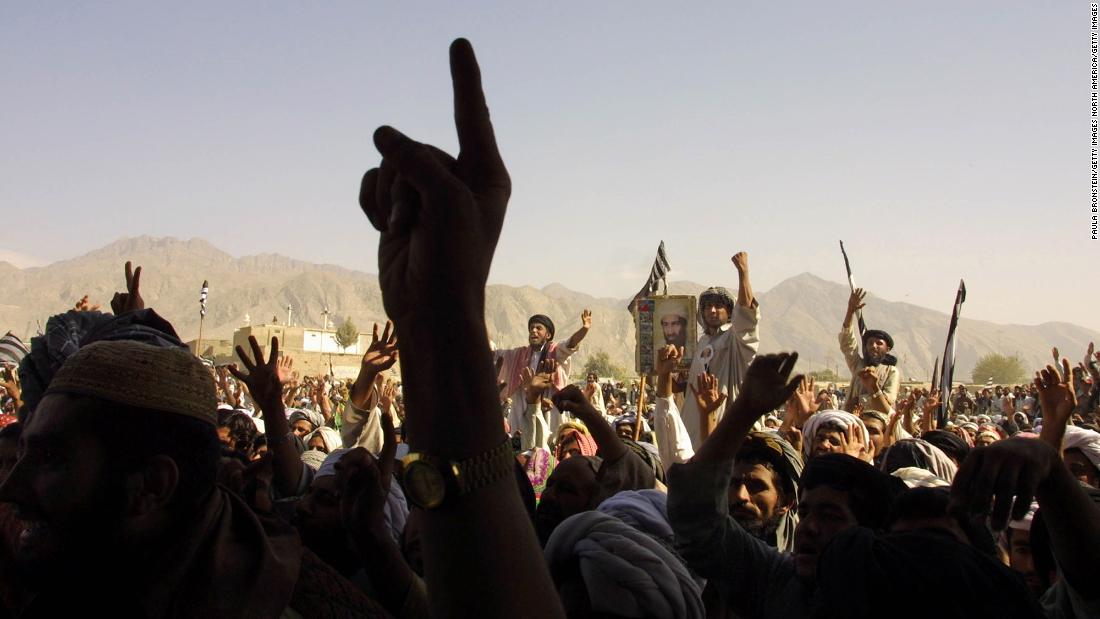 Photos: America's longest warThousands of Taliban supporters rally in Quetta, Pakistan, near the Afghan border, on October 1, 2001.Hide Caption 2 of 60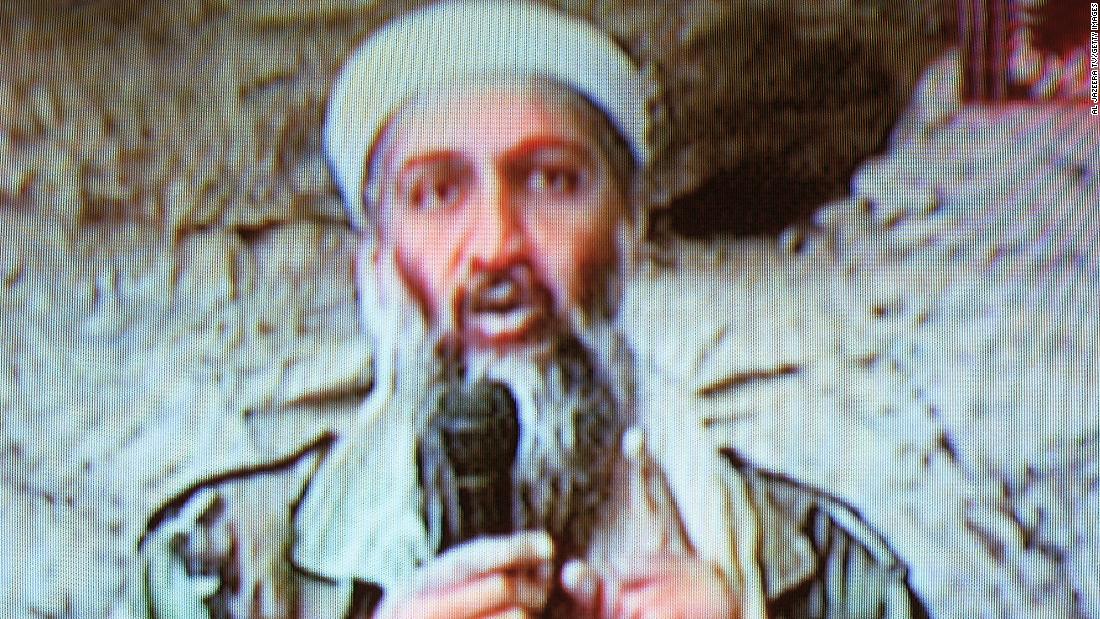 Photos: America's longest warAl Qaeda leader Osama bin Laden is seen at an undisclosed location in this television image broadcast on October 7, 2001. Bin Laden praised God for the September 11 attacks and swore America "will never dream of security" until "the infidel's armies leave the land of Muhammad."Hide Caption 3 of 60
Photos: America's longest warA Tomahawk cruise missile is launched from a US ship in the Arabian Sea on October 7, 2001. American and British forces began airstrikes in Afghanistan, targeting al Qaeda and the Taliban regime that had been giving al Qaeda protection. Hide Caption 4 of 60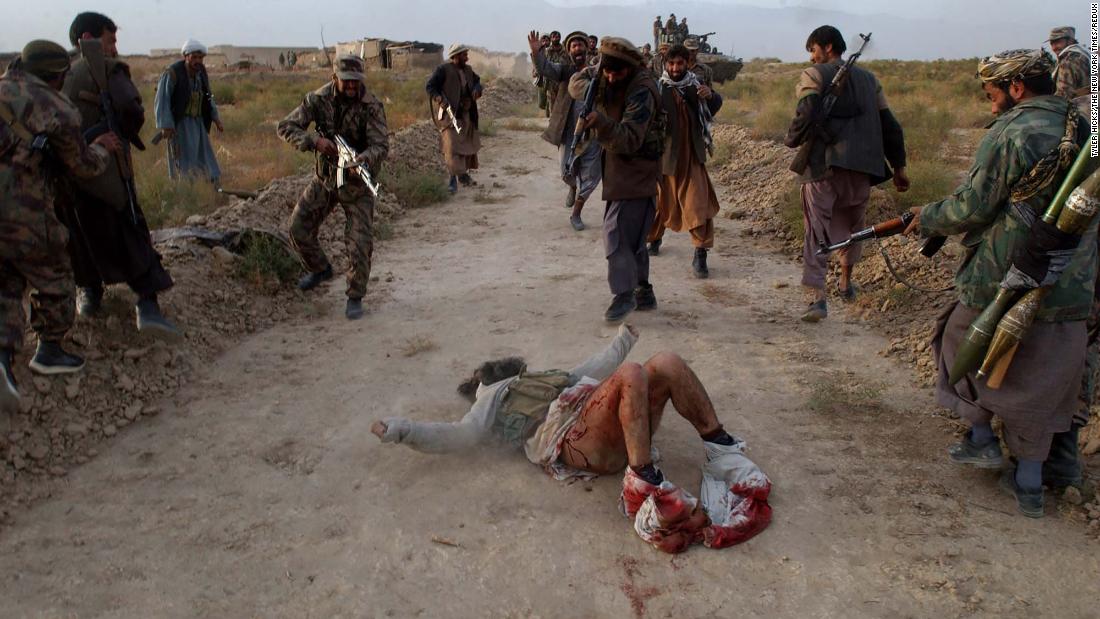 Photos: America's longest warMembers of the Afghan Northern Alliance, an anti-Taliban group, kill a wounded Taliban fighter they found while advancing toward Kabul, Afghanistan, in November 2001. US airstrikes and Northern Alliance ground attacks led to the fall of Kabul that month.Hide Caption 5 of 60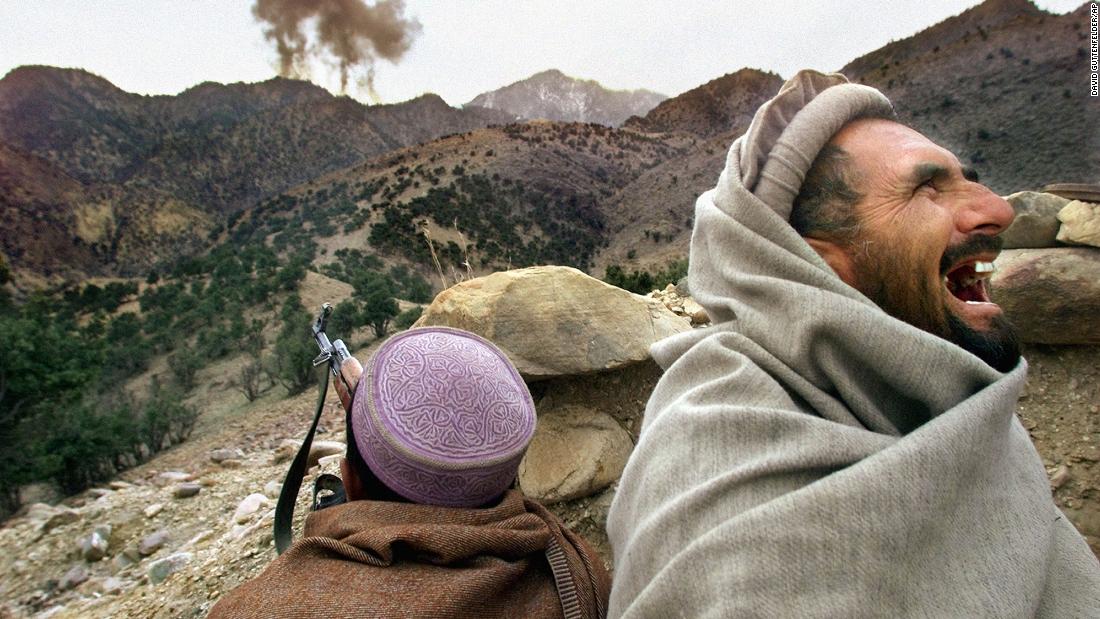 Photos: America's longest warAn Afghan Northern Alliance fighter bursts into laughter as US planes strike a Taliban position near Tora Bora, Afghanistan, in December 2001. Afghan militia leaders declared victory in the battle of Tora Bora and claimed to have captured al Qaeda's last base.Hide Caption 6 of 60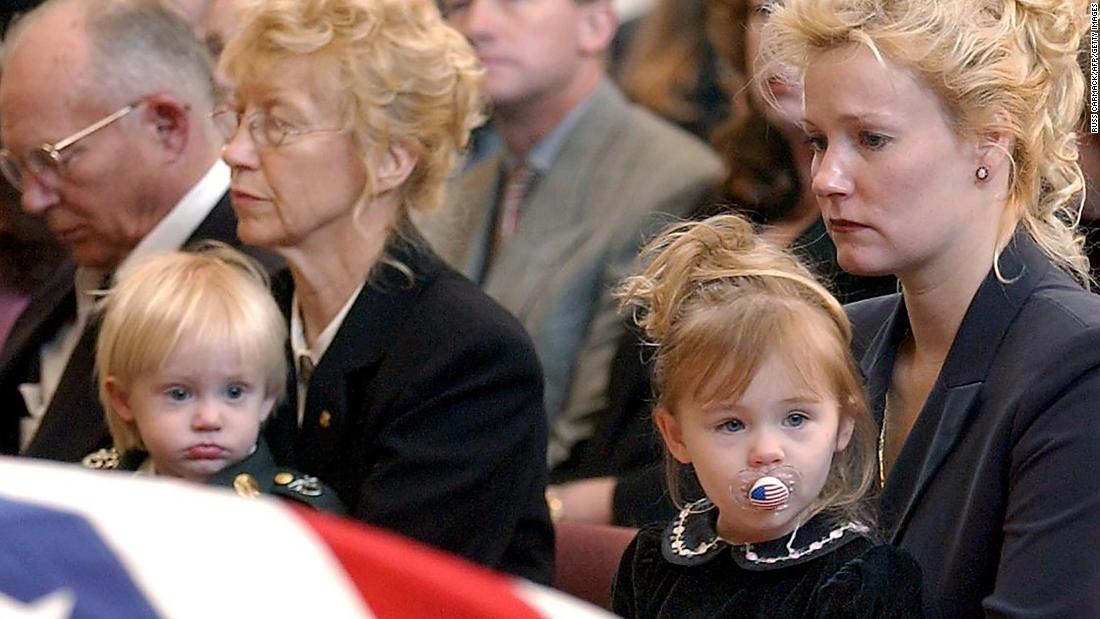 Photos: America's longest warRenae Chapman holds her 2-year-old daughter, Amanda, during the funeral service for her husband, Army Sgt. 1st Class Nathan R. Chapman, in Fort Lewis, Washington, in January 2002. He was the first US soldier to be killed by enemy fire during the war in Afghanistan.Hide Caption 7 of 60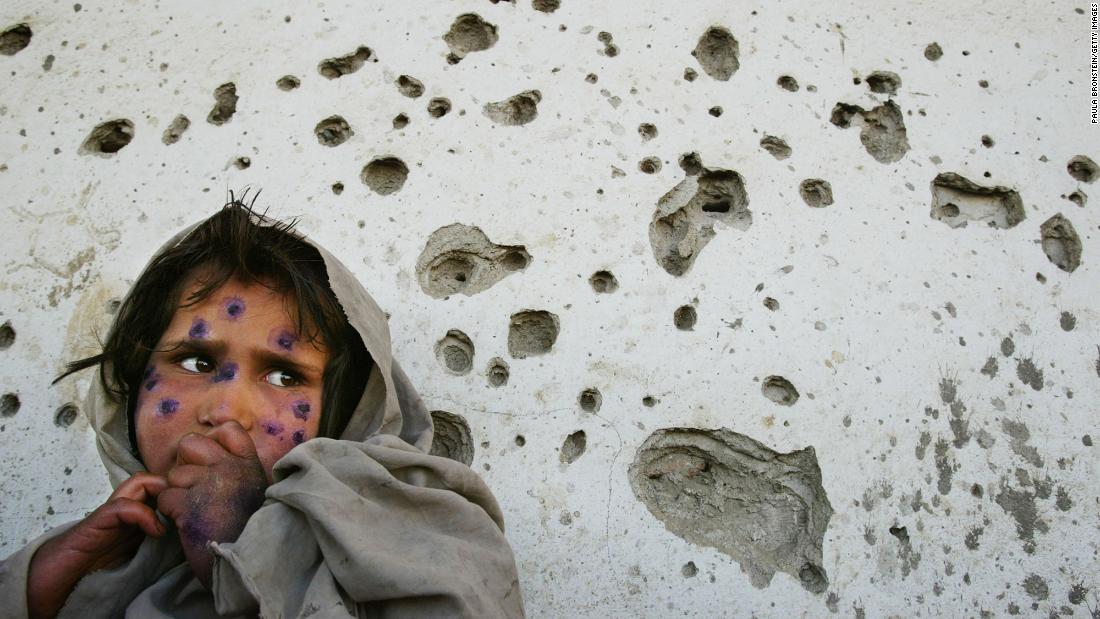 Photos: America's longest warMohboba, 7, stands near a bullet-ridden wall in Kabul as she waits to be seen at a health clinic in March 2002. She had a skin ailment that plagued many poverty-stricken children in Afghanistan.Hide Caption 8 of 60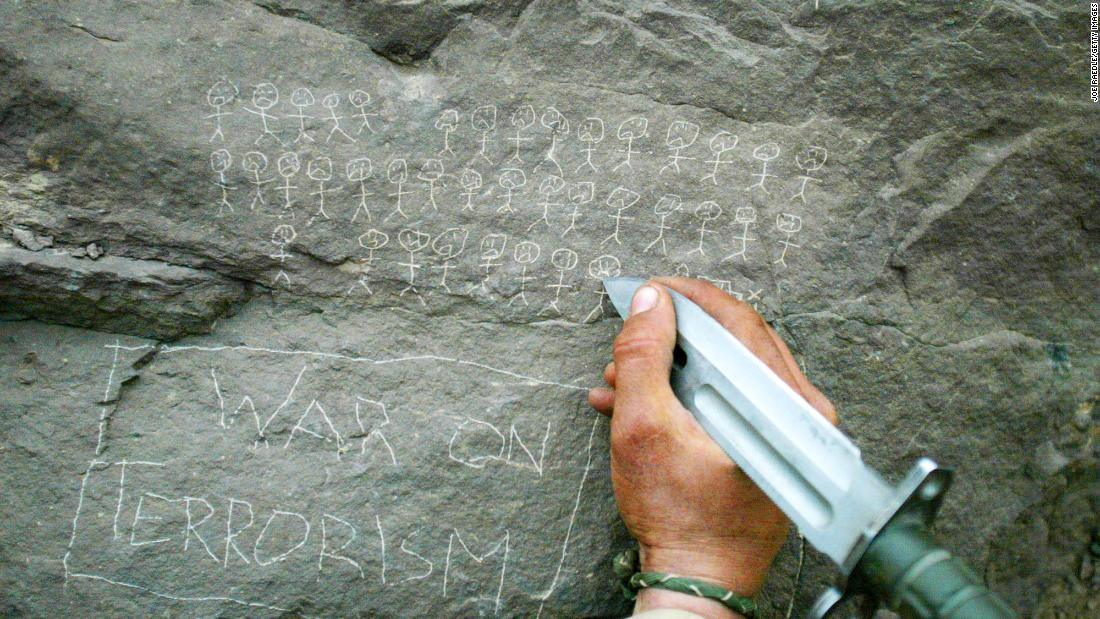 Photos: America's longest warUS soldier Jorge Avino tallies the number of people that his mortar team had killed while fighting in Afghanistan in March 2002.Hide Caption 9 of 60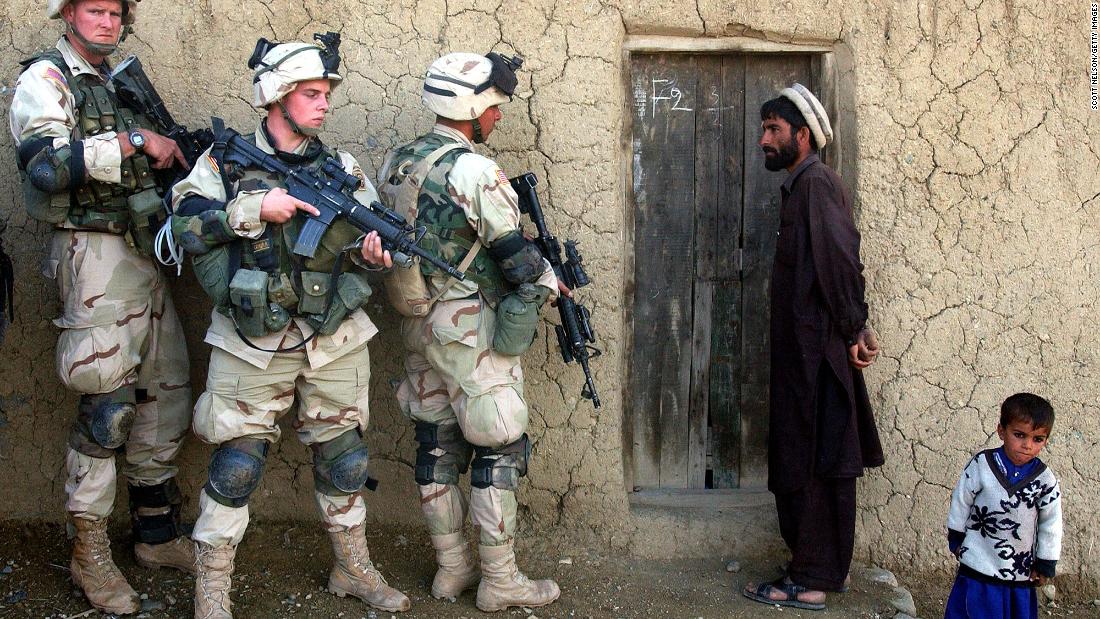 Photos: America's longest warA man and his son watch US soldiers prepare to sweep their home in southeastern Afghanistan in November 2002.Hide Caption 10 of 60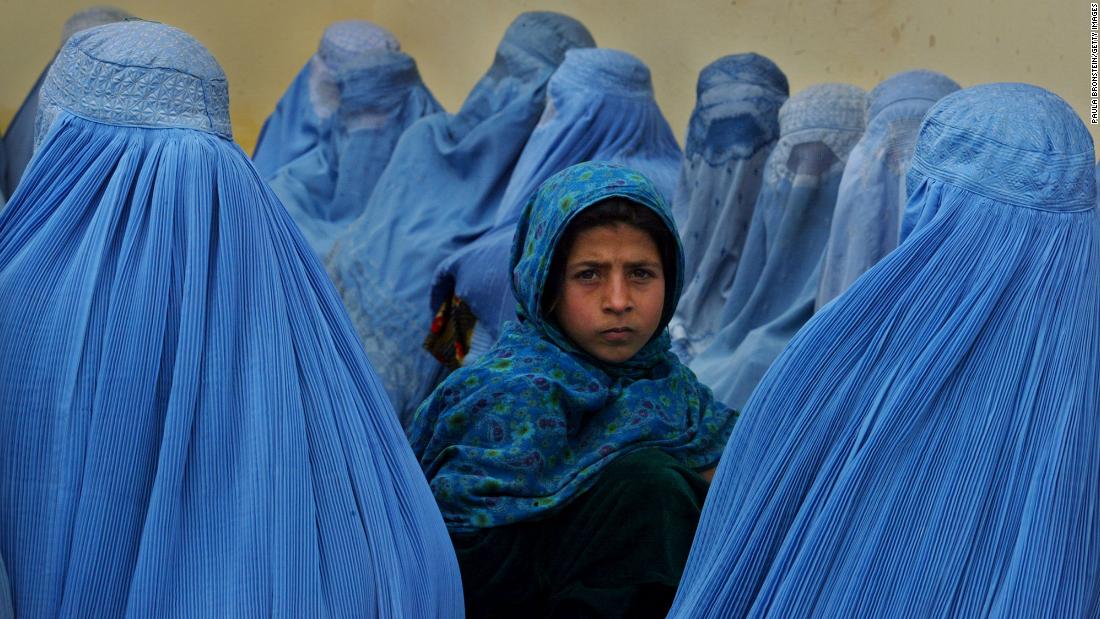 Photos: America's longest warWomen wait in line to be treated at a health clinic in Kalakan, Afghanistan, in February 2003.Hide Caption 11 of 60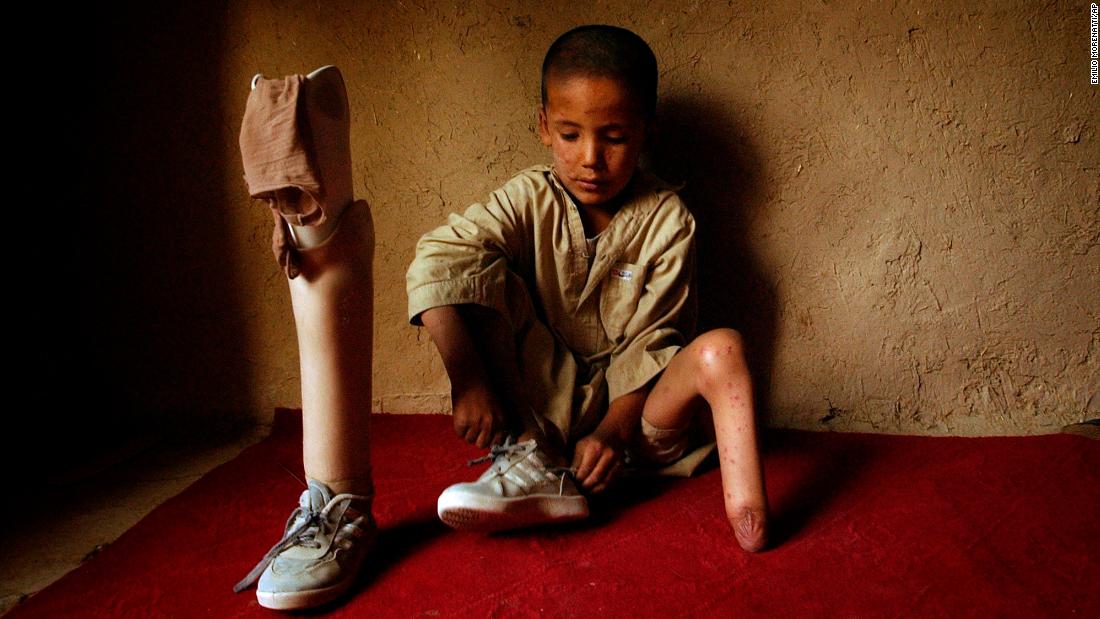 Photos: America's longest warMohammaed Mahdi, who lost his foot in a mine explosion, waits for a Red Cross doctor at his home in Kabul in August 2004. This photo was taken by Associated Press photographer Emilio Morenatti, who five years later lost part of his leg when the armored vehicle he was in hit a roadside bomb.Hide Caption 12 of 60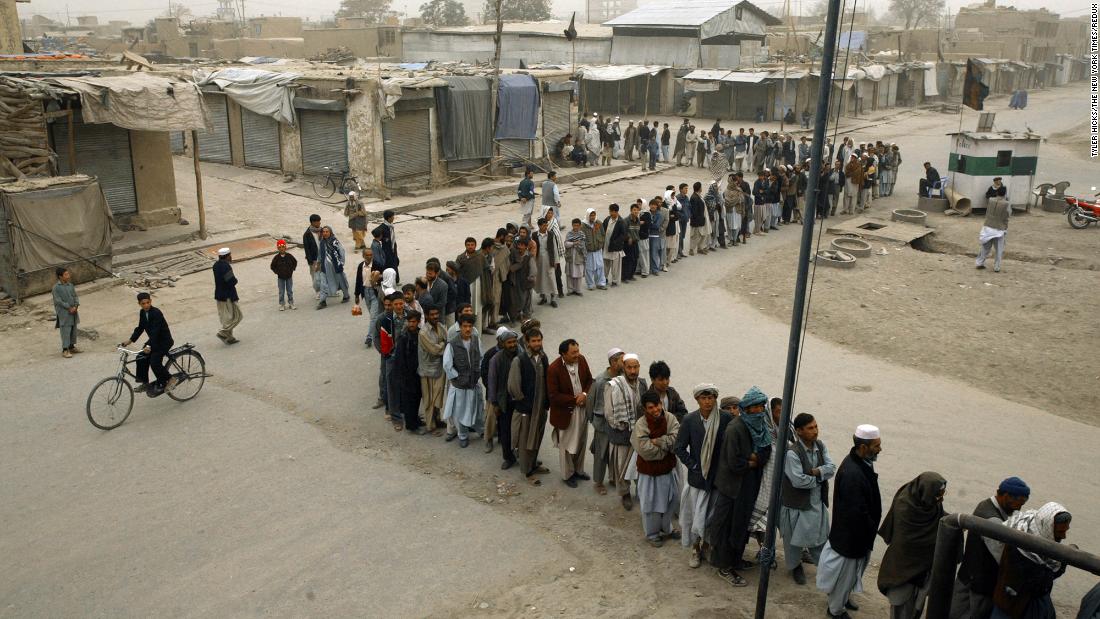 Photos: America's longest warAfghans in Kabul line up to vote in the country's first democratic election in October 2004. Hamid Karzai was sworn in as President in December of that year.Hide Caption 13 of 60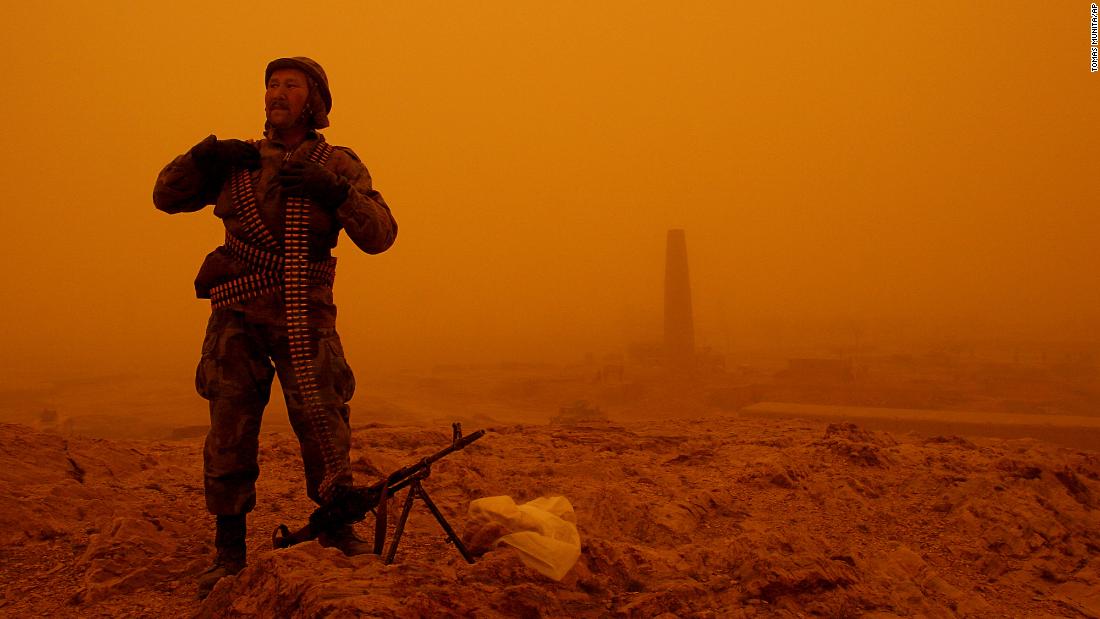 Photos: America's longest warAn Afghan soldier provides security at the site where a US helicopter crashed near Ghazni, Afghanistan, in April 2005. At least 16 people were killed.Hide Caption 14 of 60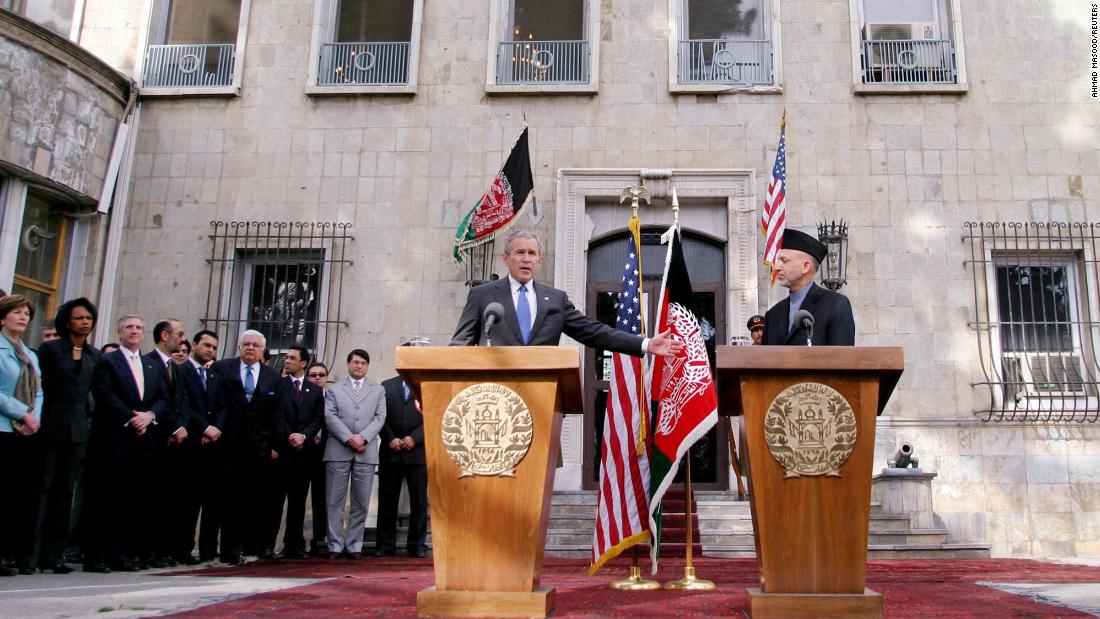 Photos: America's longest warUS President George W. Bush attends a news conference with Afghan President Hamid Karzai at the Presidential Palace in Kabul in March 2006. It was Bush's first visit to Afghanistan.Hide Caption 15 of 60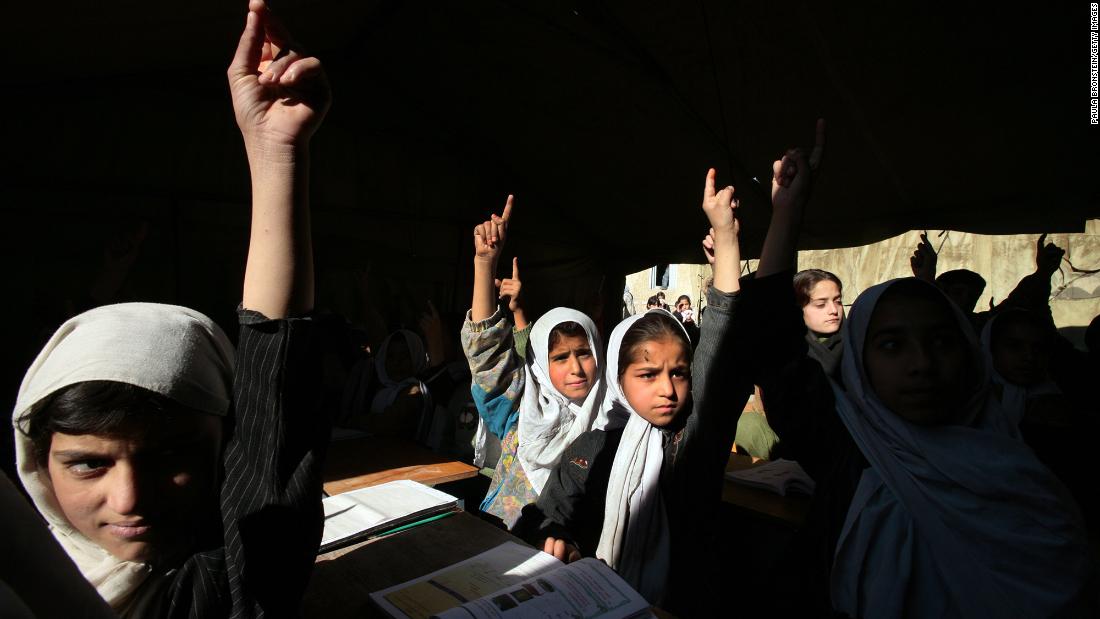 Photos: America's longest warGirls at the Bibi Mahroo High School raise their hands during an English class in Kabul in November 2006. After the fall of the Taliban, millions of Afghan girls were able to attend school and get the education that their mothers couldn't.Hide Caption 16 of 60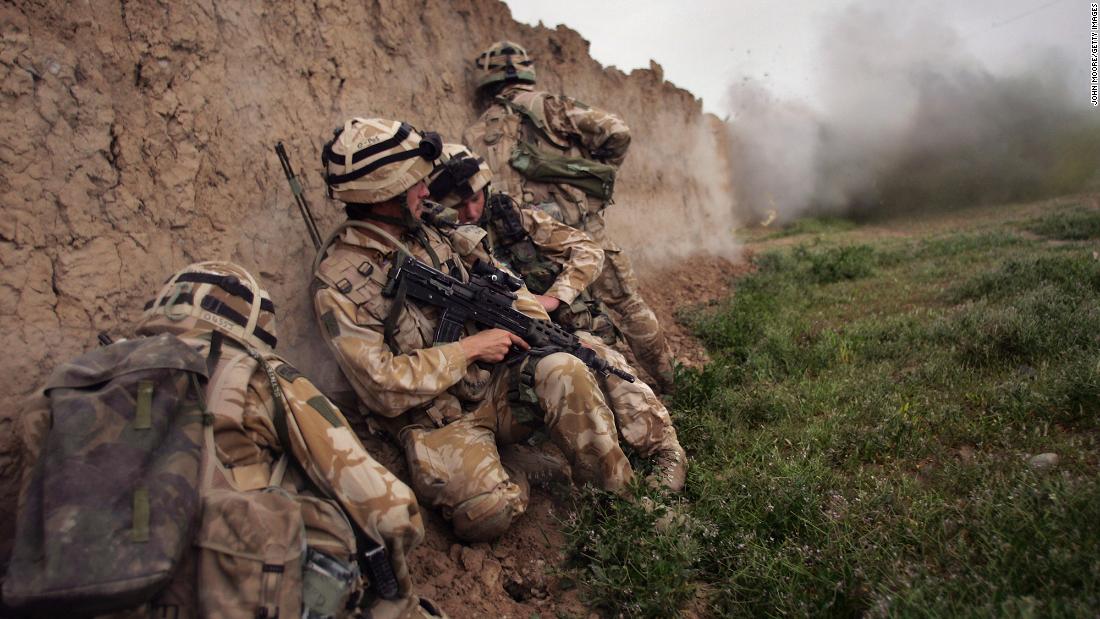 Photos: America's longest warBritish Marines take cover during an anti-Taliban operation near Kajaki, Afghanistan, in March 2007. Many other countries also deployed troops to the country.Hide Caption 17 of 60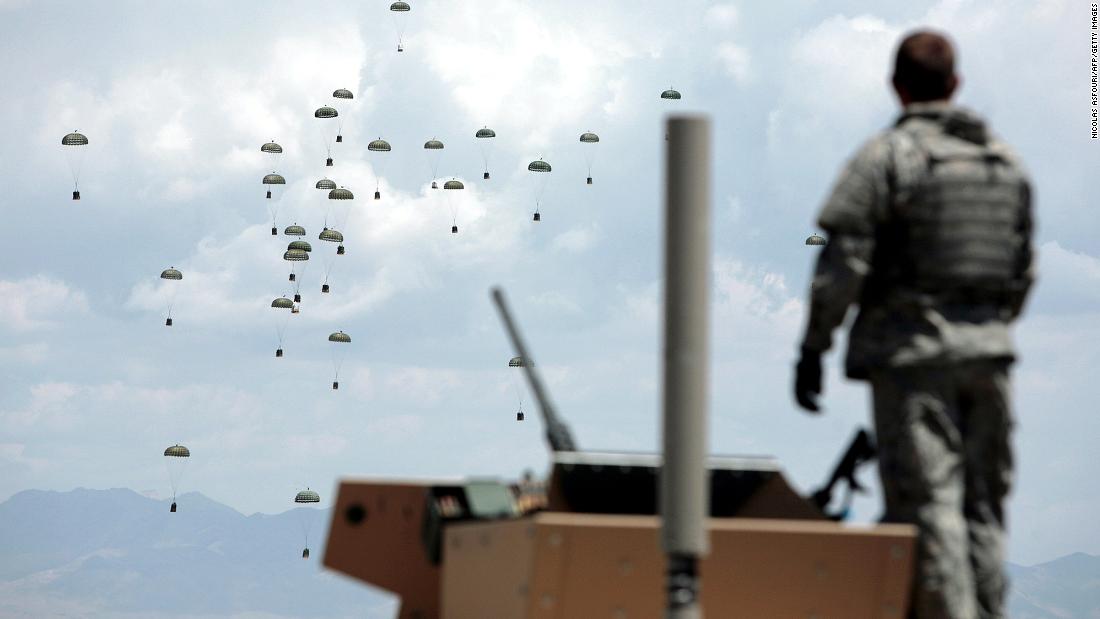 Photos: America's longest warSupplies are dropped to US troops in Afghanistan's Ghazni province in May 2007.Hide Caption 18 of 60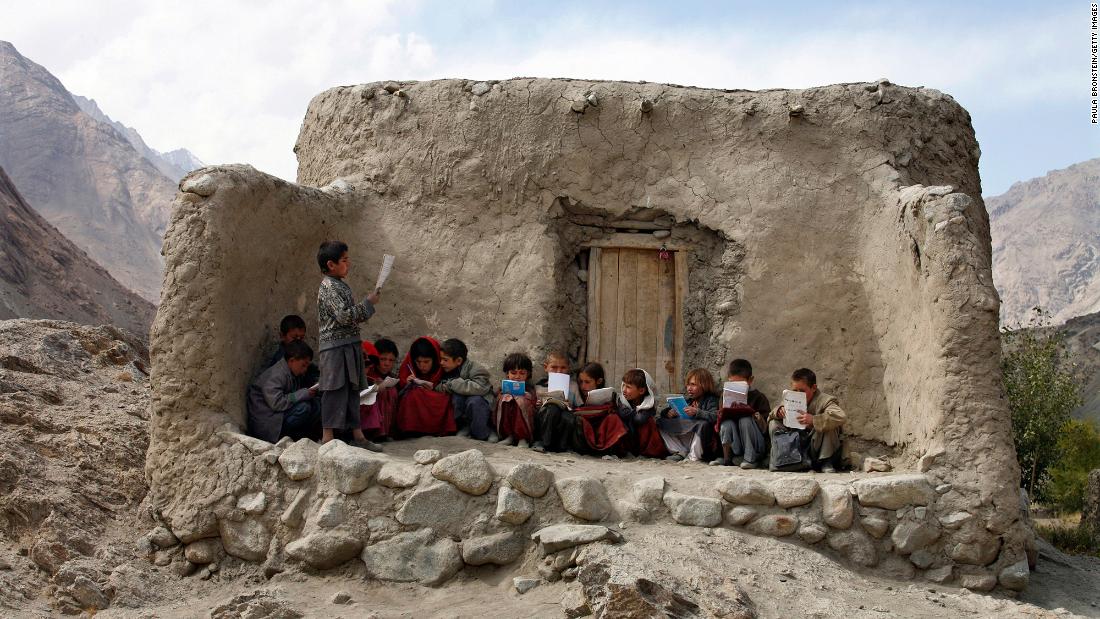 Photos: America's longest warAfghan students recite Islamic prayers at an outdoor classroom in the remote Wakhan Corridor in September 2007.Hide Caption 19 of 60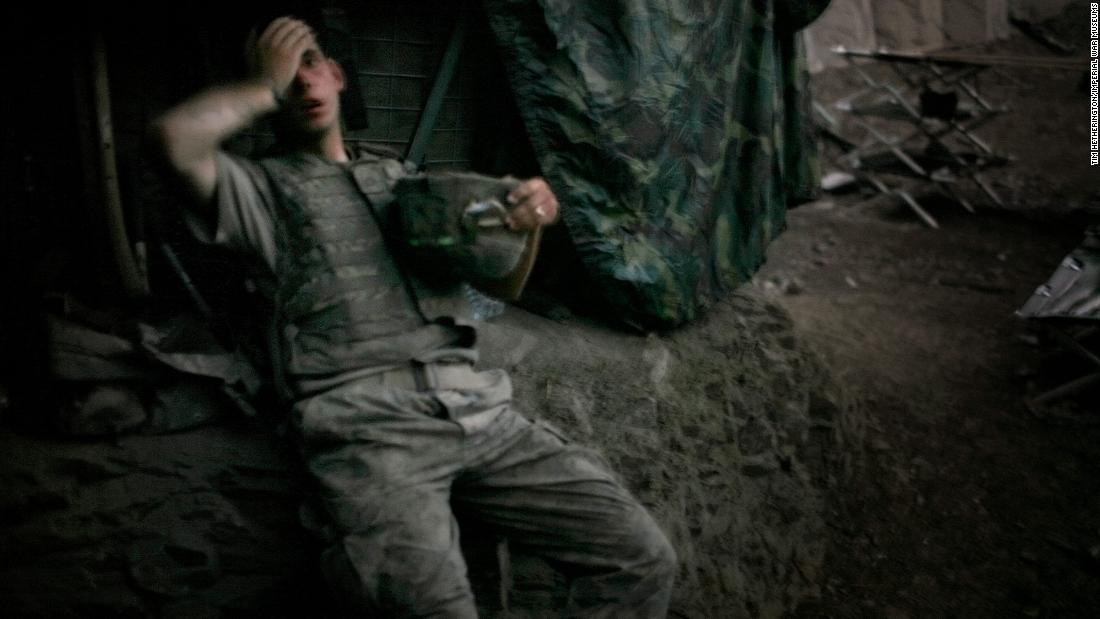 Photos: America's longest warUS Army Spc. Brandon Olson sinks onto a bunker embankment in Afghanistan's Korengal Valley in September 2007. The Korengal Valley was the site of some of the deadliest combat in the region.Hide Caption 20 of 60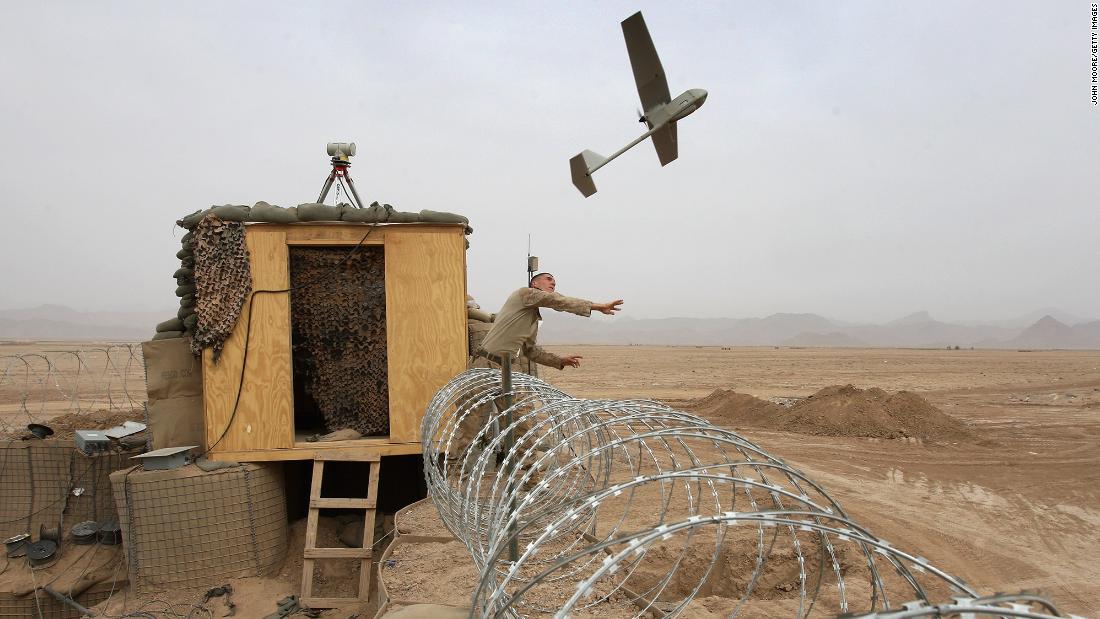 Photos: America's longest warUS Marine Sgt. Nicholas Bender launches a Raven surveillance drone near the remote village of Baqwa, Afghanistan, in March 2009.Hide Caption 21 of 60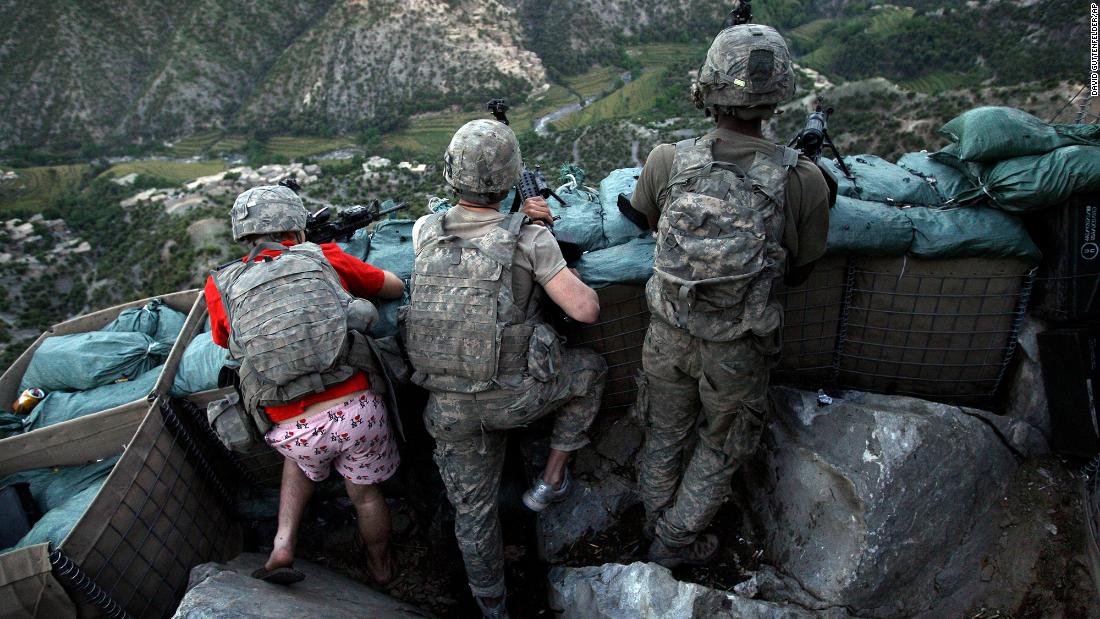 Photos: America's longest warUS soldiers take defensive positions after receiving fire from Taliban positions in Afghanistan's Korengal Valley in May 2009. Army Spc. Zachary Boyd was still in his "I love NY" boxers because he rushed from his sleeping quarters to join his fellow platoon members. Hide Caption 22 of 60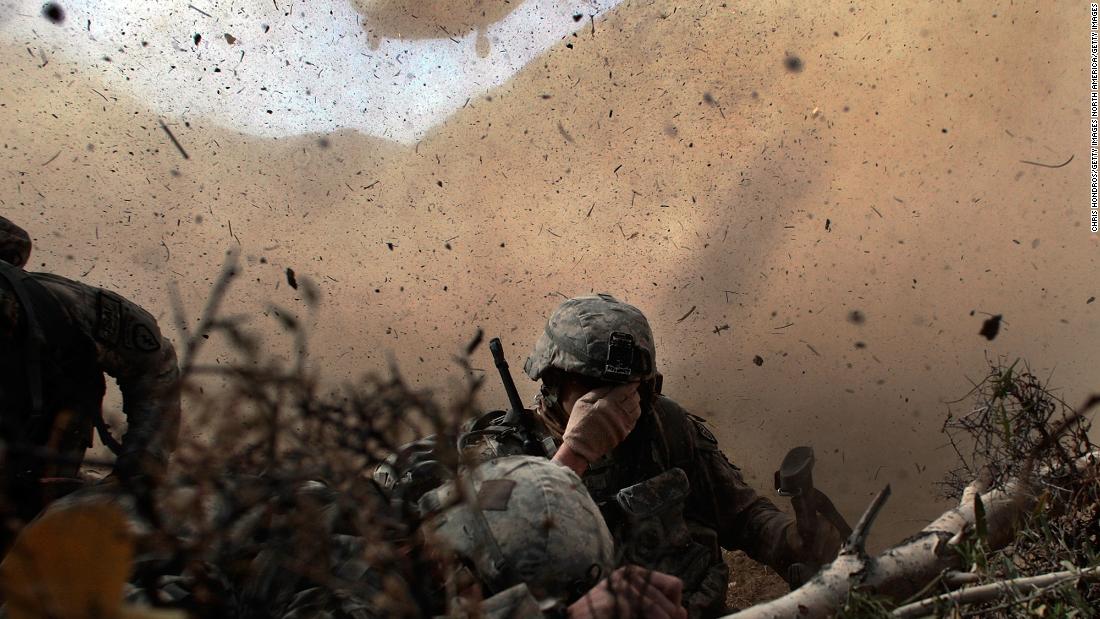 Photos: America's longest warUS soldiers shield their eyes from the rotor wash of a Chinook helicopter as they are picked up from a mission in Afghanistan's Paktika province in October 2009.Hide Caption 23 of 60
Photos: America's longest warChildren watch a Canadian soldier conducting a dusk patrol in Kandahar, Afghanistan, in October 2009.Hide Caption 24 of 60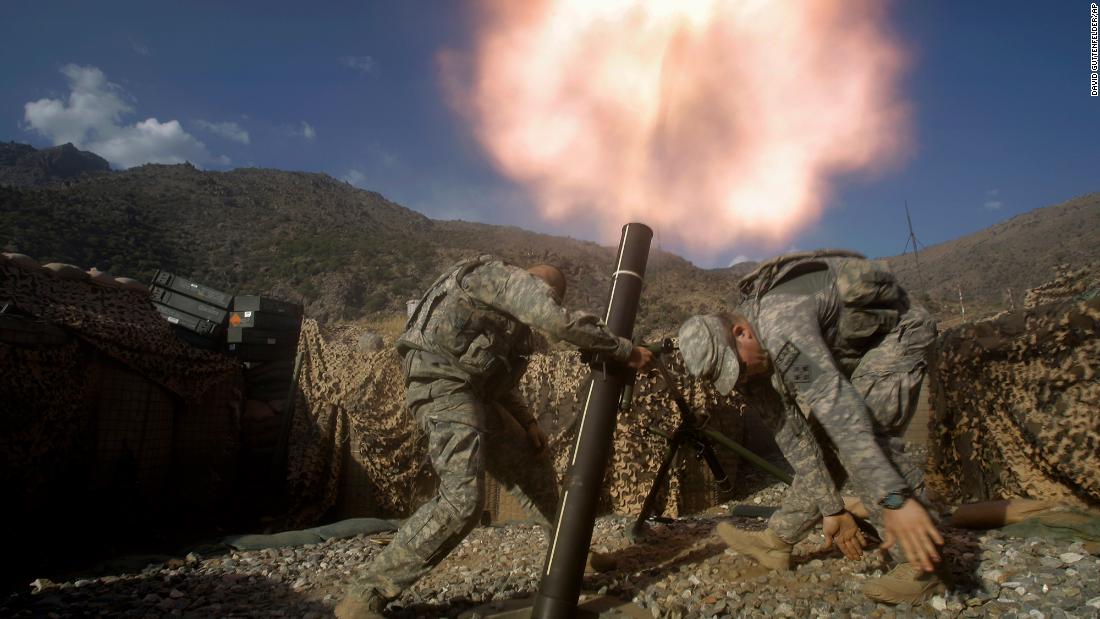 Photos: America's longest warUS soldiers fire mortars from a base in Afghanistan's Kunar province in October 2009.Hide Caption 25 of 60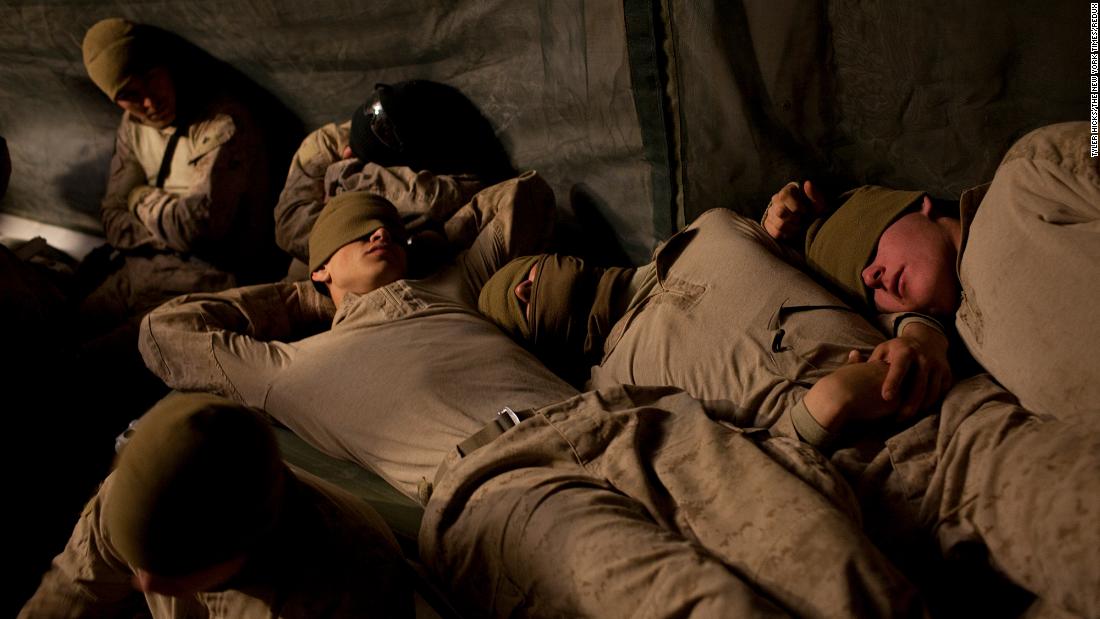 Photos: America's longest warTroops rest at an airfield in Afghanistan's Helmand province in February 2010.Hide Caption 26 of 60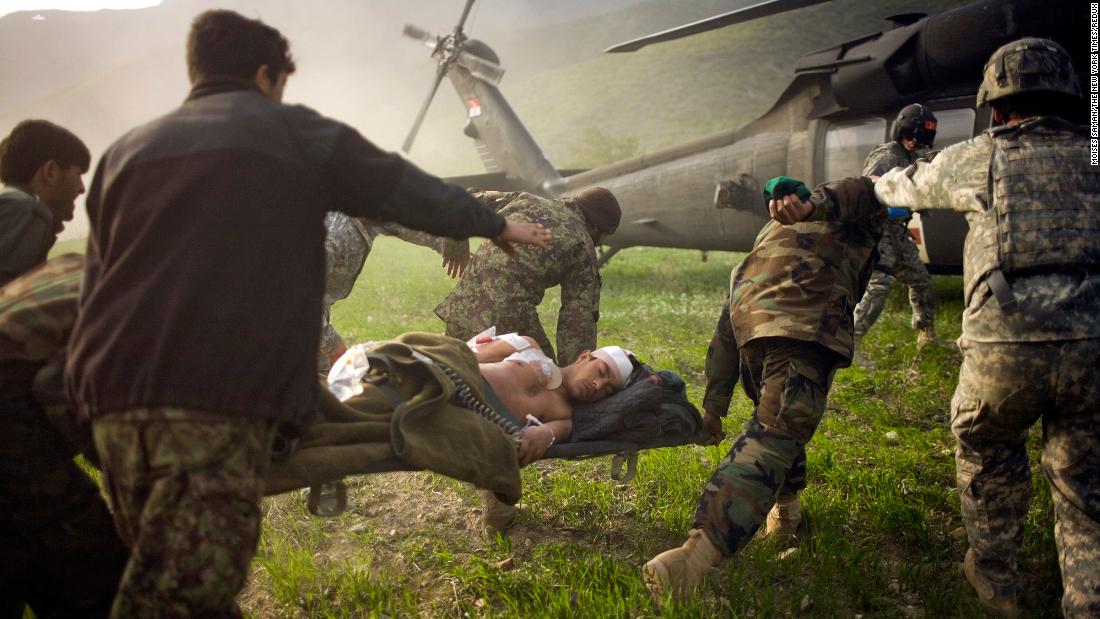 Photos: America's longest warAfghan soldiers rush a wounded police officer to an American helicopter in Afghanistan's Kunar province in March 2010.Hide Caption 27 of 60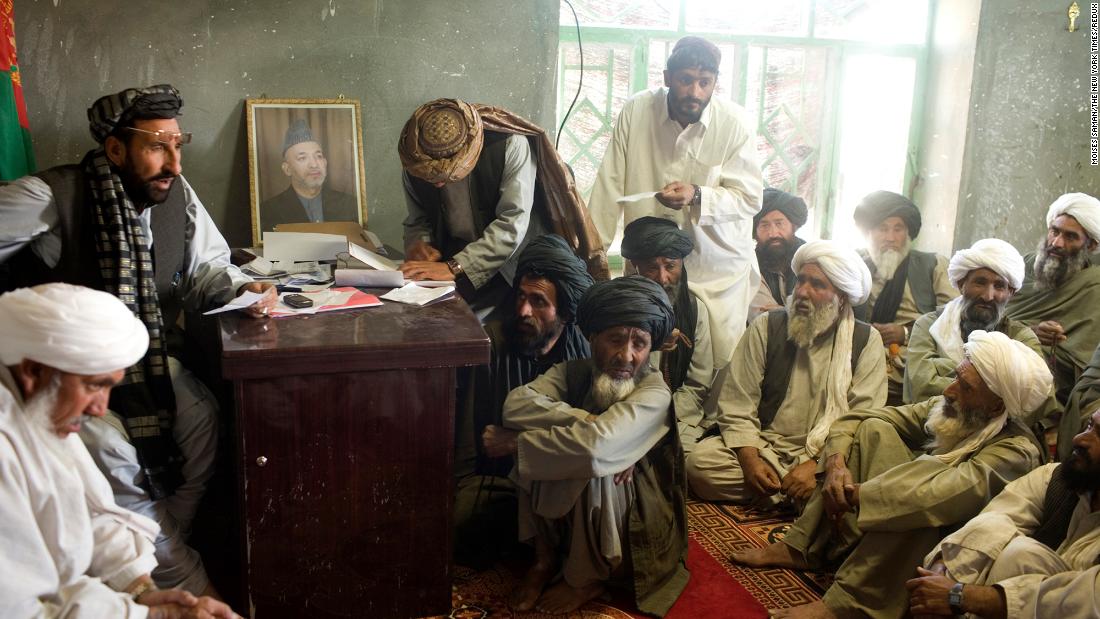 Photos: America's longest warVillage elders meet in Marja, Afghanistan, in March 2010.Hide Caption 28 of 60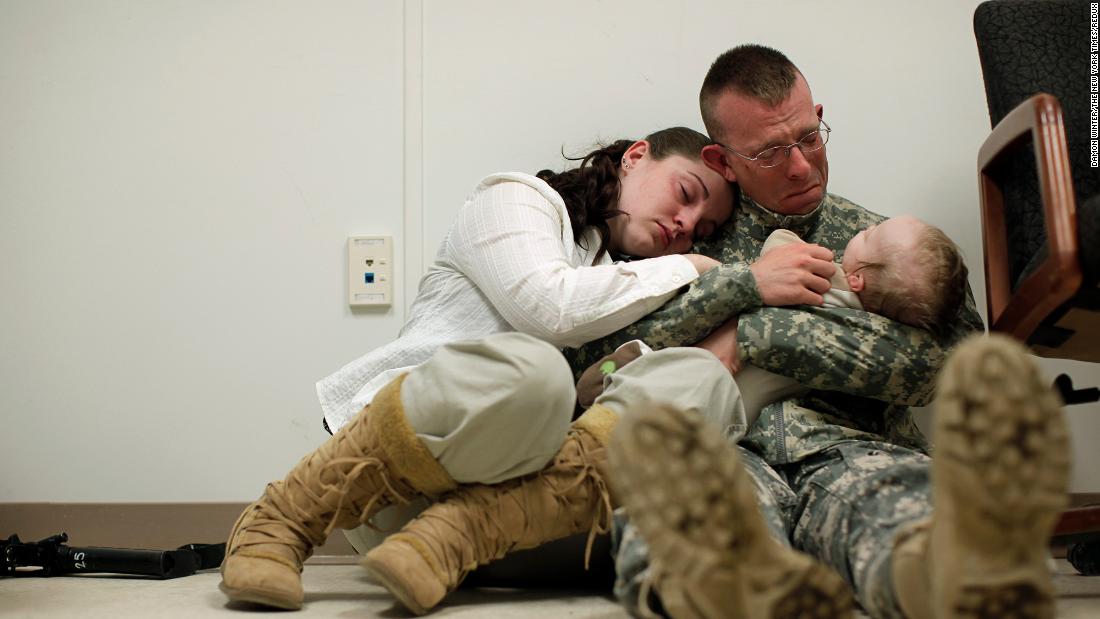 Photos: America's longest warSgt. Brian Keith sits with his wife, Sara, and their baby son, Stephen, just before his deployment to Afghanistan in March 2010. A few months earlier, President Barack Obama announced a surge of 30,000 additional troops. This new deployment would bring the US total to almost 100,000 troops, in addition to 40,000 NATO troops. Hide Caption 29 of 60
Photos: America's longest warUS troops, aboard a C-17 transport plane, head to Afghanistan in April 2010.Hide Caption 30 of 60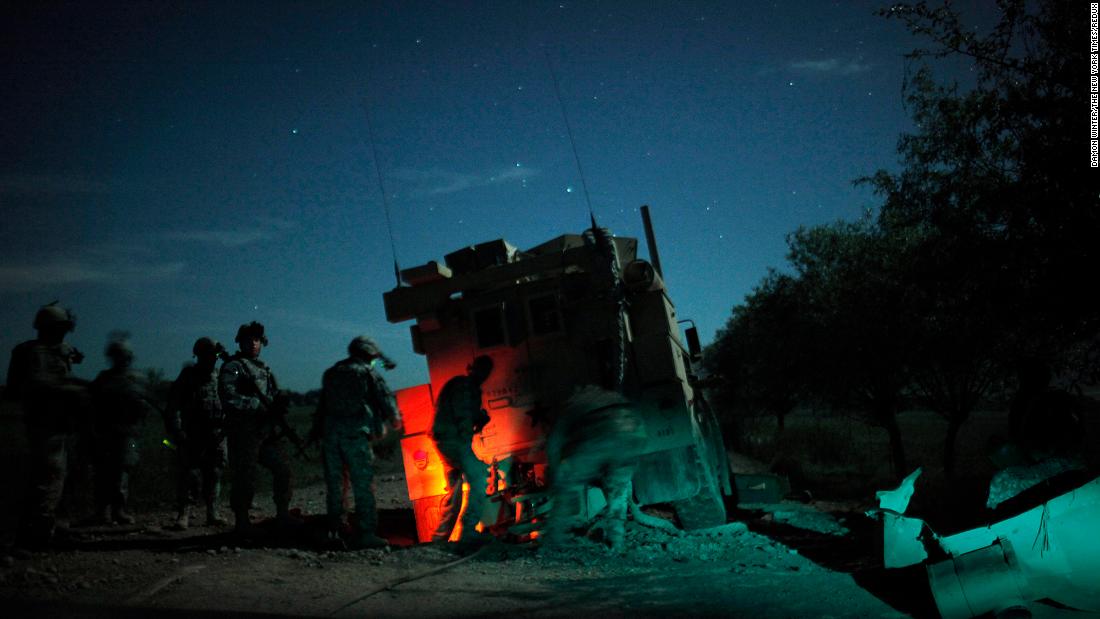 Photos: America's longest warUS soldiers recover an armored vehicle that was hit by an explosive device in Afghanistan's Kunduz province in April 2010.Hide Caption 31 of 60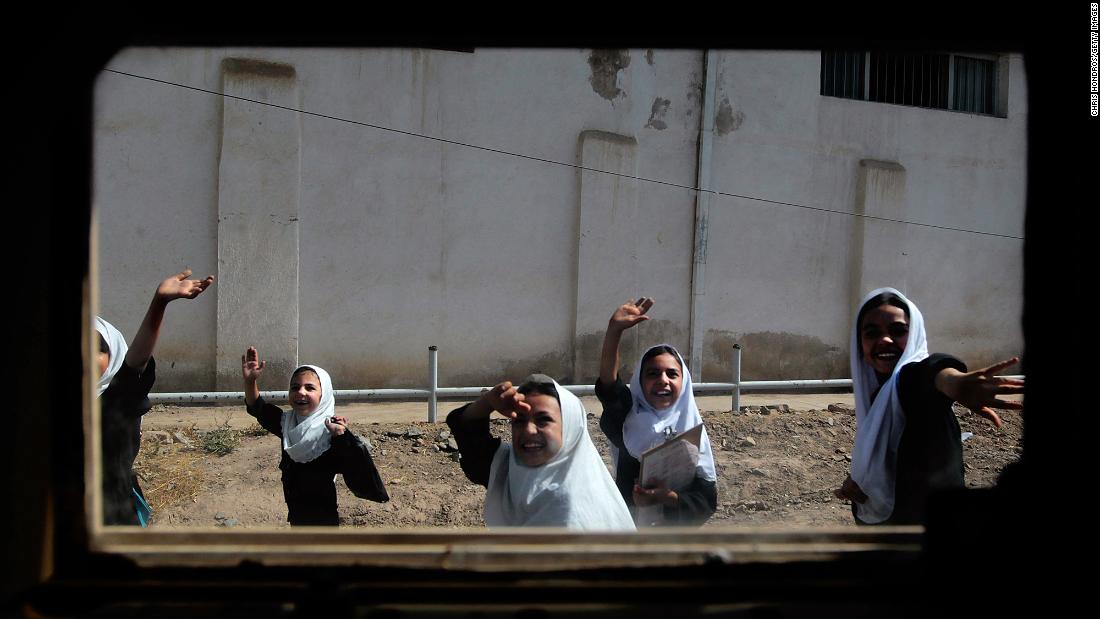 Photos: America's longest warSchoolgirls are seen through the window of a Humvee as they wave to a passing American convoy in Herat, Afghanistan, in June 2010.Hide Caption 32 of 60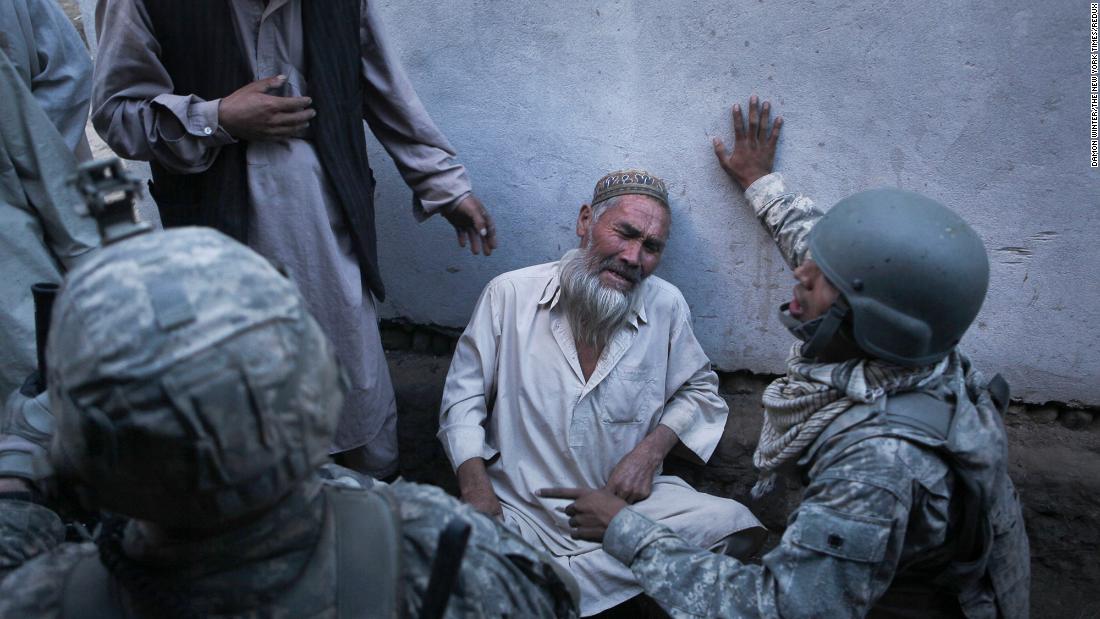 Photos: America's longest warA man cries while talking to US soldiers in Naghma Bazaar, Afghanistan, in September 2010. The man said Taliban fighters had forced their way into his home and demanded food and milk before getting into a firefight with American soldiers.Hide Caption 33 of 60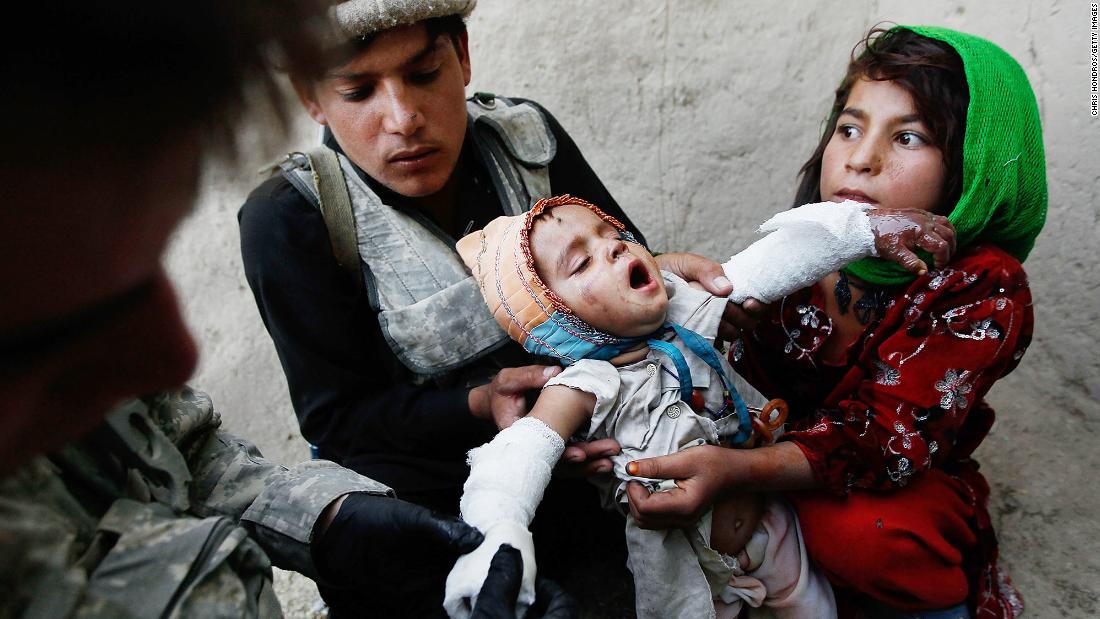 Photos: America's longest warHalawasha, right, and an Afghan National Police member hold her young sister Shokria as a US Army medic wraps her serious burns in Now Ruzi, Afghanistan, in October 2010. US soldiers were on a routine patrol when they came across Shokria, whose forearms were burned with scalding milk during a household accident five days earlier. Medics dressed the burns and began working with local Afghan military to have the girl driven to a nearby hospital.Hide Caption 34 of 60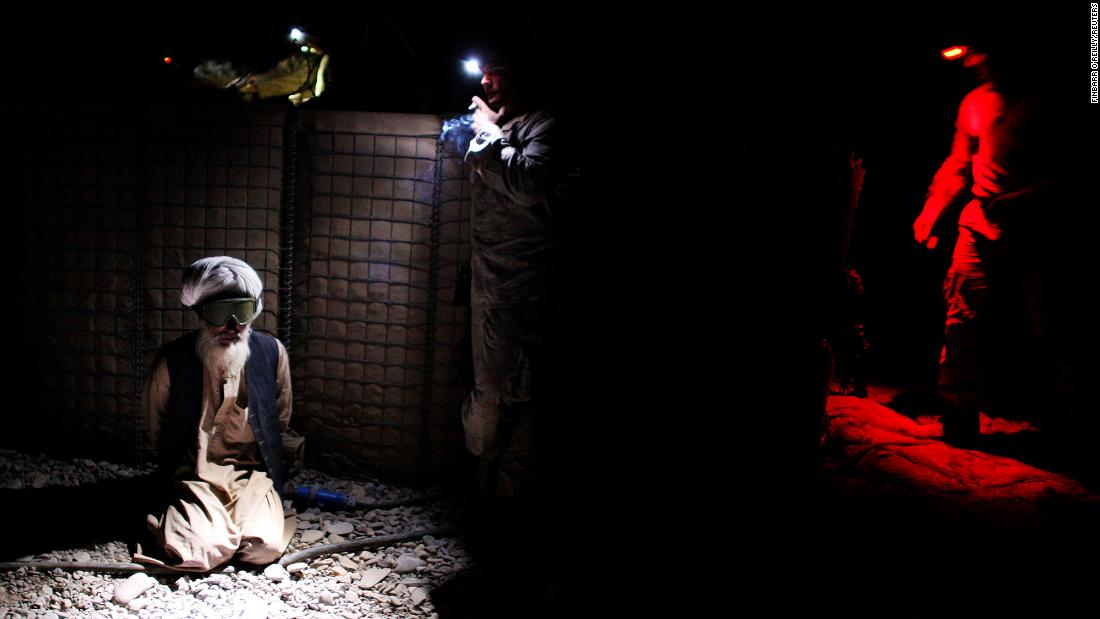 Photos: America's longest warAn Afghan man is detained by US Marines after they battled Taliban insurgents in Afghanistan's Helmand province in November 2010.Hide Caption 35 of 60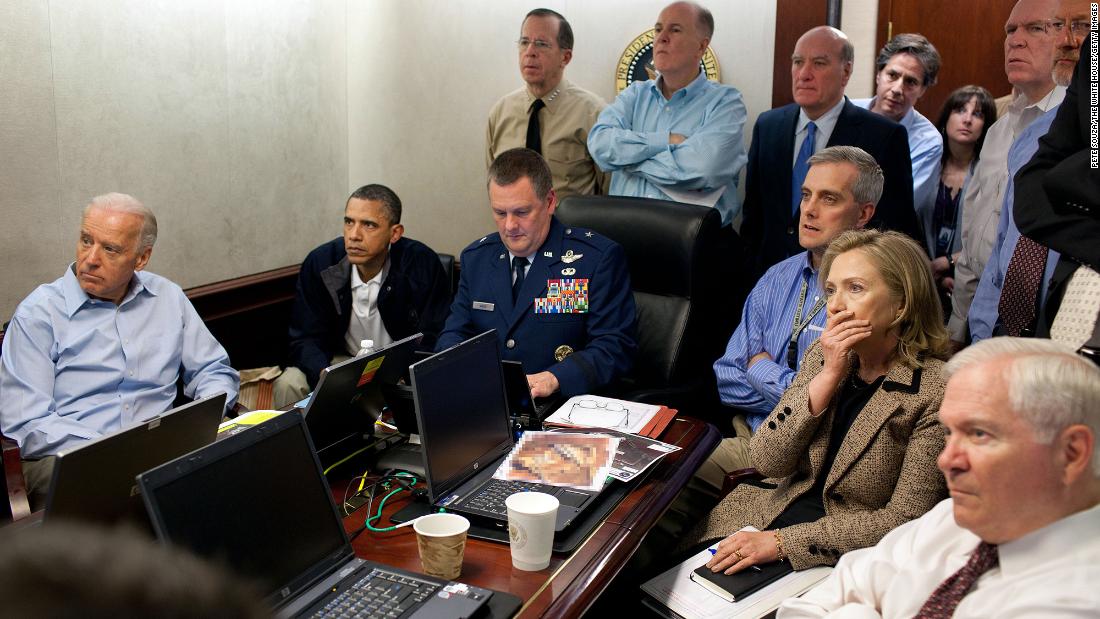 Photos: America's longest warPresident Barack Obama and members of his national security team monitor the Navy SEALs raid that killed Osama bin Laden in May 2011. "Fourteen people crammed into the room, the President sitting in a folding chair on the corner of the table's head," said CNN's Peter Bergen as he relived the bin Laden raid five years later. "They sat in this room until the SEALs returned to Afghanistan." (Editor's note: The classified document in front of Hillary Clinton was obscured by the White House.)Hide Caption 36 of 60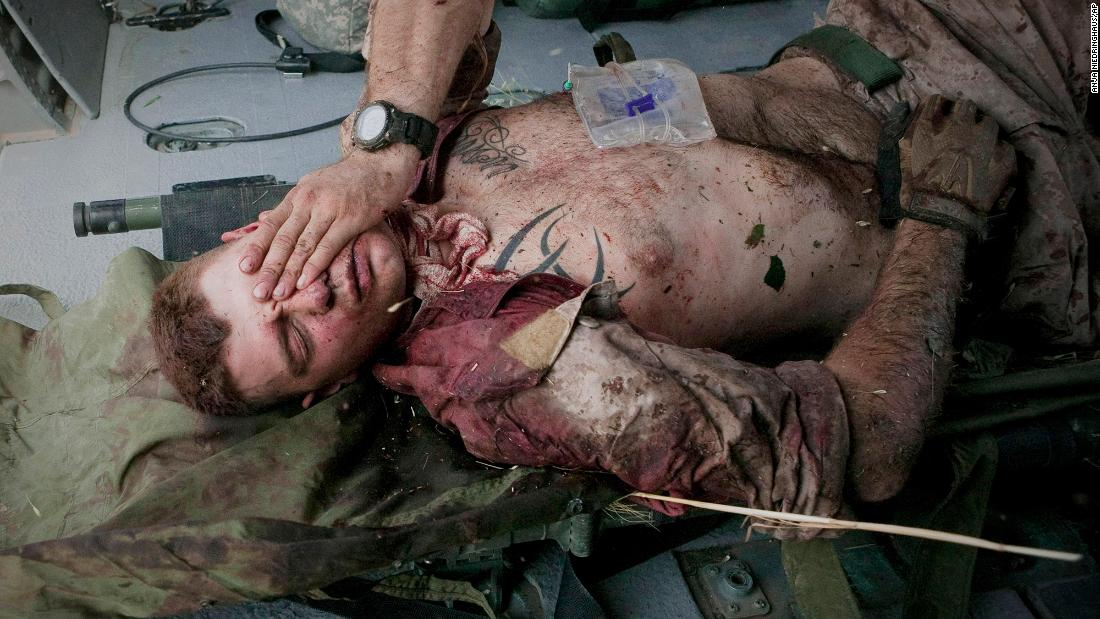 Photos: America's longest warUS Marine Cpl. Burness Britt reacts after being lifted onto a medevac helicopter in June 2011. A large piece of shrapnel from an improvised explosive device cut a major artery on his neck near Sangin, Afghanistan. This photo was taken by Anja Niedringhaus, an Associated Press photographer who was fatally shot in Afghanistan in 2014.Hide Caption 37 of 60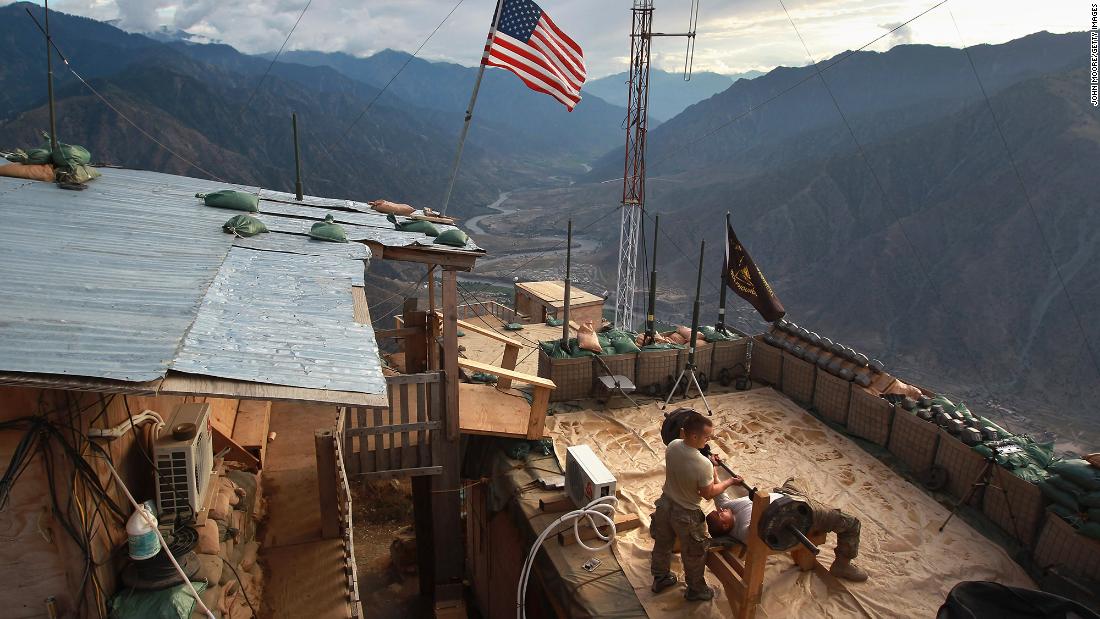 Photos: America's longest warUS soldiers work out at a post in Afghanistan's Kunar province in September 2011.Hide Caption 38 of 60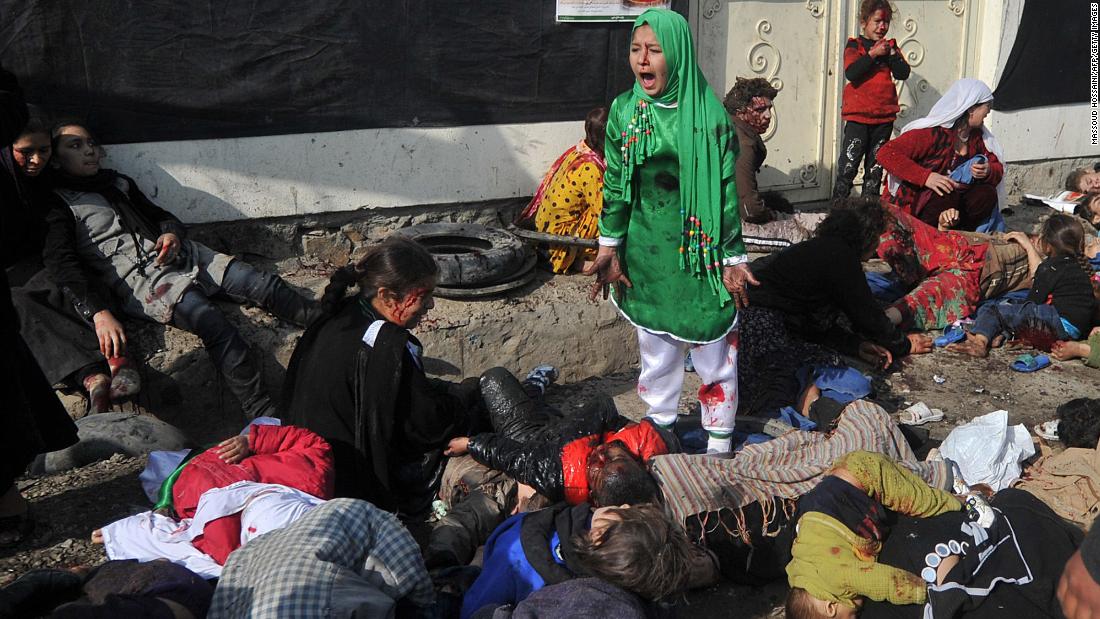 Photos: America's longest warTarana Akbari, 12, screams after a suicide bomber attacked the Abul Fazel Shrine in Kabul, Afghanistan, in December 2011. Twin bomb blasts killed dozens of Afghan people on the holy day of Ashura.Hide Caption 39 of 60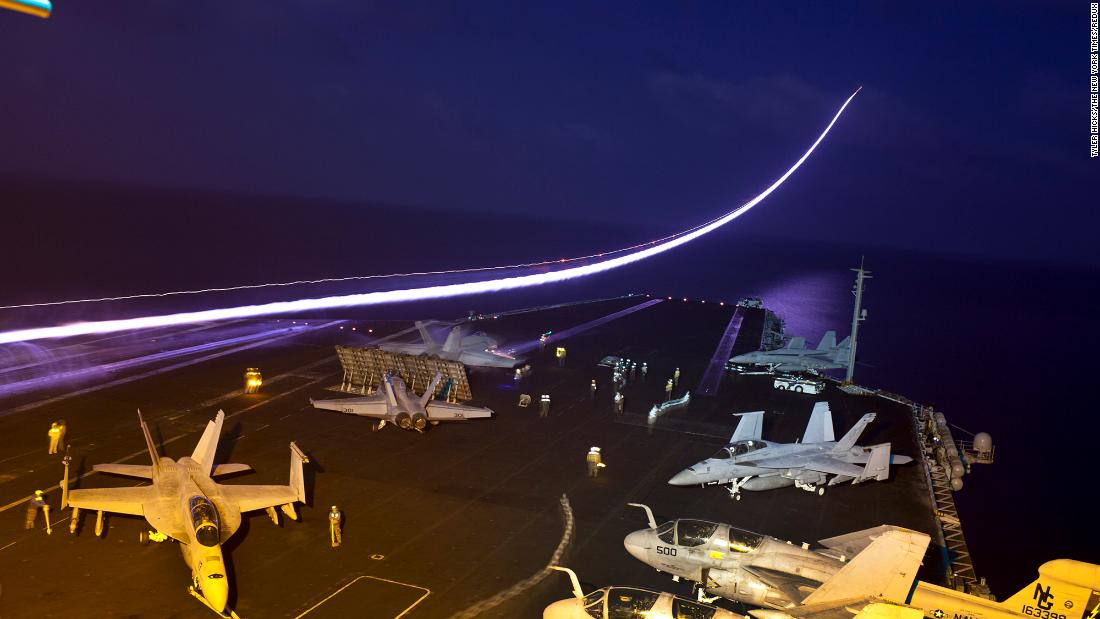 Photos: America's longest warIn this long-exposure photo, a jet takes off from the flight deck of the USS John C. Stennis, an aircraft carrier that was in the northern Arabian Sea in January 2012.Hide Caption 40 of 60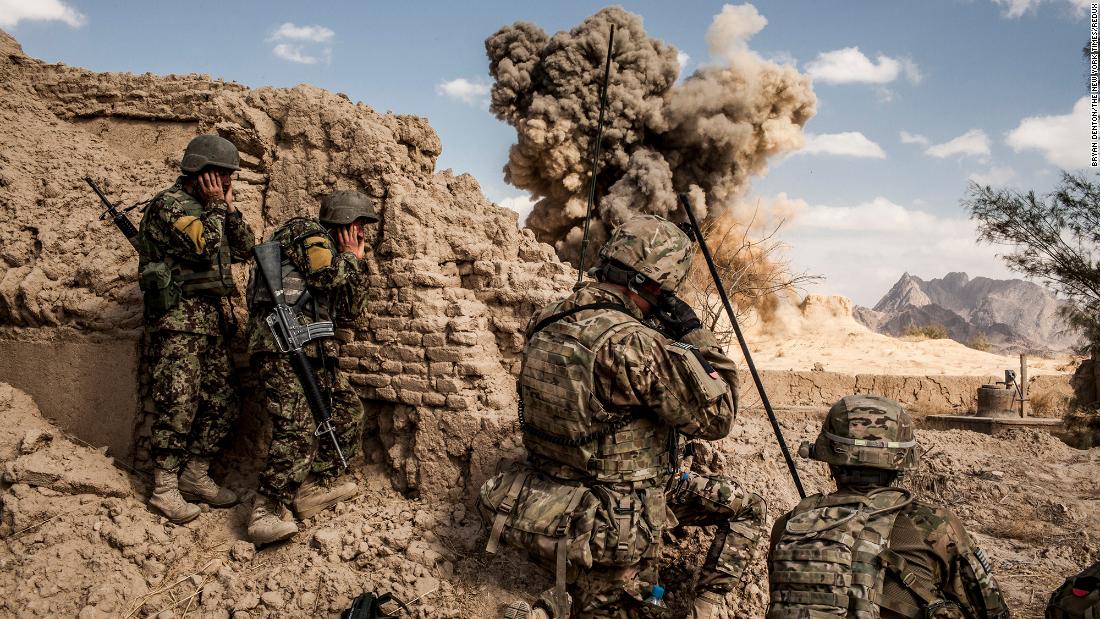 Photos: America's longest warAfghan soldiers, left, and American troops blow up a Taliban firing position in the Afghan village of Layadira in February 2013.Hide Caption 41 of 60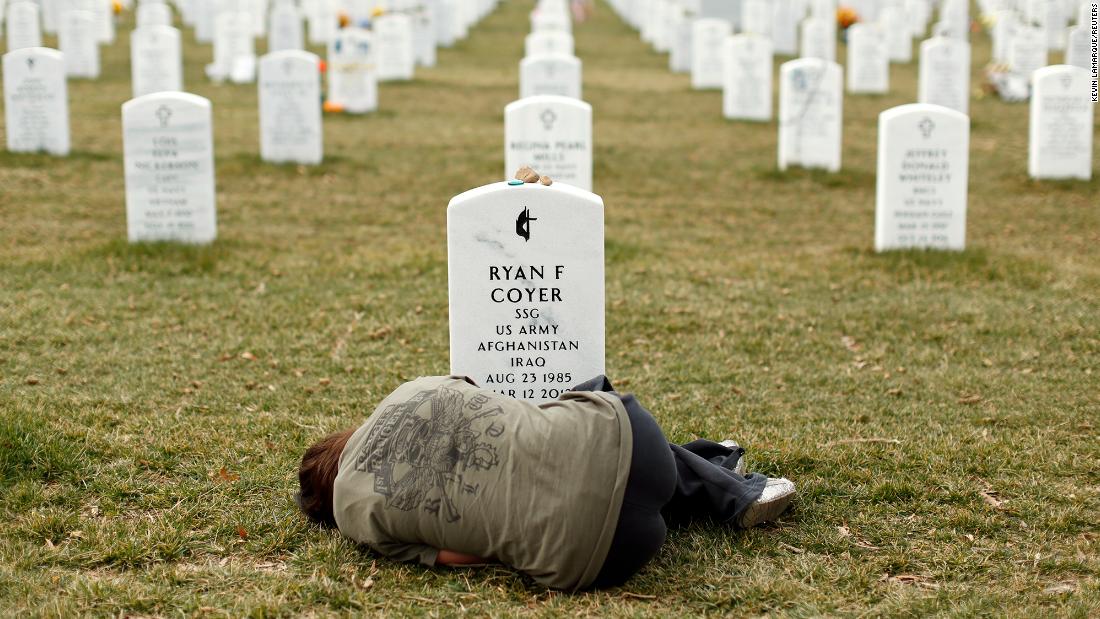 Photos: America's longest warLesleigh Coyer lies down in front of the grave of her brother, Army Staff Sgt. Ryan Coyer, at Virginia's Arlington National Cemetery in March 2013. He died of complications from an injury sustained in Afghanistan.Hide Caption 42 of 60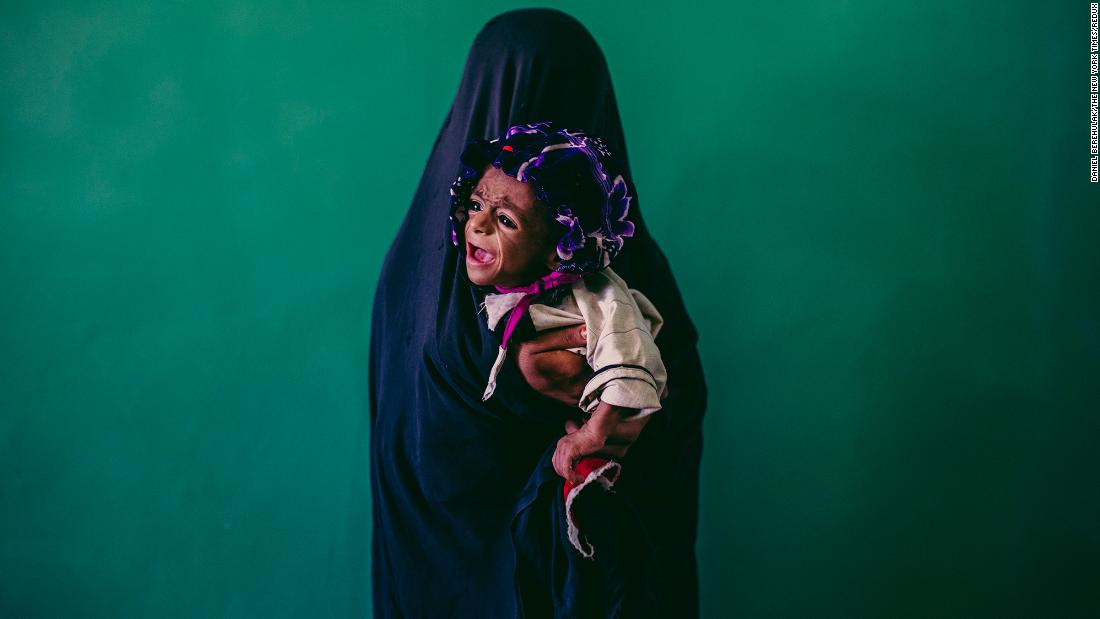 Photos: America's longest warSamiullah, 8 months old and malnourished, is held by his mother, Islam Bibi, at a Doctors Without Borders hospital in Lashgar Gar, Afghanistan, in September 2013.Hide Caption 43 of 60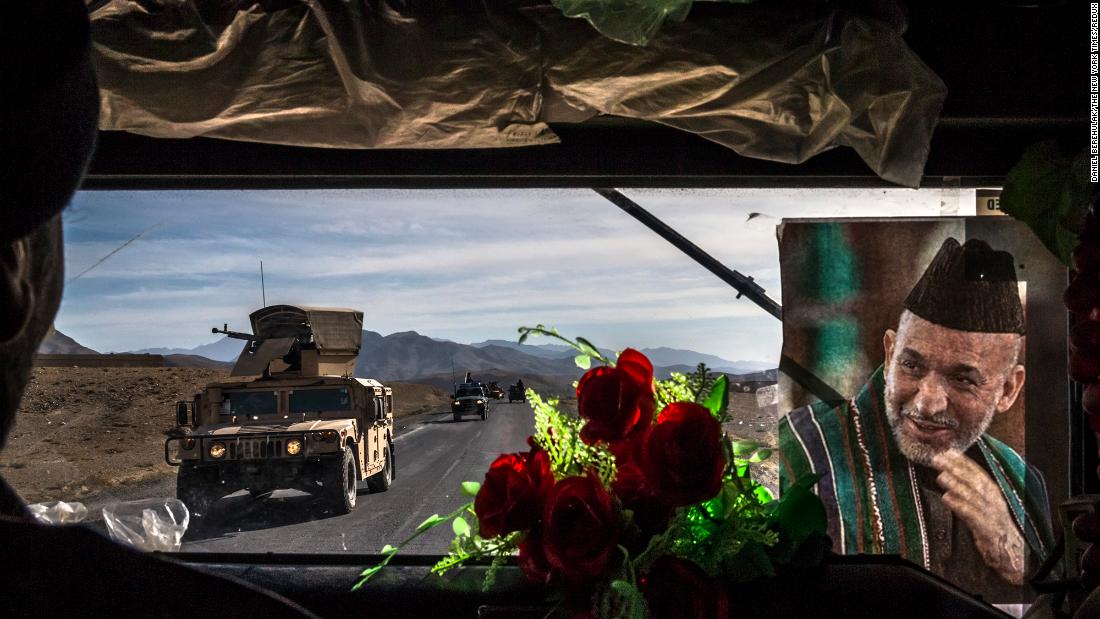 Photos: America's longest warAn Afghan army convoy travels Highway 1 in Afghanistan's Wardak province in November 2013. The picture at right shows Afghan President Hamid Karzai.Hide Caption 44 of 60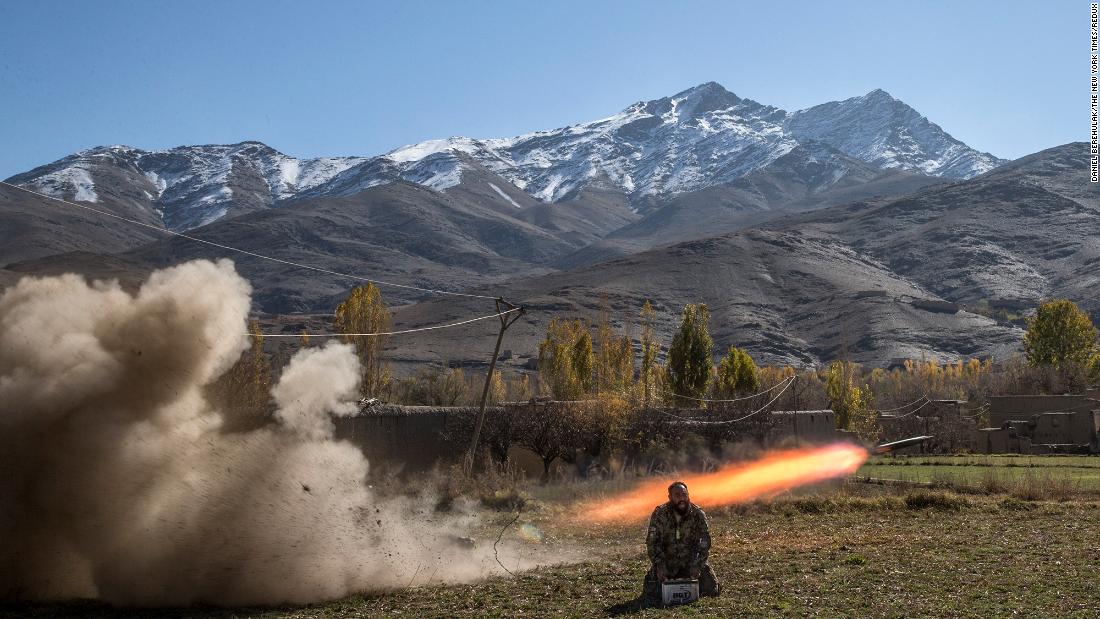 Photos: America's longest warAfghan Army Sgt. Sayed Wazir screams a prayer while firing a rocket in Afghanistan's Wardak province in November 2013.Hide Caption 45 of 60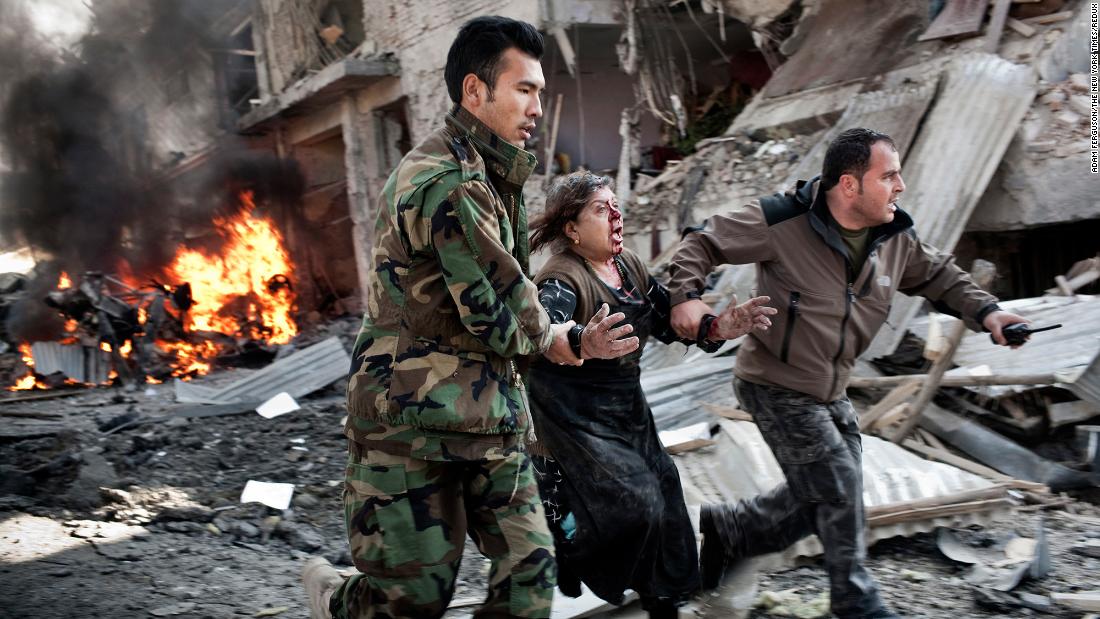 Photos: America's longest warA woman is rushed from the scene of a suicide car bombing in Kabul in December 2013.Hide Caption 46 of 60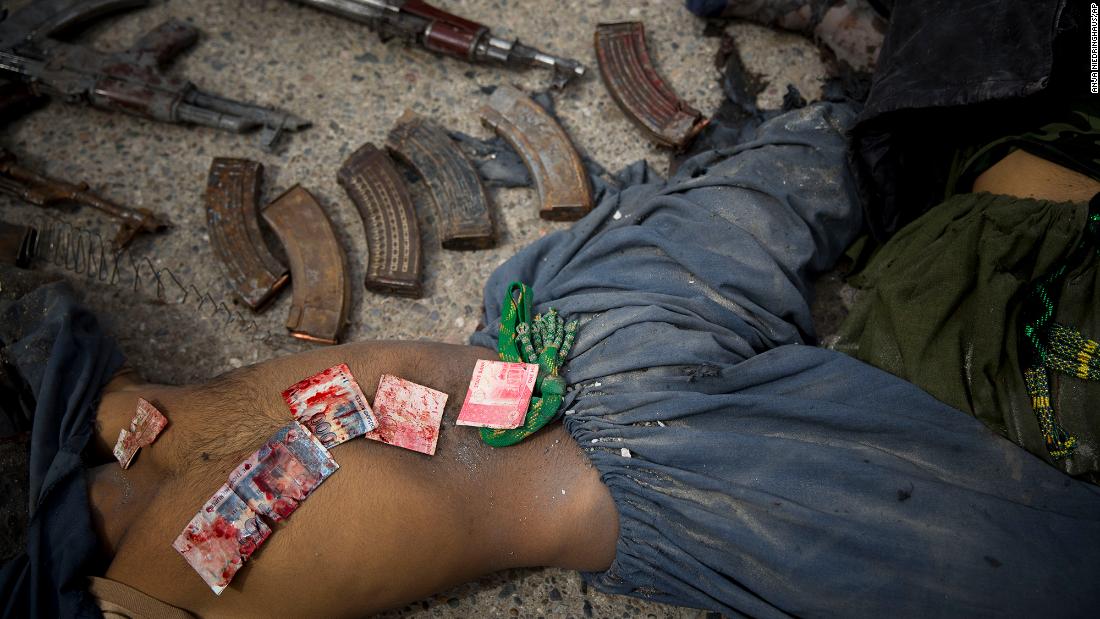 Photos: America's longest warBlood-stained Pakistani bank notes are displayed on the body of a dead suicide bomber after an attack in Kandahar, Afghanistan, in March 2014. Police said they found the bank notes in his pocket. Three insurgents tried to storm the former headquarters of Afghanistan's intelligence service in southern Kandahar. They died in a gunbattle with security forces, officials said.Hide Caption 47 of 60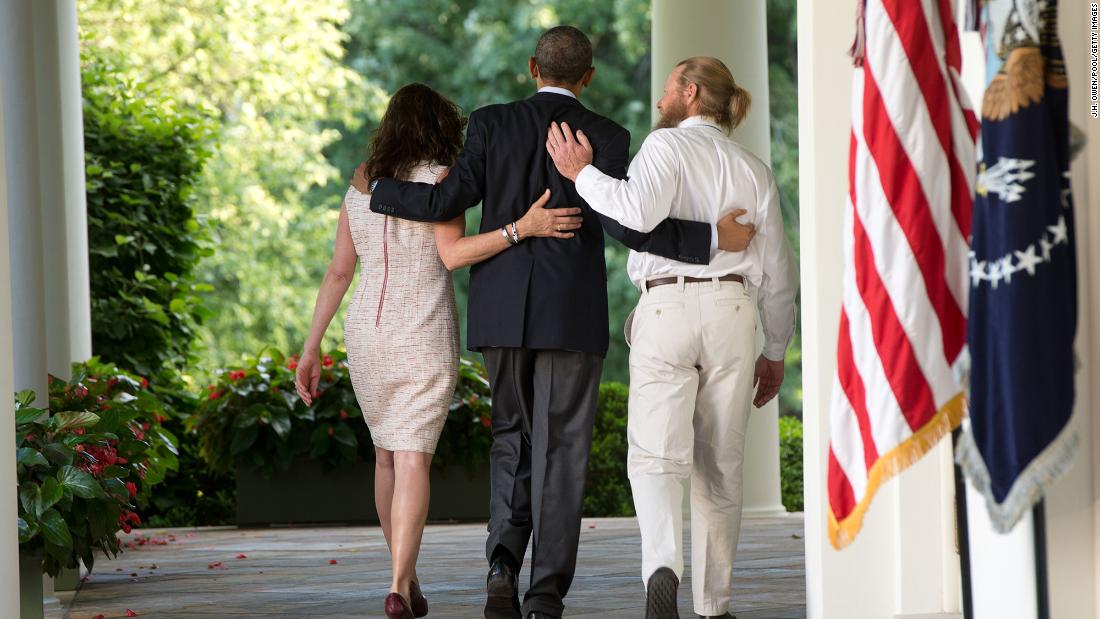 Photos: America's longest warUS President Barack Obama walks with the parents of Army Sgt. Bowe Bergdahl after making a statement at the White House about Bergdahl's release in May 2014. Bergdahl had been held captive in Afghanistan for nearly five years, and the Taliban released him in exchange for five U.S.-held prisoners.Hide Caption 48 of 60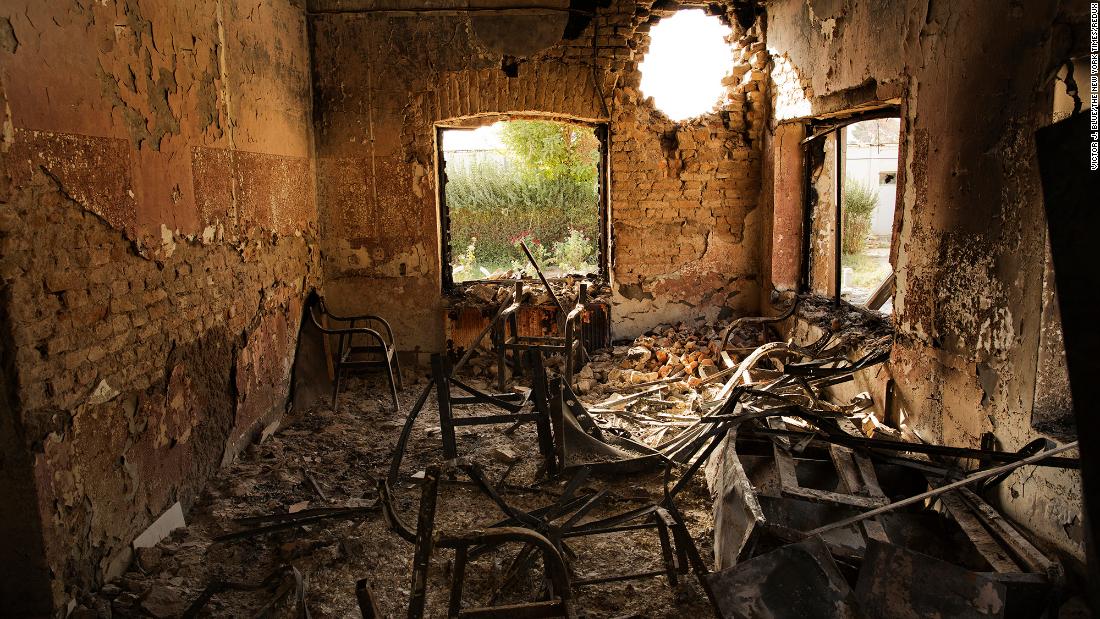 Photos: America's longest warThis photo shows the aftermath of an American airstrike on a Doctors Without Borders hospital in Kunduz, Afghanistan, in October 2015. The hospital was "accidentally struck" by US bombs after Afghan forces called for air support, said Gen. John Campbell, the commander of US forces in Afghanistan.Hide Caption 49 of 60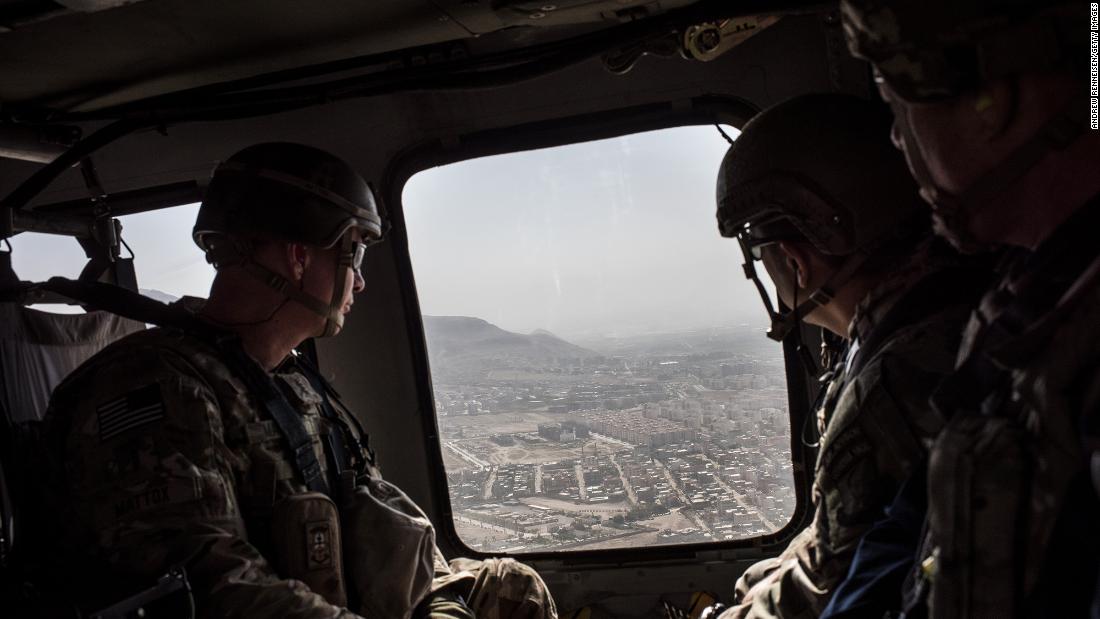 Photos: America's longest warAmerican service members ride in a helicopter on the way to the Bagram Air Base near Kabul in September 2017. President Donald Trump had recently announced a plan to increase troops in the country.Hide Caption 50 of 60
Photos: America's longest warPresident Donald Trump visits Afghanistan's Bagram Air Base in November 2019.Hide Caption 51 of 60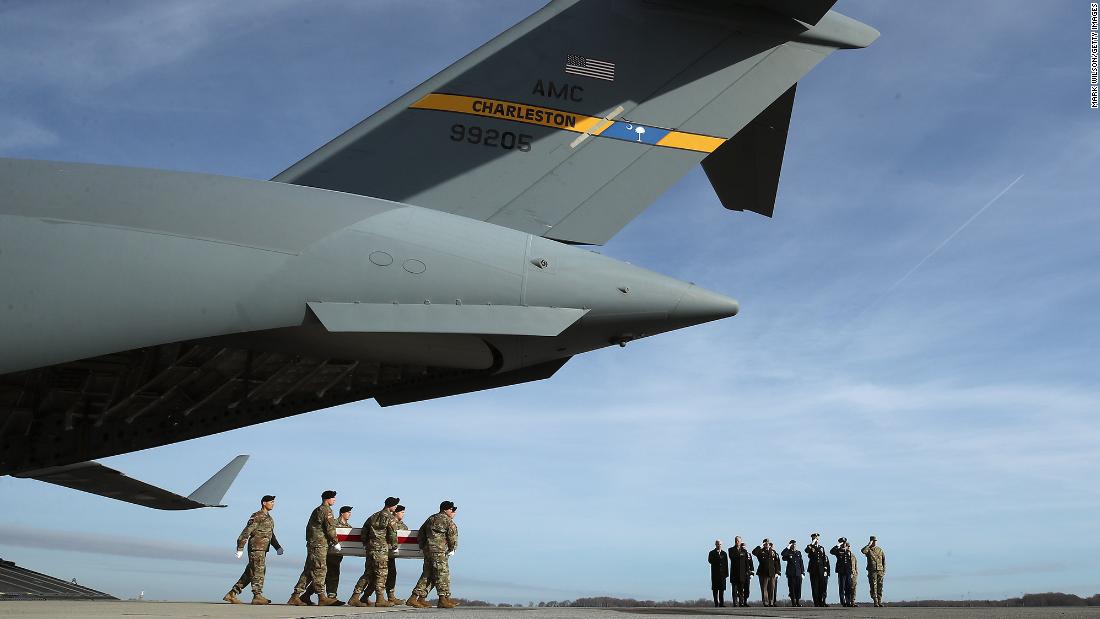 Photos: America's longest warA US Army carry team moves the transfer case containing the remains of Sgt. 1st Class Michael Goble during a dignified transfer at Delaware's Dover Air Force Base in December 2019. Goble, who was from Washington Township, New Jersey, was killed during combat in Afghanistan. Hide Caption 52 of 60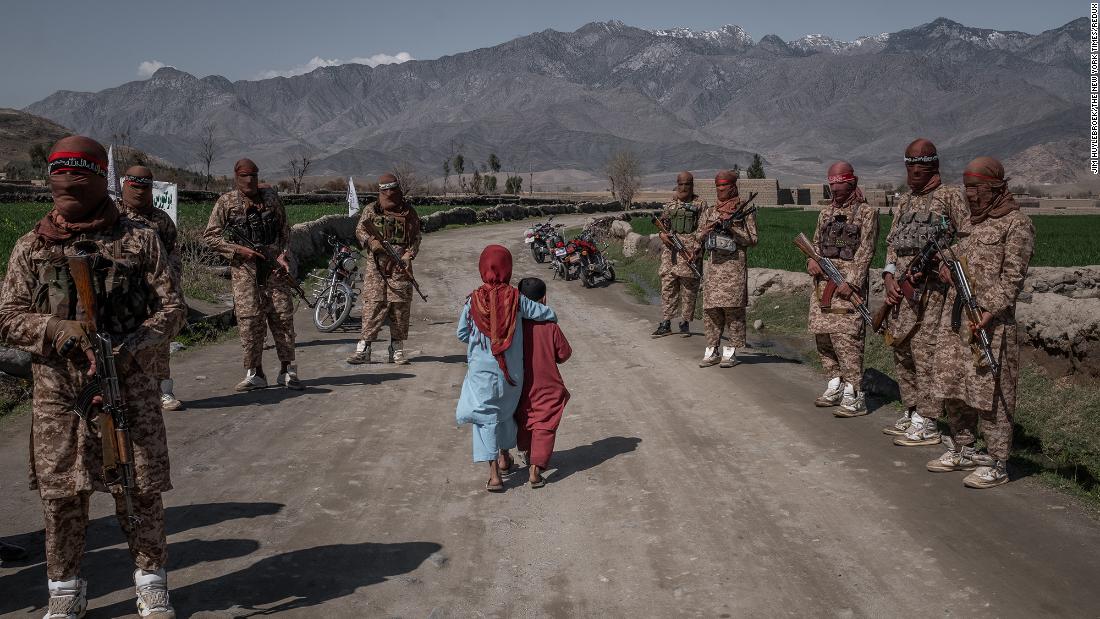 Photos: America's longest warTwo children pass members of a Taliban Red Unit in Afghanistan's Laghman province in March 2020. A month earlier, the United States and the Taliban signed a historic agreement.Hide Caption 53 of 60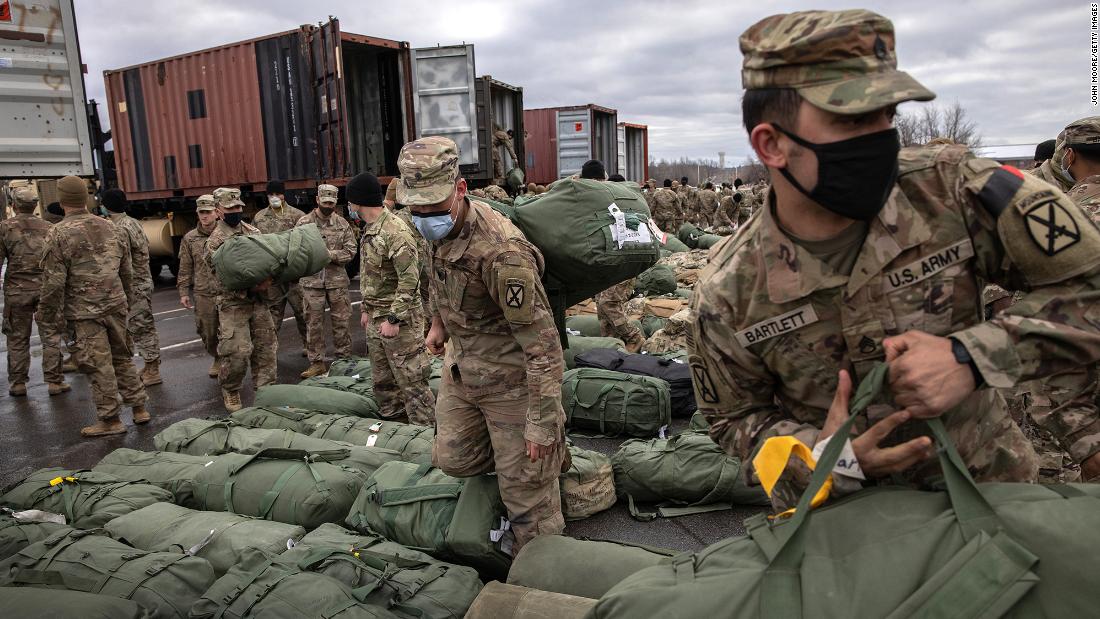 Photos: America's longest warUS soldiers retrieve their bags in Fort Drum, New York, in December 2020, after returning home from a nine-month deployment to Afghanistan.Hide Caption 54 of 60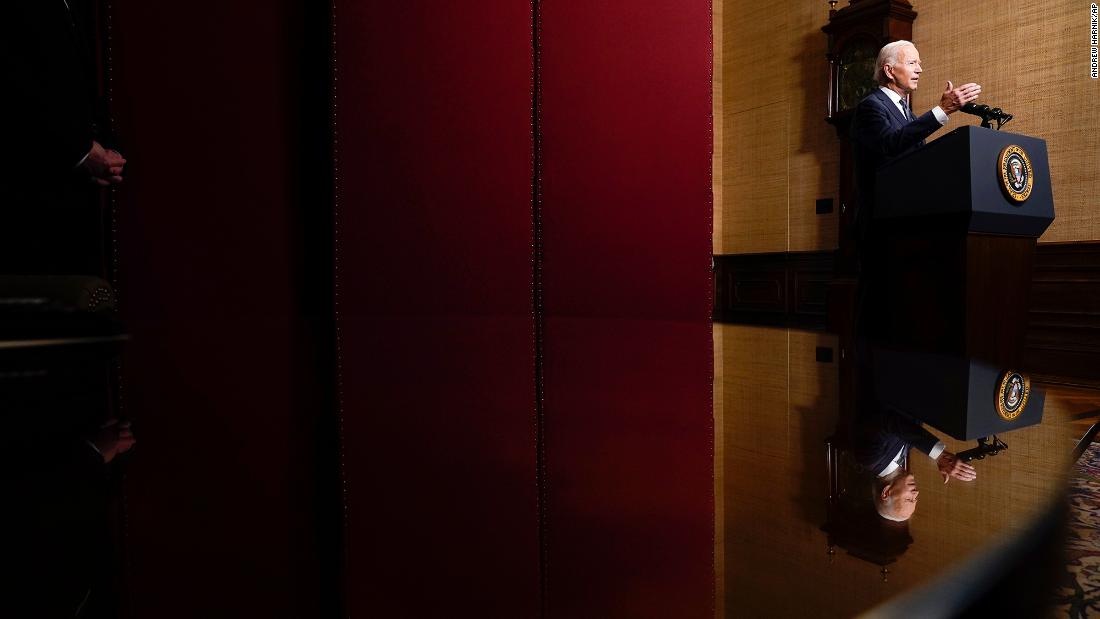 Photos: America's longest warPresident Joe Biden speaks from the White House Treaty Room in April 2021. Biden formally announced his decision to withdraw American troops from Afghanistan before September 11.Hide Caption 55 of 60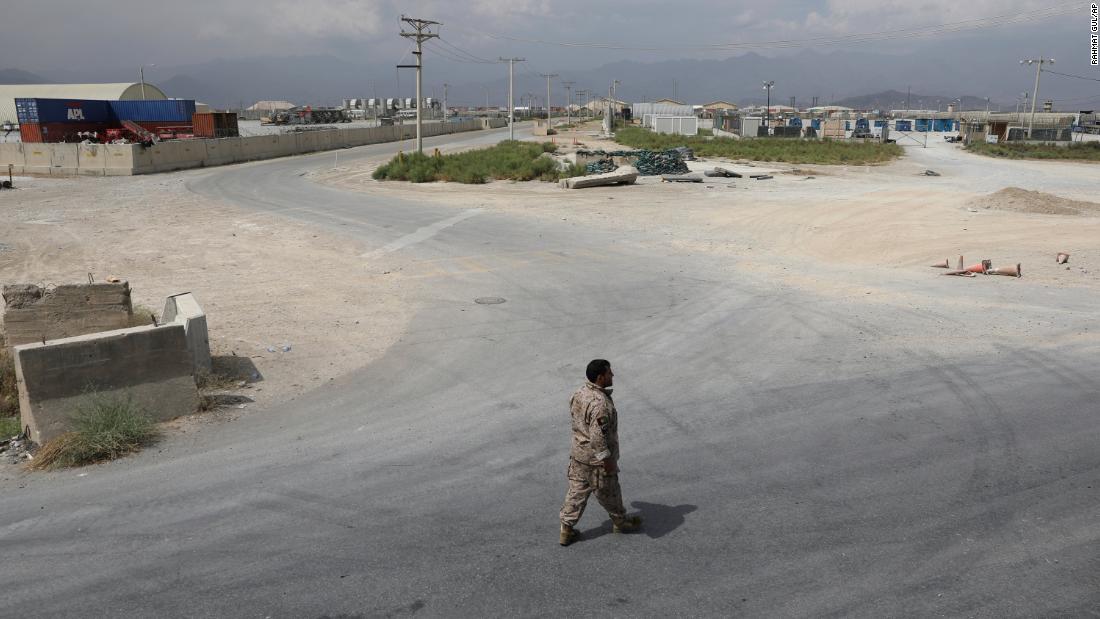 Photos: America's longest warA member of Afghanistan's security forces walks at Bagram Air Base after the last American troops departed the compound in July 2021. It marked the end of the American presence at a sprawling compound that became the center of military power in Afghanistan.Hide Caption 56 of 60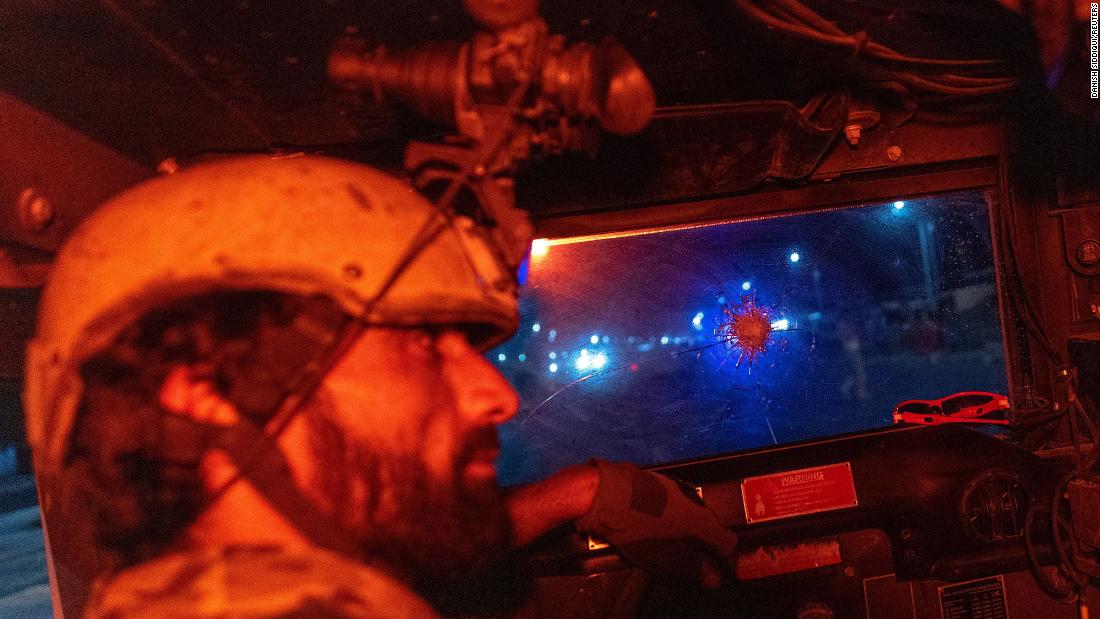 Photos: America's longest warA member of the Afghan Special Forces drives a Humvee during a combat mission against the Taliban in July 2021. Danish Siddiqui, the Reuters photographer who took this photo, was killed days later during clashes in Afghanistan. Siddiqui had been a photographer for Reuters since 2010, and he was the news agency's chief photographer in India. He was also part of a Reuters team that won the 2018 Pulitzer Prize for Feature Photography covering Rohingya refugees fleeing Myanmar.Hide Caption 57 of 60
Photos: America's longest warHanif, who was struck in the temple by a stray bullet, and his older brother, Mohammed, are seen at the Mirwais Regional Hospital in Kandahar in August 2021. Kandahar had been under siege for a month, and it would soon fall to the Taliban.Hide Caption 58 of 60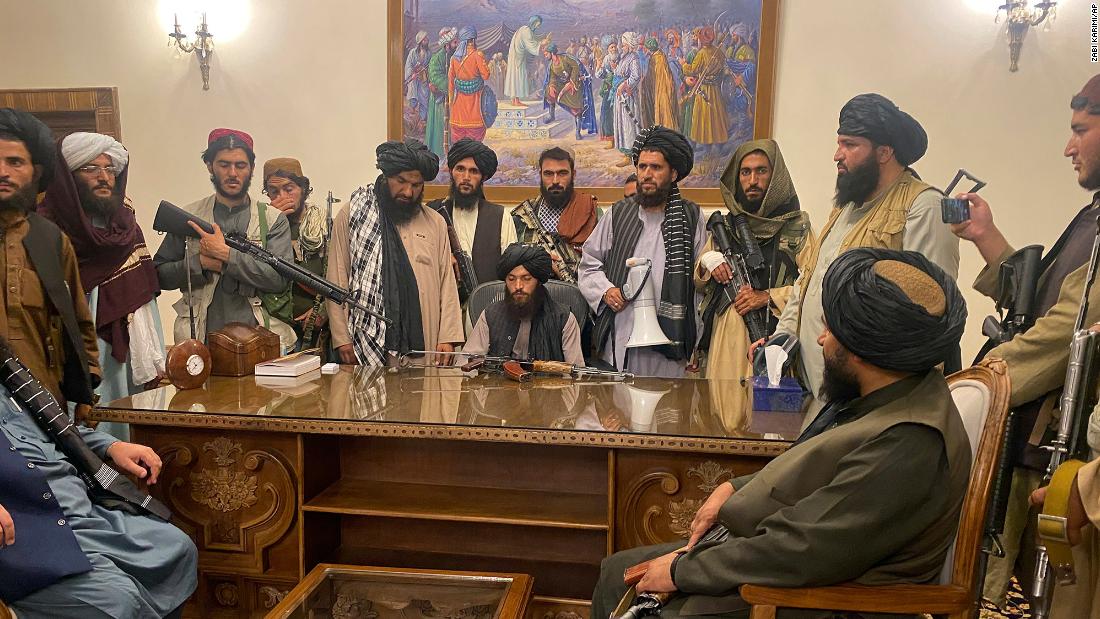 Photos: America's longest warTaliban fighters sit inside the presidential palace in Kabul in August 2021. The palace was handed over to the Taliban after being vacated hours earlier by Afghan government officials. Many of Afghanistan's major cities had already fallen to the insurgent group with little to no resistance.Hide Caption 59 of 60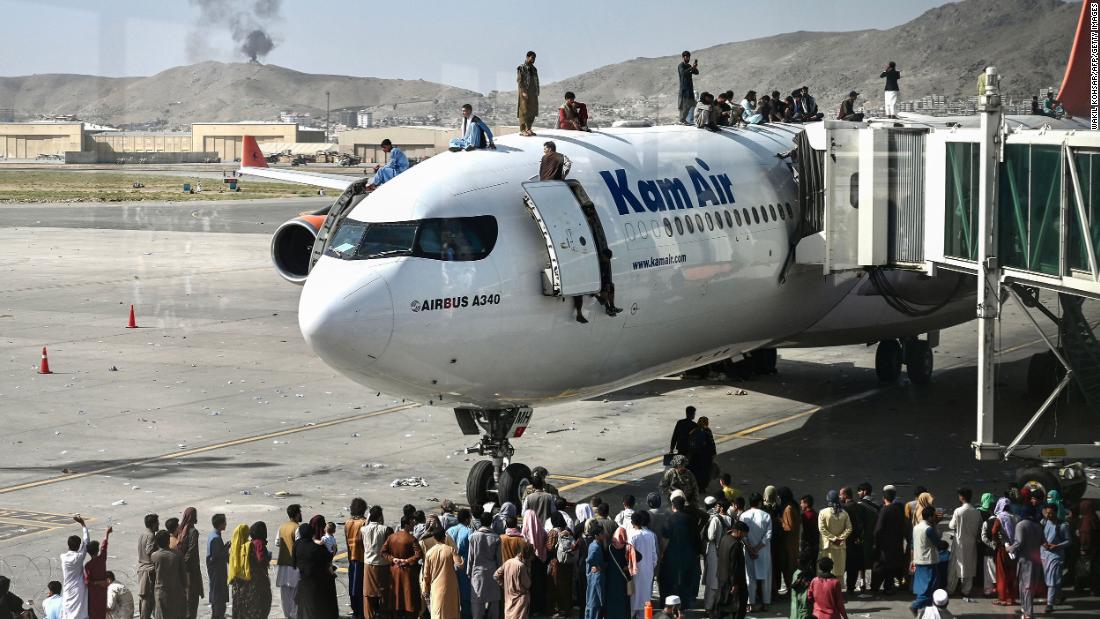 Photos: America's longest warPeople climb atop a plane at Kabul's international airport after the Taliban retook the capital a day earlier. Hundreds of people poured onto the tarmac, desperately seeking a route out of Afghanistan.Hide Caption 60 of 60























































In 2007, she founded the Afghan women's national football team and went on to captain her side, eventually becoming the first woman to be employed by the Afghanistan Football Federation. However, as Popal continued to speak out, her global presence grew — as did the threats against her. In 2010, she decided to leave Kabul, making her way to Pakistan and India, before eventually finding asylum in Denmark. "We had to escape," she says. "I remember like going to this scary and dangerous way […] to a safe place to seek protection and live as a refugee in Pakistan."'Our players are totally helpless'Since then, Popal has continued to use sport as a platform for activism, launching the Girl Power Organisation in 2014 to support refugees and migrants and advocating for women's rights at multiple conferences for organizations such as FIFA, UEFA and the United Nations. "We have given so many sacrifices in the past 20 years of our life […] to achieve this collective, the pride of representing our country, the ownership of representing the national team of Afghanistan," she says."We used football […] to stand for our right as women […] but also to be the voice for voiceless sisters that they were still living under the regime of Taliban," Popal adds. "We were following the news, how they were stoned, how they were beaten, how they were beaten to death.""We stood up. We said, no matter if you shut our sister there, no matter how many of us being killed, we will stand together. We are stronger. We will not give up because we had trust."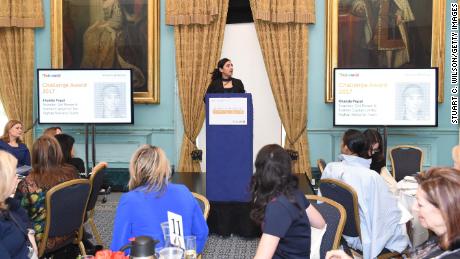 Popal uses her sporting platform to advocate for women's rights. Now, it seems the pride Popal once felt in representing Afghanistan on the world stage is but a fading memory. Instead, her mind is occupied with the thought of the female footballers who are still stranded in Afghanistan."Our players are totally helpless," Popal says. "We have really fought so hard to earn the name […] on the jersey and the badge on our chest and wear the uniform of the national team and represent our country in an international level.""What hurts me the most is when I have been for the past few days, I have been calling them and telling them to burn down your uniform, try to remove anything that you have from the national team so they don't identify if they come to your house. Take down your social media, try to be silent, try to hide your identity, remove your identity," she adds. 'They should not be forgotten like this'For Popal, one of the greatest emotional setbacks of the past few decades has been entering the new millennium "with a lot of great hope for the future," only to end up feeling cast aside by the global community. "That time I was a teenager and my generation and the new generation did everything possible to actively participate in […] building the country […] the community, the society, and also being thankful, showing to the international committee, that your time is not wasted in our country," she says. "Everything was forgotten," Popal continues. "The international community […] entered our country with the words, with big sentences, words defending the right of women of Afghanistan, we will not let the women of Afghanistan to live in darkness of Taliban again.""We have done everything to be part of the growth and progress to also represent the new image of Afghanistan […] of the strong woman of Afghanistan, but now the world [has] forgotten us."Thinking about every individual that I have been working with — I know them, my friends, my family members and all these amazing women that has been part of the growth and progress is in the hands of [the] enemy, and without any protection."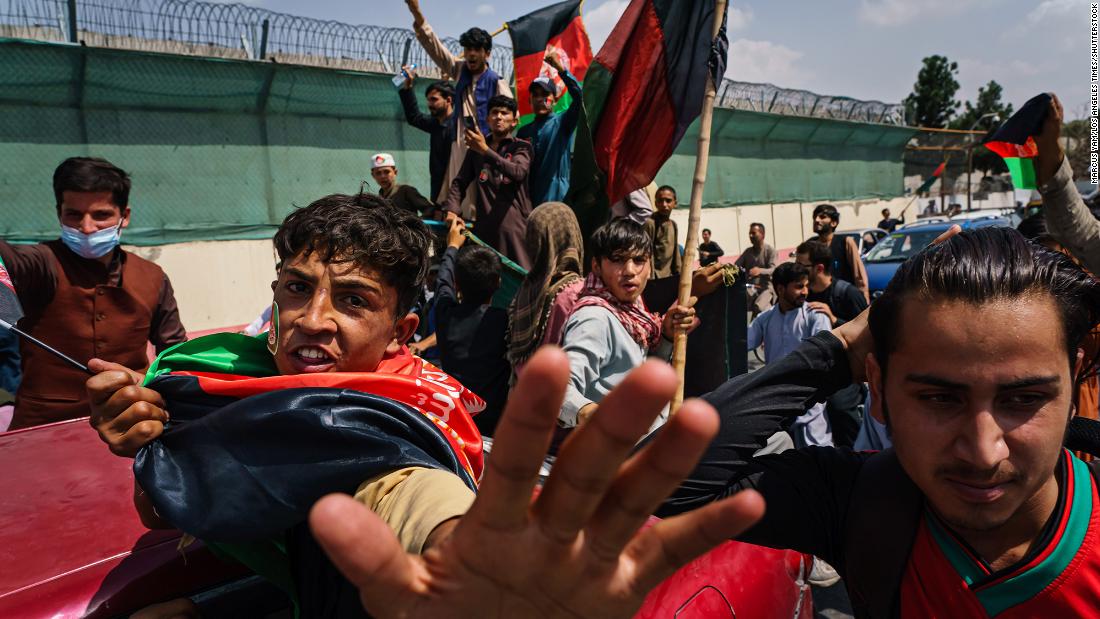 Photos: Afghanistan in crisis after Taliban takeoverDespite the presence of Taliban fighters around them, Afghans wave the country's national flag during an Independence Day rally in Kabul, Afghanistan, on Thursday, August 19. The Taliban seek to replace the black, red and green Afghan flag with their own white and black flag.Hide Caption 1 of 40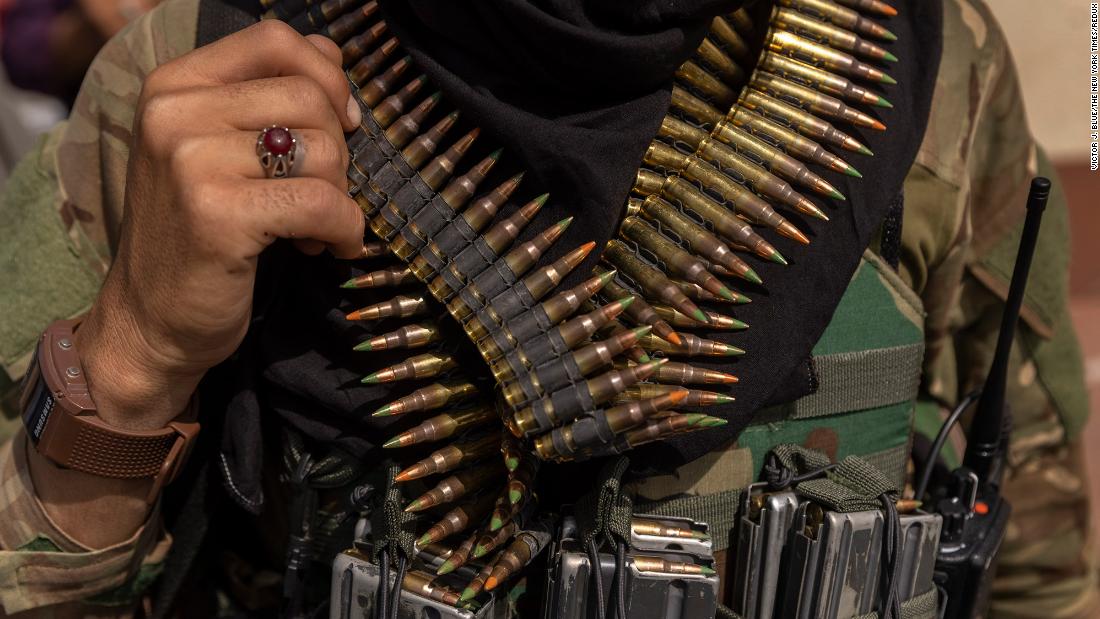 Photos: Afghanistan in crisis after Taliban takeoverA heavily armed Taliban fighter guards the Afghanistan central bank in Kabul on August 19.Hide Caption 2 of 40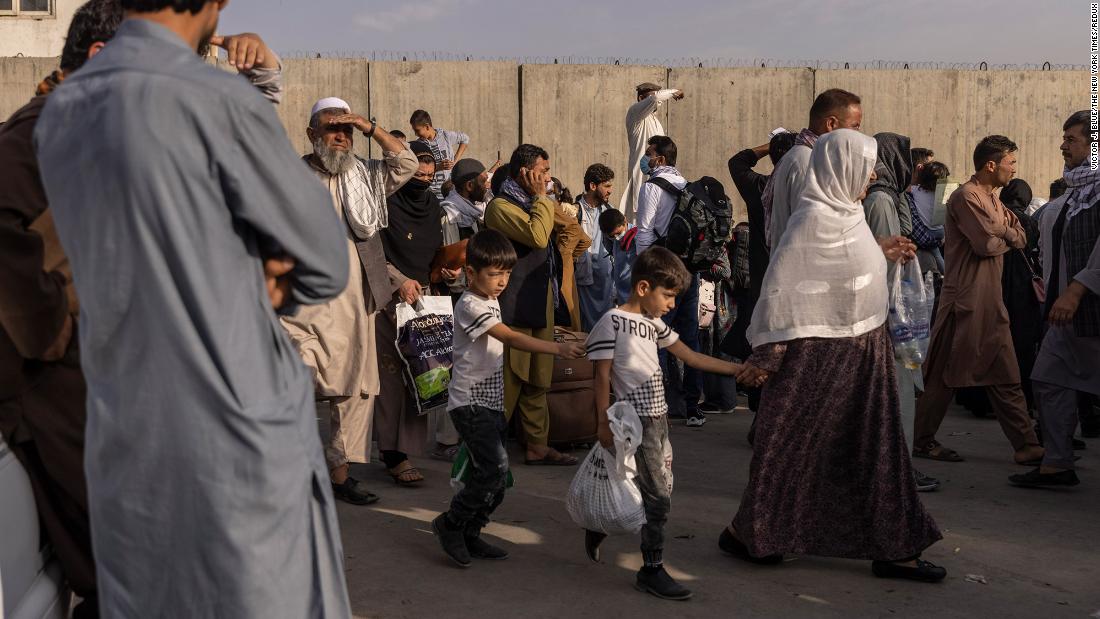 Photos: Afghanistan in crisis after Taliban takeoverPeople trying to flee Afghanistan gather outside the airport in Kabul on August 19.Hide Caption 3 of 40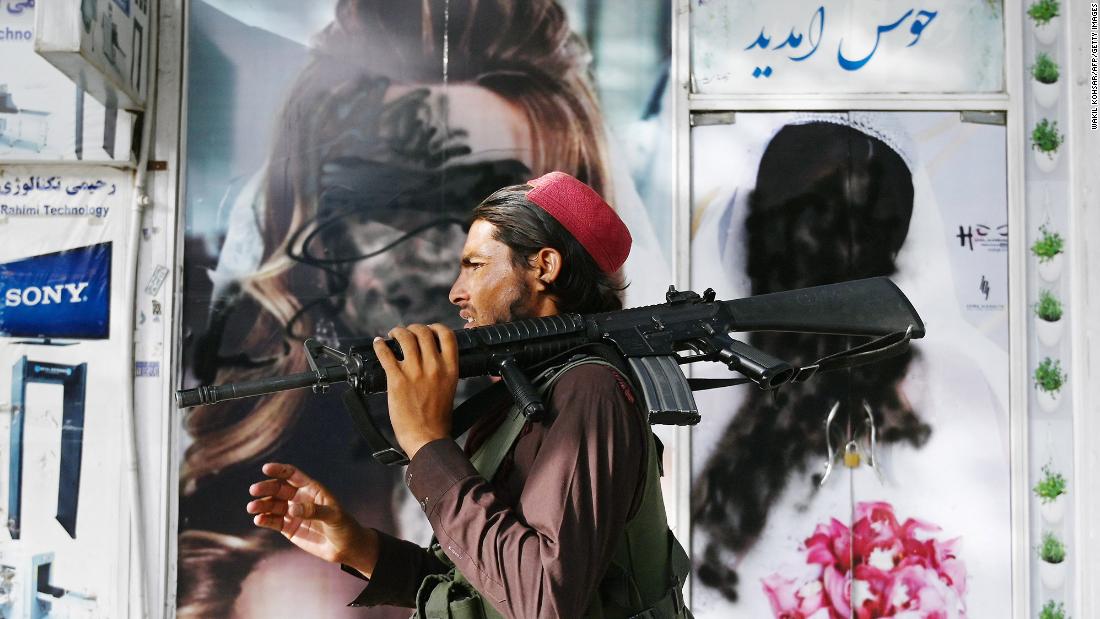 Photos: Afghanistan in crisis after Taliban takeoverA Taliban fighter walks past a beauty salon in Kabul where images of women had been defaced by spray paint. As news broke that the Taliban had captured Kabul, some images of uncovered women were painted over in the Afghan capital. When the Taliban last ruled in Afghanistan, women were barred from public life and only allowed outside when escorted by men and dressed in burqas.Hide Caption 4 of 40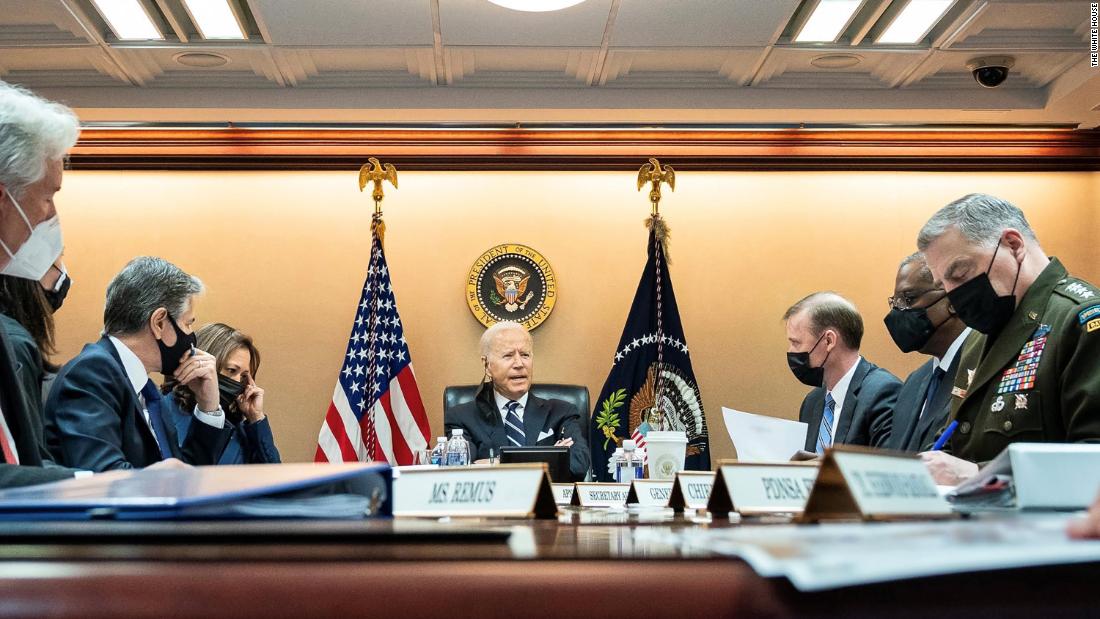 Photos: Afghanistan in crisis after Taliban takeoverIn this photo released by the White House on Wednesday, August 18, US President Joe Biden and Vice President Kamala Harris are briefed by their national security team on the evolving situation in Afghanistan.Hide Caption 5 of 40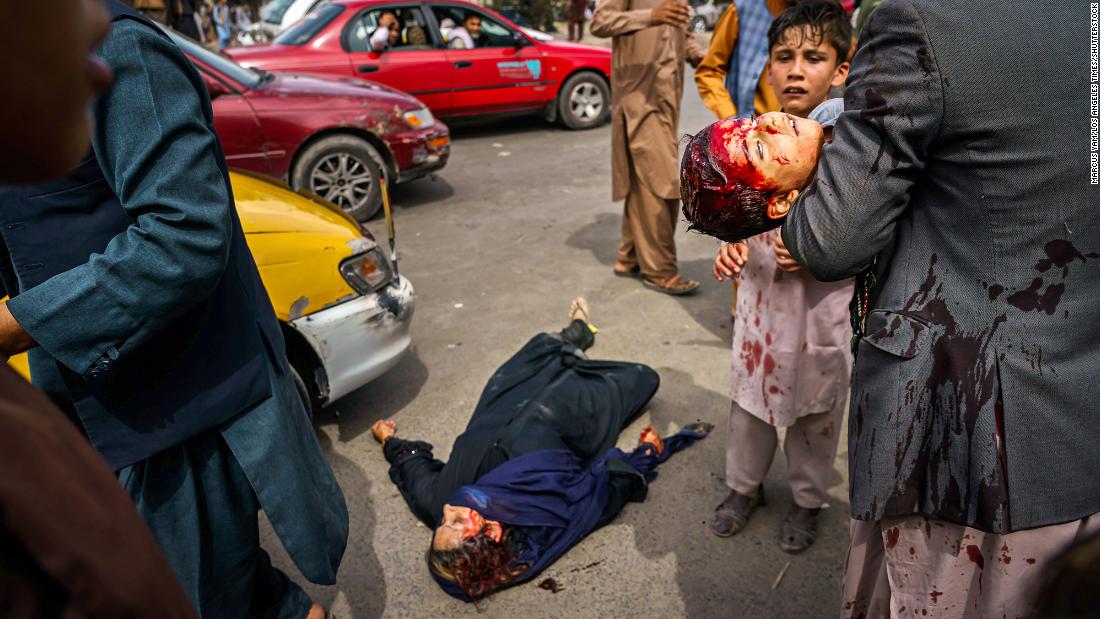 Photos: Afghanistan in crisis after Taliban takeoverA man carries a bloodied child as a wounded woman lies on the street after Taliban fighters fired guns and lashed out with whips and other objects to control a crowd outside the airport in Kabul on Tuesday, August 17. "The violence was indiscriminate," Los Angeles Times photographer Marcus Yam told CNN. "I even watched one Taliban fighter, after firing some shots in the general direction of the crowd, smiling at another Taliban fighter — as though it were a game to them or something."Hide Caption 6 of 40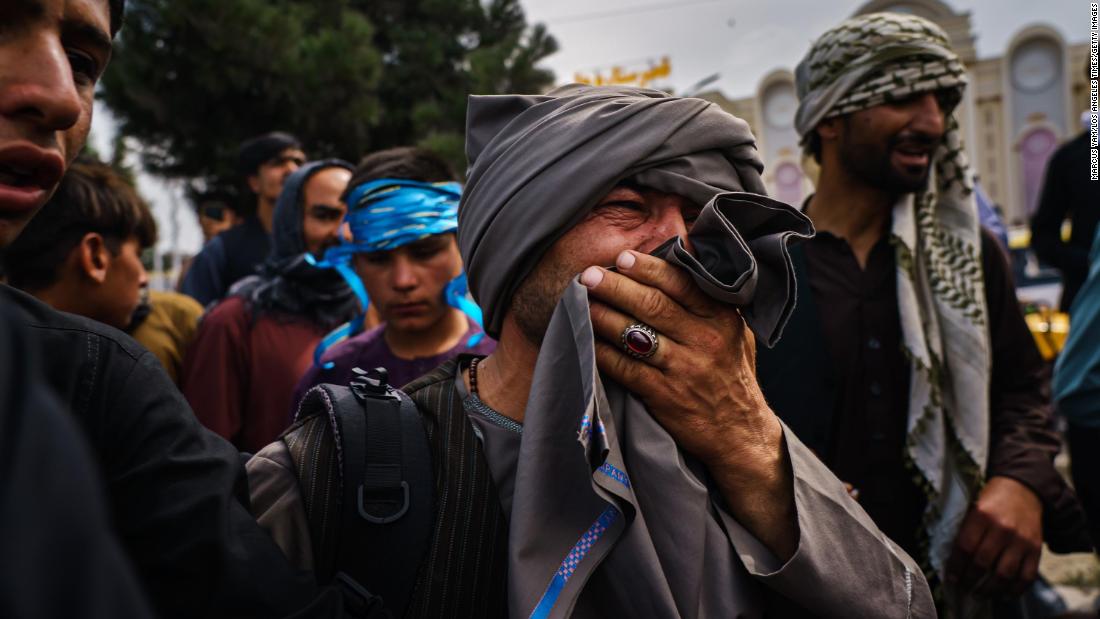 Photos: Afghanistan in crisis after Taliban takeoverA man reacts as he watches Taliban fighters use violence to control a crowd outside the airport on August 17. At least a dozen people were wounded in the incident, according to the Los Angeles Times.Hide Caption 7 of 40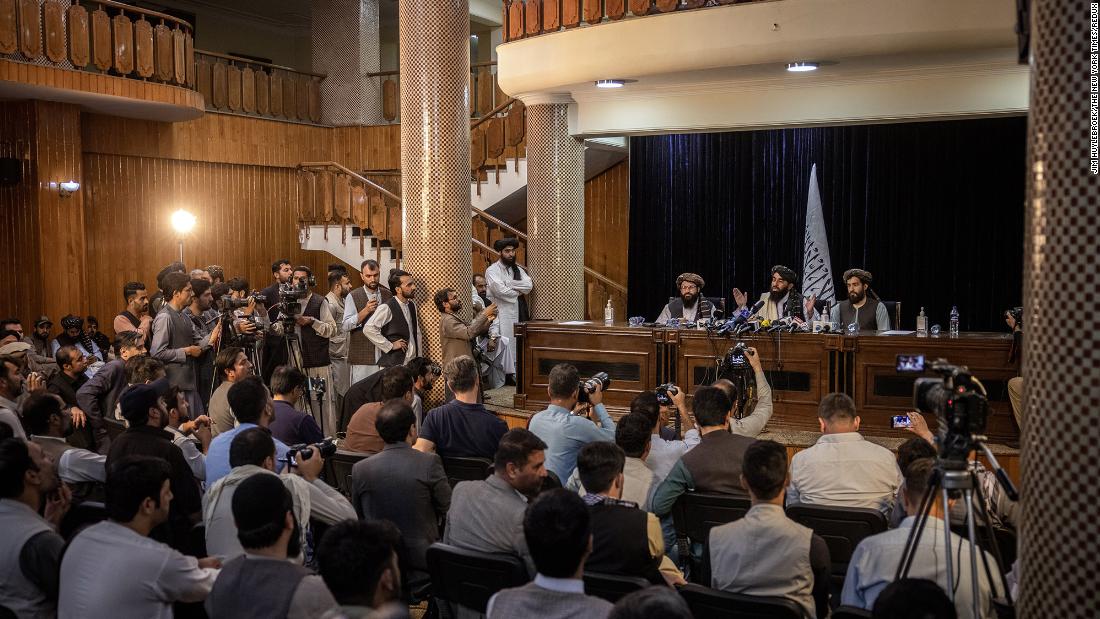 Photos: Afghanistan in crisis after Taliban takeoverTaliban spokesman Zabihullah Mujahid addresses reporters in Kabul on August 17. "We don't want Afghanistan to be a battlefield," he said. "Today the fighting is over. … Whoever was against the opposition has been given blanket amnesty." Those promises have been met with skepticism by the international community. It was the Taliban's first news conference since they took control of Kabul.Hide Caption 8 of 40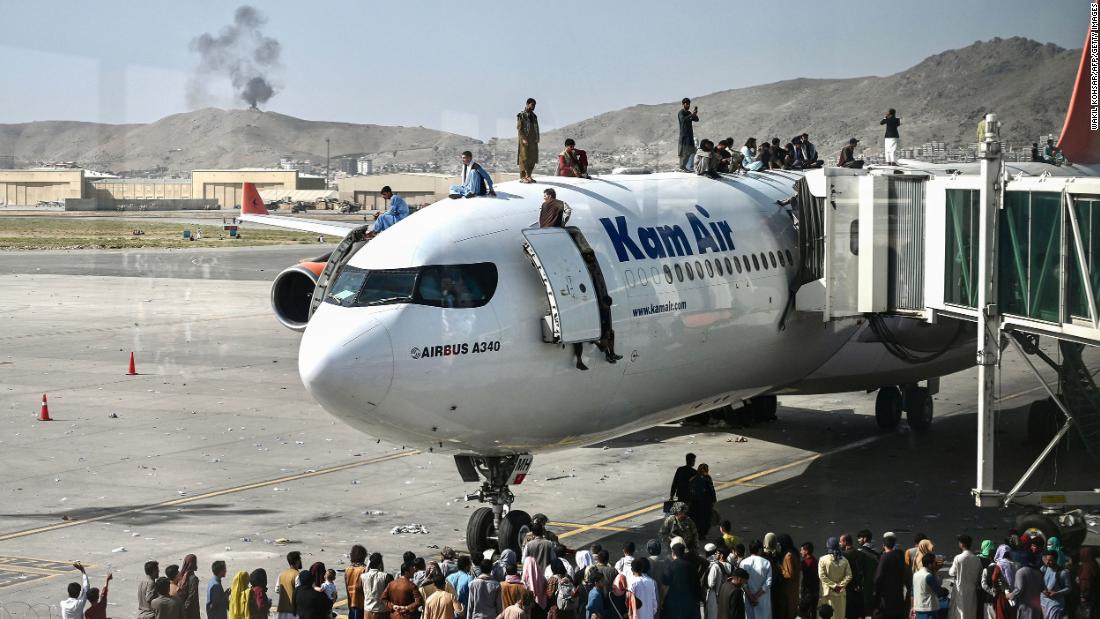 Photos: Afghanistan in crisis after Taliban takeoverPeople climb atop a plane at the airport in Kabul on Monday, August 16. Hundreds of people were on the tarmac, trying to find a way out of the country.Hide Caption 9 of 40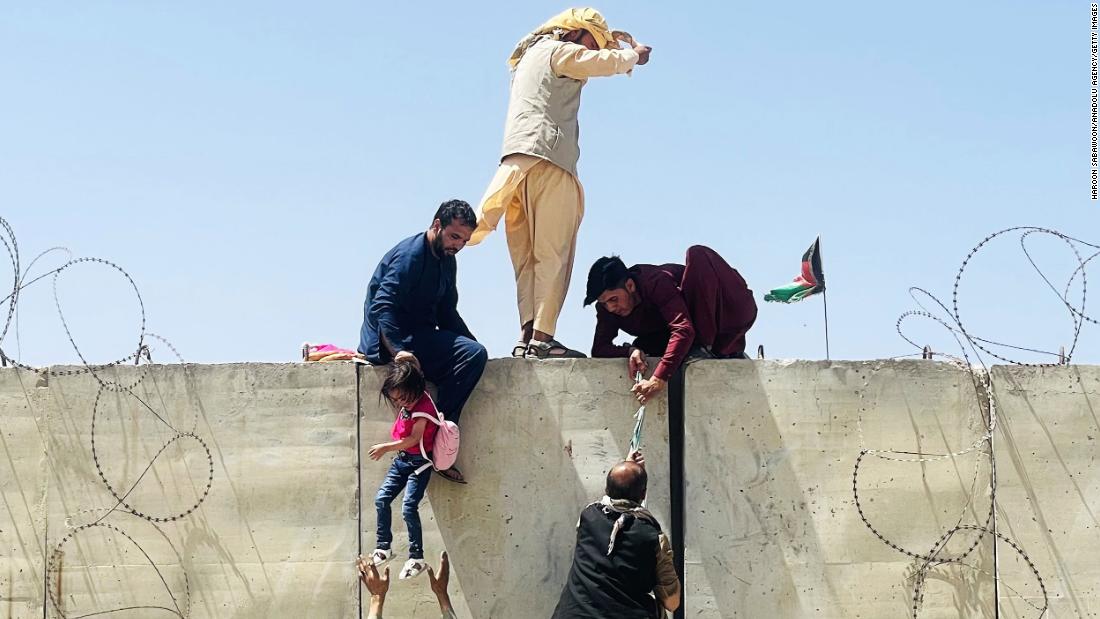 Photos: Afghanistan in crisis after Taliban takeoverAfghans rush to the airport in Kabul as they try to flee the capital on August 16.Hide Caption 10 of 40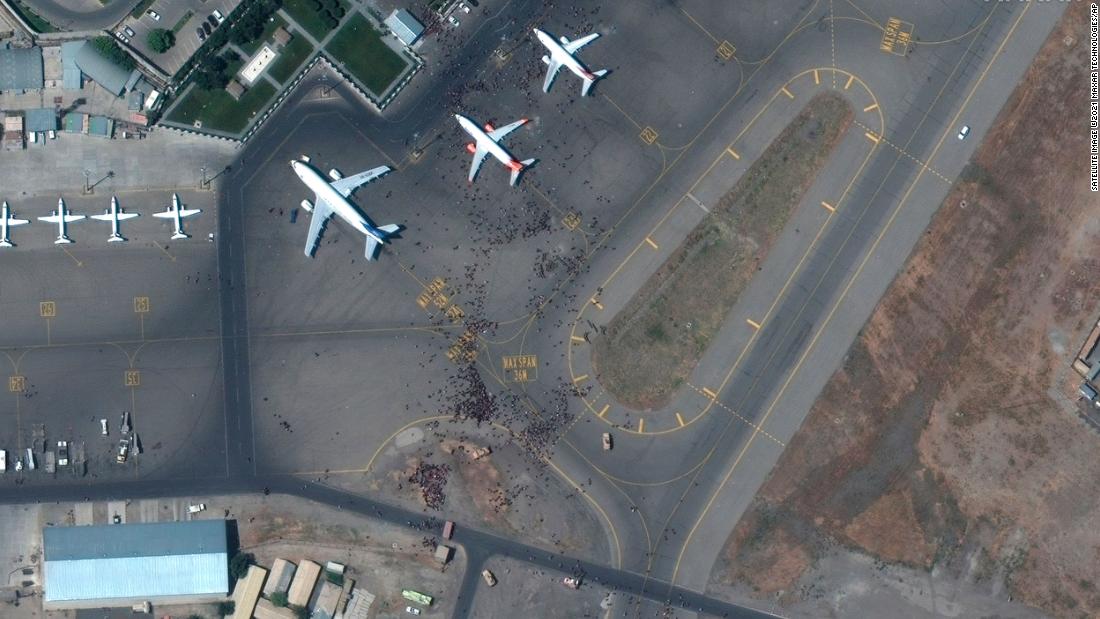 Photos: Afghanistan in crisis after Taliban takeoverThis satellite photo shows swarms of people on the tarmac at Kabul's international airport on August 16.Hide Caption 11 of 40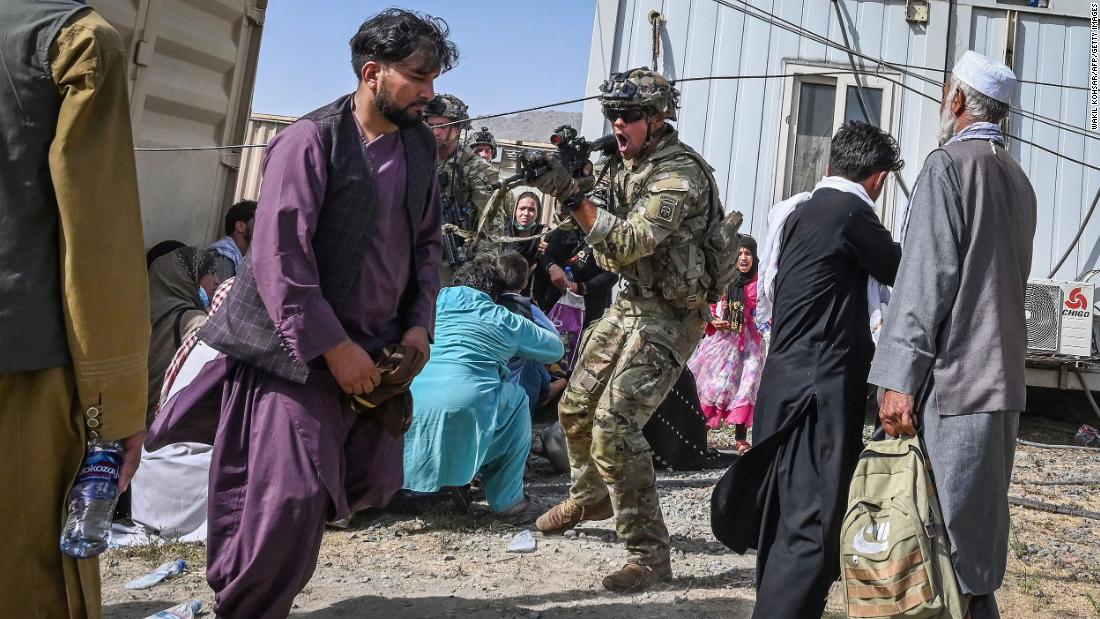 Photos: Afghanistan in crisis after Taliban takeoverA US soldier points a gun while working to secure Kabul's airport on August 16. US Defense Secretary Lloyd Austin approved the deployment of 1,000 more American troops into the country due to the deteriorating security situation, a defense official told CNN, upping the number of troops in the country to 6,000. Hide Caption 12 of 40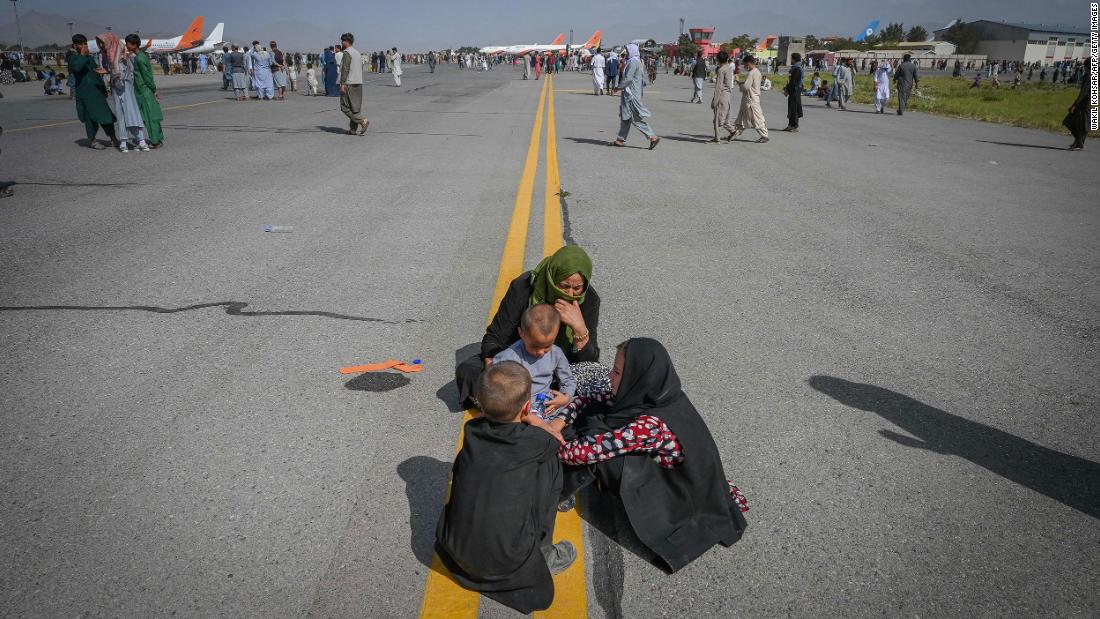 Photos: Afghanistan in crisis after Taliban takeoverAfghans sit on the tarmac as they wait to leave the airport in Kabul on August 16.Hide Caption 13 of 40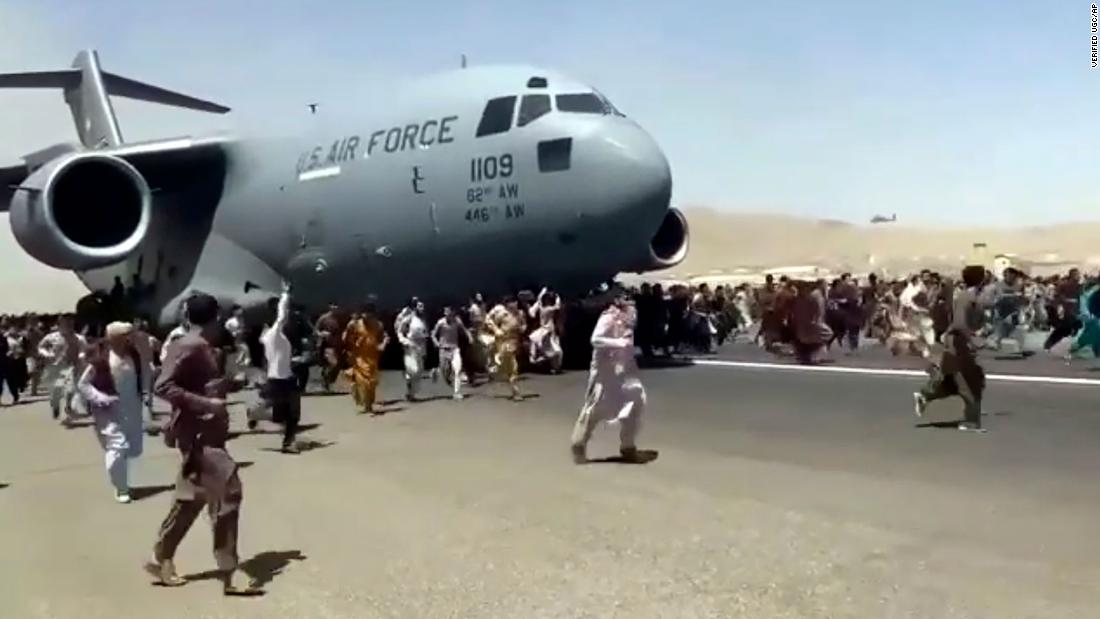 Photos: Afghanistan in crisis after Taliban takeoverAfghans run alongside a US Air Force transport plane on the runway of the Kabul airport on August 16. Video showed people clinging to the fuselage of the aircraft as it taxied.Hide Caption 14 of 40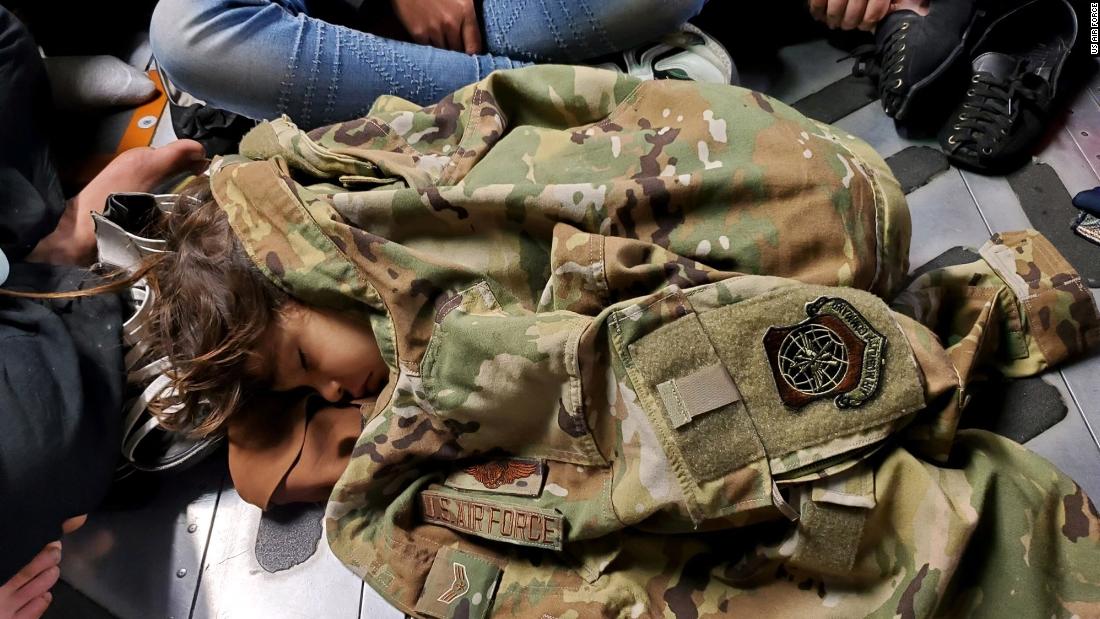 Photos: Afghanistan in crisis after Taliban takeoverIn this photo released by the US Air Force, an Afghan child sleeps on the floor of an Air Force transport plane during an evacuation flight out of Kabul on Sunday, August 15.Hide Caption 15 of 40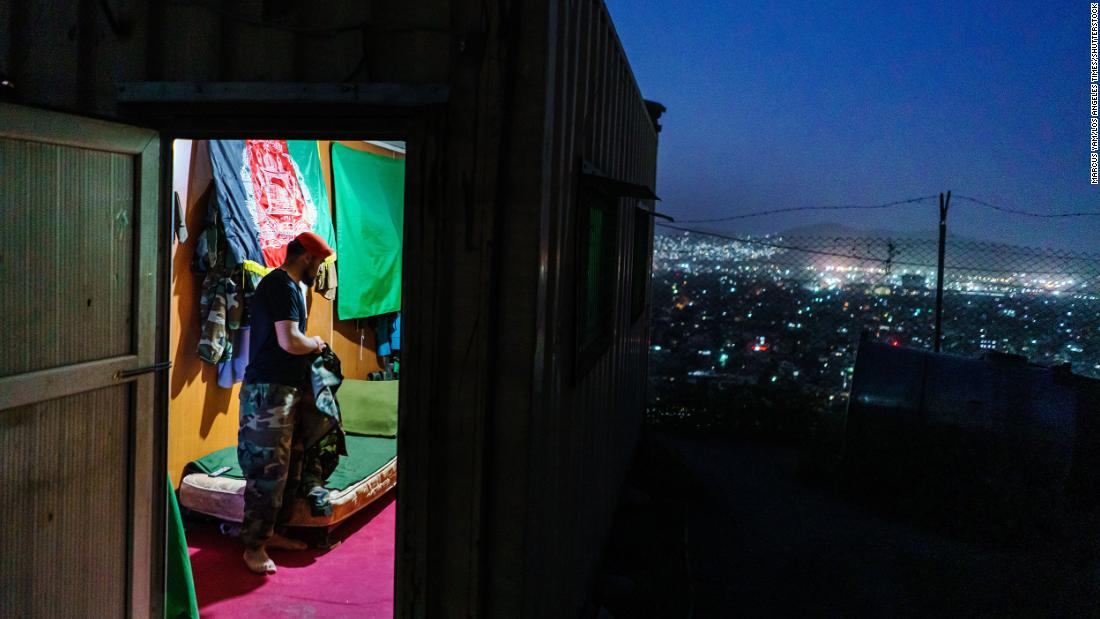 Photos: Afghanistan in crisis after Taliban takeoverAn Afghan soldier, who didn't want to use his name, is seen at an outpost in Kabul on August 15. He looked at the city below and said, "This is like a quick death," referring to the fall of Kabul. He said it was going to be a hard moment for him when he removes his uniform permanently after 10 years of service.Hide Caption 16 of 40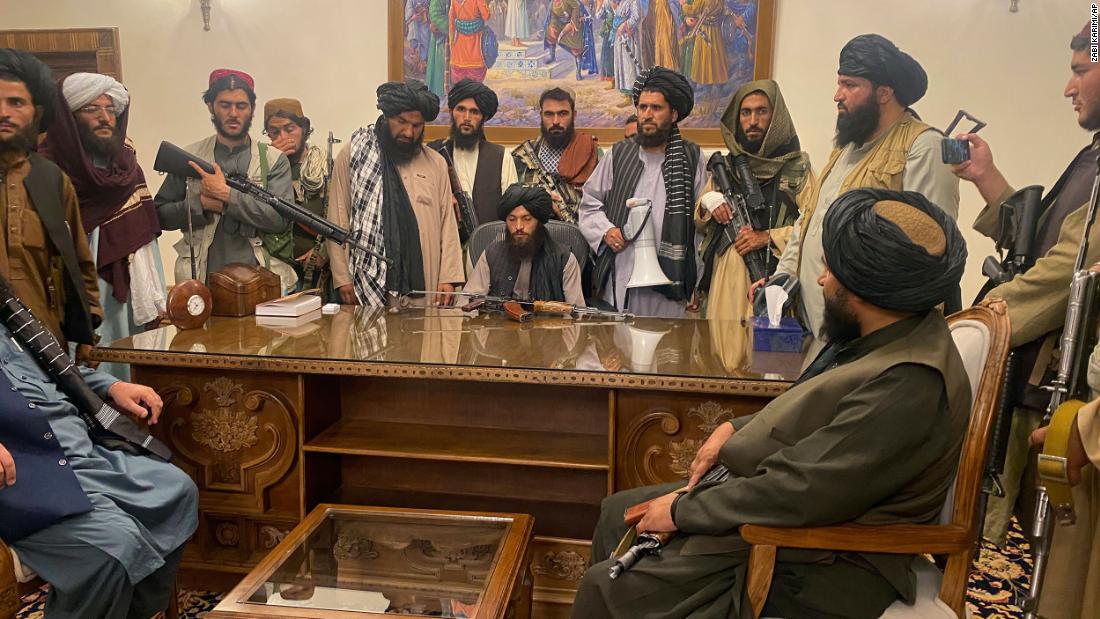 Photos: Afghanistan in crisis after Taliban takeoverTaliban fighters sit inside the presidential palace in Kabul on August 15. The palace was handed over to the Taliban after being vacated hours earlier by Afghan government officials.Hide Caption 17 of 40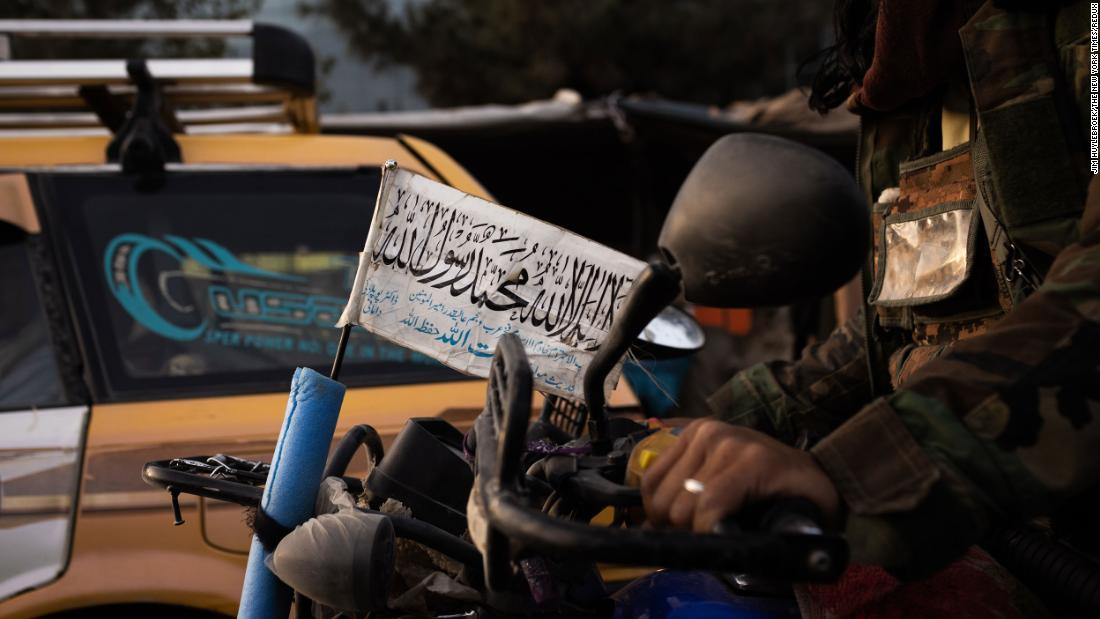 Photos: Afghanistan in crisis after Taliban takeoverA Taliban flag is seen on a motorcycle ridden by a Taliban fighter on August 15.Hide Caption 18 of 40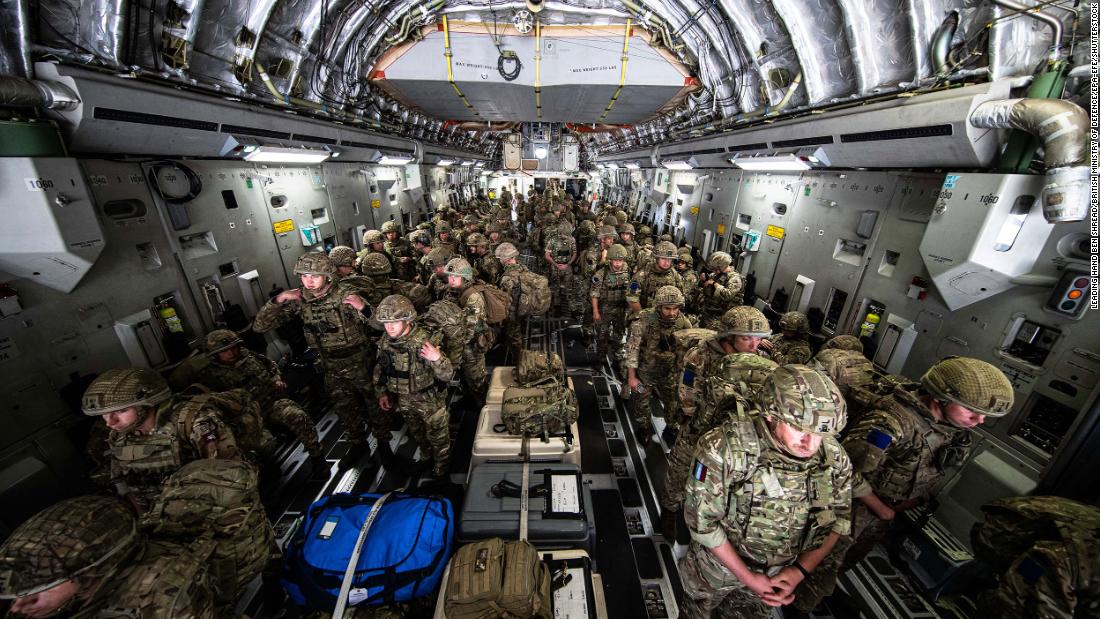 Photos: Afghanistan in crisis after Taliban takeoverBritish forces arrive in Kabul on August 15 to assist British nationals in evacuating the city.Hide Caption 19 of 40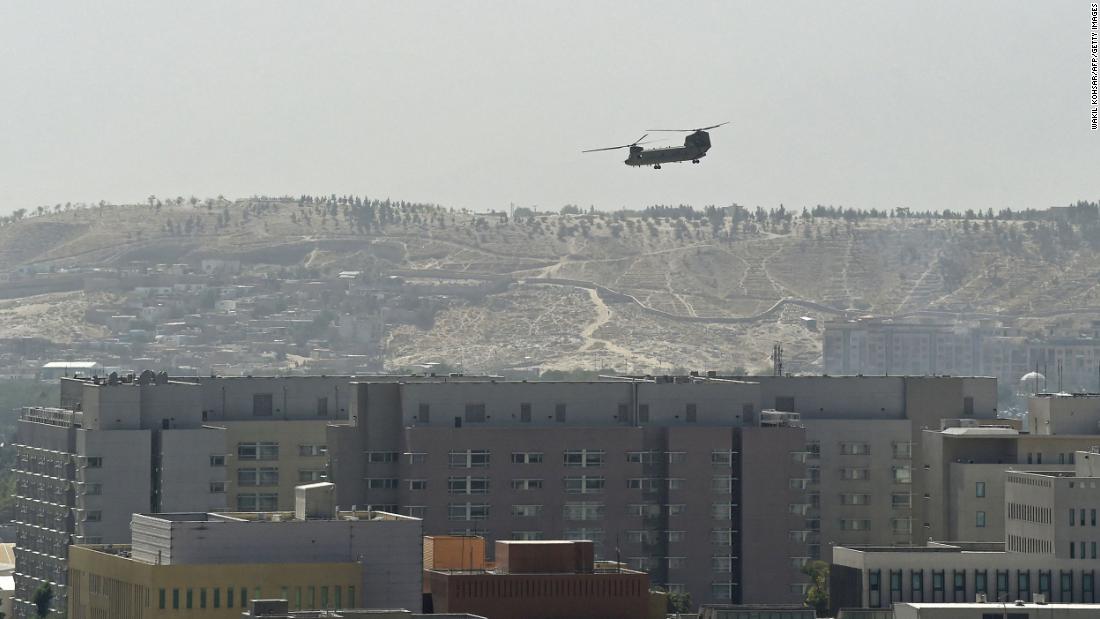 Photos: Afghanistan in crisis after Taliban takeoverA US military helicopter flies above the US Embassy in Kabul on August 15. The embassy was evacuated as Taliban fighters entered the city.Hide Caption 20 of 40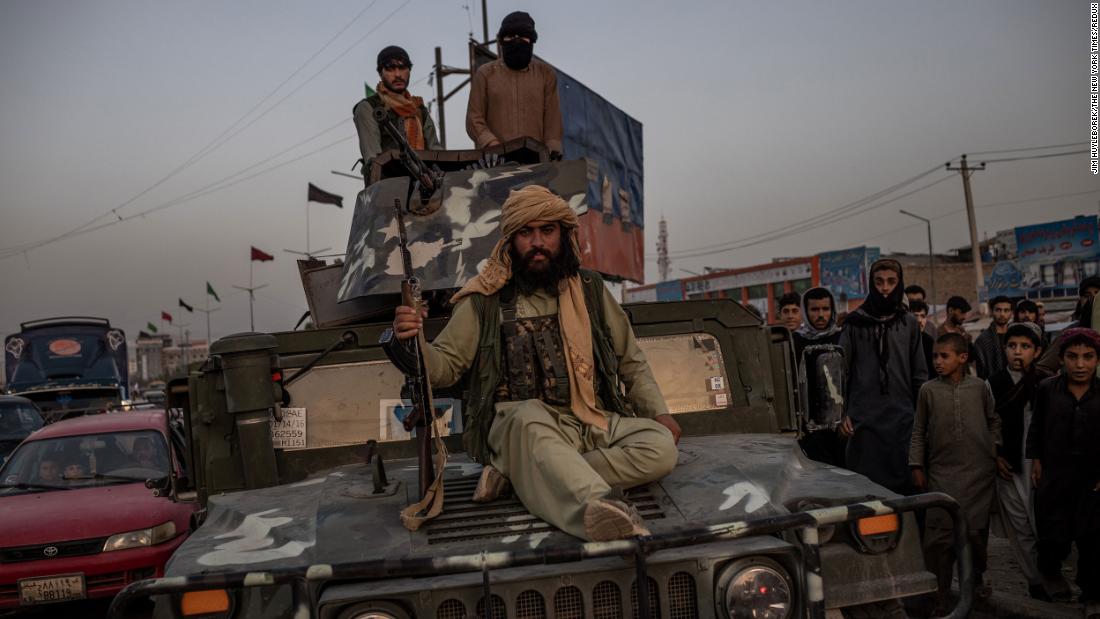 Photos: Afghanistan in crisis after Taliban takeoverTaliban fighters ride a Humvee near a Kabul roundabout on August 15.Hide Caption 21 of 40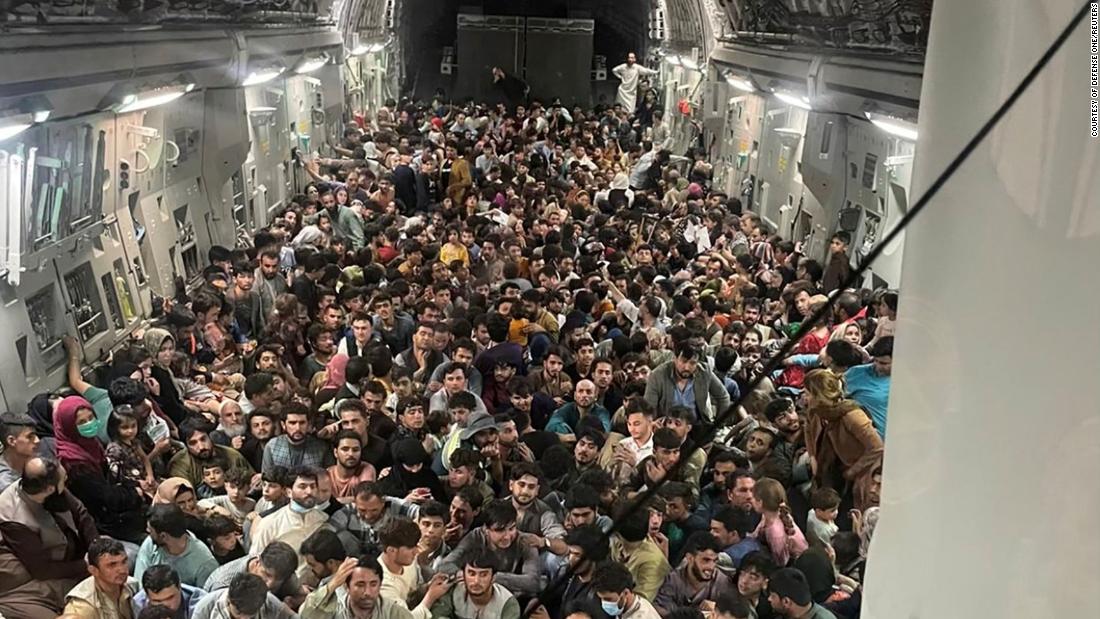 Photos: Afghanistan in crisis after Taliban takeoverEvacuees crowd the interior of a US Air Force transport plane as they travel from Kabul to Qatar on August 15.Hide Caption 22 of 40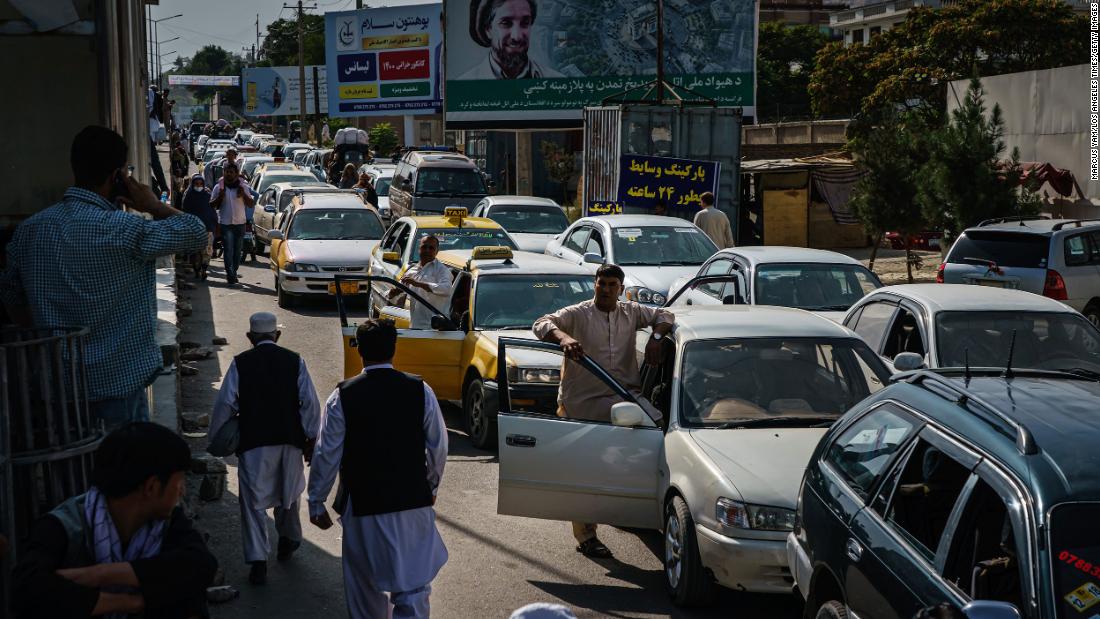 Photos: Afghanistan in crisis after Taliban takeoverA traffic jam is seen in Kabul on August 15 as some Afghans were looking to flee the city.Hide Caption 23 of 40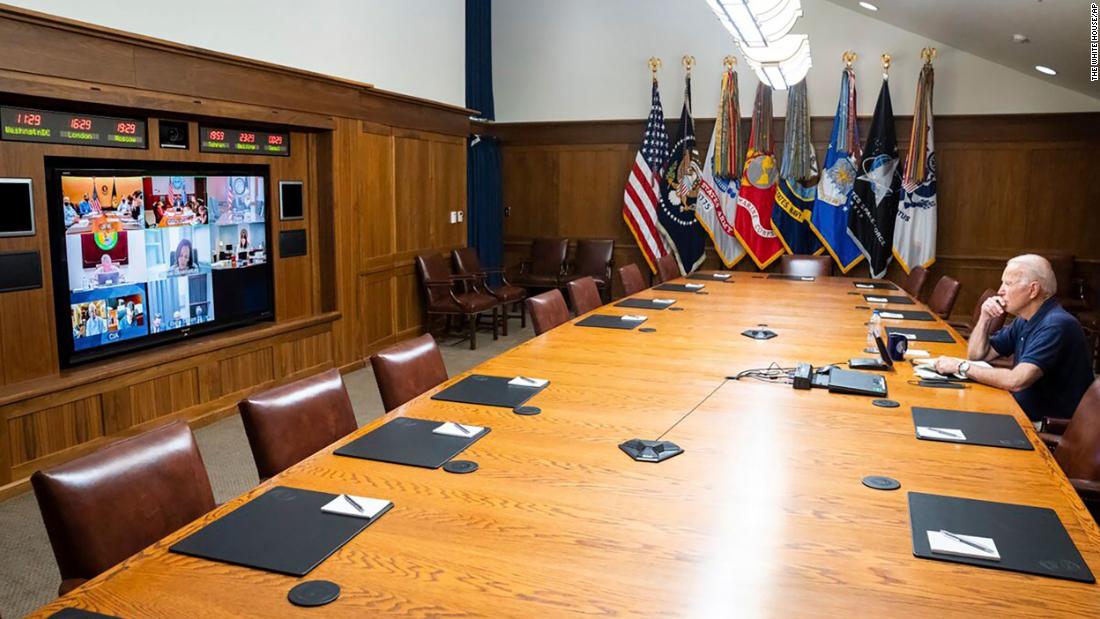 Photos: Afghanistan in crisis after Taliban takeoverUS President Joe Biden holds a virtual meeting with senior officials and members of his national security team on August 15. Biden was working from Maryland's Camp David, the presidential retreat where he was vacationing at the time.Hide Caption 24 of 40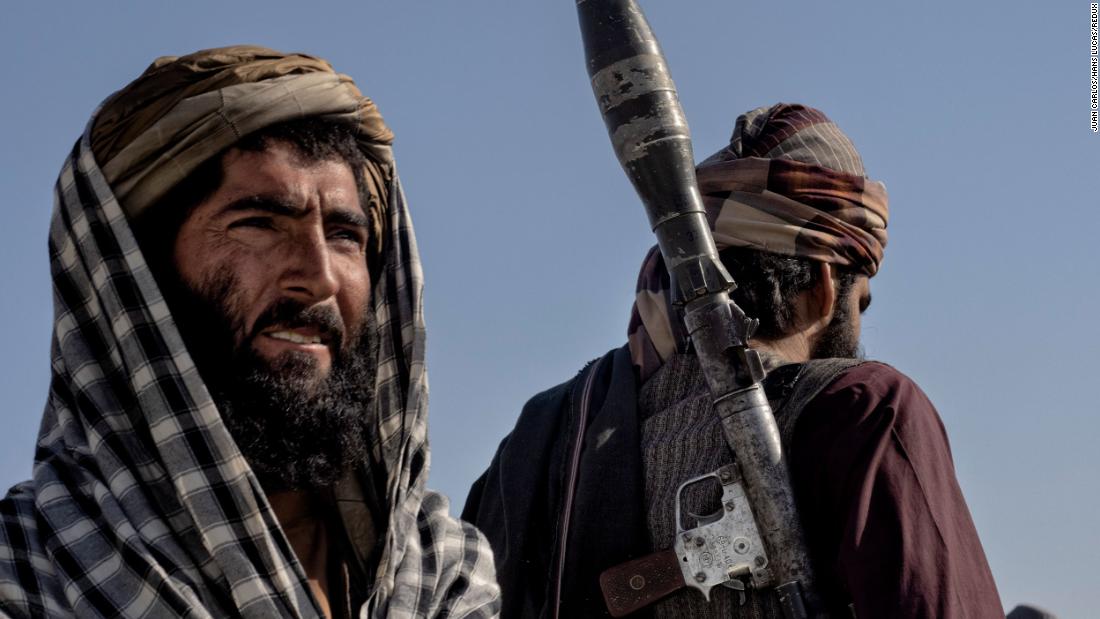 Photos: Afghanistan in crisis after Taliban takeoverTaliban fighters are seen in Kandahar, Afghanistan, on Saturday, August 14. The Taliban had seized Kandahar, the country's second-largest city, and a number of other provincial capitals on Friday. The city, which lies in the south of the country, had been besieged by the Taliban for weeks. Many observers considered its fall as the beginning of the end for the country's government.Hide Caption 25 of 40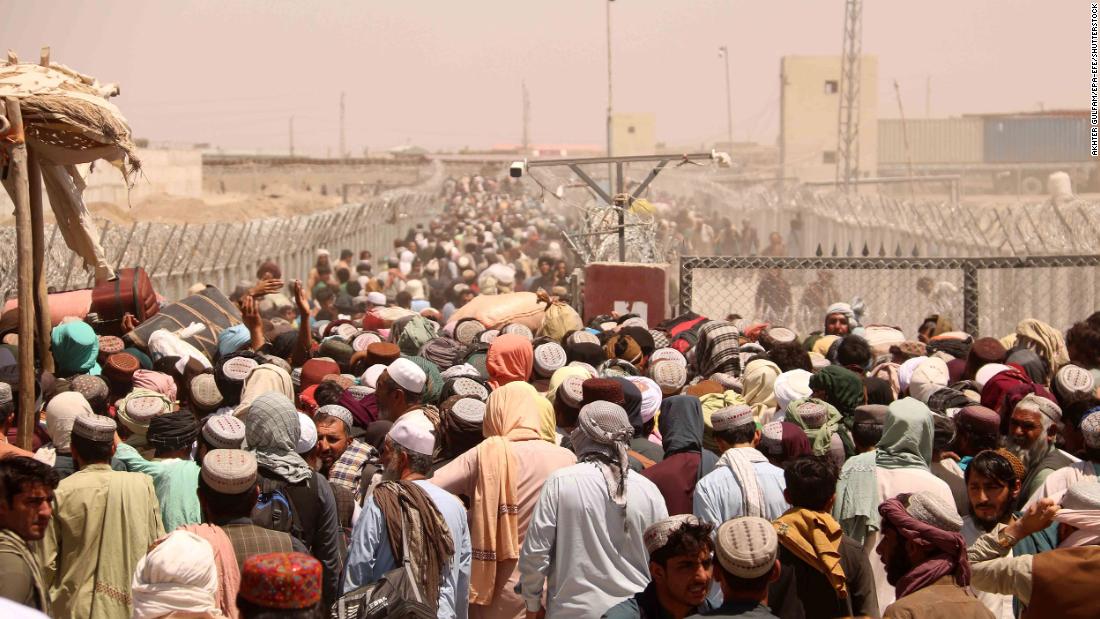 Photos: Afghanistan in crisis after Taliban takeoverPeople wait to cross the Afghan-Pakistani border at Chaman, Pakistan, on Friday, August 13. The border crossing was closed for several days before it was reopened.Hide Caption 26 of 40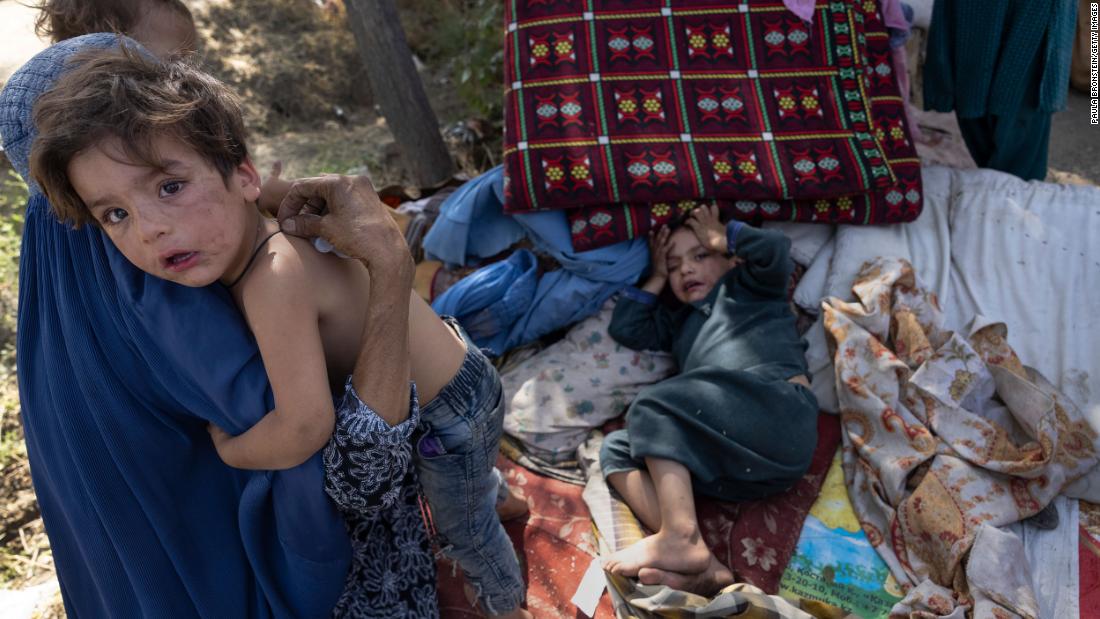 Photos: Afghanistan in crisis after Taliban takeoverDisplaced Afghans from the country's northern provinces arrive at a makeshift camp in Kabul on Tuesday, August 10. Provincial capitals in the north were among the first to fall to the Taliban.Hide Caption 27 of 40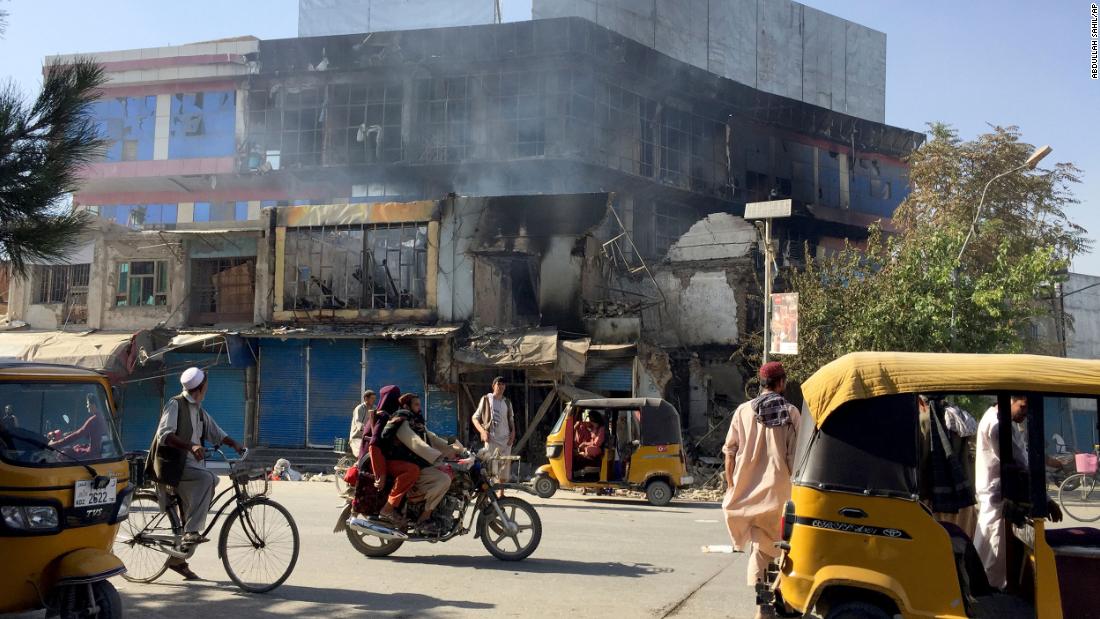 Photos: Afghanistan in crisis after Taliban takeoverShops in Kunduz, Afghanistan, are damaged after fighting between Taliban militants and Afghan military forces on August 8. Kunduz was the first major city to fall to the Taliban since they began their offensive in May.Hide Caption 28 of 40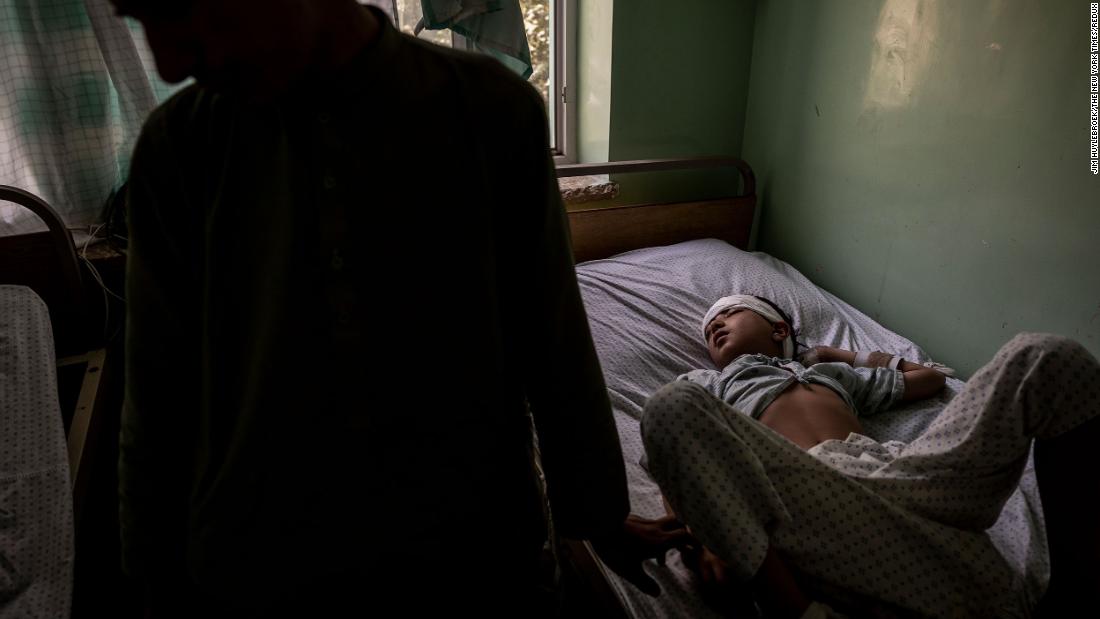 Photos: Afghanistan in crisis after Taliban takeoverHanif, who was struck in the temple by a stray bullet, and his older brother, Mohammed, are seen at the Mirwais Regional Hospital in Kandahar on August 5. Kandahar had been under siege for a month.Hide Caption 29 of 40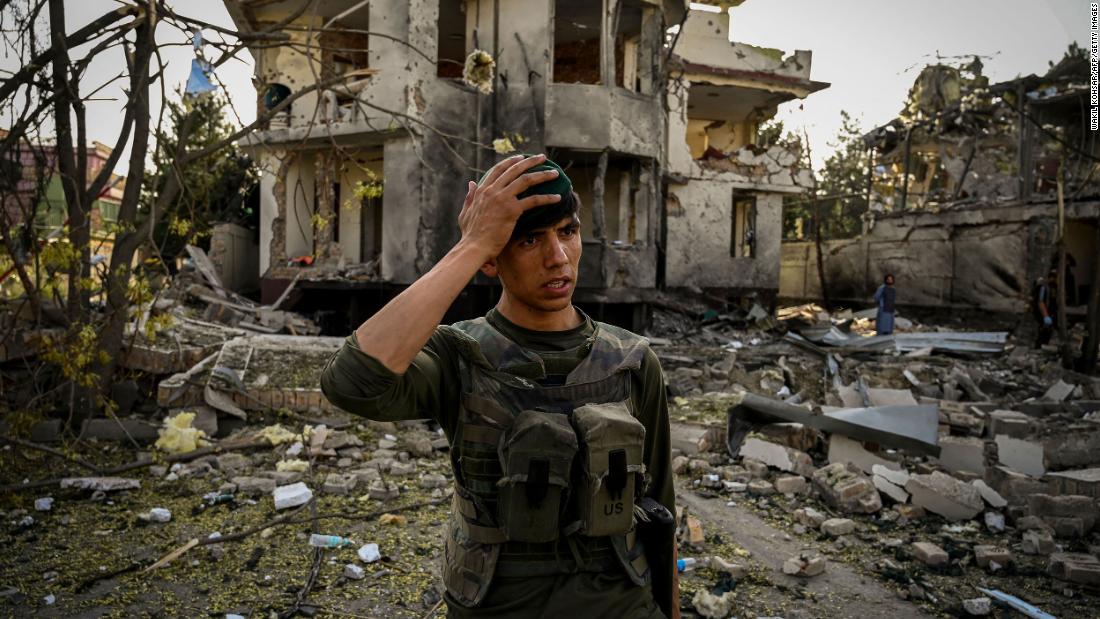 Photos: Afghanistan in crisis after Taliban takeoverAn Afghan security officer stands guard at the site of a car bomb explosion in Kabul on August 4. A car bomb exploded near the home of Afghanistan's acting defense minister the day before. In the weeks prior, Kabul had largely been spared from the violence hitting other parts of Afghanistan.Hide Caption 30 of 40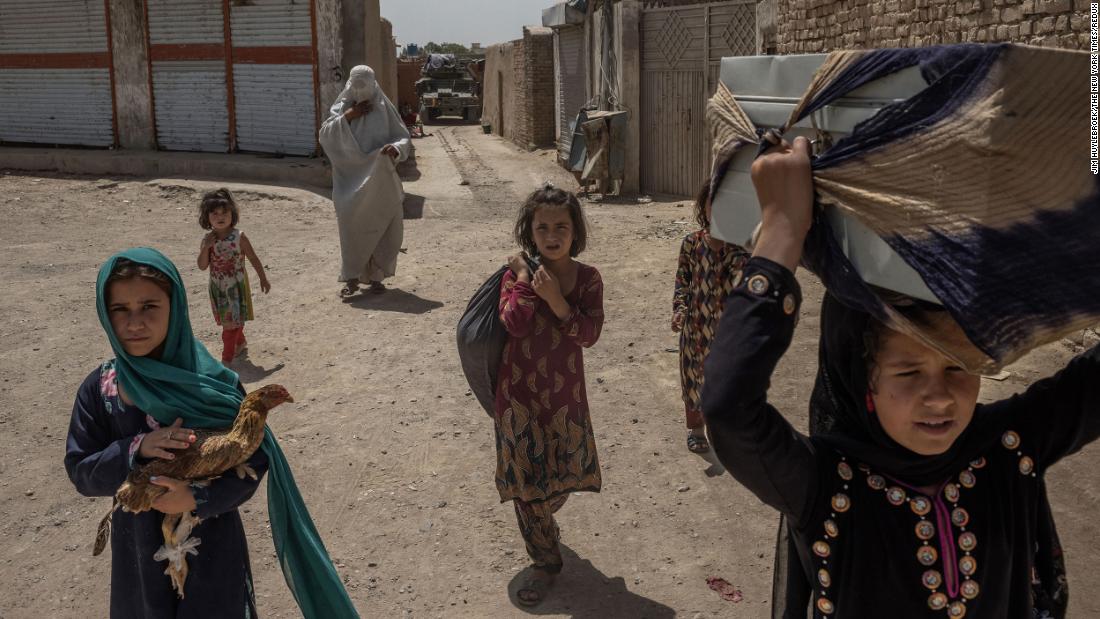 Photos: Afghanistan in crisis after Taliban takeoverAn Afghan woman and her children carry their belongings after fleeing their home in Kandahar on August 4.Hide Caption 31 of 40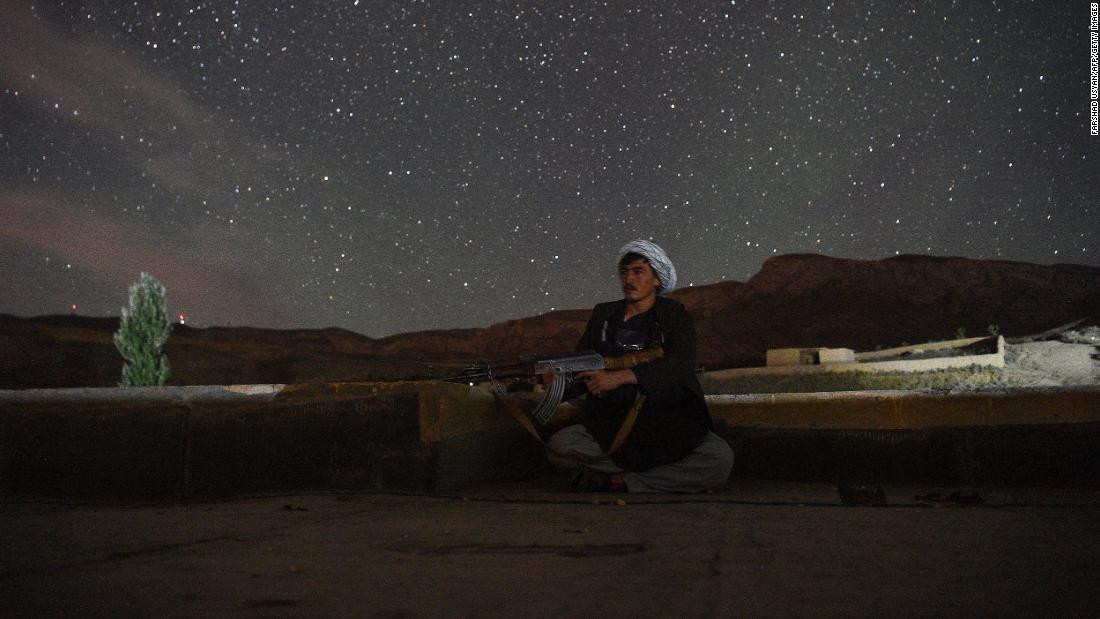 Photos: Afghanistan in crisis after Taliban takeoverAn Afghan militia fighter looks out for Taliban insurgents at an outpost in Afghanistan's Balkh Province on July 15.Hide Caption 32 of 40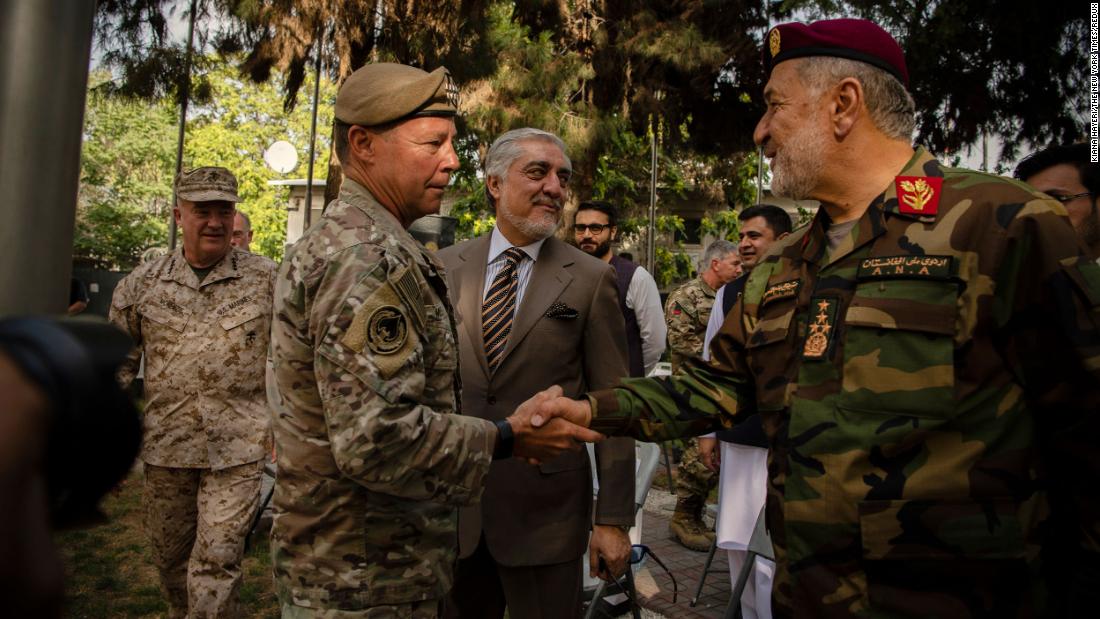 Photos: Afghanistan in crisis after Taliban takeoverUS Gen. Austin S. Miller, left, greets Gen. Bismillah Khan Mohammadi, Afghanistan's defense minister, during a change-of-command ceremony in Kabul on July 12. Miller, the top American general in Afghanistan, was stepping down, a symbolic moment as the United States neared the end of its 20-year-old war in the country.Hide Caption 33 of 40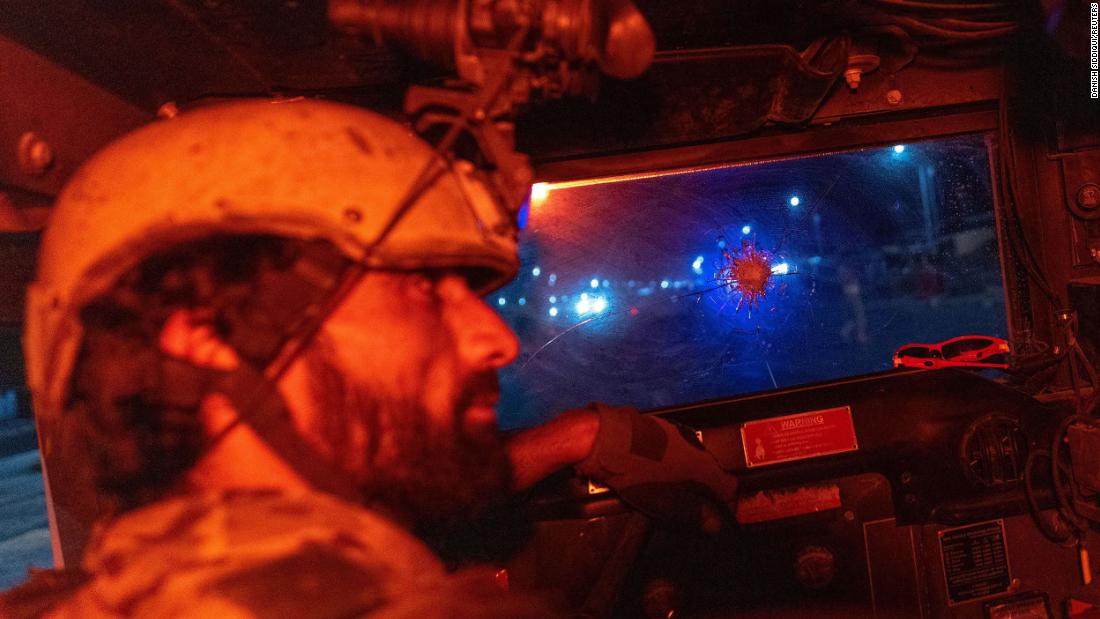 Photos: Afghanistan in crisis after Taliban takeoverA member of the Afghan Special Forces drives a Humvee during a combat mission against the Taliban on July 11. Danish Siddiqui, the Reuters photographer who took this photo, was killed days later during clashes in Afghanistan. Siddiqui had been a photographer for Reuters since 2010, and he was the news agency's chief photographer in India. He was also part of a Reuters team that won the 2018 Pulitzer Prize for Feature Photography covering Rohingya refugees fleeing Myanmar.Hide Caption 34 of 40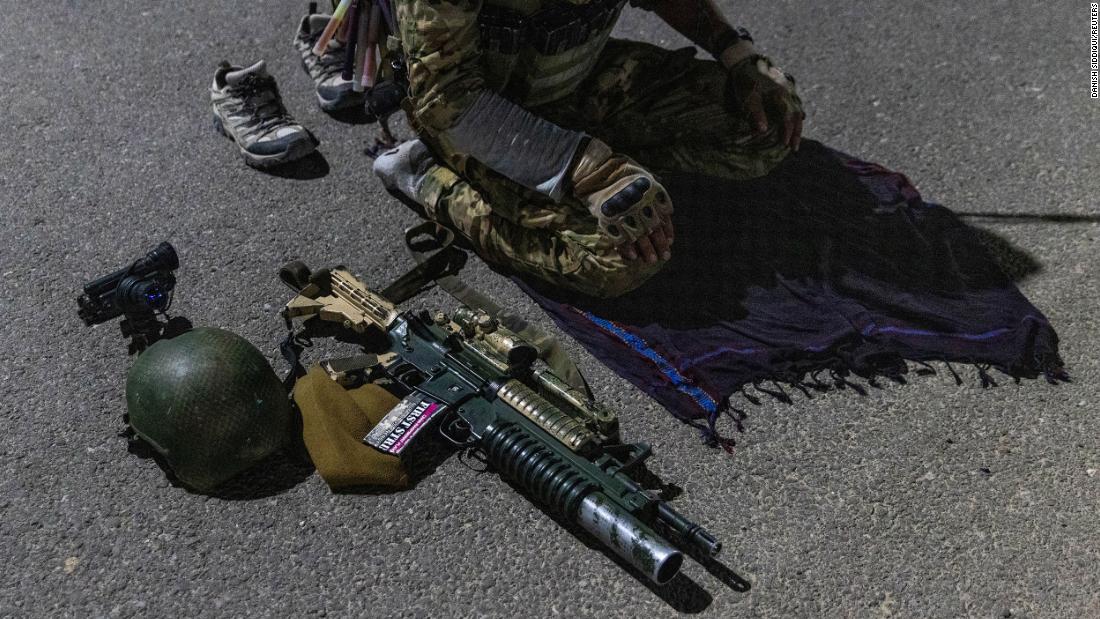 Photos: Afghanistan in crisis after Taliban takeoverA member of the Afghan Special Forces prays on a highway before a combat mission in Afghanistan's Kandahar province on July 11.Hide Caption 35 of 40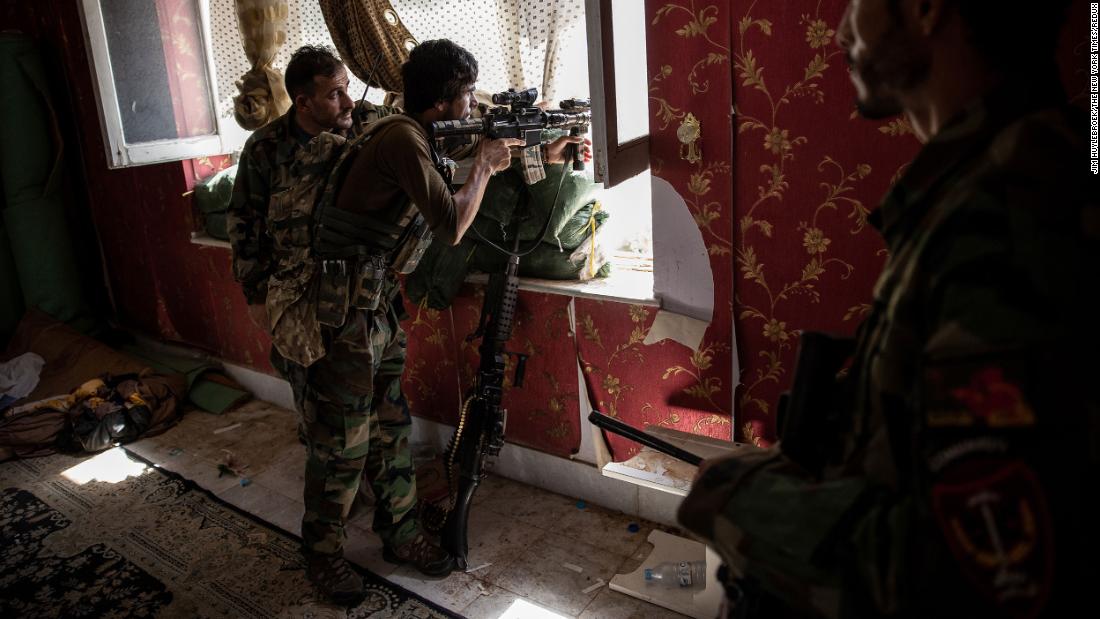 Photos: Afghanistan in crisis after Taliban takeoverAfghan commandos look out from a window at a home in Kunduz on July 6. The Taliban were moving rapidly to take over districts in northern Afghanistan.Hide Caption 36 of 40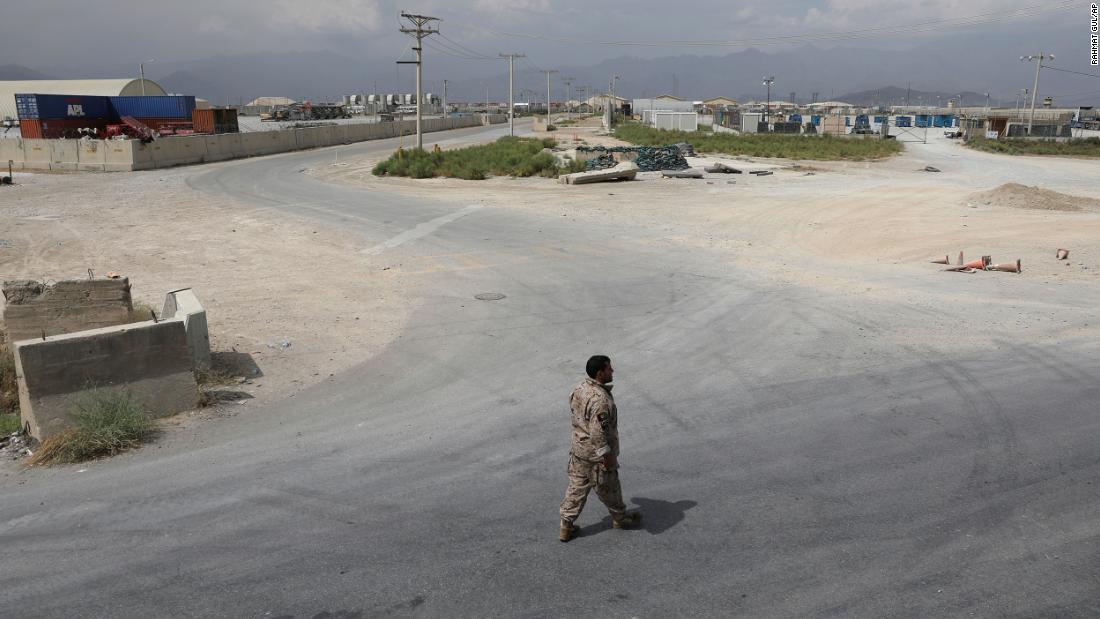 Photos: Afghanistan in crisis after Taliban takeoverA member of Afghanistan's security forces walks at Bagram Air Base on July 5 after the last American troops departed the compound. It marked the end of the American presence at a sprawling compound that became the center of military power in Afghanistan.Hide Caption 37 of 40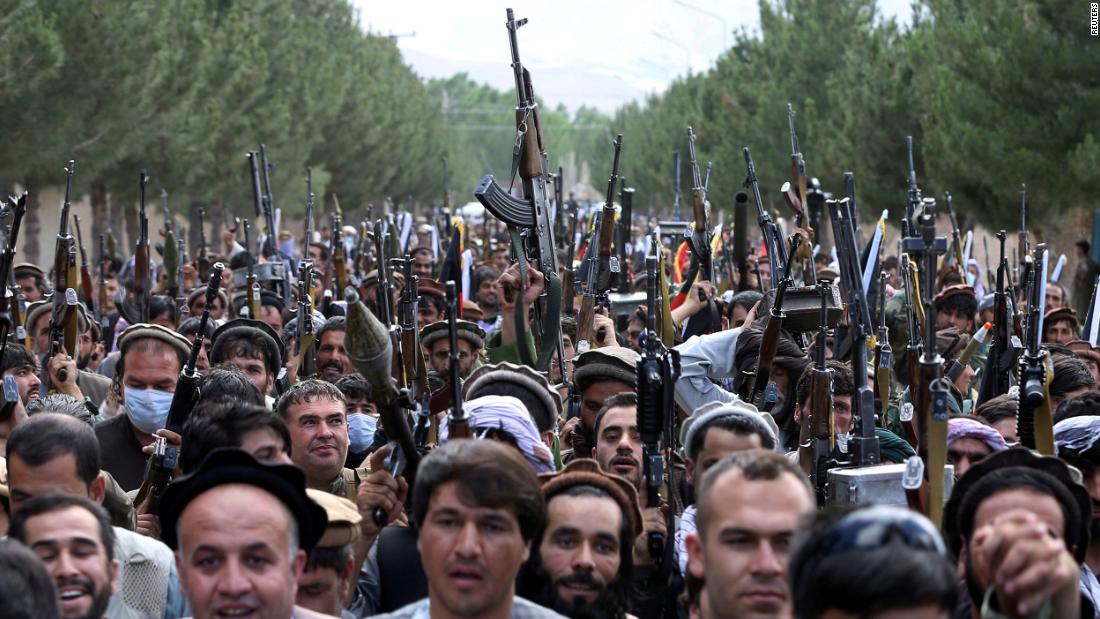 Photos: Afghanistan in crisis after Taliban takeoverHundreds of armed men attend a gathering on the outskirts of Kabul on June 23 to announce their support for Afghan security forces and say that they are ready to fight against the Taliban.Hide Caption 38 of 40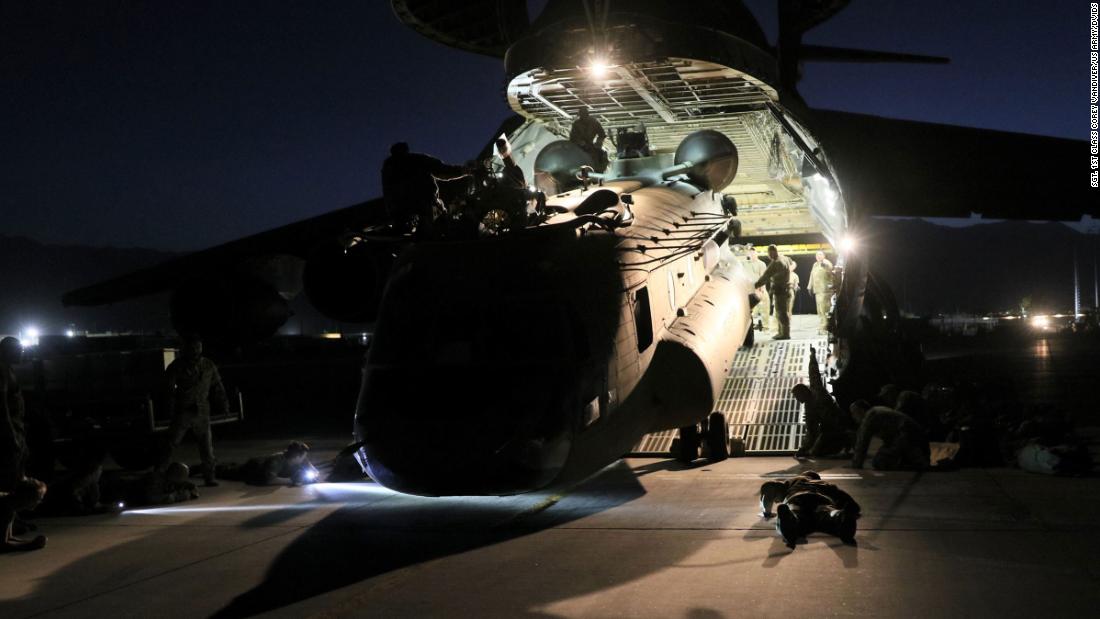 Photos: Afghanistan in crisis after Taliban takeoverA helicopter is loaded onto a US Air Force plane as American forces carry out their withdrawal from Afghanistan on June 16. Hide Caption 39 of 40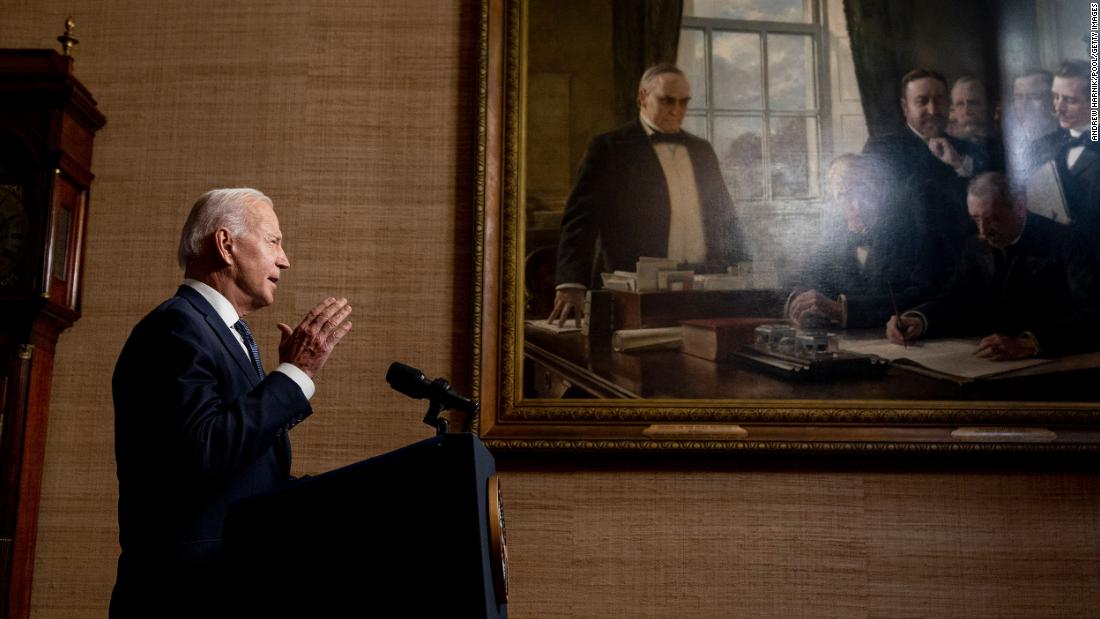 Photos: Afghanistan in crisis after Taliban takeoverUS President Joe Biden, speaking from the White House Treaty Room on April 14, formally announces his decision to withdraw American troops from Afghanistan before September 11. "I am now the fourth American president to preside over an American troop presence in Afghanistan. Two Republicans. Two Democrats," Biden said. "I will not pass this responsibility to a fifth." Hide Caption 40 of 40






































Despite her emotional torment, Popal remains faithful to her country and the promise of a better tomorrow. "My message to every […] individual and to organizations and to governments is that, just don't forget the women of Afghanistan, they have done nothing wrong and they should not be forgotten like this, and they need support, they need protection," she says."Please be their voices, be the voice for those voiceless and helpless women in the country."
Source Link:
https://www.cnn.com/2021/08/20/football/khalida-popal-afghanistan-women-football-spt-intl/index.html
400 Bad Request
Request Header Or Cookie Too Large
Comments
comments