Sign up to get our new weekly column as a newsletter. We're looking back at the strongest, smartest opinion takes of the week from CNN and other outlets.
(CNN)Donald Trump saw it coming. Back in 2019, the moderate Joe Biden looked like a candidate uniquely suited to threaten his re-election as president. In a July 25 phone call, Trump asked Ukraine's president Volodymyr Zelensky to have his government work with his lawyer, Rudy Giuliani, and with then-US Attorney General William Barr to launch an investigation of Biden and his son Hunter.
That call, which Trump defended as "perfect," and the administration's pausing of security aid to Ukraine, would become the focus of his first impeachment, which ended with Trump's acquittal in the Senate.The former president never could solve the riddle of how to defeat Biden, who he accused of being a puppet for the "radical left."In reality, Trump lost to him because the coronavirus pandemic changed everything — but only some people got the message. One of them was Biden.In a speech to a joint session of Congress Wednesday, with a soft-spoken, almost whispered urgency, President Biden made his case for a breathtaking overhaul of America's social contract.Read MoreThe President's argument, in just his first 100 days, for $6 trillion in new spending would have been unthinkable before the coronavirus, which has killed more than half a million Americans and sickened 30 million others. When the pandemic hit, suddenly a nation skeptical of government began looking to Washington for help. Trump and Congress initially reacted by approving a series of Covid-19 relief packages, but Senate Republicans ultimately balked at the Democrats' $3-trillion HEROES Act.Biden is aiming much higher.His "ambition is extraordinary," wrote Frida Ghitis. "His laundry list of initiatives and plans is enough to fill many presidencies. Biden is right when he views this presidency not only as a vehicle for improving the lives of Americans, but for showing the world the superiority of democracy over autocracy."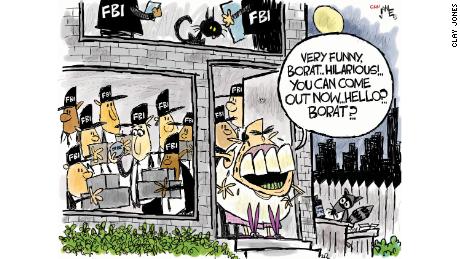 The image of two women — Vice President Kamala Harris and Speaker Nancy Pelosi—behind a US President at a joint session for the first time, Ghitis wrote, along with Biden's words, "were a reminder of how far we've come, how awful things were, and how far we still have to go."Biden is "developing a positive kind of populism," wrote Van Jones. "When Biden was elected, a lot of people — particularly progressives — underestimated him. After Wednesday night, it became clear Biden isn't holding anything back. He recognizes this is a once-in-a-century opportunity to reset the American system, and he's not going to let this chance go to waste." The initiatives that Trump could once parody as "radical left" are much more in the American mainstream now, with polls showing many as broadly popular — even though Biden's 53% approval rating is on the low side compared with other presidents (aside from Trump) at this point in their terms.Get our free weekly newsletter
Sign up for CNN Opinion's new newsletter.
Join us on Twitter and Facebook
"The best thing about President Joe Biden is that he's old," wrote historian Meg Jacobs. "He can remember a time before — and not just before the rightward swing of former President Donald Trump or even the centrism of former Presidents Bill Clinton and Barack Obama. He remembers a time before small-government proponent former President Ronald Reagan, when Democrats stood before the country and said unabashedly that a big and bold government was exactly what the country needed." That's precisely what alarms conservatives like Scott Jennings, who wrote, "Biden gave away the progressive game when he said he would 'turn crisis into opportunity.' His $1.9 trillion Covid bill spent excessively on liberal social programs, and Biden is doing it again in an infrastructure bill that spends just 5% of its $2.25 trillion on roads, bridges, waterways, ports, and airports. Name your crisis…and Biden is prepared to ride it like a Kentucky Derby jockey towards a liberal finish line of exploding debt and higher taxes."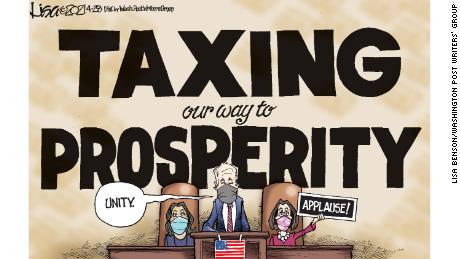 In Lanhee J. Chen's view, Biden "could have used his considerable power — both via the bully pulpit but also with his partisans in Congress — to send a message that compromise isn't a dirty word. This was the theory he advanced during his campaign for president. But the reality of his first 100 days in office has been something entirely different." Trump left Biden an "unholy mess," wrote David Axelrod, that included "a raging virus and resultant economic downturn, a fraught politics, a decayed bureaucracy and a bitterly divided Washington, DC." And while Biden has coped with those challenges, "the genius of Biden's first 100 days is his style. Even as he rammed the $1.9 trillion relief plan through a closely divided Congress on a partisan basis — and even as he is pushing for more — he has struck a decidedly nonconfrontational tone. He does not demand constant attention. He does not vilify his opponents or pick fights for sport. He is low-key, warm and empathetic." Don't bet against BidenBiden "has publicly called for the end of systemic racism in American society," Peniel E. Joseph noted. The challenge is to "turn his words into tangible policy deeds… But if the first president in American history to explicitly call out 'White supremacy' in an inaugural speech has shown the nation anything, that's to never bet against Joe Biden." South Carolina's Tim Scott, the only Black member of the Senate Republicans, gave his party's response to Biden's speech, stressing his view that "America is not a racist country." Clay Cane pointed out that "it wasn't an actual rebuttal to Biden's remarks. Biden never said America was a racist country. Scott created a straw man talking point for his party's base so he could tell them what they wanted to hear. He was joyfully playing the role of the Black man who makes White Americans more comfortable." The Ukraine scandal resurfaced this week when FBI agents executed a search warrant at Rudy Giuliani's home. Legal analyst Jennifer Rodgers saw that as an indication the "investigation is ramping up in a big way." Citing reporting by the New York Times, Rodgers wrote that investigators are looking into whether "while he was working on Trump's behalf to get Ukrainian officials to announce a criminal investigation into the Bidens, Giuliani was also lobbying US officials about matters of interest to Ukrainians with whom Giuliani was working, like the removal of then-US Ambassador to Ukraine Marie Yovanovitch." For more on politics: Elie Honig: We can't let January 6 become a distant, distorted memoryAaron David Miller: The main idea behind Biden's global strategyLincoln Mitchell: The census is a lucky break for RepublicansMichael D'Antonio: Donald Trump set a really low bar for Joe Biden's speech to CongressJoe Rogan's dubious advice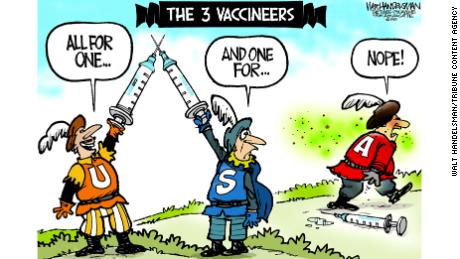 Joe Rogan told his huge podcast audience, "if you're like 21 years old, and you say to me, should I get vaccinated? I'll go no." Dr. Jonathan Reiner questioned Rogan's assessment. Yes, most young people would survive a case of Covid, but it has already killed 2,374 Americans under 30, Reiner noted. And it "doesn't have to kill you to wreck your life…more than 10% of health care workers recovering from relatively mild Covid-19 infections were still experiencing significant symptoms, such as loss of taste or smell, fatigue and breathing problems, eight months later." Even more importantly, adults between 20 and 49 accounted for about 70% of the disease's spread last year. "The reservoir for this virus in the United States is young, unvaccinated Americans." Historically, young people tend to have "poor vaccination rates," according to Matt Alexander and Jesper Ke, who are Gen-Zers and medical students. "As vaccine supply catches up with demand, the nation's attention has centered on how to reach out to key vaccine holdouts like racial and ethnic minorities or White, evangelical Christians. However, it's important that we don't overlook Gen Z adults, who make up a sizable proportion of the movable middle. Throughout the pandemic, we've neglected to speak their language, include them in stimulus bills, and failed to adequately address its impact on their mental health." The CDC this week loosened its mask-wearing guidance for vaccinated people in outdoor settings but some experts argue it should do more to stress the benefits of getting a vaccine, particularly for the benefit of those who are hesitant. "We need a hard right turn on the narrative about vaccines," wrote Dr. Lucy McBride. "People need incentives to take one. We must empower people with facts about vaccine efficacy and shift the media's bad news bias to one of evidence-based optimism about post-vaccination life. We need visible public confidence in the vaccines' stunning efficacy and trusted messengers to deliver nuanced advice to vaccine-hesitant folks. Patients are motivated to get vaccinated when they realize that after vaccination they can liberalize their behaviors, see other vaccinated — and most unvaccinated — people without restrictions or fear, and unmask when appropriate." India's woe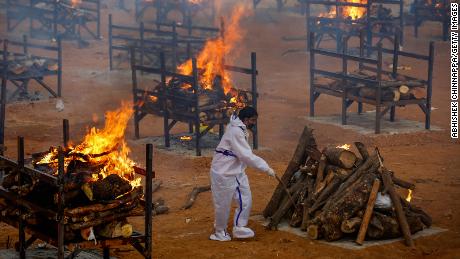 India reported more than 400,000 new Covid-19 infections and 3,500 deaths Saturday. Crematorium workers are struggling to keep up with the shocking number of new deaths, CNN reported. "As images of mass-cremation sites, overcrowded hospitals, and people gasping for air continue to overwhelm our social media feeds and news, one thing became apparent: People are on their own like never before," wrote Akanksha Singh, an Indian journalist. "The lack of resources and personnel is palpable on social media. Desperate cries for medication and oxygen tanks abound on Twitter and Instagram, where posts read, 'In need of ICU bed' or 'Plasma urgently required for treatment of Covid patient in Max Hospital, Delhi.'" A journalist who live-tweeted about his symptoms "died while waiting for help." Prime Minister Narendra Modi's BJP party once promoted the image of "India shining" to signal its transformation from a backward, developing nation into a global economic powerhouse, wrote Meenakshi Narula Ahamed. But the pandemic "has revived images of India as a country of disease and death. With its health care system collapsing under the strain, for the first time in 15 years, the government is once again in the awkward position of asking for foreign assistance, despite the country being a vaccine manufacturing hub. Many blame the Modi government for this self-inflicted crisis." Lies on the grill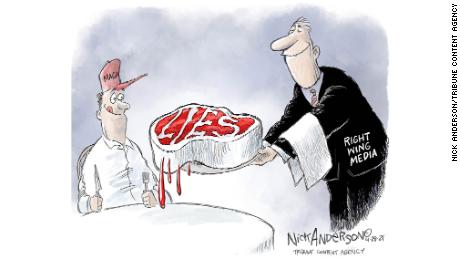 Republican members of Congress and voices in right-wing media concocted a story that Biden wants to limit Americans to eating no more than four pounds of beef a year. Rest easy, wrote Jill Filipovic: "Joe Biden isn't going to take away your hamburgers." The false claim is part of a pattern, she noted. Conservative politicians realize that their views on policy "are increasingly radical and unpopular. To distract from what they actually stand for, they latch onto a series of often make-believe culture war claims that have no bearing on leadership and legislation, from 'cancel culture' to 'wokeness' to, now, red meat." Indeed we live in the world of pants-on-fire lies, wrote Nicole Hemmer. It creates a predicament for journalists. The lie that Barack Obama was born outside the US and thus ineligible to be president was spread eagerly by conservatives, aided by Donald Trump. Mainstream media fact checks debunked it, but didn't dent the conspiracy theory, "which actually grew in popularity during Obama's second term in office. The case of birtherism shows that debunking a lie, unless handled very carefully, doesn't work. Exposing a lie for the falsehood it is can actually spread misinformation further by repeating the false claims. So the more journalists try to do their work — the work of exposure — the worse the situation gets." Police shootingsAfter the video of George Floyd's killing surfaced nearly a year ago, CNN's Fredricka Whitfield sat "on the stairs leading to my 16-year-old son's bedroom as he slept, with my face in my hands. I cried for George Floyd and too many others who have been senselessly killed.""I'm sick with worry," Whitfield wrote. "I'm tired because I can't sleep, worrying about my two sons and daughter — and other sons and daughters like mine. "This comes at a time when I'm supposed to be over the moon about the milestones ahead for my 16-year-old son, who is nearing the end of his sophomore year in high school, starting his first job in a few weeks and looking forward to trading in his driver's permit for a permanent driver's license in a few months." Sonia Pruitt is a retired police captain who teaches criminal justice and founded The Black Police Experience. She called out authorities in North Carolina, who have yet to release police body-cam footage that could shed light on the killing of Andrew Brown, Jr. in Elizabeth City, North Carolina. "The decision not to immediately release the full body camera video was offensive to the family, the Black community and anyone who is exhausted from the repeated deaths of Black men and women at the hands of law enforcement," she wrote. For more: Eric Adams: How cops can de-escalate rather than fire their guns.A fearful journey to AmericaNina Trieu Tarnay was 6 years old when her family joined the exodus from Vietnam by boat. "Out on the water, the smell of diesel mixed with the ocean salt, the sound of the engine puttering along was slightly louder than my mom's muffled cries," she wrote. "I recall being terrified and wanting to cry, but knowing I shouldn't, I clenched my teeth and fought the urge." The next morning, she woke up seasick and then realized, "My little brother and grandmother were on another side of the world, behind us. We were in the middle of the ocean, drowning — at times — in my mom's tears." Read and watch her story of the journey from being a refugee to an American. Don't missPeniel E. Joseph: Why a Black Captain America changes everything Jessica Seinfeld: We are leaving fathers out of this important discussionJeff Merkley and Alan Lowenthal: What really happens to the plastic you throw outNick Paton Walsh: The lies that were told to sustain the US and UK mission in AfghanistanNorman Eisen, Joanna Lydgate and Jessica Marsden: The threat to US democracy goes beyond voter suppressionElliot Williams: Supreme Court's staggering deviation from precedentDavid Perry: Covid protesters must stop exploiting symbols of the HolocaustVera Eidelman: States are passing laws targeting peaceful protestersJulian Zelizer: What makes Andrew Yang appealing to New YorkersDean Obeidallah: Elon Musk doesn't deserve to host 'SNL'AND…Celebs run for office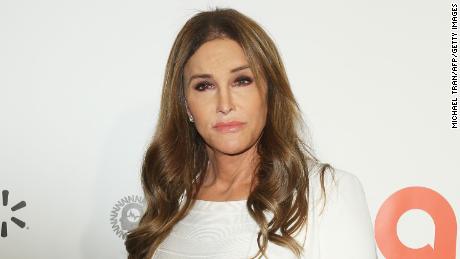 Olympic gold medalist and reality TV star Caitlyn Jenner jumped into the recall race to replace California's governor, Gavin Newsom. She is a Republican who identifies as transgender, noted Allison Hope. "Jenner supported Trump before publicly denouncing him. And Republicans' legislative attacks on the transgender community have grown disgustingly pointed. So progressives who are worried about the effects of Jenner's run have a point." Yet Hope argued that Jenner deserves a chance. "Jenner's political stature could project national visibility, further normalizing trans people in positions of power in government. She would be the highest-ranking trans person in US history, adding to an emerging trend of heightened trans representation in government…"As Lauren A. Wright noted, Jenner is not alone among celebrities in seeking political office. Dwayne "The Rock" Johnson and Herschel Walker are considering candidacies. And America's still processing the presidency of Donald Trump, a reality TV star. Don't underestimate celebrities' chances, Wright cautioned. "Celebrity candidates are armed with attributes that often make them uniquely gifted campaigners — and singularly bad government representatives."For the most part, they lack the relevant experience and skills needed to successfully navigate government institutions and strike bipartisan compromises…they tend to surround themselves with stalwarts and sycophants, amateurs who have neither incentive nor knowledge to work through the arduous and unglamorous work of legislating."
Source Link:
https://www.cnn.com/2021/05/02/opinions/trump-saw-it-coming-opinion-column-galant/index.html
400 Bad Request
Request Header Or Cookie Too Large
Comments
comments