(CNN)As the commemorative features acknowledging the 32nd anniversary of the "Hand of God" went to press, Diego Maradona once again raised his left arm, only this time to wipe away the tears.
Argentina had been utterly humbled 3-0 by Croatia on the Nizhny Novgorod pitch before his eyes and suddenly the threat of a group-stage exit for the two-time World Cup champions looked very real indeed. Follow @cnnsport Manager Jorge Sampaoli paced furiously up and down the touchline. Lionel Messi, head in his hands, stood completely still. It wasn't supposed to end like this.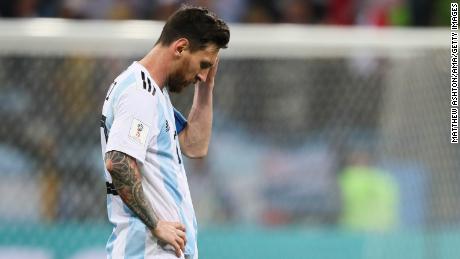 An oddly subdued Messi had fewer than 50 touches all game and only managed one shot on goal.After a draw against debutants Iceland, the pre-tournament contenders are now reliant on a victory against Nigeria next week with other results going their way, just to qualify for the second round.Not since 1974 had Argentina failed to win both opening games; not since falling 6-1 to Czechoslovakia in 1958 had La Albiceleste suffered such a heavy group stage defeat. Read MoreCroatia, by contrast, is through to the World Cup round of 16 for the first time since 1998.
Argentinian TV held a moment of silence after Thursday's 3-0 defeat to Croatia. #WorldCup pic.twitter.com/38FnlsXcan
— Indy Football (@IndyFootball) June 22, 2018 Sampaoli was reduced to begging fans for their "forgiveness" after the match, claiming "full responsibility" and acknowledging his players were "emotionally broken." The former Chile coach went on to say he was similarly "very hurt" and at odds to explain why his players "quite simply couldn't" find it in themselves to work the ball to Messi, who only touched the ball 49 times during the match. "Messi is our captain, he leads the team and we quite simply couldn't pass to him to help him generate the situations he is used to," said Sampaoli. "We worked to give him the ball but the opponent also worked hard to prevent him from getting the ball. We lost that battle."READ: Argentina on the brink of early World Cup elimination after defeat by Croatia'A deep disease' Messi, who is Argentina's all-time top scorer, now hasn't found the net for six consecutive matches (647 minutes) at World Cup tournaments — a run stretching back to the 2014 group stages.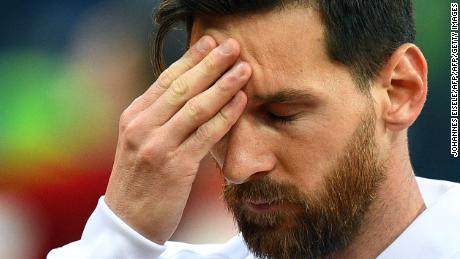 Back in Argentina, it was Messi and Sampaoli that were the scapegoats.Clarín, the largest newspaper in Argentina, branded the team's talismanic captain no more than "a shadow" in defeat and wrote that he seemed to have "a dagger in his soul."One presenter on Crónica TV reportedly begged the question: "Is Messi better on the Playstation than in real life?" La Nacion reserved their criticism for Sampaoli, arguing the team was without "spirit and guidance" and in the midst of a "deep disease." Legendary midfielder Osvaldo Ardiles branded it the "worst squad in Argentina's history," calling Sampaoli "arrogant" and "ignorant." "Even having the best player in the world, he was not able to make a competitive team," tweeted the 1978 World Cup winner. "Sampaoli's Plan A: Give the ball to Messi and wait for a miracle. If Plan A doesn't work, Plan B. Errr. There is no plan B. Much less Plan C or D."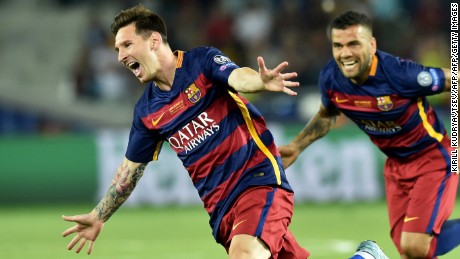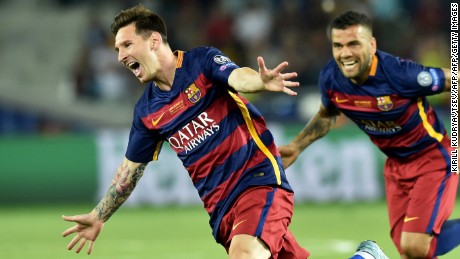 JUST WATCHEDLionel Messi is …ReplayMore Videos …MUST WATCH
Lionel Messi is … 01:03Ardiles went on to say that the "prestige" earned by lifting the trophy on two occasions had been "thrown overboard," calling on the more experienced players to apologize.Only one man was exempt from criticism: Messi. "All the Argentine decline of recent years was disguised by this incomparable genius [and] we are fortunate that he was born in Argentina," wrote Ardiles. "But even him it was too much at the end of the day."Daily sports paper Olé called the team, which has lost three consecutive major finals, "Knights of Anguish" — a pun on goalkeeper Willy Caballero's surname. Caballero's awful error gifted Croatia their first goal and Argentina never recovered.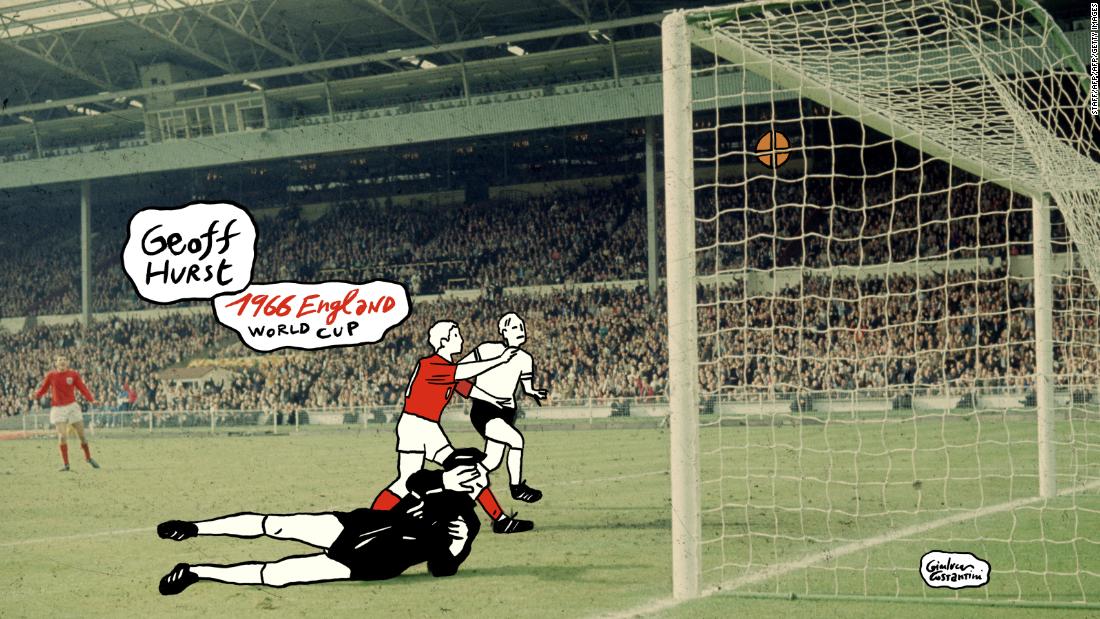 Photos: Key World Cup momentsGeoff Hurst, 1966 – Did it cross the line? With the scores between England and West Germany level at 2-2 in the 1966 World Cup final, striker Geoff Hurst's shot hit the crossbar and deflected downwards. At first a goal wasn't given, but then allowed after consultation between the referee and linesman. The game ended 4-2, securing England's first and only World Cup victory. Hide Caption 1 of 11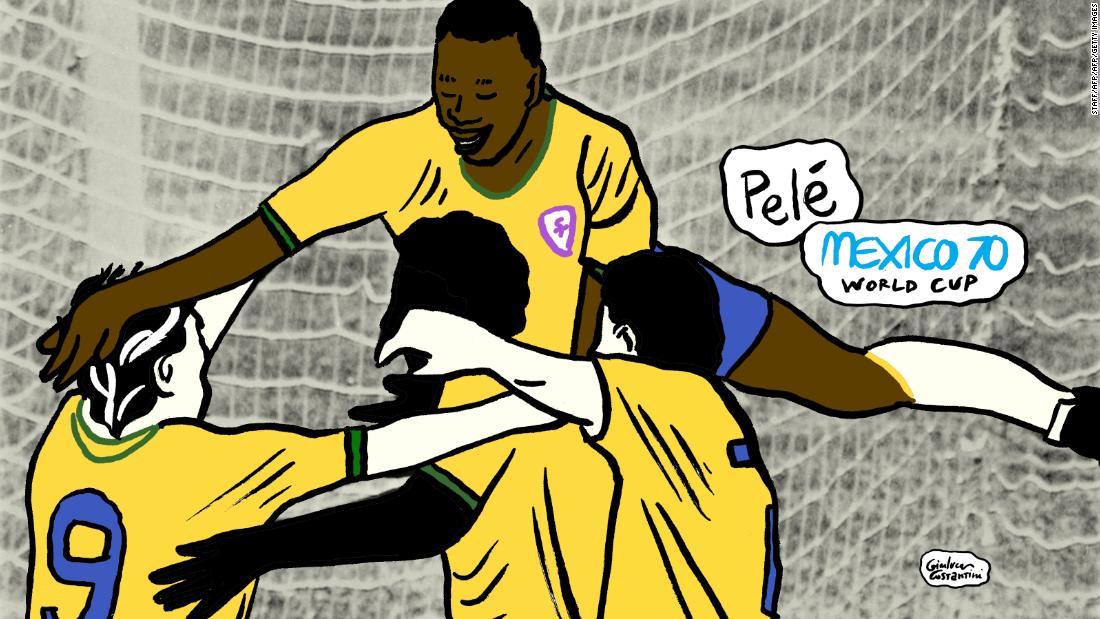 Photos: Key World Cup momentsPele, 1970 – Brazil's 100th World Cup goal, celebrated wildly by Pele, who jumped into the air with joy as his side took the lead in the final against Italy. The game ended 4-1 to Brazil — their third World Cup victory. Hide Caption 2 of 11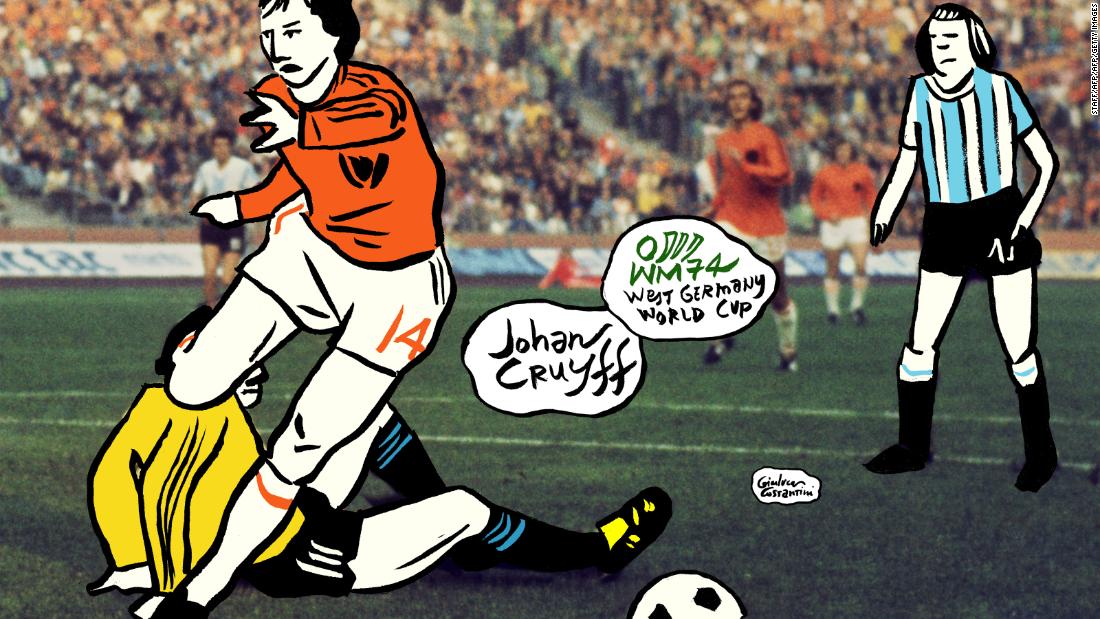 Photos: Key World Cup momentsDutch great Johan Cruyff scored three goals in the 1974 World Cup, twice against Argentina in the second round and then against Brazil in a 2-0 win that sent Holland through to the final.Hide Caption 3 of 11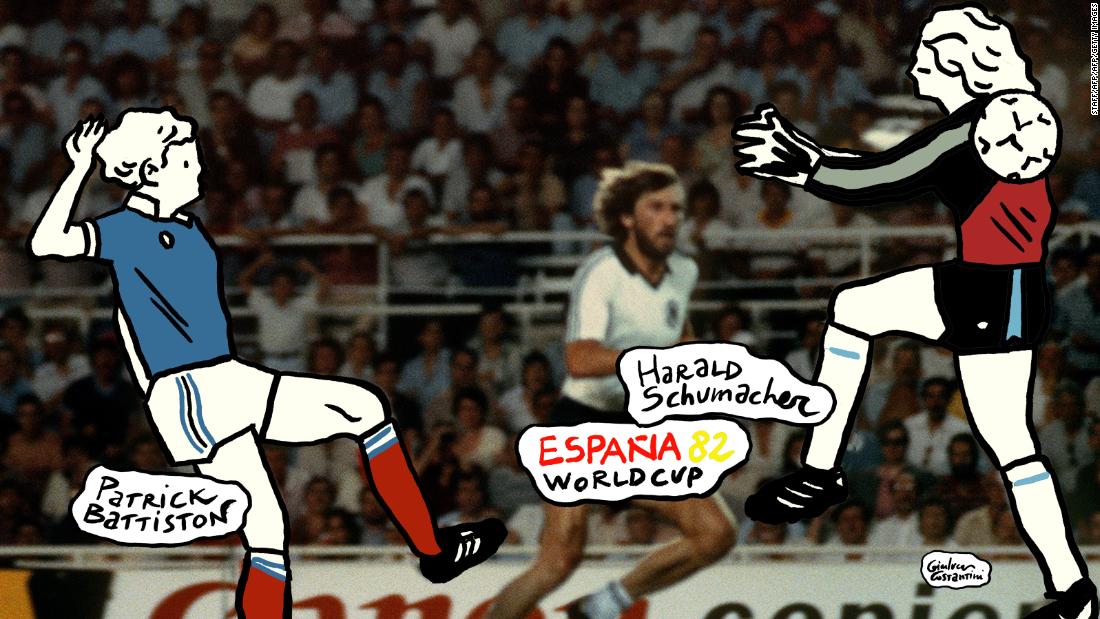 Photos: Key World Cup momentsHarald Schumacher, 1982 – An ugly moment. German goalkeeper Harald Schumacher clattered into France's Patrick Battiston, who was through on goal, knocking him unconscious at the 1982 semifinal in Spain. Schumacher was unmoved as his opponent was stretchered off the field. Hide Caption 4 of 11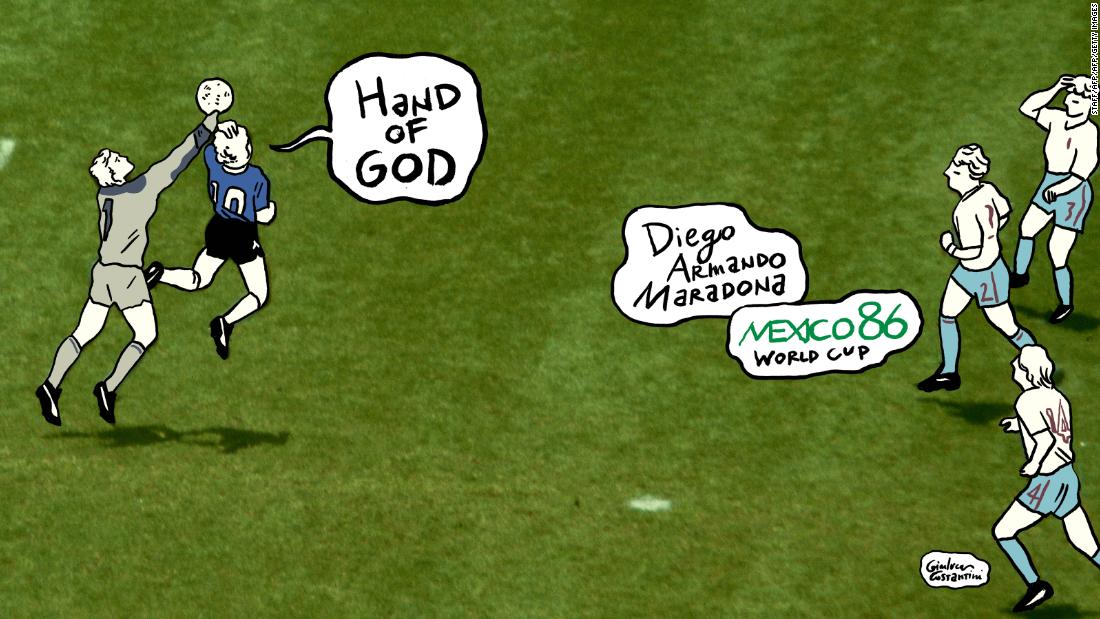 Photos: Key World Cup momentsDiego Maradona, 1986 – "The Hand of God" needs little introduction. England vs. Argentina, the quarterfinal of the 1986 World Cup in Mexico. A mis-hit clearance was heading into the hands of goalkeeper Peter Shilton, before a leaping Diego Maradona intercepted it with his hand, punching the ball into the net. The game ended 2-1, with Argentina going on to win the World Cup. Hide Caption 5 of 11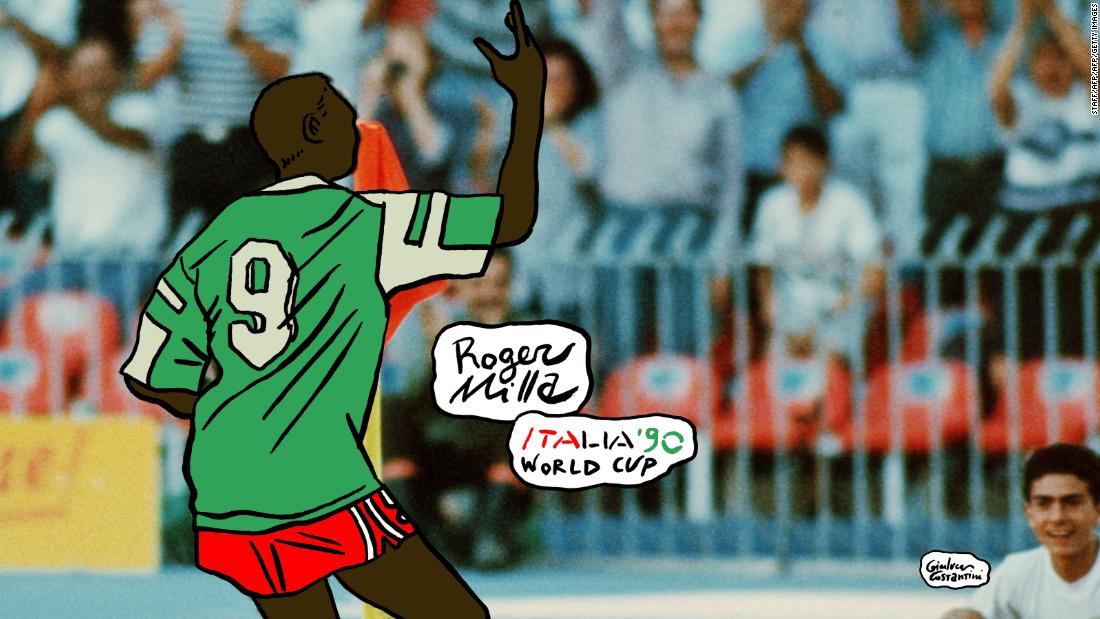 Photos: Key World Cup momentsRoger Milla, 1990 – One of the greatest ever World Cup celebrations. Roger Milla turned on the style at the 1990 World Cup in Italy, which saw his Cameroon team reach the quarterfinals — the furthest an Africa team has ever gone in the competition. Hide Caption 6 of 11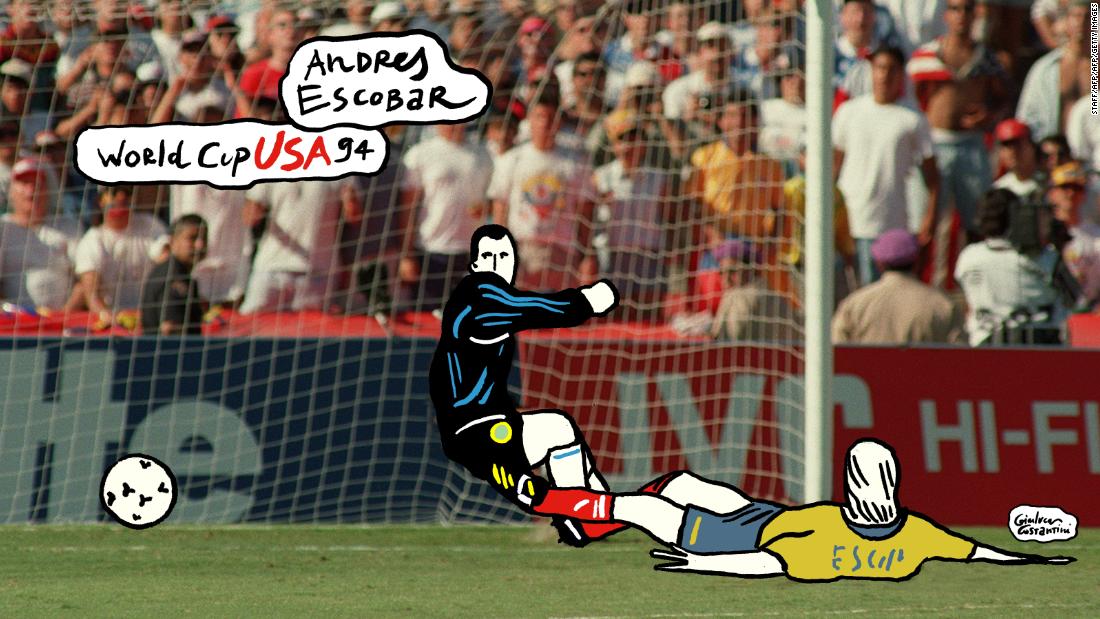 Photos: Key World Cup momentsAndres Escobar, 1994 – An own-goal by Colombia's Andres Escobar had tragic consequences. Less than a week after seeing his team eliminated from the competition due to his error, Escobar was shot dead on the streets of Medellin, a murder linked to drug lords who lost huge amounts of money on the result. Hide Caption 7 of 11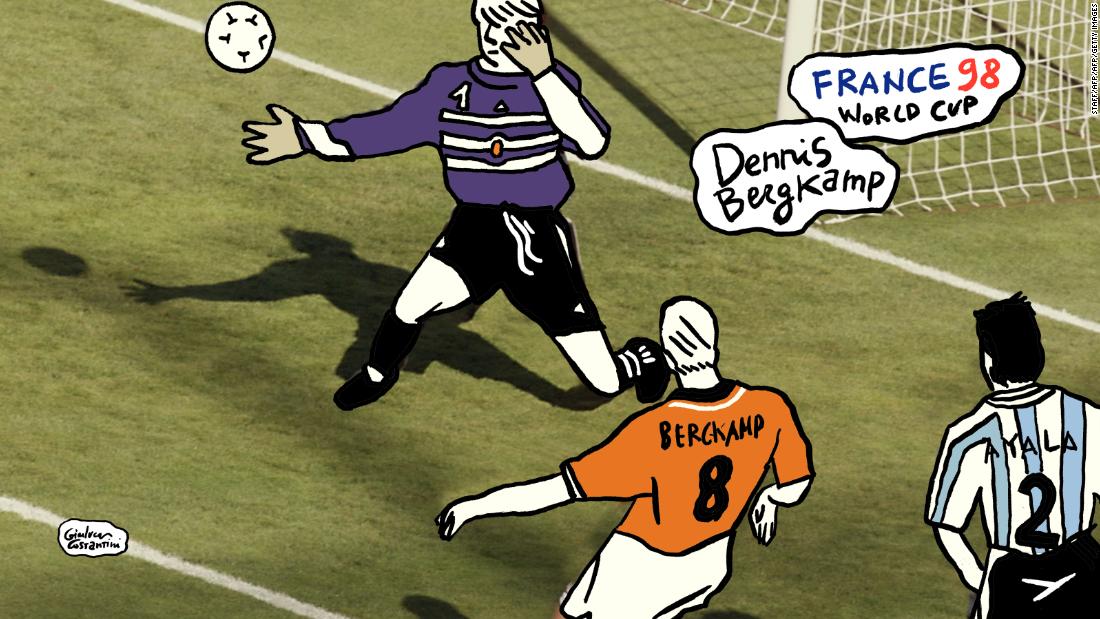 Photos: Key World Cup momentsA Dutch master at work … Dennis Bergkamp stops Frank de Boer's pass dead, transferring the ball to his left foot as he twists past Argentina's Roberto Ayala. His third touch, again with his right boot, flicks it past Carlos Roa, the keeper. Three perfect touches to take the ball from a speculative punt upfield to what remains one of the ultimate moments of skill ever displayed in a World Cup.Hide Caption 8 of 11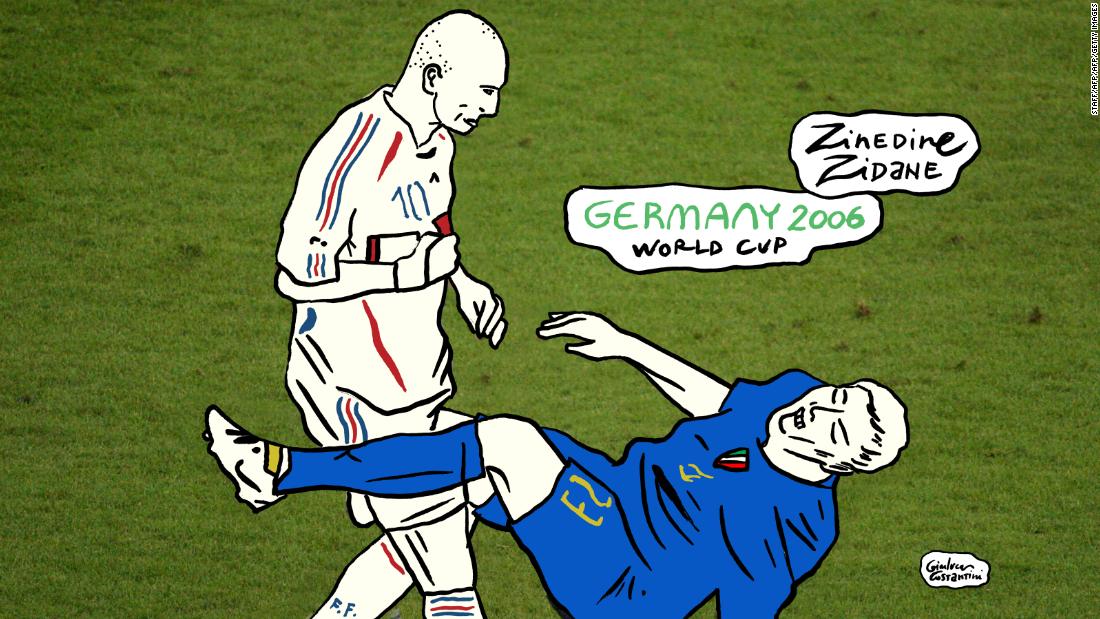 Photos: Key World Cup moments2006, Zinedine Zidane – A rush of blood to the head. With the 2006 World Cup final moving into extra-time, goalscorer Marco Materazzi muttered a few words to France legend Zinedine Zidane, who returned with a headbutt to the Italian's chest. In his last ever professional match, Zidane was red carded and Italy went on to win on penalties. Hide Caption 9 of 11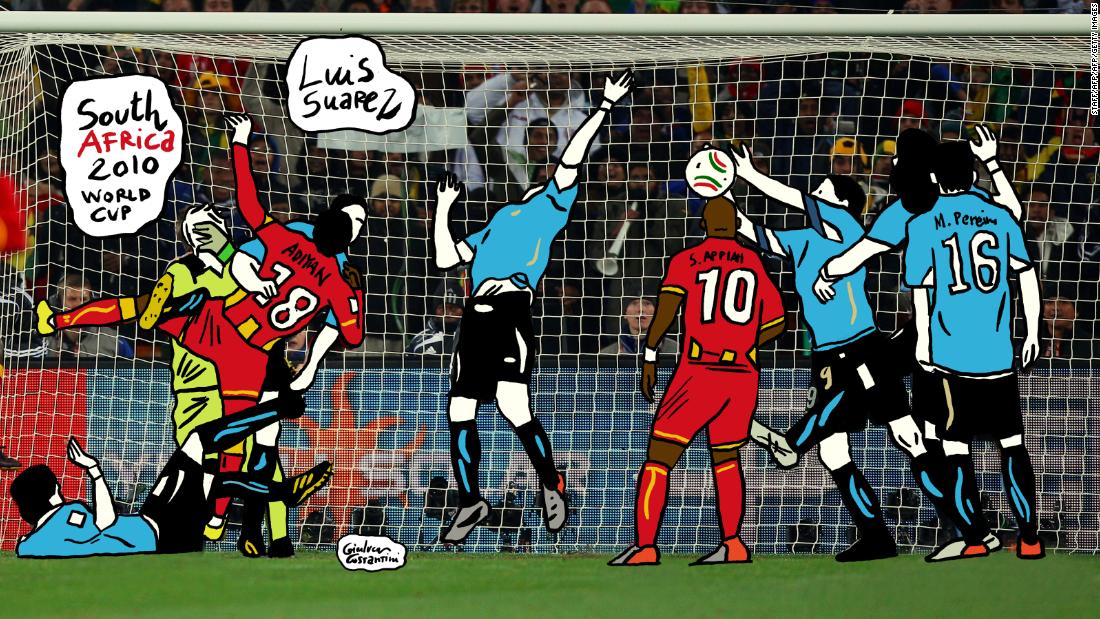 Photos: Key World Cup momentsLuis Suarez, 2010 – Another South American — this time Uruguayan Luis Suarez — another handball. This one, however, was less subtle. Suarez's hands prevented Ghana from bagging a winner in extra-time. He saw red, and Asamoah Gyan's whacked the resulting penalty against the bar. Uruguay went on to win on penalties. Hide Caption 10 of 11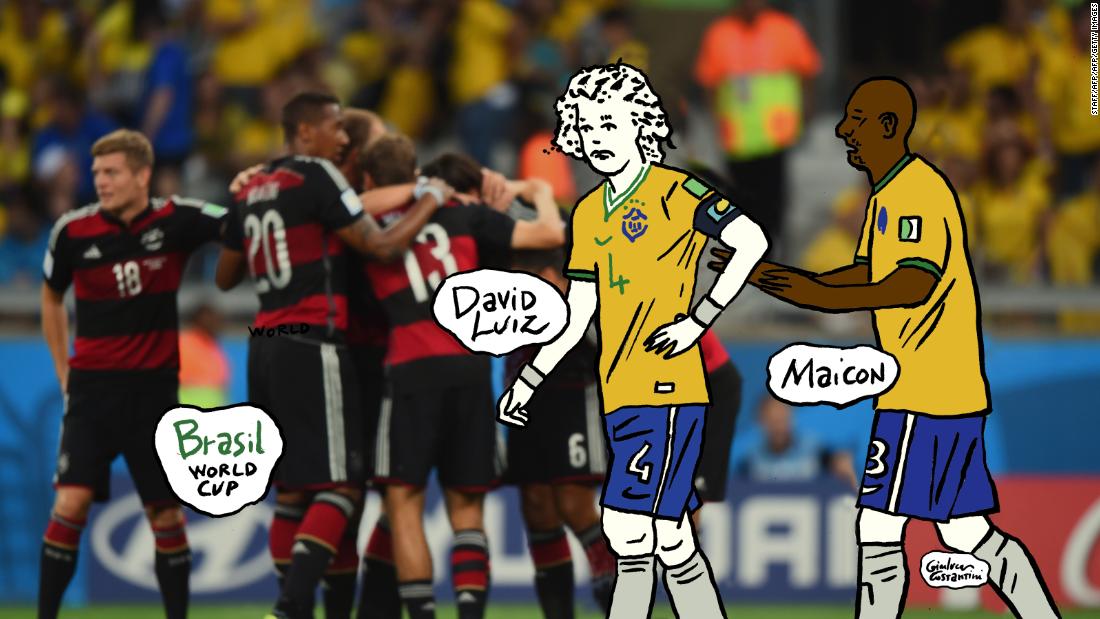 Photos: Key World Cup momentsBrazil vs. Germany, 2014 – One of the biggest humiliations the World Cup has ever seen. Brazil has struggled for form throughout the tournament, which was being played on home soil for the first time in 64 years, and met an impressive German side in the semifinals. But few could have predicted what was to follow: a 7-1 demolition by the visitors, who went on to lift the World Cup trophy. Hide Caption 11 of 11











READ: How Diego Maradona redefined football in five minutes Blame gameThe press conference's opening question had set the tone — a member of the media telling Sampaoli "40 million Argentines" hold him responsible for selecting Caballero, who only made his debut earlier this year at the age of 36 when usual No. 1 Sergio Romero injured his knee.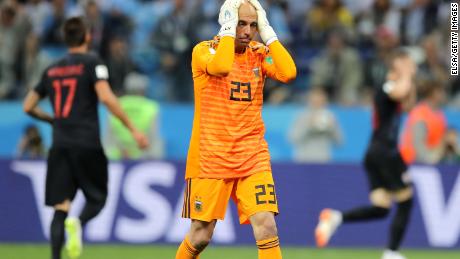 Caballero looks dejected after his mistake leads to a Croatia goal."I am the one who needs to make the final decision," said Sampaoli. "Defeat is my responsibility because I am the coach."Had I set things out differently, things may have turned out better. I don't think it is right to put the burden on Caballero."Instead Sampaoli seemed to blame Argentina's abject performance on the shortcomings of the squad as a whole, hinting at a gulf in quality between Messi and his teammates.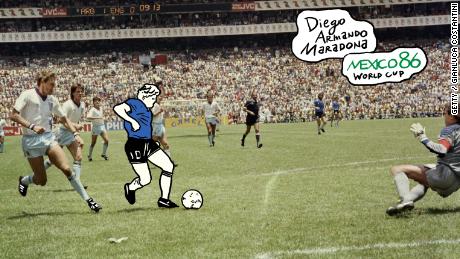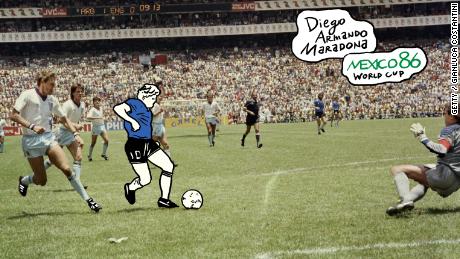 JUST WATCHED'Goal of the Century': Maradona's 1986 magicReplayMore Videos …MUST WATCH
'Goal of the Century': Maradona's 1986 magic 04:33″I think Cristiano is a great player but right now we shouldn't compare these two players," said the head coach, when asked to compare the contributions of Portugal's Ronaldo and Messi at Russia 2018 so far. "The reality of the Argentina squad clouds Leo's brilliance."Those comments didn't go down well with Argentina striker Sergio Aguero, the nation's only player to find the back of the net so far this tournament, but who was substituted after Croatia's first goal.Informed of Sampaoli's comments by members of the media after the game, Aguero tersely replied: "Let him say what he wants" before storming off. Rumors of discontent within the camp are already circulating in the Argentine media but for now the players must do their talking on the pitch.Visit CNN.com/sport for more news and features As Clarín put it, "now to beat Nigeria and pray."
Source Link:
https://www.cnn.com/2018/06/22/football/argentina-croatia-defeat-maradona-tears-reaction-spt-int/index.html
[-0.367564]
Comments
comments