(CNN)The Department of Homeland Security on Monday launched an internal review to address the threat of domestic violent extremism within the department, as officials have become increasingly focused on preventing domestic-inspired terrorism.
It's unclear what, if any, internal issues at the department prompted this review, which will be led by department's chief security officer.The review on insider threats comes in the wake of the January 6 riot at the US Capitol, and as the department repeatedly points to domestic violent extremism at the most lethal and persistent terrorism-related threat to the US. "As we work to safeguard the nation and our values, we must be vigilant in our efforts to identify and combat domestic violent extremism within both the broader community and our own organization," Secretary of Homeland Security Alejandro Mayorkas wrote in a message to staff.DHS, which has more than 240,000 employees, is responsible for protecting the country from a range of threats and has a sprawling mission that includes agencies like the Transportation Security Administration and the US Coast Guard. Read More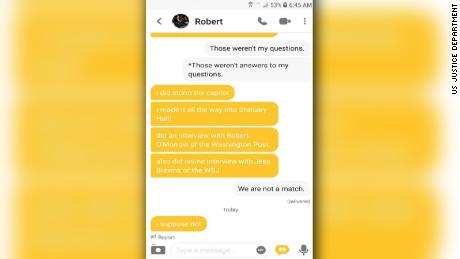 Capitol rioter arrested after being turned in by match on online dating app Bumble"Violent extremism has no place at DHS and we will work with urgency and focus to address it," he added. Senior officials across the department will "immediately begin a comprehensive review of how to best prevent, detect, and respond to threats related to domestic violent extremism within DHS," the department said. The review, ordered by Mayorkas, was taken as a "prudent" measure, not in response to a specific incident, a source familiar told CNN.In February, Secretary of Defense Lloyd Austin ordered a staggered pause of operations across the entire US military so that commanders could have "needed discussions" with service members about the issue of extremism over the course of 60 days.While the Pentagon ordered a review of domestic extremism within the ranks prior to the Capitol attack, Austin made clear to senior military leaders that more must be done.In the coming days, DHS is expected to provide additional guidance to the workforce, such as specific policies and procedures for reporting insider threats associated with domestic violent extremism. The department will also issue reminders about policies prohibiting discriminatory and harassing behavior, Mayorkas wrote. The team leading the review will provide the secretary with recommendations. "This is an important and necessary initiative at DHS. We know that U.S. domestic extremist groups recruit directly from the communities of current and former law enforcement personnel. As the leader of the federal government department with the largest number of law enforcement officers, the Secretary is addressing any potential issues in the organization head on," said Carrie Cordero, a senior fellow and general counsel at the Center for a New American Security and a CNN legal and national security analyst.The department has faced issues with extremism within its own ranks before. In January 2020, a Coast Guard lieutenant, who authorities said amassed an arsenal of weapons and kept a hit list of political and media targets, was sentenced to more than 13 years in prison by a federal judge.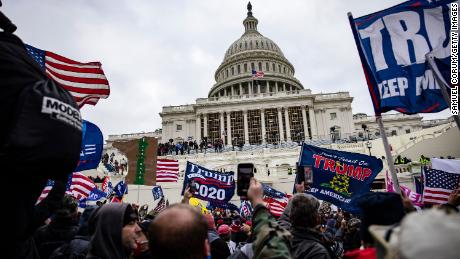 Trump supporters could be incited to future violence by his continued promotion of 2020 election lies, DOJ and judges sayChristopher Hasson, 50, had pleaded guilty to weapons and drug charges the prior year. The sentencing capped a case that underscored the challenges the Justice Department faces when bringing domestic terrorism cases.In court documents, prosecutors had said that Hasson was a White nationalist who searched the internet for the home addresses of two Supreme Court justices and the "best" gun to kill African Americans with.DHS has been looking at the insider threat from domestic extremist perspective "for some time," Elizabeth Neumann, former DHS assistant secretary for threat prevention and security policy said, "but while there were good men and women trying to do the right thing, under the previous administration it was tough to gain traction," pointing to the priorities from the Trump White House. Trump-era acting Homeland Security Secretary Chad Wolf took issue with the announcement, saying the review was being done for "political reasons.""A few questions/points: (1) what evidence supports this review?; (2) any issues could be addressed through background/recurring checks by the Dept; and (3) this could have been done quietly but needed an public announcement for political reasons," he tweeted. This story has been updated with additional information.
Source Link:
https://www.cnn.com/2021/04/26/politics/dhs-internal-review-extremism/index.html
[-0.814282,"negative"]
Comments
comments