London (CNN Business)Deutsche Bank is in rough shape and its leadership has gone silent on their plans for the future.
First quarter results from Germany's largest bank on Friday showed that revenue is falling faster than costs, one day after merger talks with crosstown rival Commerzbank (CRZBF) were called off.Yet CEO Christian Sewing has been mum on a path forward.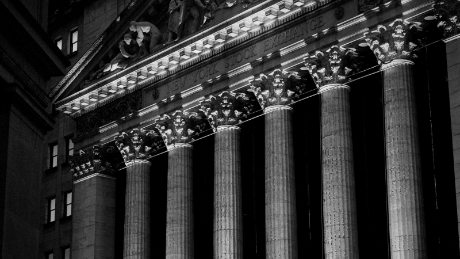 Wall Street is killing the European investment bank"We will not be drawn on speculation about what other options we have considered or what options are or are not under ongoing consideration," Sewing said when asked about potential strategy changes during an earnings call. "You should also not draw any conclusion from this unwillingness to comment," he added.Read MoreShares in Deutsche Bank (DB) dropped over 3% in Frankfurt, pushing losses over the past year to nearly 40%. Investors clearly want Sewing to be more forthcoming about what happens next, but he did not provide details."[It's] too early to share a detailed update on our thinking," he said.The struggleDeutsche Bank has struggled to find direction in the years following the global financial crisis, embarking on a series of overhauls that have failed to yield consistent profits. Its problems were on full display in its latest quarterly earnings. Profit rose 67% in the first three months of the year, but that was due entirely to yet another round of belt-tightening. Revenue fell 9%, and the company said it would be "essentially flat" for the year.Deutsche Bank has stepped back in recent years from some investment banking activities. But the division still accounts for more than half the bank's revenue and it's under strain, eating up huge chunks of capital even as it falls further behind competitors.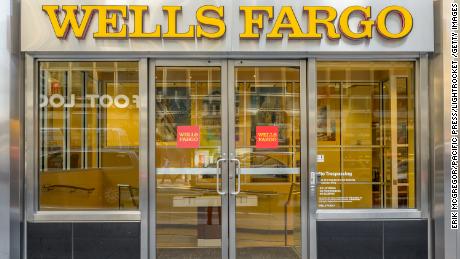 Warren Buffett has weighed in on what kind of CEO Wells Fargo should hireInvestment banking revenue fell 13% to €3.3 billion ($3.7 billion), while costs for the unit totaled €3.4 billion ($3.8 billion).Sewing, who has been CEO for a year, said Friday that costs are something the bank "can control." In 2018, he detailed plans to slash thousands of jobs. Analysts say the lender must now go further."The market is skeptical of the plan they've presented already," said Andrew Stimpson, an analyst at Bank of America Merrill Lynch.What now?Deutsche Bank was able to defer questions on its broader strategy over the past six weeks as it pursued merger talks with Commerzbank. Some leading German politicians supported the deal, which would have created a national champion better able to compete with global rivals. But the banks said Thursday that a deal would not happen, citing execution risks and restructuring costs. That puts Sewing and Deutsche Bank back in the hot seat.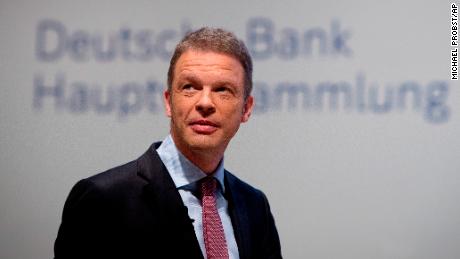 Deutsche Bank CEO Christian Sewing faces tough questions about the bank's future.Speculation about how the bank could move forward includes options ranging from a dramatic overhaul of its investment bank to exiting the US market altogether."They've got some difficult decisions ahead of them about what path they want to plot," Stimpson said.The Financial Times reported earlier this week that Deutsche Bank is in "serious" talks with Swiss bank UBS (UBS) about a merger of their asset management divisions. One scenario reportedly under discussion would involve UBS folding its asset management division into Deutsche Bank in exchange for shares in the German group. That could give them the scale needed to compete with industry heavyweights such as BlackRock (BLK)."We have consistently indicated that we intend to participate in the industry consolidation we expect in asset management," Sewing told analysts on Friday.The Wall Street Journal has reported, meanwhile, that Deutsche Bank was looking at forming a "bad bank" that would house undesirable assets and businesses.Any major structural changes could be limited by one key factor: cost. UBS analysts said Friday that the bank "cannot afford radical change." The most likely outcome, they said, is a "muddle through" approach where Deutsche Bank cuts costs further while trying to shore up revenue.On the United States question, at least, Sewing appeared decisive."Our nonnegotiable starting point is that Deutsche Bank will remain a globally relevant financial services institution, present and serving clients in key geographies," he said. "That includes the US and Asia."
Source Link:
https://www.cnn.com/2019/04/26/business/deutsche-bank-christian-sewing/index.html
[-0.640655]
Comments
comments