New York (CNN)Kate Brosnahan Spade, the fashion designer and businesswoman, hanged herself with a scarf in an apparent suicide Tuesday at a New York City apartment, according to a New York Police Department source.
A suicide note was found, a second NYPD source said, adding that the call came in at 10:30 a.m. Spade was found by her housekeeper, hanged by a scarf she allegedly had tied to a doorknob, the second source said. The designer, 55, started Kate Spade New York in 1993 and opened the first shop in the city three years later, the company's website states. "Debuting with just six silhouettes, she combined sleek, utilitarian shapes and colorful palettes in an entirely new way," the site says.
Kate Brosnahan SpadeBest known for its colorful handbags, the company has more than 140 retail shops and outlet stores across the United States and more than 175 stores internationally, the site states.Read MoreThe luxury company Coach announced plans in May 2017 to buy Kate Spade for $2.4 billion. More than a purseSpade's shocking death prompted an outpouring of grief among her fans and her company's customers, including Chelsea Clinton and romance novelist Alisha Rai.
My grandmother gave me my first Kate Spade bag when I was in college. I still have it. Holding Kate's family, friends and loved ones in my heart.
— Chelsea Clinton (@ChelseaClinton) June 5, 2018
I am so sad about Kate Spade. I know to a lot of people bags are bags, but her purses have brought me so much joy (I call my typewriter bag a therapy bag because people like to pet it and smile).I hope she knows how happy she made complete strangers. Much peace, Kate. pic.twitter.com/I0sLbLsinp
— Alisha Rai (@AlishaRai) June 5, 2018 The Council of Fashion Designers of America, which held a star-studded awards ceremony Monday night, posted a statement from Diane von Furstenberg and Steven Kolb saying they were devastated to hear of her death."She was a great talent who had an immeasurable impact on American fashion and the way the world viewed American accessories," the statement said.Last year, Spade and her husband, Andy Spade, spoke with NPR's "How I Built This" about how they developed the company into a major lifestyle brand.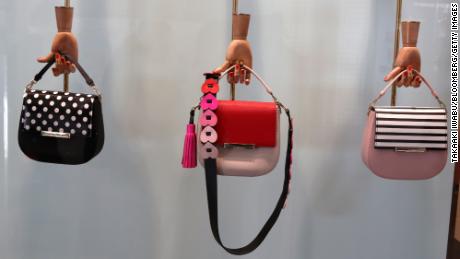 Kate Spade & Co. handbags are displayed this year outside the Lumine Co. shopping center in Yokohama, Japan."So, Andy and I were out, honestly, at a Mexican restaurant," Kate Spade said, "and he just said, what about handbags? And I said, honey, you just don't start a handbag company. And he said, why not? How hard can it be? (Laughter) I thought, OK, really? He regrets those words."Spade's apparent suicide comes as suicide rates in the United States increased from 1999 to 2014 for everyone between the ages of 10 and 74, according to a 2016 study from the Centers for Disease Control and Prevention. For white women, the suicide rate increased by 60% during that period, the study found.
Source Link:
https://www.cnn.com/2018/06/05/us/kate-spade-dead/index.html
[-0.252526]
Comments
comments