Holocaust Memorial Day takes place on Saturday, January 27.
London (CNN)Manfred Goldberg is pessimistic.
As nationalism reverberates across the world and the power of social media grows, he fears that the warnings of the past have fallen on deaf ears.The 87-year-old Holocaust survivor sees a world that has failed to learn from its history, from a past that saw 6 million Jews die at the hands of the Nazis. And in social media, he sees a machine so powerful in spreading hate that it is difficult to see a happy ending. The rise of social media has left Holocaust survivors facing what Goldberg calls "a losing battle."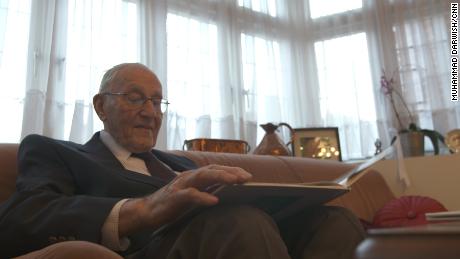 Manfred Goldberg now lives in London with his wife, Shary."Instant communication now means that any single person who wants to propagate his race hatred-infected views can do so much, much, much more effectively than the Nazis back then could ever do," he says."Many years before they gained political power the Nazis initiated and maintained a vicious anti-Semitic propaganda campaign against Jews mainly by the printed word but also by speech railing against Jews at mass meetings.Read More"They did so in the belief that any lie, no matter how vile or abhorrent, would eventually be accepted as truth if it was repeated often enough and powerfully enough."Unfortunately, they were proved correct. The result, as we know, was the Holocaust. And what worries me, tremendously, is that in the name of the freedom of speech, we appear to ignore this lesson of history."Read: Facebook, Twitter face fines up to $53 million over hate speechStory of survivalSitting in his London home, surrounded by photographs of his four children and 12 grandchildren, Goldberg recounts his tale of survival.It is a story he has told many times, especially in recent years with the help of the Holocaust Educational Trust, which educates thousands of students and teachers across the UK.Born into a German Orthodox Jewish family, Goldberg was deported from his hometown of Kassel in central Germany to the Riga ghetto in Latvia before being moved on to a number of different labor camps in German-occupied Poland.
A gas chamber at the Stutthof concentration camp, where Goldberg was held by the Nazis.It was there that he worked laying railway tracks while facing selections where Nazi guards would choose which inmates would live, and who would be murdered.He survived eight months of slave labor in Stutthof concentration camp, where gas chambers were used to kill prisoners and their remains were burned in the nearby crematorium.When Stutthof was abandoned, Goldberg had to endure a death march through awful conditions. He was liberated in Neustadt, Germany, in 1945. His mother, another survivor, traveled with him in 1946 to the UK, where they were reunited with his father, who had escaped Germany just weeks before the war broke out. But his younger brother perished, murdered by the Nazis.'Holocaust denial'Last year, Goldberg returned to Stutthof for the first time since the end of the Holocaust, accompanying the Duke and Duchess of Cambridge on a tour of the camp where 65,000 people lost their lives.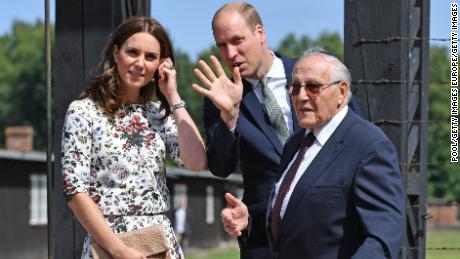 Catherine, Duchess of Cambridge (L), and Prince William, Duke of Cambridge, meet Manfred Goldberg as they visit the former Stutthof Nazi concentration camp during an official visit to Poland.As survivors of the Holocaust grow older, he feels a sense of responsibility to share his story before he leaves this world.And it is a responsibility that grows with each passing day, he says, as those who seek to deny the Holocaust attempt to spread their messages online.
William & Kate walk through the death gates at Stutthof concentration camp with survivors Zigi Shipper & Manfred Goldberg #RoyalTourPoland pic.twitter.com/mr3p5N2s6i
— Rhiannon Mills (@SkyRhiannon) July 18, 2017 "Decades ago when I was young, I did not dream that in my lifetime I would witness a thriving industry of Holocaust denial," Goldberg says."Despite all our efforts to make people aware of the horrors of the Holocaust, I feel under present conditions, with the freedom granted to these race-hating views, we are fighting a losing battle."How can people deny the Holocaust existed?"Anyone can pay a visit to Stutthof — the museum is open to the public — and can see with their own eyes a gas chamber and crematorium as they were 70-odd years ago and yet there are tens, if not, hundreds of thousands, who believe this lie that the Holocaust is a lie from beginning to end, that there never were any gas chambers. It is beyond comprehension but nevertheless it's a fact. "The numbers of people infected by these views can only grow. Once someone has that attitude of mind, facts are irrelevant."'We must not let them get to the top'A five-minute drive from Goldberg's home, fellow survivor Freda Wineman also fears for the future.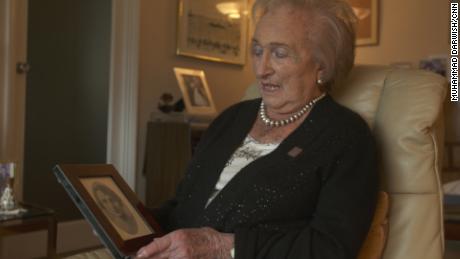 Freda Wineman looks at a photo of her mother who was killed at Auschwitz.A survivor of Auschwitz, where over a million Jews were murdered including her own mother and brother, she too has traveled far and wide to share her story.Even now, at 94, she is as keen as ever to talk, ensuring the lessons of the Holocaust are heeded by future generations."We have to be aware there are some right-wing movements that have to be stopped and eliminated," she says. "We must not let them get to the top because they are evil. Let's hope somebody will fight them. In several countries it has been happening and it is very worrying indeed."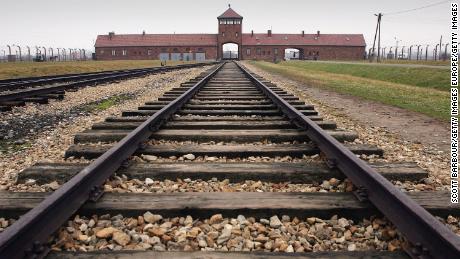 The railway tracks leading to the main gates at Auschwitz-Birkenau.Read: Twitter blocks far-right leader as Germany tightens hate speech lawBut Wineman, who knows Goldberg through the Holocaust Educational Trust, is more positive.Wineman says her meetings with the younger generation have given her hope that her story and those of her fellow survivors will live on.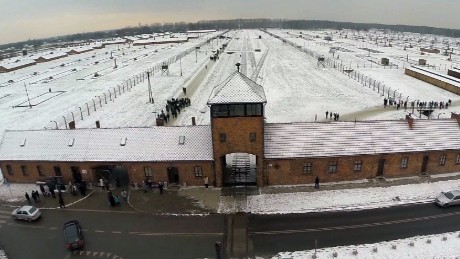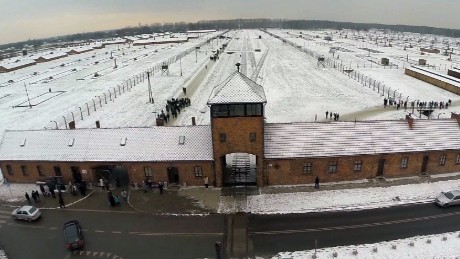 JUST WATCHEDDrone video shows scale of Auschwitz campReplayMore Videos …MUST WATCH
Drone video shows scale of Auschwitz camp 01:45″If we don't live with hope we are finished," says Wineman, who moved to London from her native France in 1950."We have testimonies in many museums and we hope that some of these young people will look up some of these and learn from them. "Of course it won't be the same because they won't hear us speak about it and tell our own experiences. It will be different but we have to trust the future generation," she says. "As long as they learn that tolerance is important, look out for evil and not let it happen, that will be a very good message to us if they can take a lesson from that."
Source Link:
http://www.cnn.com/2018/01/26/europe/holocaust-survivor-fears-deniers-are-winning-intl/index.html
[-0.262558]
Comments
comments