Havana, Cuba (CNN)Before becoming the heir apparent to Cuban President Raul Castro, when Miguel Díaz-Canel was still climbing his way up the ranks of the Communist Party hierarchy in the island's provinces, he earned a nickname that stuck with him: "Día y Noche," or Day and Night.
The moniker came from low-level government employees who found out the hard way that at any hour, Díaz-Canel could show up unannounced to inspect whether workers were actually on the job and not pilfering supplies or taking a nap.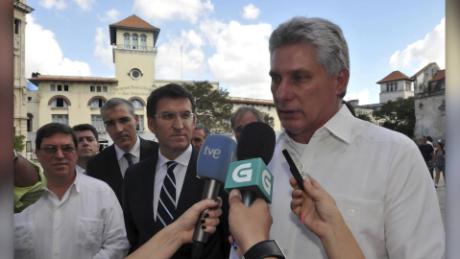 Miguel Díaz-Canel speaks with reporters after voting in the National Assembly elections in March.That fastidiousness and willingness to work around the clock may be key assets after Díaz-Canel was nominated to become the next president of the Communist-run island when Raul Castro, 86, steps down Thursday.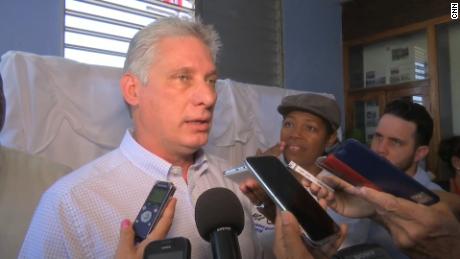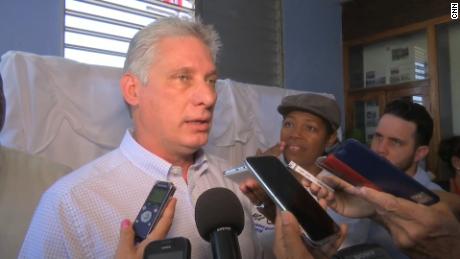 JUST WATCHEDNew assembly to choose post-Castro presidentReplayMore Videos …MUST WATCH
New assembly to choose post-Castro president 02:01It's the first time since the 1959 revolution that Cuba has a head of state not named Castro. And it marks a long-awaited generational transition from the now-aging guerrilla fighters who seized power at the point of a gun to government bureaucrats who have lived their whole life under the Castros' socialist project.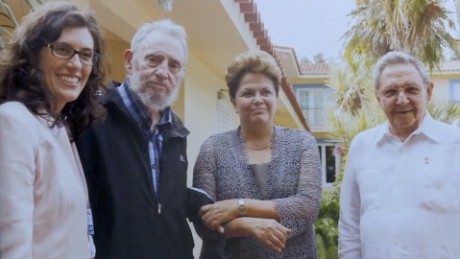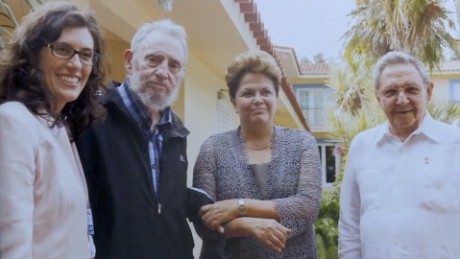 JUST WATCHEDA look Fidel Castro's life (2016)ReplayMore Videos …MUST WATCH
A look Fidel Castro's life (2016) 03:45Read MoreWho would succeed Fidel and Raul Castro has been the subject of intense speculation in Cuba for decades and has led to the fall from grace of more than one official for seemingly vying for the job.A steady ascensionAn electrical engineer by training, Díaz-Canel was born a year after Fidel Castro took power. Tall and gray-haired, with the physique of a former body builder who no longer hits the gym that often, Díaz-Canel speaks in a soft monotone and rarely strays too far from the script in public appearances.But while there were other, more dynamic members of his generation who years earlier appeared to have a better lock on the top job, Díaz-Canel quietly made a name for himself as an efficient administrator while serving as the top Communist Party official for the provinces of Villa Clara and then Holguín, where Fidel and Raul Castro were born.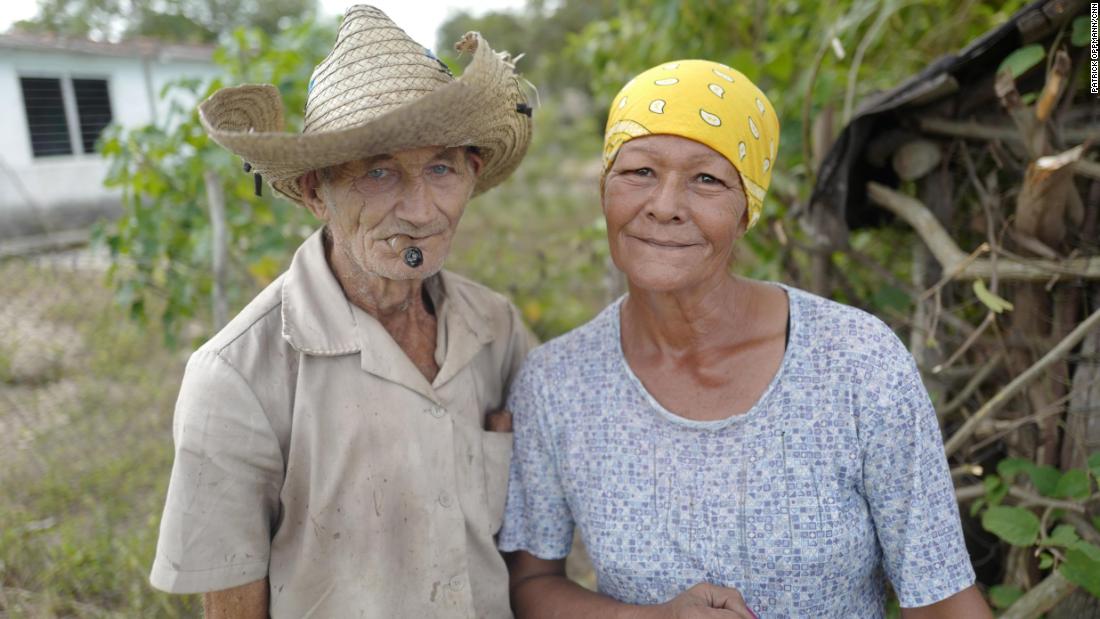 Photos: Inside Raul Castro's CubaA couple in Céspedes, Cuba, pose in front of their home. After he took power in 1959, Fidel Castro promised to improve the lives of people living in Cuba's poverty-stricken countryside. He oversaw literacy and electrification campaigns and built hospitals for the rural poor. In recent decades, though, many Cubans living in the countryside have moved to cities, seeking better housing conditions and more economic opportunities.Hide Caption 1 of 16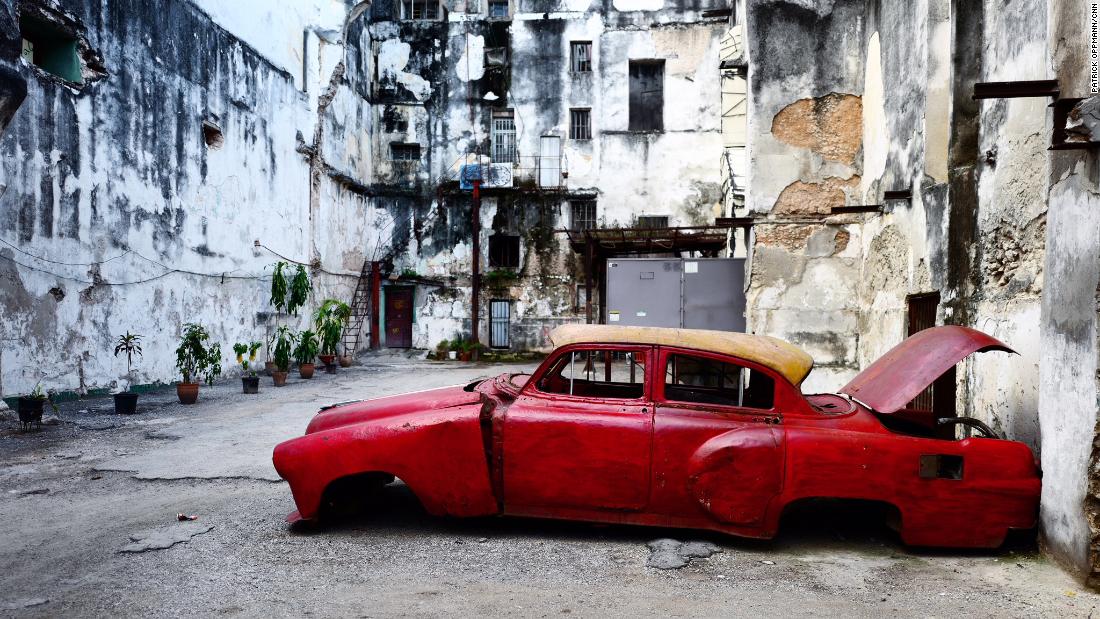 Photos: Inside Raul Castro's CubaAn American car from the 1950s rots in the run-down neighborhood of Centro Habana. Transportation and housing are in short supply in Cuba. Most Cubans still work for the state and barely earn enough to live on, much less afford a luxury item like a car or a better place to live. Cuban officials blame the US trade embargo for Cuba's economic woes. Critics say government inefficiency and poor planning have kept wages low.Hide Caption 2 of 16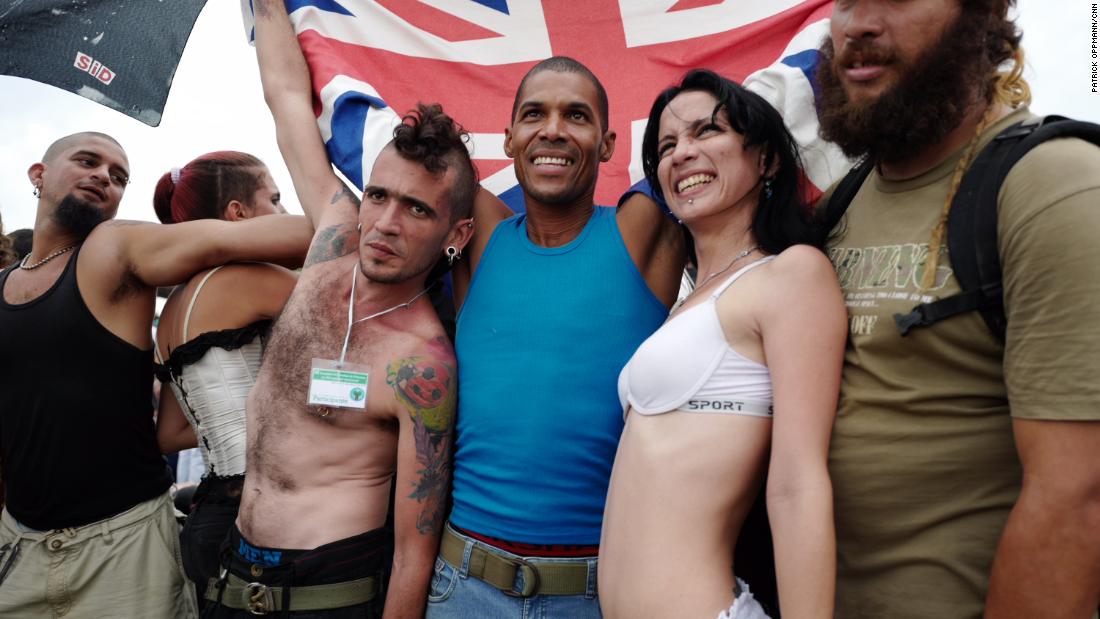 Photos: Inside Raul Castro's CubaCubans get ready to rock at the Rolling Stones' historic concert in Havana in 2016. The band played just days after President Barack Obama visited the island and there was a sense of change sweeping Cuba. In the early years of the Cuban revolution, rock and roll bands like the Rolling Stones were banned for their supposed "ideologically divergent" influences.Hide Caption 3 of 16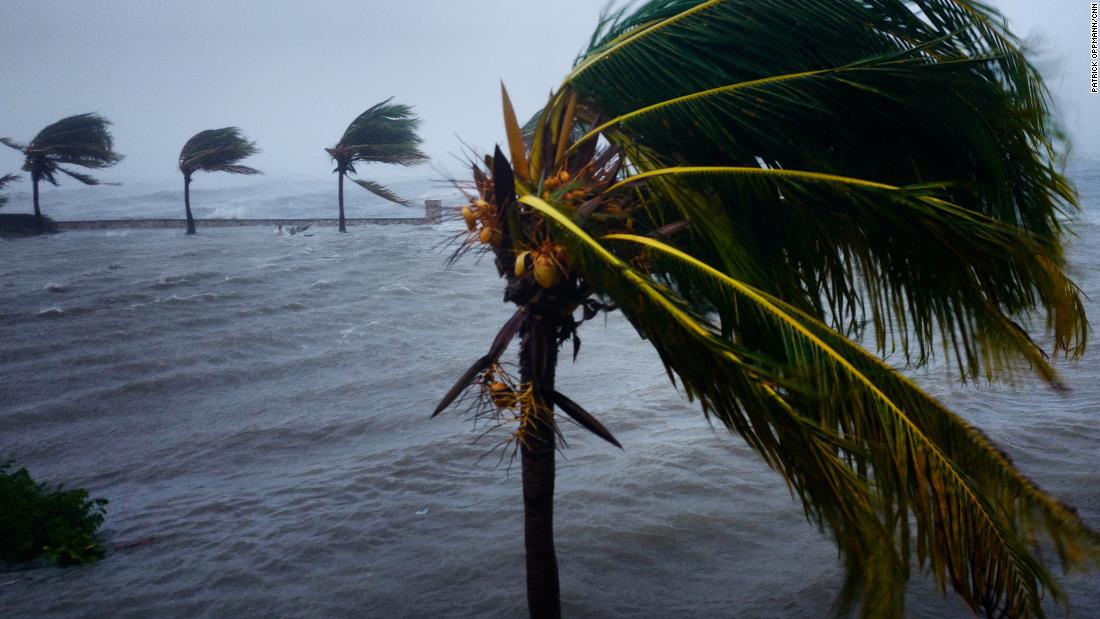 Photos: Inside Raul Castro's CubaHurricane Irma blows down palm trees in Caibairién, Cuba, as the Category 5 storm ravaged much of Caribbean in early September of 2017. The storm wrecked large parts of Cuba's agricultural sector and left thousands with damaged homes. Even though Cubans are proud of their well-organized hurricane preparedness system, Irma overwhelmed the country's efforts. At least 10 people died on the island as a result the storm.Hide Caption 4 of 16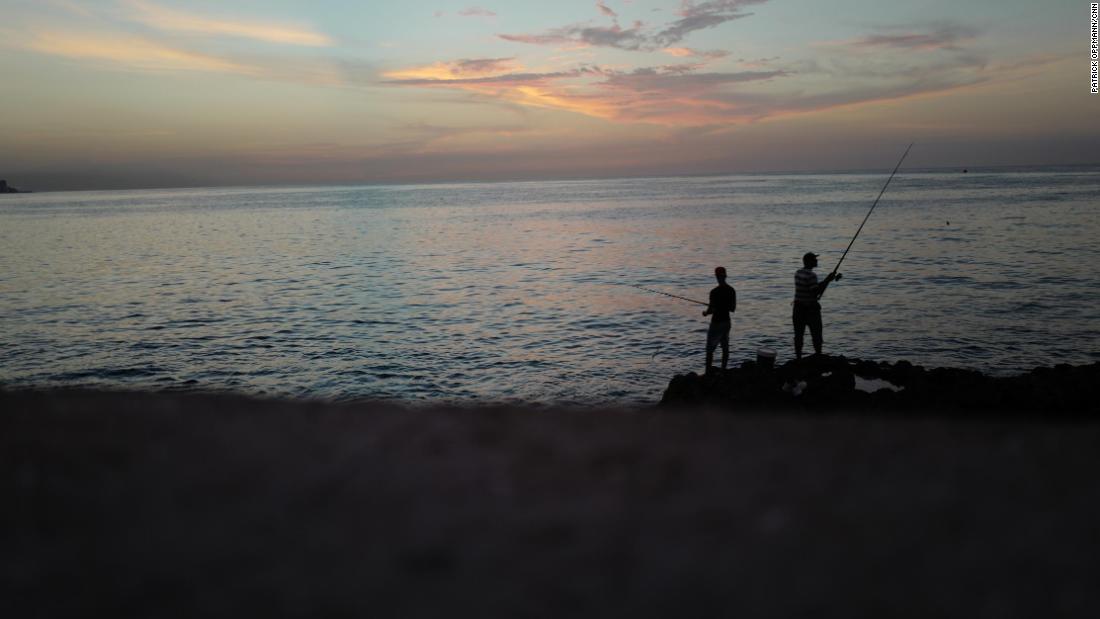 Photos: Inside Raul Castro's CubaCubans fish off Havana's Malecón seawall at sunset. The wall has been used during the years by Cubans launching small boats to attempt the dangerous journey across the Straits of Florida to the United States. Cubans who reached the US were allowed to stay there under the so-called "wet foot, dry foot" law that gave Cubans special immigration status. But in 2017, President Obama ended that policy and Cubans who reach the US are now being sent back to the island.Hide Caption 5 of 16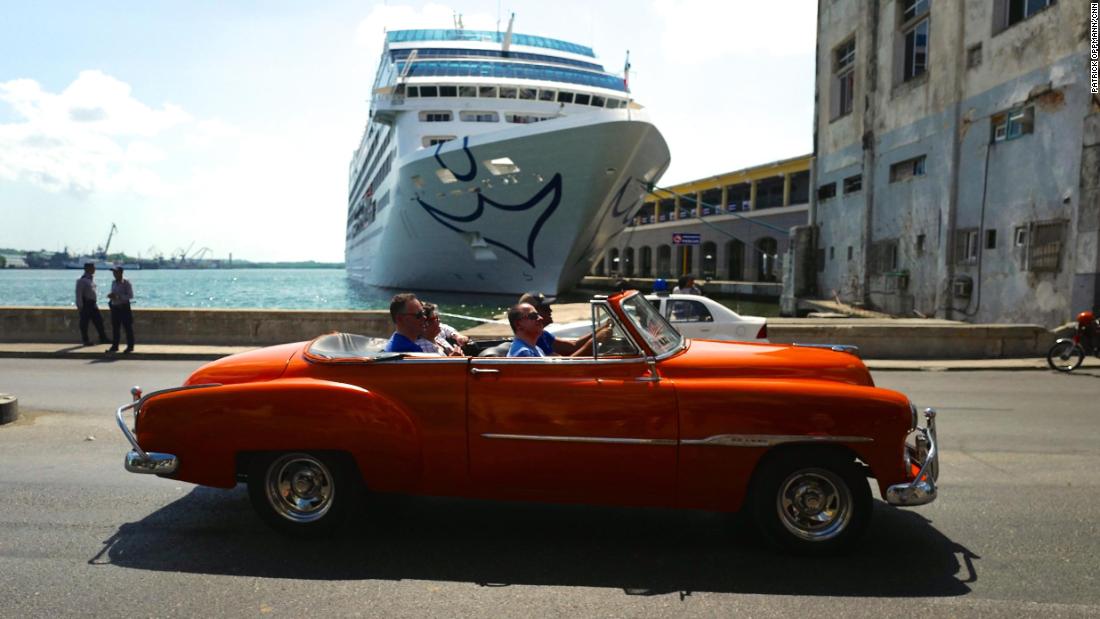 Photos: Inside Raul Castro's CubaA classic American car rolls by the first American cruise ship to visit Cuba in decades. In 2016 the US restarted regular cruise ship service to the island, and for the first time since the Cuban revolution, US visitors came to Cuba in large numbers. Americans are still restricted to "permitted" forms of travel to the island, and President Donald Trump has enacted restrictions on where Americans can stay and spend money, to prevent their dollars from going into the pocket of the Cuban military.Hide Caption 6 of 16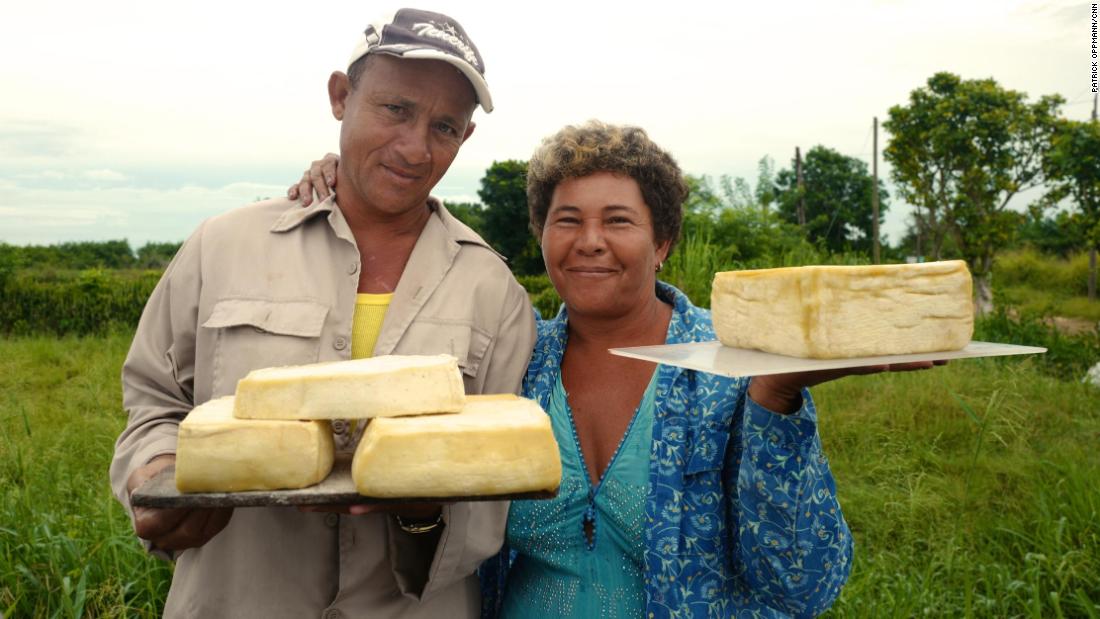 Photos: Inside Raul Castro's CubaCubans sell "highway cheese" by the side of the road in Eastern Cuba. During his 10 years in power, Raul Castro's government created 200 categories of professions in which Cubans can, for the first time, legally work for themselves. These reforms led to hundreds of thousands of Cubans leaving their government jobs to work in the private sector. Still, an untold number of Cubans work in black market or semi-legal jobs that the Cuban government does not recognize.Hide Caption 7 of 16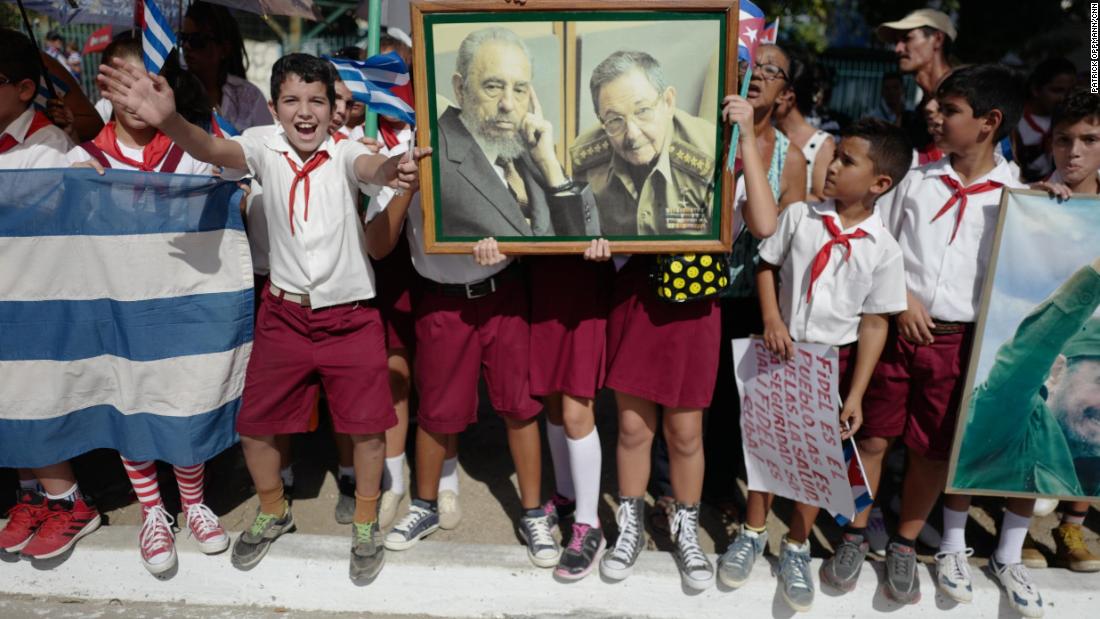 Photos: Inside Raul Castro's CubaCuban students greet Fidel Castro's funeral caravan in 2016 as it traveled through Holguín, Cuba, near where Castro was born. After Castro died at the age of 90, his ashes were driven through the island, retracing the route he took as a young guerrilla leader. Upon taking power, Castro promised democratic elections but instead stayed in office for nearly 50 years.Hide Caption 8 of 16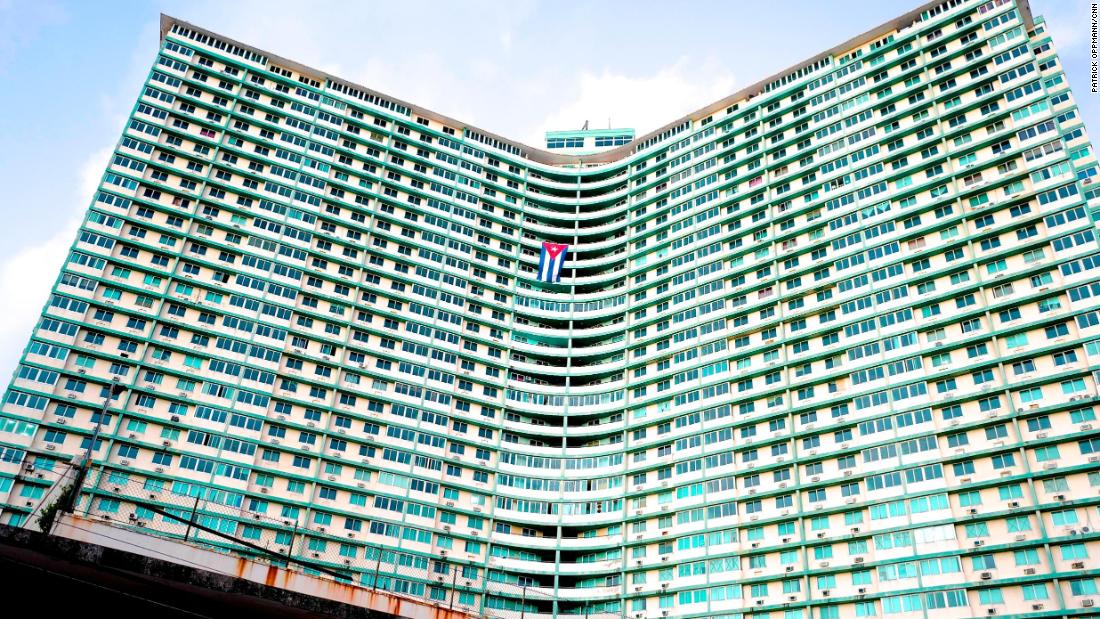 Photos: Inside Raul Castro's CubaA flag hangs from a Havana apartment building on January 1, 2018, the 59th anniversary of the Cuban revolution. The majority of Cubans today were born after the revolution and have only ever known communism and leaders named Castro. When Raul Castro steps down on April 19, his successor is likely to be the first president of Cuba from the post-revolution generation.Hide Caption 9 of 16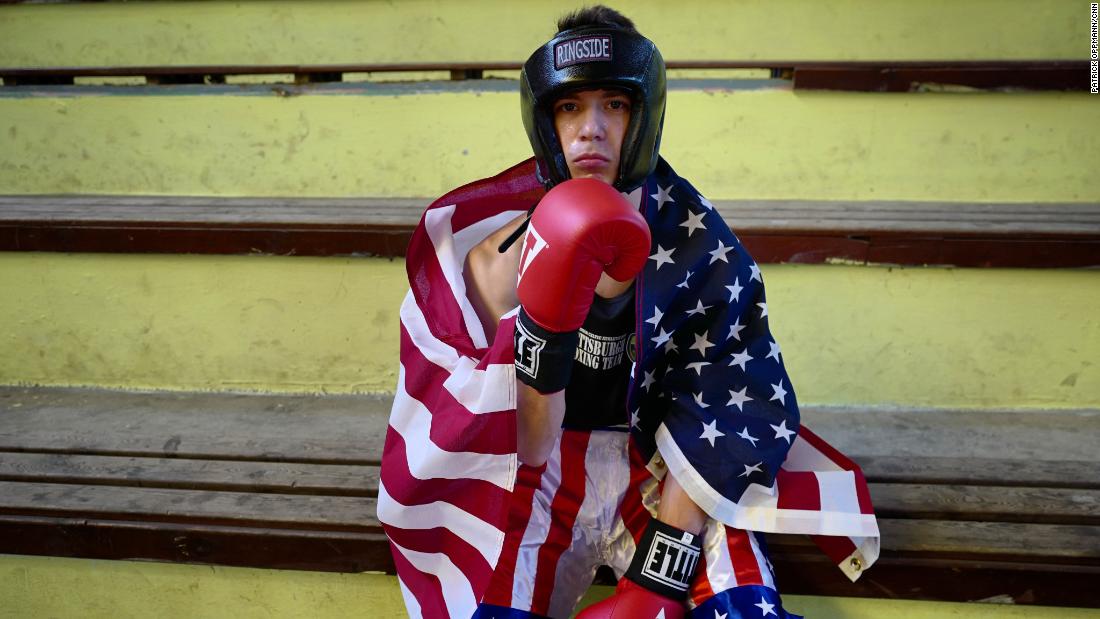 Photos: Inside Raul Castro's CubaA boxer from Philadelphia, Pennsylvania, watches matches between US and Cuban fighters in Pinar del Rio, Cuba. After the revolution, Cuba was virtually cut off from the US for decades. Now, despite the countries' ongoing political differences, there are a flurry of cultural exchanges taking place.Hide Caption 10 of 16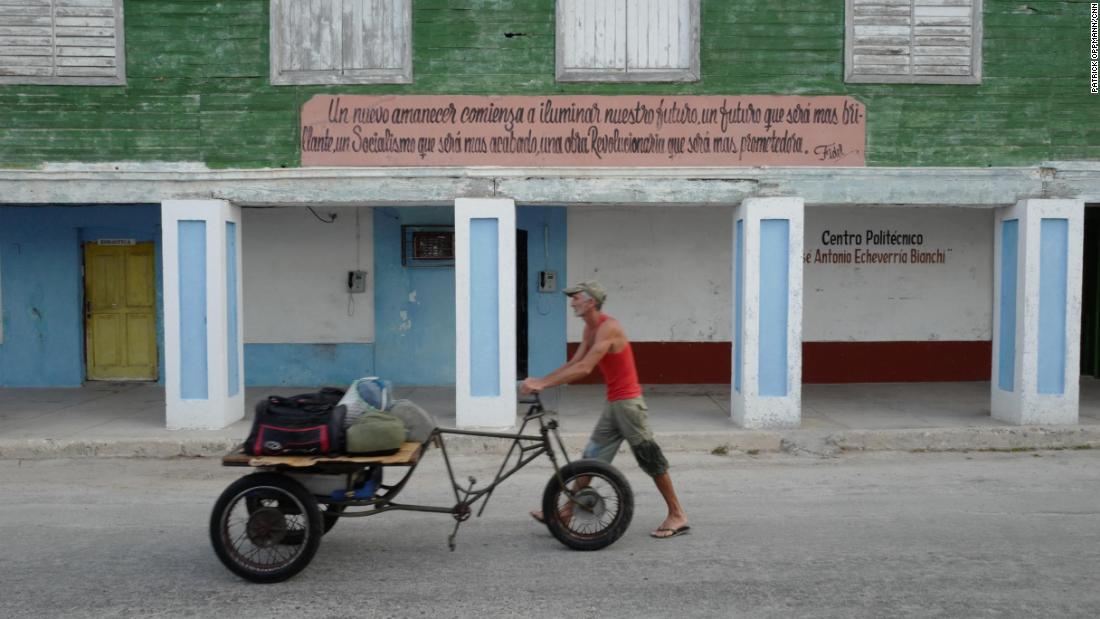 Photos: Inside Raul Castro's CubaA Cuban man wheels his possessions in Gibara, Cuba, under a sign quoting Fidel Castro: "A new dawn shall begin to illuminate our future, a future that shall be more brilliant, a Socialism that shall be more refined, a Revolutionary work that will be more promising."Hide Caption 11 of 16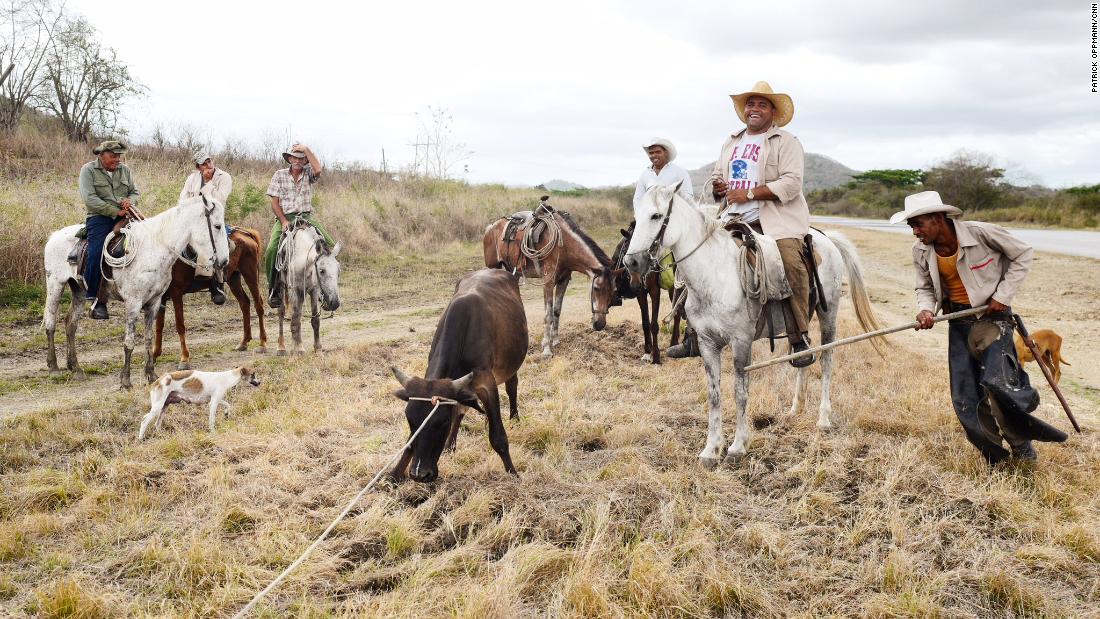 Photos: Inside Raul Castro's CubaCuban cowboys rope a steer near Santa Clara, Cuba. Despite having more land than any other island in the Caribbean, Cuba imports most of its food. The Cuban agriculture sector has struggled since the collapse of the Soviet Union and is plagued by government inefficiency and shortages. Farmers lack basic equipment and all cattle belong to the state.Hide Caption 12 of 16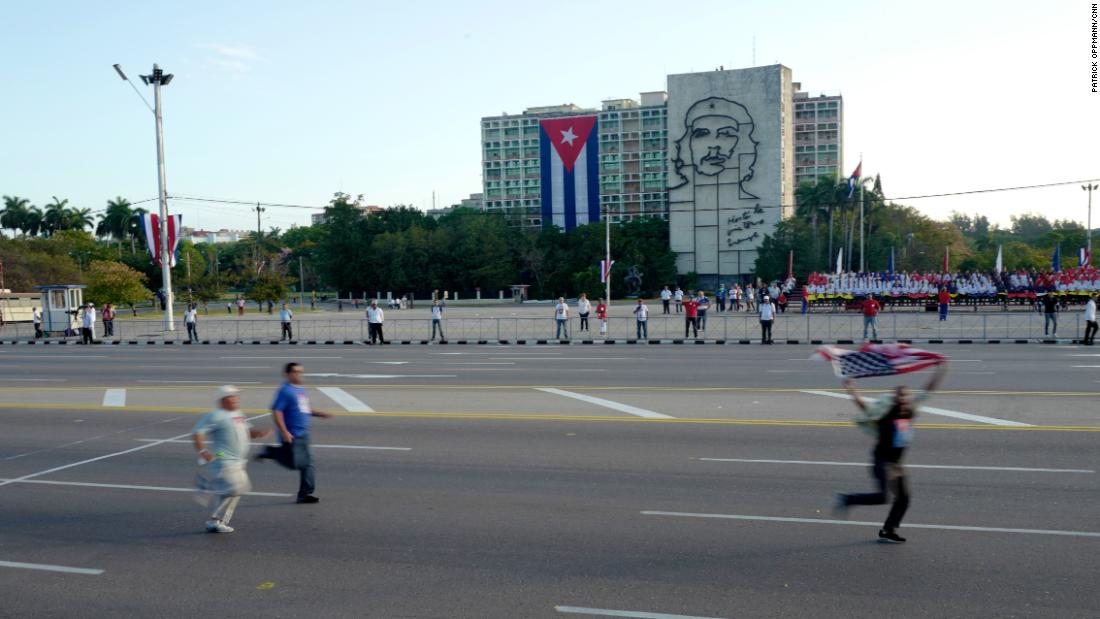 Photos: Inside Raul Castro's CubaA protester carrying an American flag runs through Havana's revolution square on May Day 2017 ahead of a government-sponsored parade as plainclothes Cuban security agents try to catch him. International human rights groups criticize the Cuban government for repressing internal dissent. Cuban officials say the island's dissidents are "mercenaries" paid by Washington to stir up trouble.Hide Caption 13 of 16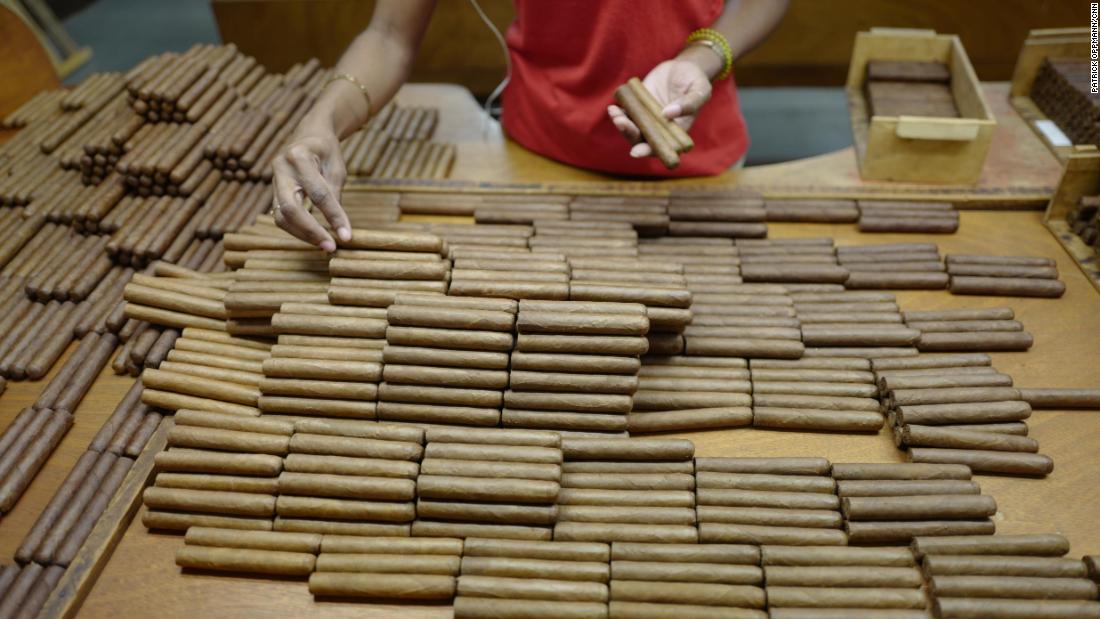 Photos: Inside Raul Castro's CubaA worker at the Partagas factory in Havana sorts some of Cuba's famed cigars to ensure that each box contains tobacco of the same color. Cuban cigars are still rolled by hand as they have been for generations. For years, Cuban cigars were banned in the US, but as part of his shift in policy toward Cuba, President Obama changed the law to allow US citizens to bring habanos back from trips abroad. The US trade embargo still prohibits the sale of Cuban cigars in the US.Hide Caption 14 of 16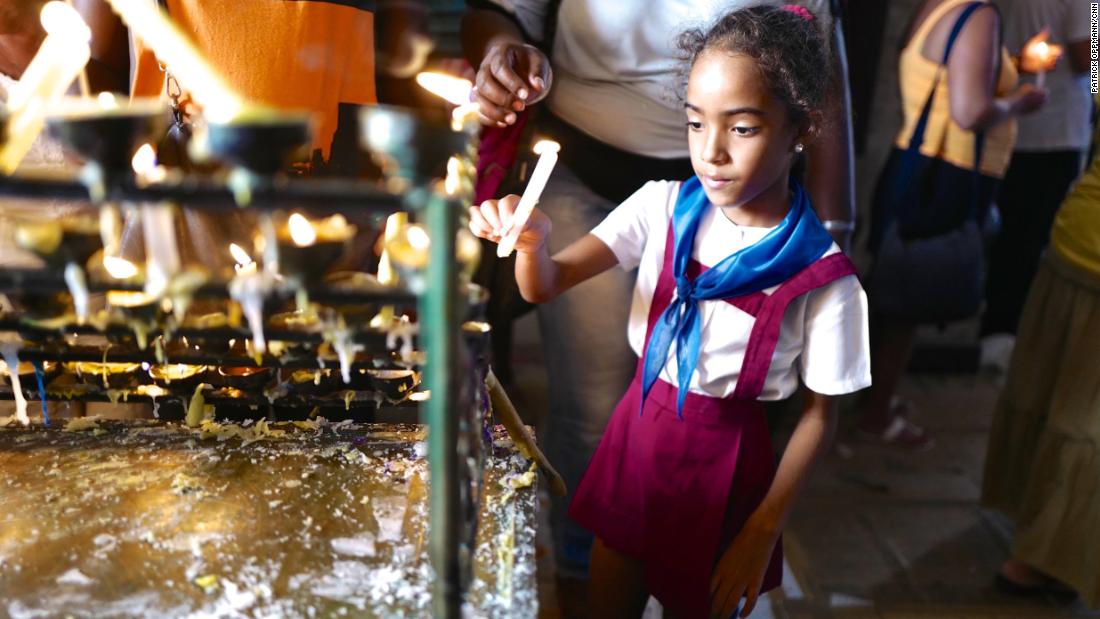 Photos: Inside Raul Castro's CubaA young Cuban girl in her "pioneer" school uniform lights a candle at a Havana church days before the 2015 visit of Pope Francis to Cuba. Religion was all but banned following the Cuban revolution, and Catholics in particular faced government discrimination for openly practicing their faith. Over the last 20 years, the Cuban government has slowly eased restrictions on religion. In 2015, Raul Castro, a longtime atheist, said meeting the Pope made him consider returning to the Catholic church.Hide Caption 15 of 16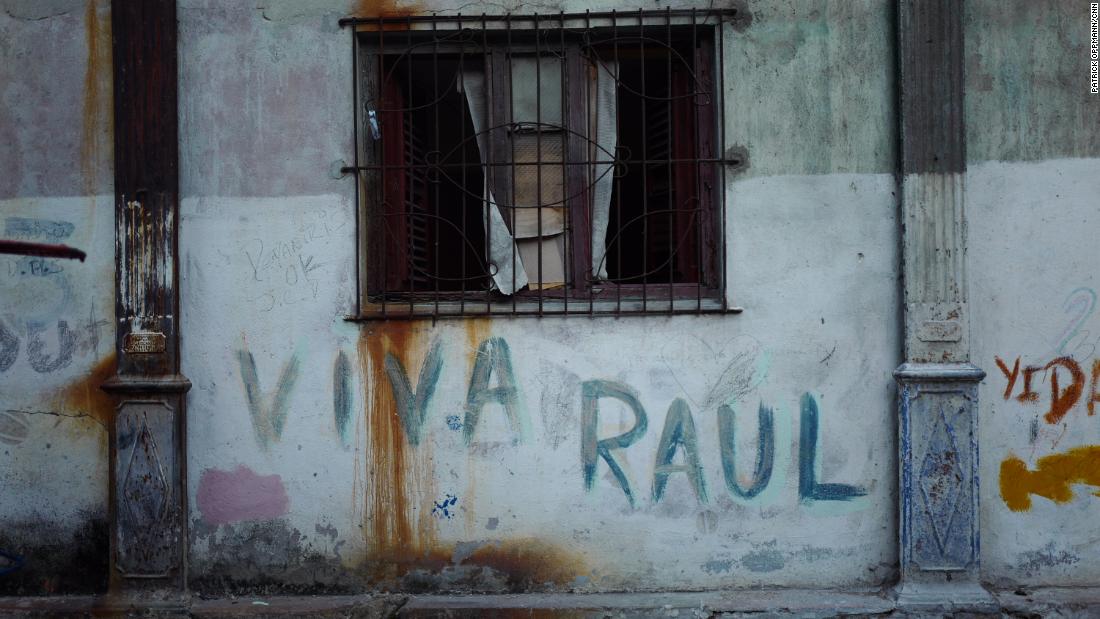 Photos: Inside Raul Castro's Cuba"Long live Raul," reads a pro-government message written on a wall in Havana. Now 86 years old, Raul Castro will step down as president of Cuba on April 19, 2018. Although he will remain as the powerful first secretary of the Communist Party in Cuba, Castro says it is time for the next generation of supporters of the Cuban revolution to take power.Hide Caption 16 of 16















Raul Castro announced in 2013 he would serve a second and final five-year term as president and made clear his thoughts on who should succeed him."Comrade Díaz-Canel isn't upstart or an improvisation," Raul Castro said in a speech to the National Assembly, the government body that elects the president of Cuba. "His trajectory has lasted nearly 30 years."Díaz-Canel was promoted to first vice president and undertook profile-raising trips to represent Cuba at the funeral of close ally Venezuelan President Hugo Chavez and on official visits to fellow communist countries China and North Korea.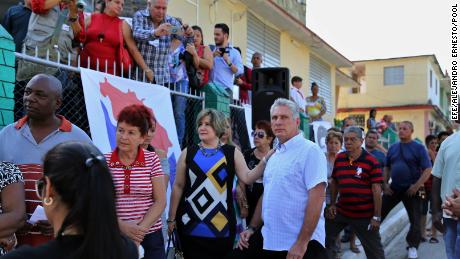 Miguel Díaz-Canel votes in Cuba's National Assembly elections in March.'We are defending our revolution'When Cubans went to the polls in March to vote in single-party, single-candidate elections for the Cuban National Assembly, the international press in Cuba was encouraged by government officials to cover Díaz-Canel as he voted in his hometown of Santa Clara.Díaz-Canel arrived at the polls wearing a short-sleeved shirt and walking hand-in-hand with his wife. Even though he was accompanied by bodyguards, some of whom had previously protected former Cuban President Fidel Castro, Díaz-Canel seemed relaxed and confident.He took his place at the end of the line outside the polling station, greeted men with handshakes and women with kisses on the cheek and posed for selfies with children.Cuban state-run TV had live coverage of Díaz-Canel voting, with the anchor referring to him as Cuba's president before quickly correcting herself."We are defending our process, we are defending our revolution, which continues to be threatened, which continues to be attacked," Díaz-Canel told the cameras after voting.Castro expected to stay on until at least 2021Still, it's an open question as to how much power the new leader actually will exercise.Raul Castro is expected to stay on until at least 2021 as the head of the Cuban Communist Party, which determines the long-term planning for the island's government.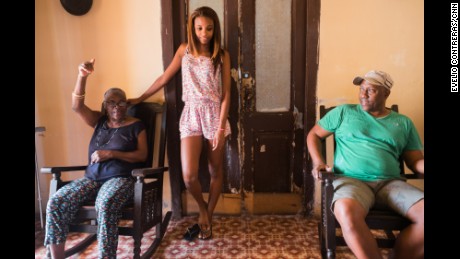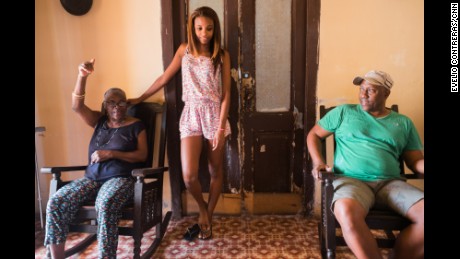 JUST WATCHEDOne Cuban family, 3 generations under FidelReplayMore Videos …MUST WATCH
One Cuban family, 3 generations under Fidel 04:43It will be the first time since the creation of the positions that the head of the party is not also the president of the government in Cuba.It also appears unlikely that Díaz-Canel, who served briefly in the army, will be the top general of the island's army, which oversees large swathes of the Cuban economy.Without his own power base or credentials from fighting in the revolution and subsequent conflicts, Díaz-Canel will have to prove himself as a leader who can bridge the divisions within the Cuban government"He wants consensus," said former Cuban diplomat Carlos Alzugaray. "He is not the kind of guy like Fidel Castro used to be, who imposed consensus."Will Cuba-US relations change?US officials are waiting to see what changes Díaz-Canel will bring to the job.The transition is taking place just as the US reduced staffing at the US Embassy in Havana to the lowest levels in 40 years, following mystery health incidents involving US diplomats.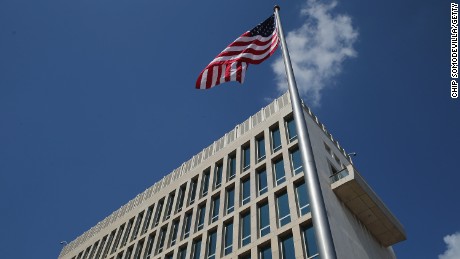 US Embassy in Cuba to reduce staff indefinitely after 'health attacks'And the US-Cuba relationship has again chilled after President Donald Trump said he was "tearing up" former President Barack Obama's deal with the island and imposed further economic sanctions against the Cuban government.Now, the US government has less contact and influence with Cuba — just as US officials are trying to get a sense of what kind of leader Díaz-Canel will be and how much turnover will take place in the upper ranks of the Cuban government."(Díaz-Canel) was not particularly involved in the US relationship," said Ben Rhodes, Obama's deputy adviser for national security, who led the US delegation in secret talks with Cuba to re-establish relations.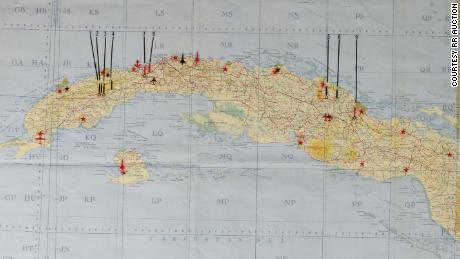 JFK's 'secret' doomsday map revealed "It's not just the person at the top, there's all manner of positions that are going to turn over," Rhodes said. "My concern is that what Trump did is that it was the worst possible timing to empower hardliners in that transition who can now say, 'See, we can't count on the US.'"And despite reportedly having a love for American rock and roll music, Díaz-Canel has increasingly shown himself to be a hardliner when dealing with the US."Sometimes it's inexplicable that a country so big, so powerful, has dedicated so much time, resources, evil and perversity to destroying the revolutionary process," Díaz-Canel said in 2017, as he attended the opening of a museum in Havana showcasing the CIA's plots against the Cuban government. Challenges at homeThe frayed US-Cuban relationship will only be one item on the agenda for the next president of Cuba.A worsening economic crisis in Cuba's key ally, Venezuela, has disrupted vital oil shipments to the island.And Cuban officials apparently still cannot work out a solution to unifying the island's two currencies, which has hobbled the already faltering economy.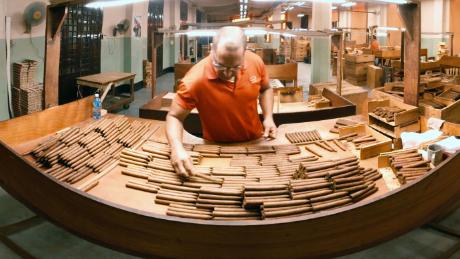 Inside a Cuban cigar factoryFree-market reforms initiated by Raul Castro that allowed thousands of Cubans to go into the private sector have been rolled back after officials complained of a rise in wealth disparity and corruption.Frustrated by a lack of opportunities and low wages, young Cubans are still moving away from Cuba.All those problems and more await Cuba's new leadership."It must be a very difficult thing to be the president of Cuba," said Vicki Huddleston, a former head of the US diplomatic mission in Cuba. "You have a bureaucracy full of great people who are afraid to do anything. It's a top-down situation. Everything has to come back to you."
Source Link:
https://www.cnn.com/2018/04/18/americas/cuba-new-leader-miguel-diaz-canel-profile/index.html
[-0.339858]
Comments
comments