(CNN)A crowdfunding campaign launched by U.S. animation distributor Sentai Filmworks to support Kyoto Animation has raised more than $2 million. The Japanese studio was a victim of an arson attack Thursday leaving 34 people dead.
"As support continues to pour in from around the world, we remain dedicated to aiding those impacted by this tragedy in the most appropriate and effective ways possible," says John Ledford, president of Sentai Filmworks, in a statement posted to their twitter page. "We established this GoFundMe drive to help build that bridge through all of your generous support."
Help us help our friends at Kyoto Animation by donating (if you can) or sharing: https://t.co/Fg599lm5Dy
— Sentai 🌞 Filmworks (@SentaiFilmworks) July 18, 2019 Among the more than 62,000 contributors is software company Adobe, which anonymously donated $50,000 to the campaign, according to a report from ITmedia News. An Adobe spokesperson confirmed the donation to ITmedia and said, "Kyoto animation is one of the centers of not only Japan but also the world's creative community." Adobe did not immediately respond to a CNN request for comment.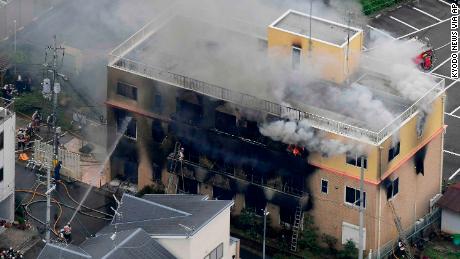 Suspected arson attack on Kyoto animation studio leaves 33 dead in Japan's worst mass killing in decadesPolice in Japan are investigating why a man torched a renowned animation studio in what is being described as the country's worst mass killing in almost 20 years.Read MorePolice have identified 41-yer-old Shinji Aoba as the suspect who started the fire, accusing him of using gasoline to torch the studio. The suspected arson attack left anime fans the world-over grieving the loss of life and a studio, which claimed to put its employees first and was a major force in the industry.Fushimi police have not released the names of the victims, most of whom are women. Kyoto Animation's CEO Hideaki Yata told reporters last week the company had received death threats in the mail, which had been sent to the police, and expressed sorrow that workers in the industry had been targeted.Founded in 1981, Kyoto Animation, also known as KyoAni, has developed a reputation around the world for being an unique workplace that produced animation series and published anime novels, comics and books, according to its website. As one of Japan's well-known studios, it's more notable works include "Free!," manga series "K-On!," the anime TV adaptation of "the Melancholy of Haruhi Suzumiya" and "Violet Evergarden," which Netflix picked up in 2018.KyoAni have opened a dedicated account for donations on their website. The company says, "we will do our best to rebuild."
Source Link:
https://www.cnn.com/2019/07/24/us/crowdfunding-campaign-for-kyoto-arson-victms-trnd/index.html
[-0.603614]
Comments
comments