Country music star Eric Church is calling out the gun lobby for blocking efforts to reduce gun violence, especially mass shootings.
"I blame the lobbyists," Church told Rolling Stone. "And the biggest in the gun world is the NRA."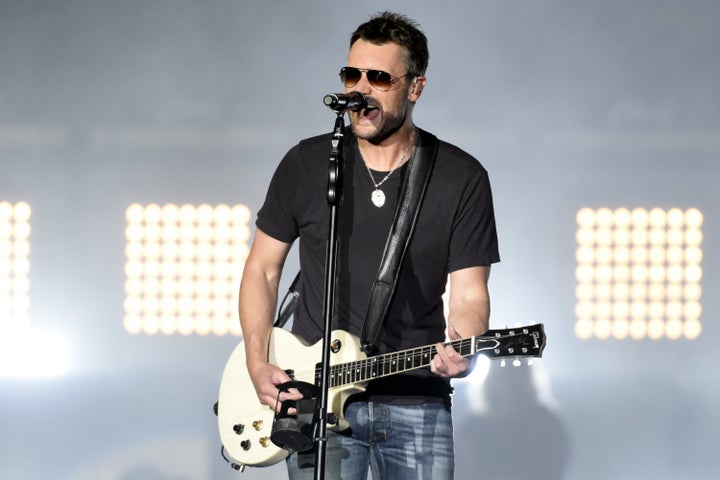 Tim Mosenfelder via Getty Images Eric Church was a headliner at the Route 91 Harvest festival last year, the same event where a mass shooting claimed the lives of 58 people.
Church was one of the headliners at the Route 91 Harvest festival in Las Vegas last year, and performed on Sept. 29. Two nights later, Stephen Paddock opened fire on fans attending the festival from his room at the Mandalay Bay hotel. He killed 58 people and injured some 800 others. Church's fans were among the victims.
"It wrecked me in a lot of ways," Church told Rolling Stone. "Something broke in me that night, and it still hasn't healed. There's a part of me that hopes it haunts me forever."
Church, who's a gun owner, described himself as "a Second Amendment guy."
"That's in the Constitution, it's people's right, and I don't believe it's negotiable. But nobody should have that many guns and that much ammunition and we don't know about it. Nobody should have 21 AKs and 10,000 rounds of ammunition and we don't know who they are. Something's gotta be done so that a person can't have an armory and pin down a Las Vegas SWAT team for six minutes. That's fucked up."
However, Church also supports gun control measures such as closing the gun-show loopholes, improving background checks and banning bump stocks.
"As a gun guy, the number of rounds [the shooter] fired was un-fucking-believable to me," he said. "I saw a video on YouTube from the police officer's vest cam, and it sounded like an army was up there. I don't think our forefathers ever thought the right to bear arms was that."
Church blamed the NRA for blocking reform.
"There are some things we can't stop," he said. "Like the disgruntled kid who takes his dad's shotgun and walks into a high school. But we could have stopped the guy in Vegas."
RELATED… Here Are The Autopsies For The Victims Of The Las Vegas Mass Shooting 14 More Lawsuits Filed In Aftermath Of Las Vegas Shooting What We Know About The Las Vegas Shooting Victims Download
Source Link:
https://www.huffingtonpost.com/entry/eric-church-nra-gun-control_us_5b5ab81de4b0b15aba97224c
[-0.63006]
Comments
comments