(CNN)The cast of Starz dramedy "Vida" knows what life is like for Latinx creatives in Hollywood.
So when members of the Congressional Hispanic Caucus, in town for a two-day visit to Los Angeles, stopped by the set on Thursday, the cast didn't shy away from telling them their truth. "I think the reason why 'Vida' has done so well is because it's a show about Latinos written by Latinos," actress Chelsea Rendon told a table that included Texas Rep. Joaquin Castro and California Rep. Jimmy Gomez. "That's a problem in Hollywood and a barrier they need to break down. They want to give us diversity on screen but that stems from behind the scenes." View this post on Instagram
Honored to have Congressmen @joaquincastrotx and @jimmygomezca visit us on the set of #VidaSTARZ today.
She said the nuisances often seen on "Vida" are not things that otherwise would be there were the show not been written and led by Latino creators. Case in point: the show's political visitors stopped by hours before the cast was going to film a big party scene, referred to in the show as a "queerceañera," a play on the word quinceañera. (The storyline sees a character named Marcos throwing himself a "double quince" for his 30th birthday.) Read More"Vida," currently in production on its third season, has been praised for its portrayals of the Latinx and LGBTQ communities. Earlier this year, it won the National Hispanic Media Coalition's (NHMC) Impact Award for outstanding television series and a GLADD Media Award.The show is comprised of an all Latinx cast and writing staff, and Season 2 was directed solely by Latina directors, as will the entirety of Season 3.A stop by the "Vida" set was one of 15 meetings members of the caucus were set to take during their trip. Also on the books was meetings with Paramount Pictures, Universal Studios, Netflix, Walt Disney Studios, Sony Pictures Entertainment, and Warner Bros., as well as agencies and guilds.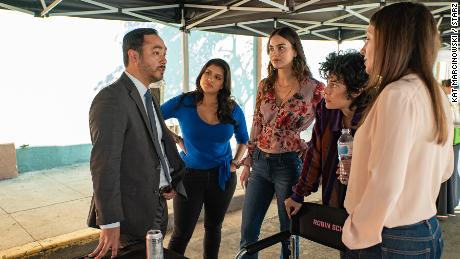 Rep. Joaquin Castro on the set of 'Vida'The goal was to learn more about what Castro sees as one of many crucial issues for the Caucus to tackle. Speaking to the cast, Castro, a Democrat, zeroed in on the portrayals of Latinos in film and television. A study out of USC Annenberg earlier this year found that 28% of Latino characters seen in films were criminals. "It's important that when folks are on television or film that the community is represented in a balanced way," Castro said. Showrunner Tanya Saracho agrees because she sees a direct correlation between art and policy. "We are creating culture and that affects perspective and eventually that can change legislation," she told CNN. "I think it's not just TV we're making — not when you're brown people. When you're brown people and you get to make a show like this, it's a political act." She added: "I'm excited they're paying attention because we are part of the ecology of this country. I'm so glad they're seeing what dire state we're in but also how much value we have."
Source Link:
https://www.cnn.com/2019/11/08/entertainment/vida-starz/index.html
[0.513195]
Comments
comments