(CNN)The global climate crisis could see more than a billion people displaced from their homes in the next 30 years, as ecological disasters drive mass migrations and greater armed conflict, according to a new report released Wednesday.
The Ecological Threat Register, conducted by the Sydney-based Institute for Economics and Peace (IEP), projected that as many as 1.2 billion people around the world could be displaced by 2050. No country will be able to escape the impact of the climate crisis — but the world's poorest and most vulnerable populations will be hardest hit.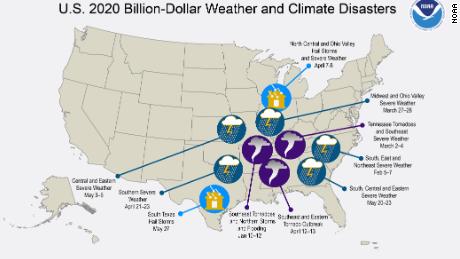 US hits 10th billion-dollar weather disaster of the year — at a record pace"Ecological threats and climate change pose serious challenges to global development and peacefulness," the report said. "The world's least resilient countries, when faced with ecological breakdowns, are more likely to experience civil unrest, political instability, social fragmentation and economic collapse."The report drew on data from international organizations like the United Nations, the Internal Displacement Monitoring Centre, the Food and Agriculture Organization, and the IEP's prior research on countries' resilience levels. Using these figures, the IEP then calculated the relative threats of population growth, water stress, food insecurity, droughts, floods, cyclones, and rising temperature and sea levels.It found that more than a billion people lived in 31 countries that had low resilience — meaning they aren't equipped to withstand the impact of ecological change in the coming decades.Read MoreThe regions facing the highest number of threats are Sub-Saharan Africa, South Asia, the Middle East and North Africa, the report said."Not all of these people will be displaced, however it is likely that a large number of them will be," said the IEP.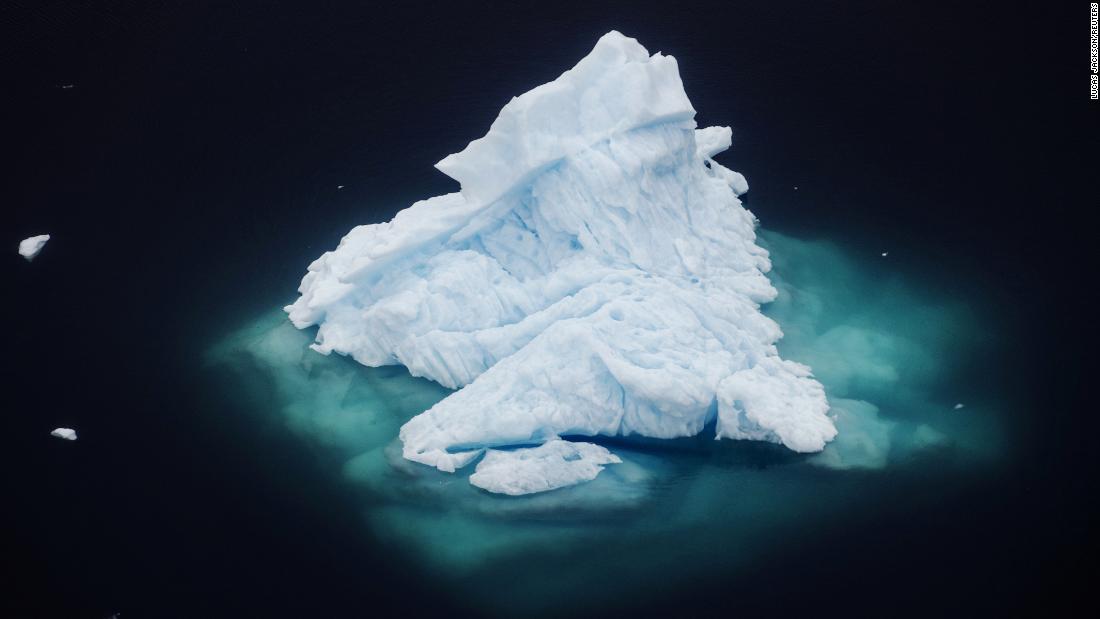 Photos: This is what climate change looks likeAn iceberg floats in a fjord near the town of Tasiilaq, Greenland, in June 2018. Greenland is often considered by scientists to be ground zero of the Earth's climate change. The massive island is mostly in the Arctic, which is warming twice as fast as the rest of the planet. Melting ice from Greenland's ice sheet is the largest contributor of all land sources to the rising sea levels that could become catastrophic for coastal cities around the world. "Seeing the size of these icebergs in the water was like looking at entire city blocks floating around," Reuters photographer Lucas Jackson said.Hide Caption 1 of 11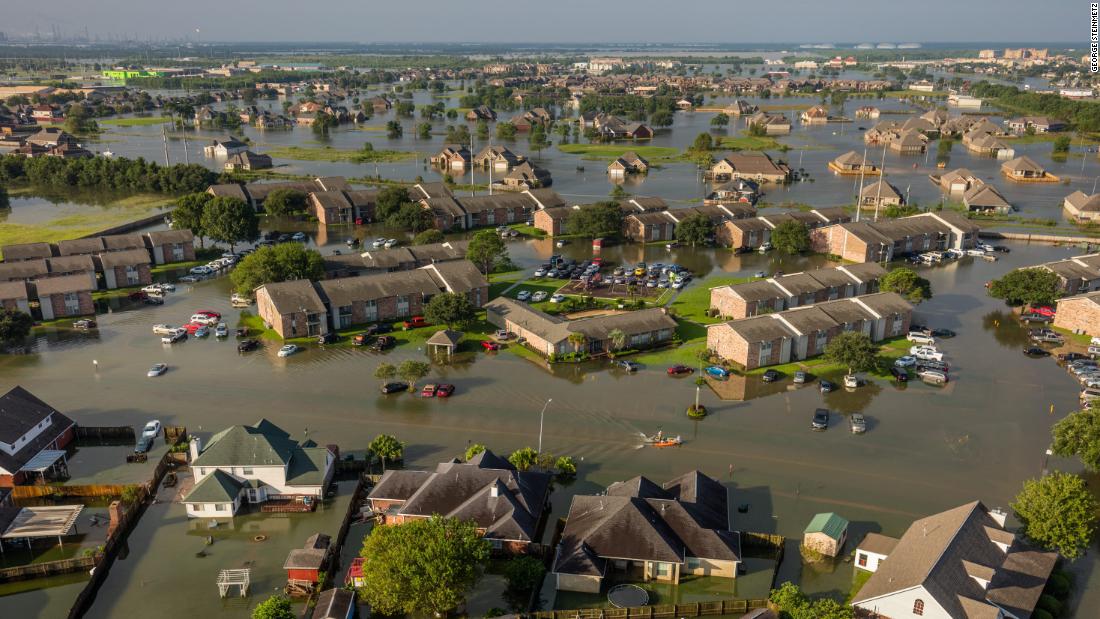 Photos: This is what climate change looks likeA neighborhood is flooded in Beaumont, Texas, a day after Hurricane Harvey came ashore in August 2017. The Category 4 storm caused historic flooding. It set a record for the most rainfall from a tropical cyclone in the continental United States, with 51 inches of rain recorded in areas of Texas. An estimated 27 trillion gallons of water fell over Texas and Louisiana during a six-day period. "Warmer sea water from our changing climate is causing tropical storms to be more wet and powerful," photographer George Steinmetz said.Hide Caption 2 of 11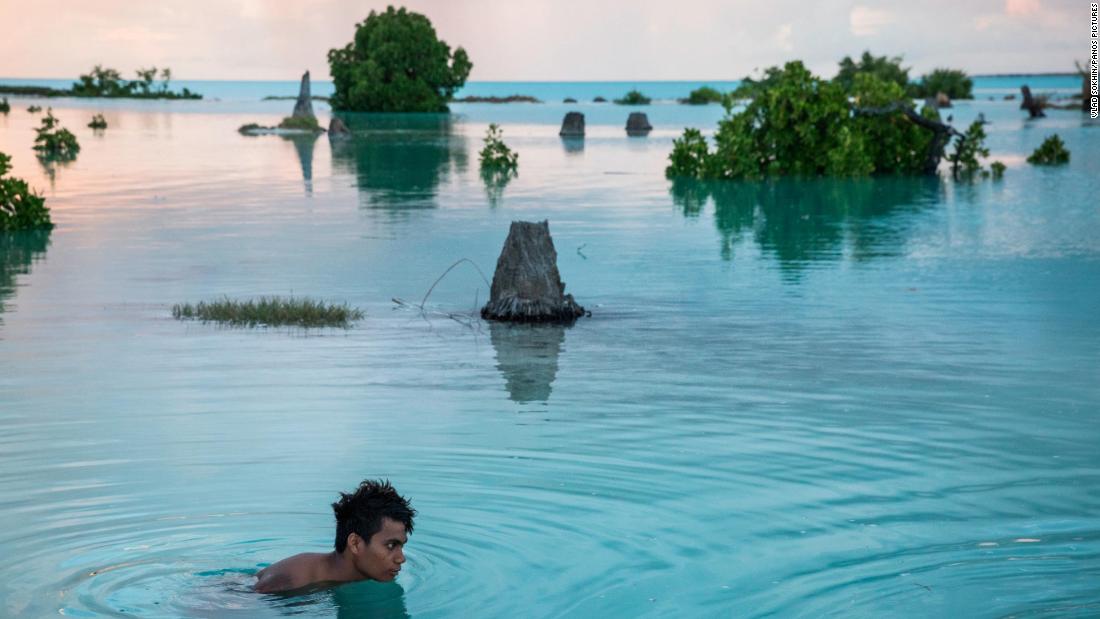 Photos: This is what climate change looks likePeia Kararaua, 16, swims in a flooded area of Kiribati's Aberao village. Kiribati is one of the countries most affected by sea-level rise, photographer Vlad Sokhin said. During high tides many villages become inundated, making large parts of them uninhabitable. This photo was taken in an area that, when dry, is a soccer field. "Prior to this, a man moved his vehicle from the lower part of the field to the higher point, and the vehicle ended up being parked on an 'island' when the water came," Sokhin said. "Young people started swimming there and playing when I took this shot. It was strange to see such a scene: happy kids swimming along the remains of the dead palm trees."Hide Caption 3 of 11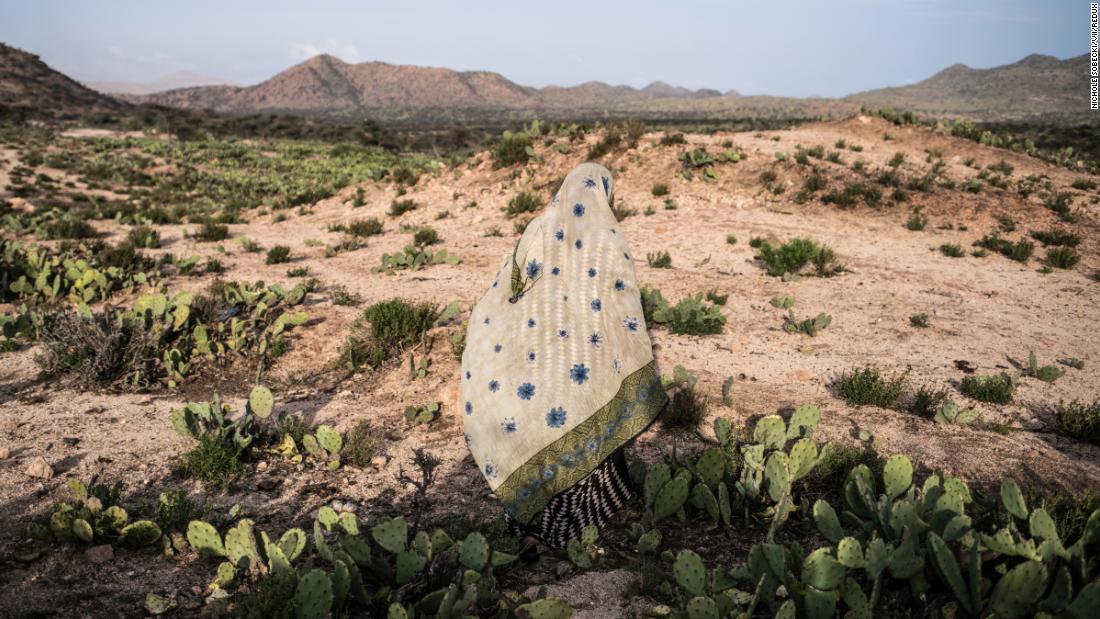 Photos: This is what climate change looks likeA woman walks through a cactus field in a drought-stricken area of western Somaliland, a breakaway state from Somalia. "In 2016 I came across a group of women washing their clothes in a roadside puddle — the only water they could find," photographer Nichole Sobecki said. "We spoke for a while of the challenges they faced, of the animals they'd lost in the drought, and the wells that had dried up. Somalia has long been a place of extremes, but climate and environmental changes are compounding those problems and leading to the end of a way of life."Hide Caption 4 of 11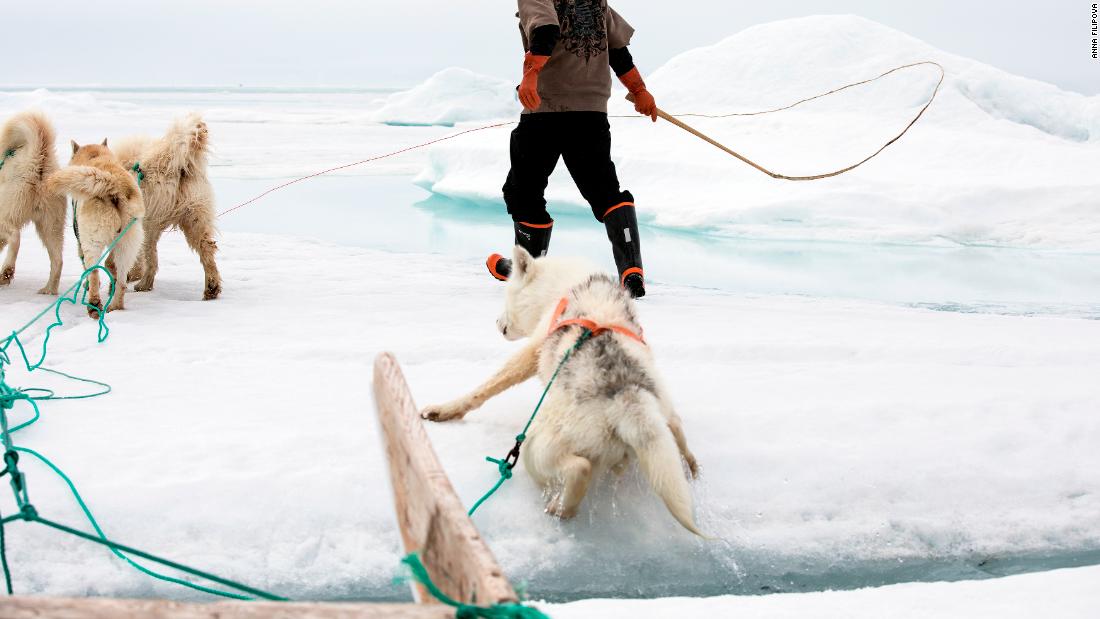 Photos: This is what climate change looks likeJorgen Umaq and his dogs traverse an icy area near Qaanaaq in northern Greenland. It is one of the northernmost towns in the world. Because ice thickness there has been declining, hunters like Umaq can't travel as far as they could before, said photographer Anna Filipova. "Navigating this terrain was dangerous and difficult," she said. "We needed to manually move the sledge and twice needed to rescue the dogs who had fallen into the cracks in the sea. … Each year, people lose their lives on the sea ice because of fast-changing conditions."Hide Caption 5 of 11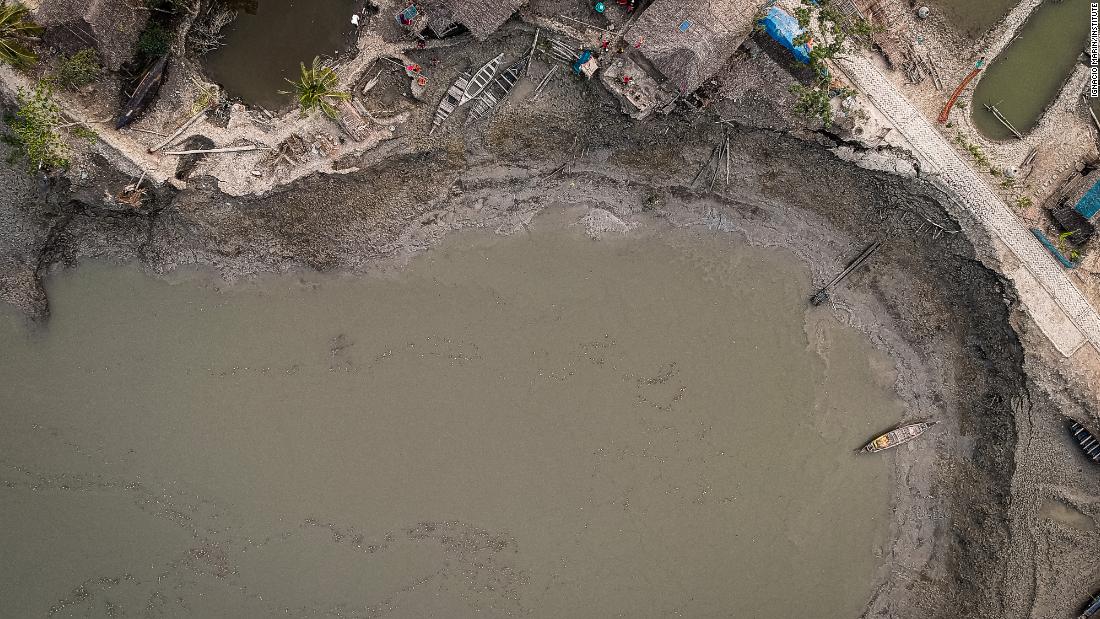 Photos: This is what climate change looks likeBangladesh was recently ranked by research firm Maplecroft as the country most vulnerable to climate change, due to its exposure to threats such as flooding, rising sea levels, cyclones and landslides as well as its susceptible population and weak institutional capacity to address the problem. This aerial photo, taken by Ignacio Marin, shows where some homes used to be before the river washed them away. "From where I was standing, at the riverbank, it was hard to imagine that there were nine houses where I could only see water," Marin said. "So I decided to fly the drone. Only then, watching the area from above, I realized the scale of the disaster."Hide Caption 6 of 11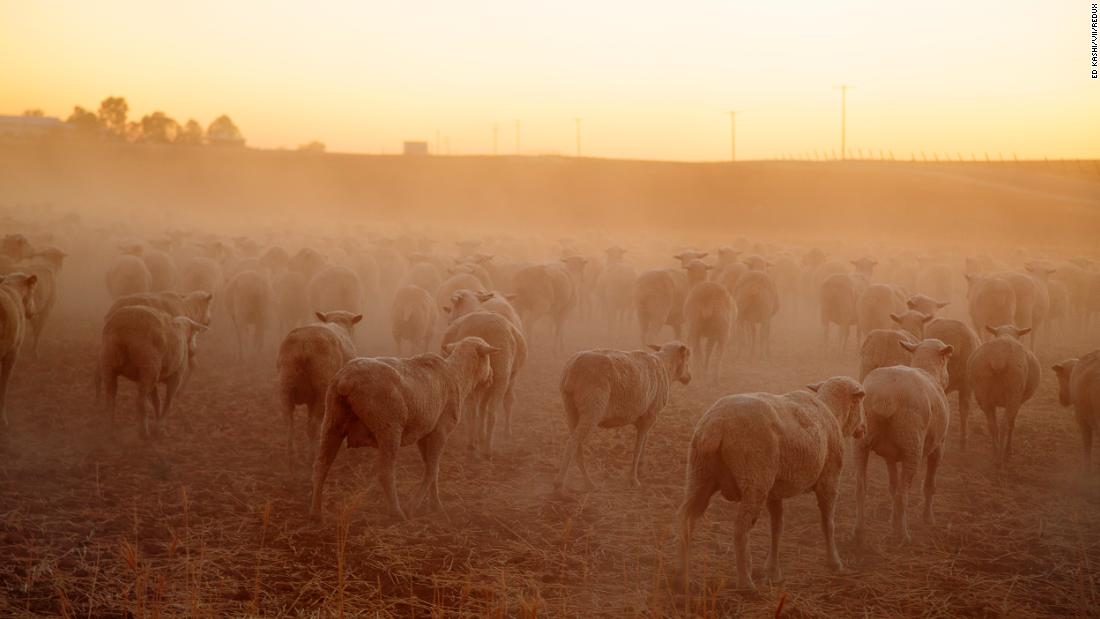 Photos: This is what climate change looks likeSheep graze in the dry, dusty fields of Farmersville, California. "This image was made in 2014 while working on a short film about the ongoing drought in California," photographer Ed Kashi said. "Tens of thousands of acres of arable land was turning to dust, massive orchards were being ripped out due to a lack of irrigation water, and farmers and ranchers who for generations had worked this land were wondering if their way of life was sustainable." Intense droughts like the one that plagued California this decade are becoming more likely due to global warming.Hide Caption 7 of 11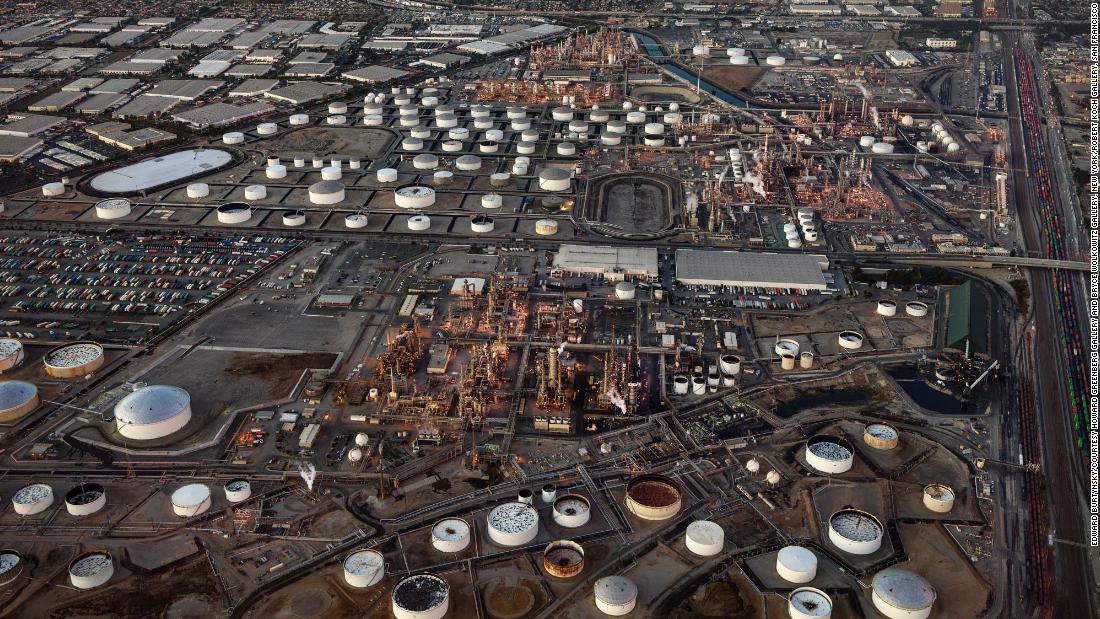 Photos: This is what climate change looks likeOil refineries are seen in Carson, California, in this 2017 photo taken by Edward Burtynsky for The Anthropocene Project, which explores how humans have contributed to climate change and the state the planet is in today. Part of the project includes a film, "Anthropocene: The Human Epoch," that opens September 25 in 100 theaters across the United States.Hide Caption 8 of 11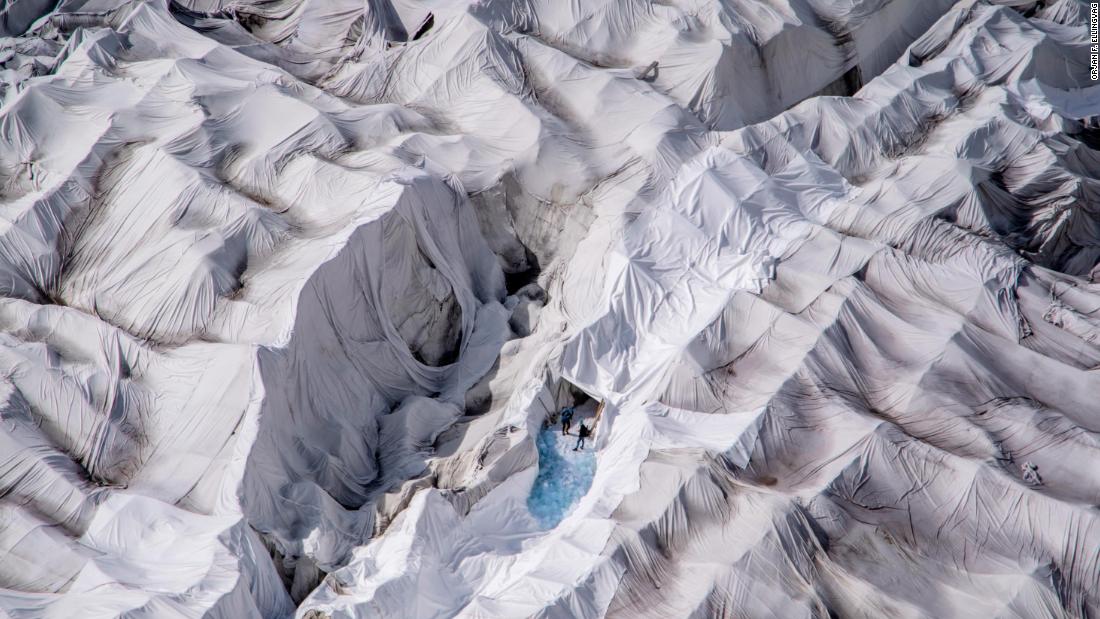 Photos: This is what climate change looks likeTwo people are seen at an ice cave entrance on the Rhone Glacier in the Swiss Alps. Every summer, the glacier is covered with huge sheets of white fleece blankets to slow down its melting, according to photographer Orjan F. Ellingvag. "The fleece-covered cave attracts more and more tourists worried about global warming and wanting to see the remnants of a dying glacier," Ellingvag said.Hide Caption 9 of 11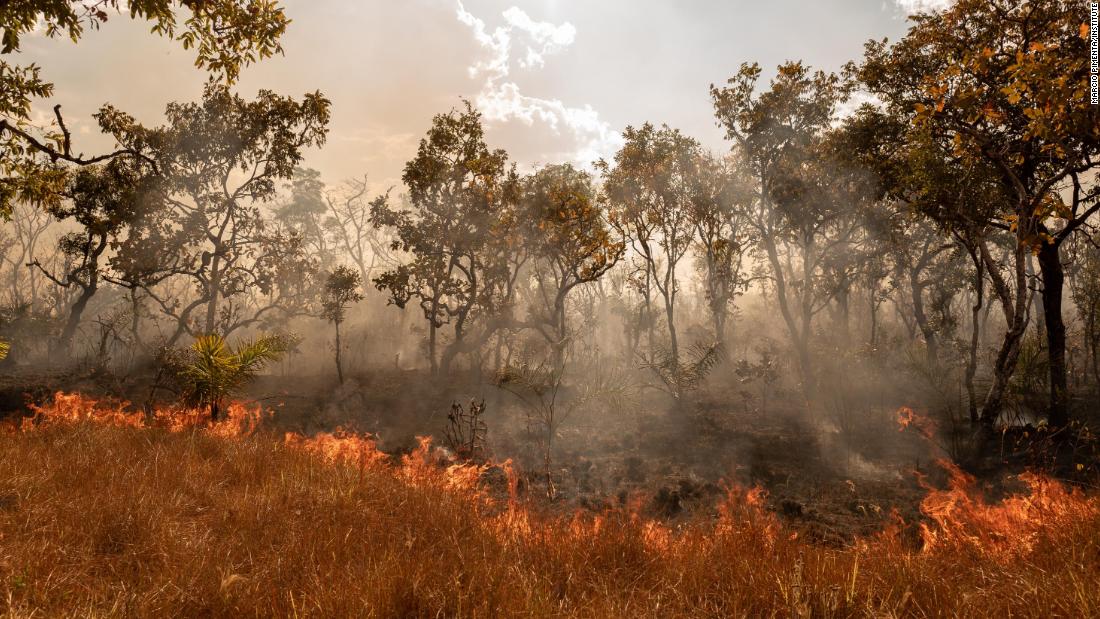 Photos: This is what climate change looks likeA wildfire burns in Tocantínia, Brazil, in September 2018. In the Cerrado region, wildfires are common for two reasons, said photographer Marcio Pimenta. One is extreme heat. The other is farmers clearing space for soybeans and livestock.Hide Caption 10 of 11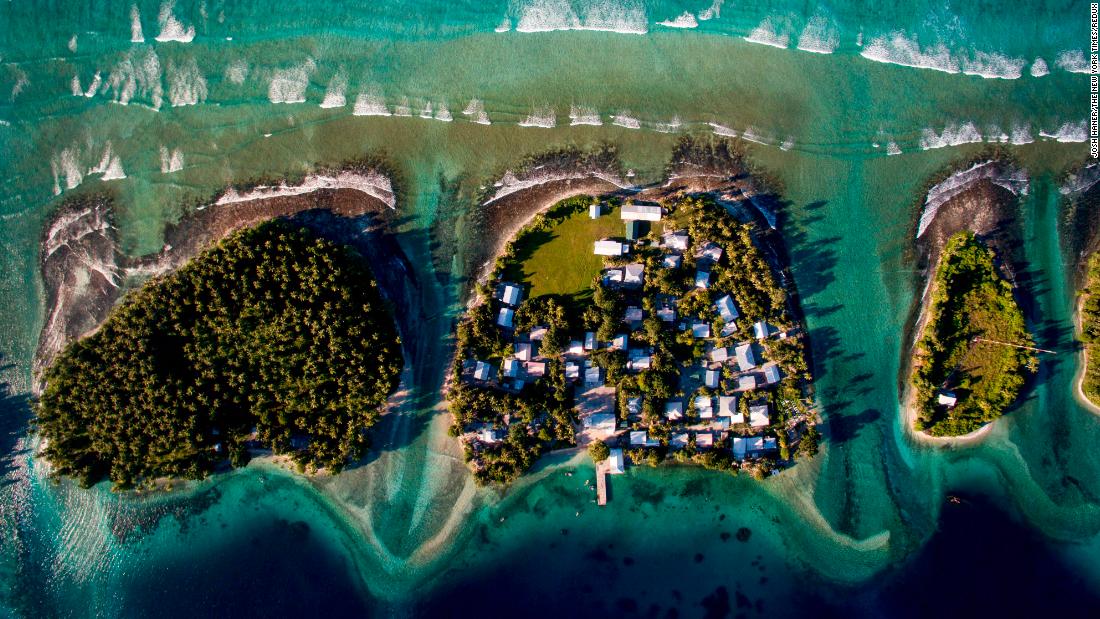 Photos: This is what climate change looks likeThis aerial photo shows Ejit, an islet in the Marshall Islands, in 2015. The islands are threatened by rising seas. "I flew a drone above the island showing just how precarious its location is: Homes clinging to the edge of an eroding coastline as unrelenting waves chisel away at what remains," said Josh Haner, a photographer with The New York Times. "After I saw what was happening on Ejit, I realized that climate change is not something nebulous that will only start affecting us in the future, but rather something happening right now. Residents are being forced to make the most difficult decision: Do they stay and build sea walls to buy some more time, or do they relocate?"Hide Caption 11 of 11











Better-resourced countries in places like North America and Europe will be more able to manage the effects of these disasters — but they'll likely face huge flows of climate refugees, the report warned."This will have huge social and political impacts, not just in the developing world, but also in the developed, as mass displacement will lead to larger refugee flows to the most developed countries," said IEP founder Steve Killelea in a news release, adding that ecological change was "the next big global threat to our planet."Food and water scarcityThe global population currently stands at 7.8 billion. That number is expected to reach 10 billion by 2050 — straining the world's already stretched natural resources, the report said, citing data from the UN's Department of Economic and Social Affairs.Most of this population growth is expected to take place in countries with ongoing armed conflict, like those in Sub-Saharan Africa, the report said. Citing research from the global non-profit organization World Resource Institute, the report projected that by 2050, global demand for food will increase by 50% and 3.5 billion people could suffer from food insecurity.Water scarcity may be an even bigger issue — already, there are more than 2.6 billion people facing high or extreme water stress, meaning they either don't have enough water for their needs or that their water supply is at risk of disruption, the report said.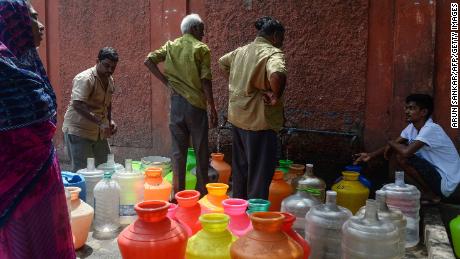 India's sixth biggest city is almost entirely out of waterClimate change has caused disrupted rainfall, rising temperatures, and other ecological impacts that are already creating water crises — in 2019, Chennai, India's sixth biggest city, nearly ran out of water. Water had to be trucked in daily from other states, with people standing in line for hours in the sun to fill up jugs with their daily water ration.By 2040, a total of 5.4 billion people — or more than half of the world's projected population — will live in countries facing high or extreme water stress. India and China, the world's top two most populous countries, will be among those countries, the report said.It could also spell even greater violence and conflict, which not only destabilizes economies and governments but drives mass migration. In the past decade alone, water-related violent incidents have increased by 270% worldwide, the IEP said, citing water solutions company WorldWater.Natural disastersRecent years have seen dramatic increases in natural disasters around the world, which experts have long warned are the symptoms of a worsening climate crisis — raging wildfires in California, heat waves across Europe, fears of a dam collapse in China and a record-breaking hurricane in the southern United States.Asia-Pacific has been the most affected region; 29% of all natural disasters in the past 30 years have taken place there, the study found. Europe had the second highest numbers of natural disasters globally.In 2019, India faced the largest population displacement due to natural disasters, with 5 million people having to leave their homes, the study said. Globally, natural disasters displaced 25 million people last year — and the number will likely keep rising, the research team found.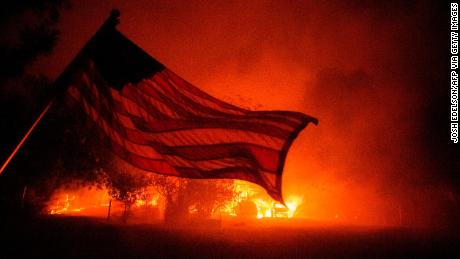 Hurricanes, fires, floods and locusts: Science says climate change is here but the RNC refuses to believeAnd these natural disasters strike hardest in poorer countries; they kill seven times more people in the least developed nations than in highly developed ones, the report found, using socioeconomic indicators from the IEP's previous research on ecological resilience. It's not because the disasters in poorer countries happen more frequently or with greater severity — but because those nations are less able to handle the shock. All these threats combined will create a migration crisis that can then cause spinoff effects like heightened political instability, global insecurity and greater hostility toward immigrants.International cooperation and foreign climate-related aid will be essential in mitigating these effects and helping developing countries build better resilience, the report said. This type of international aid has already increased 34 fold from 2000 to 2018 as the full extent of the crisis became clear — but they still "fall well short of what is needed to address these issues going forward," the report warned.
Source Link:
https://www.cnn.com/2020/09/10/world/climate-global-displacement-report-intl-hnk-scli-scn/index.html
400 Bad Request
Request Header Or Cookie Too Large
Comments
comments