Cindy McCain, along with her family, honored her late husband, Sen. John McCain (R-Ariz.), at a ceremony at the Arizona Capitol on Wednesday.
She sat with her family during the memorial service for her husband, who died Saturday at the age of 81. After speeches honoring him for his service to the country, Cindy McCain walked up to his flag-covered casket and gave it a small kiss.
She expressed heartbreak on Twitter over her husband's death, writing that she was "lucky to have lived the adventure of loving this incredible man for 38 years" and sharing a photo of a floral arrangement placed at his seat in the U.S. Senate in memoriam.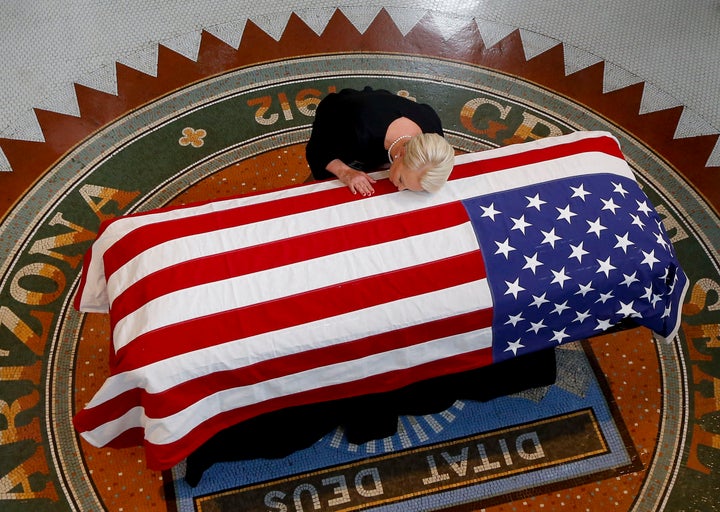 ROSS D. FRANKLIN / Getty Images Cindy McCain kisses the casket of her husband, Sen. John McCain, during a memorial service in Phoenix at the state Capitol, Aug. 29.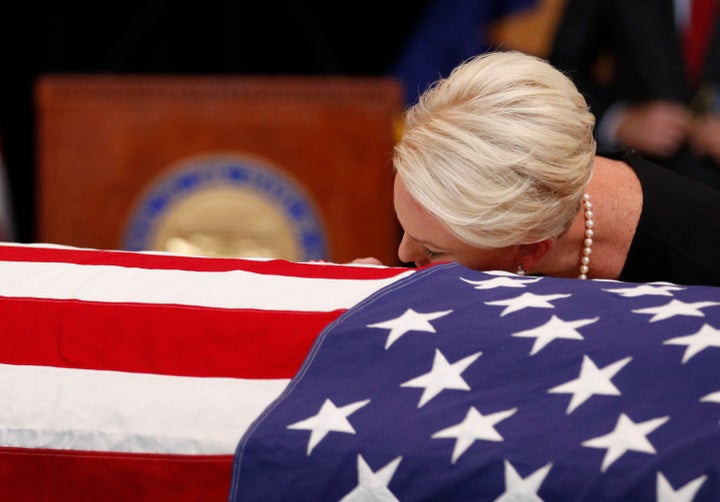 Pool / Getty Images Cindy McCain
Meghan McCain, the couple's eldest child and a co-host of "The View," was visibly emotional upon seeing her father's casket brought into the rotunda, leaning on one of her brothers for support. She has been a public face for the family over the last year while John McCain battled cancer.
"I'm the luckiest person in the entire world," she said when he was a guest on the show in October. "We are such a family that's filled with blessings. We have such a bond and such a love, and I'm so grateful for that."
Another memorial will be held in Arizona for him on Thursday before his body is taken to the U.S. Capitol Rotunda for a ceremony on Friday.
See more photos from the service below.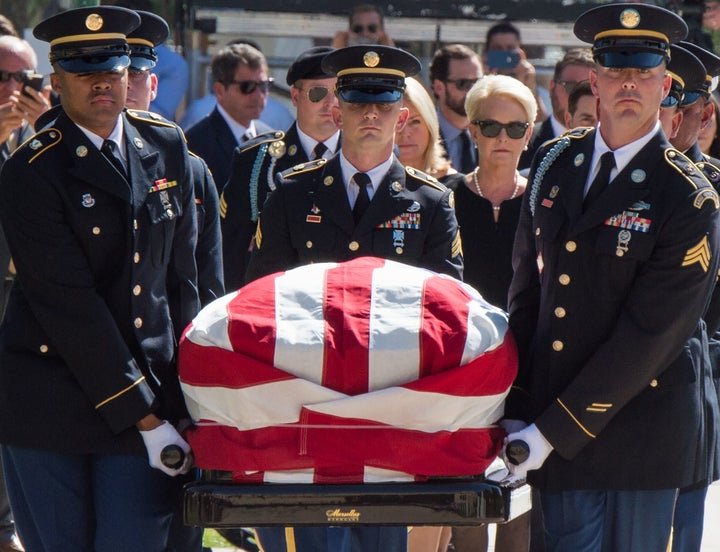 ROBYN BECK / Getty Images Members of the Arizona National Guard carry John McCain's casket to the state Capitol Rotunda, followed by Cindy McCain, Aug. 29.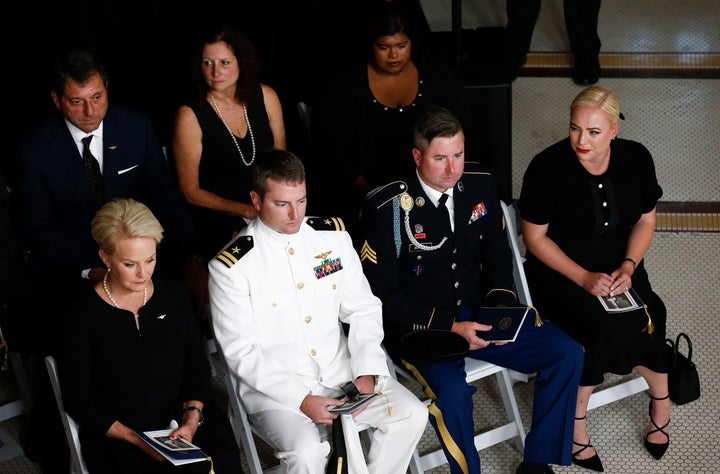 ROSS D. FRANKLIN / Getty Images (Front row, from left) Cindy McCain and her children Jack, Jimmy, Meghan and (second row, far right) Bridget McCain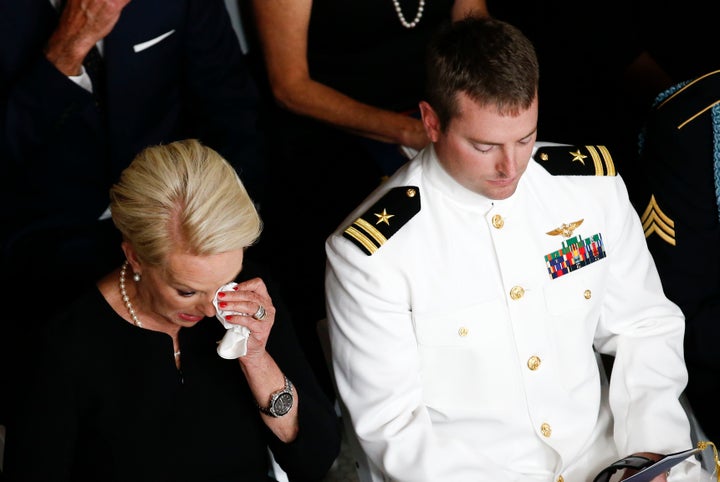 ROSS D. FRANKLIN / Getty Images Cindy and Jack McCain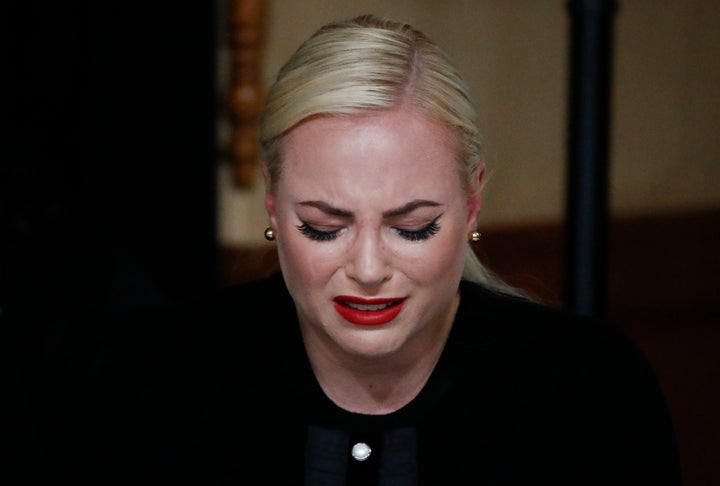 JAE C. HONG / Getty Images Meghan McCain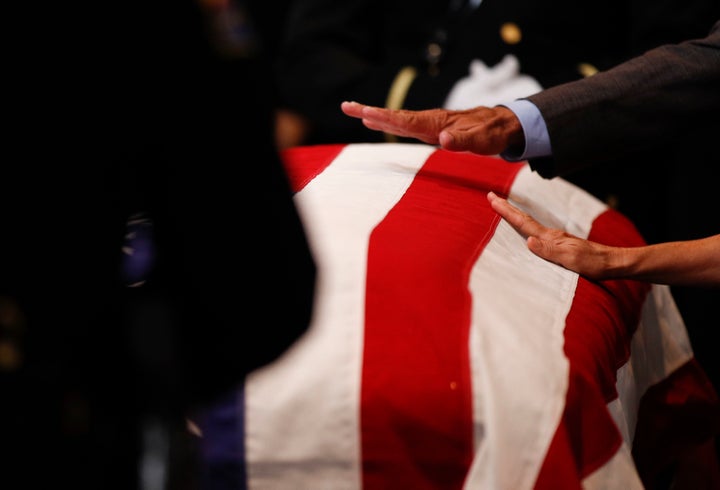 JAE C. HONG / Getty Images Mourners touch the casket during the memorial service.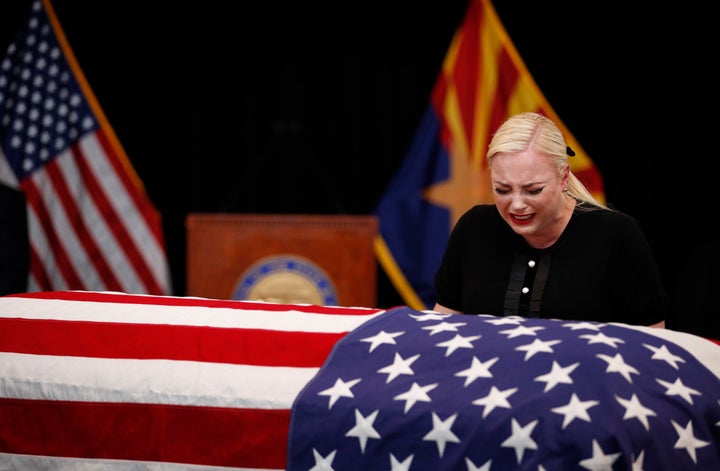 JAE C. HONG / Getty Images Meghan McCain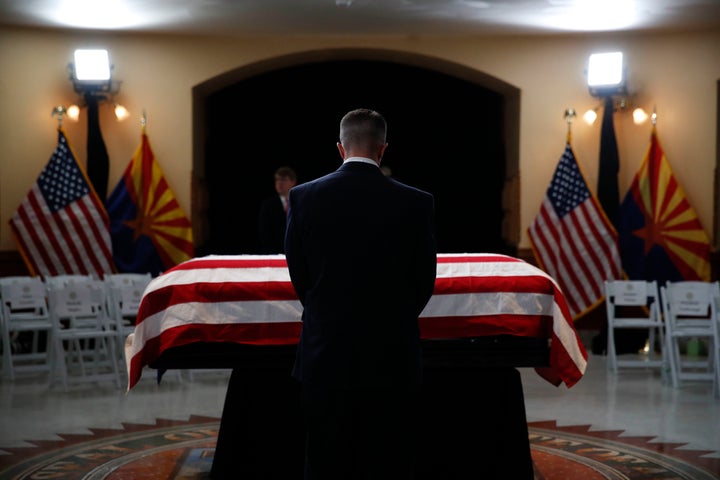 Pool / Getty Images A guest pays his respects. RELATED CONTENT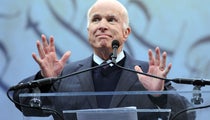 Here's How John McCain Will Be Memorialized This Week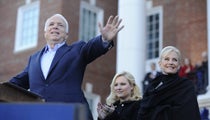 Cindy And Meghan McCain Mourn John McCain With Heartbreaking Tribute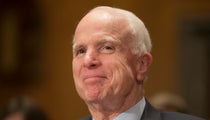 John McCain Aide Reads Senator's Final Message To America Download
Source Link:
https://www.huffingtonpost.com/entry/cindy-mccain-kisses-john-mccain-casket_us_5b86e2cfe4b0cf7b0031885e
[0.511562]
Comments
comments