Kingersheim, France (CNN)A growing number of Europeans have decided that they've had enough of inaction in the face of the climate emergency, and they're in training to do something about it.
This August, over 1,000 people gathered near the Alsatian town of Kingersheim, France to participate in the third edition of a two-week-long training camp put together by three environmental groups, Alternatiba, Friends of the Earth and ANV-COP21. Its climax was an elaborate exercise designed to simulate the disruption of a climate summit, attended by mock presidents Emmanuel Patron and Mickey Trump. A working lunch was organized for the faux-leaders and both had their own Twitter accounts (@Manuel_Patron_ and @MickeyTrump3).Outside the venue, camp attendees joyfully practiced their freshly minted demonstration skills and waved colorful placards of their own design before phalanxes of fake police officers.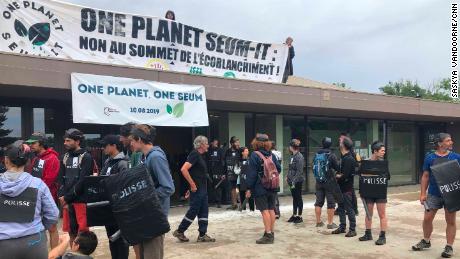 Activists simulate a disruption to a climate summit.The youngest participant was under one year old, the eldest 86. Entire families came to learn how to take part in and organize effective protests against climate inaction, following a philosophy that rejects violence, but deems that law-breaking is an acceptable way to send a strong message to decision makers. Read More"Some people here in the camp are soon going to be on trial," said Pauline Boyer, an organizer of the Kingersheim camp. She was referring to environmental activists who, in protest at what they see as weak climate policy, walked into city halls across the country this summer to illegally remove over 100 portraits of French President Emmanuel Macron from the walls. The idea is that the empty space where the photographs used to hang are a symbol the Macron government's dereliction of duty when it comes to climate change.According to Boyer, more than 200 training sessions took place at the camp over 12 days, all geared towards "giving people concrete solutions, concrete methods to take actions, so when they leave the camp they can go back to their towns and cities and … build resistance groups to tackle climate change."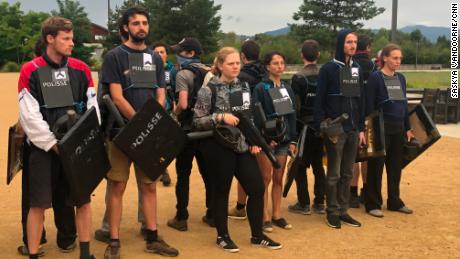 Participants pretend to be police during a protest scenario. The topics of the workshops ranged from how to cut down greenhouse gas emissions at home to cooking for large numbers with an eye to keeping protesters fed. Some taught participants how to carry out "civil disobedience actions to resist projects that are worsening climate change," said Boyer. These non-violent protests often put activists at odds with the law and the police officers tasked with enforcing it."I learned, physically, how we can act when police come and hurt us," Esther Bernard, 18, one of the camp's first-time attendees, told CNN, emphasizing that "we are not violent."On the camp's closing weekend, CNN witnessed a protest simulation. Around 700 participants were split into teams, with some acting out a demonstration, while others played the role of baton-wielding police officers seeking to break it up — a chance to practice the non-violent resistance techniques learned earlier in the week.A growing movementAcross Europe, environmental movements are mobilizing and their actions have already been effective in growing their followings, getting politicians' attention and even drawing concessions from legislators.Extinction Rebellion, a UK-based group which stages non-violent civil disobedience campaigns, or "rebellions," was founded just last year. Their first protest in London saw 1,500 demonstrators take over a square to mark their "Declaration of Rebellion against the UK Government." Barely six months later, in April 2019, 6,000 participated in an 11-day blockade of London's roads and bridges, generating a huge amount of publicity. Data provided to CNN by Extinction Rebellion shows their cumulative income jumped 500% in four months, climbing from under $270,000 to nearly $1.3 million between February and May 2019.The group has scheduled a "Global Rebellion" for October 7, and now stages UK training camps almost every weekend, according to Alanna Byrne, a media coordinator.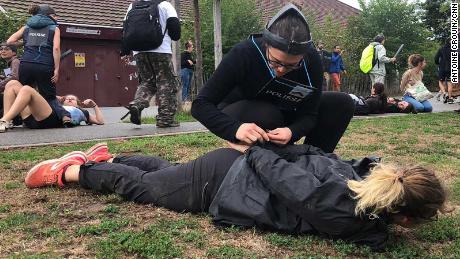 Activists stage fake arrests during the demonstration. "We put people in scenarios like getting arrested and things like that," she told CNN. She said there is increasing interest among the public for the training camps. "None of our events are small anymore. We've held six events in the London Olympic Park," she said.In Germany, an alliance of environmental and social justice groups called Ende Gelände (End of Story) specializes in deploying similar techniques to temporarily halt the activity of coal mines. (Coal-fired power plants are responsible for a considerable share of Germany's sizable carbon emissions, but account for a third of the country's energy production.)"In the months before the actions, we have training all over Germany, where we teach people how to go into the mines, how to react to police, and how to blockade," Kathrin Henneberger, a spokesperson for Ende Gelände, told CNN by phone. "What I see right now, which is really amazing, is there are groups all over Europe being inspired by Ende Gelände."These acts of civil disobedience have yielded some results beyond attracting media attention. In the wake of April's Extinction Rebellion protests in London, the UK Parliament agreed to the group's demand that an environment and climate emergency be declared, though the declaration is not legally binding.A threat to public order?For all the excitement they have generated, the willingness of these groups to break the law to give urgency to their demands has led some to see them as a threat to public order, and even to democracy itself. In a white paper published by the influential British think tank Policy Exchange, Richard Walton, a former head of the UK's Metropolitan Police Counter Terrorism Command, wrote of Extinction Rebellion: "The 'civilian resistance' model they espouse is intended to achieve mass protest accompanied by law-breaking — leading eventually to the breakdown of democracy and the state. Obscured from public view, these objectives mark Extinction Rebellion's campaign out as an extremist one that seeks to break down the established civil order and liberal democracy in the UK."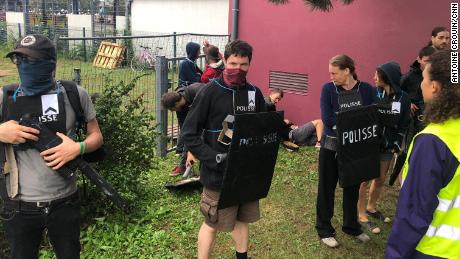 Protesters at the Kingersheim camp learn how to respond to police violence.Contacted by CNN, the French interior ministry declined to comment on whether they considered the Kingersheim training camp a threat to public order.When asked whether concerns about camp attendees turning more extreme in their activism were justified, Cécile Marchand, a Friends of the Earth trainer who helped run the event, said: "It's not a secret: we do want to change the system, so for that we need to do more than just convince people, we need to put pressure on them."To critics who might call these tactics a threat against public order, Marchand responded: "People not fighting against climate change are threats against the public order."
Source Link:
https://www.cnn.com/2019/08/23/europe/climate-crisis-protest-training-france-intl/index.html
[-0.347349]
Comments
comments