Story highlights31 deaths reported during deadliest week of fires in state historyBiggest fires are less than 10% contained
(CNN)Amid the scorched ruins left by the wildfires that continue to burn in Northern California, officials are making grim discoveries.
As they enter homes to search for the missing, they're finding bodies burnt beyond recognition."Some of them are merely ashes and bones," said Sonoma County Sheriff Rob Giordano during a Thursday press conference. "And we may never get truly confirmative identification on ashes. When you're cremated, you can't get an ID." So far, 31 people have been killed, making this one of the deadliest wildfire outbreaks in state history, according to Cal Fire. The death toll has been increasing daily since the fires began Sunday. In Sonoma County, authorities had to turn to dental records, fingerprints, tattoos and serial numbers on hip implants to identify victims. Read More"We've been forced to work that direction because we may not have enough information to identify people, because of the fire and the severity of the burn," Giordano said. Since Sunday, the deadly fires have leveled communities and thousands of homes, forced evacuations and produced unhealthy air quality in the San Francisco Bay Area. "We're not even close to being out of this emergency," Mark Ghilarducci, the director of California's Office of Emergency Services, said Thursday afternoon.The biggest fires in Northern California were far from contained as of Thursday. The 40,000-plus acre Atlas Fire in Napa and Solano counties was just 3% contained and the 34,000-acre Tubbs Fire in Napa and Sonoma was 10% under control. The 32,000-acre Mendocino-Lake Complex fire was 5% contained.Latest developments• Of the 31 people who have died since Sunday night, 17 were killed in Sonoma County, officials said. Eight people have died in Mendocino County, and at least four in Yuba County and two in Napa County, officials said.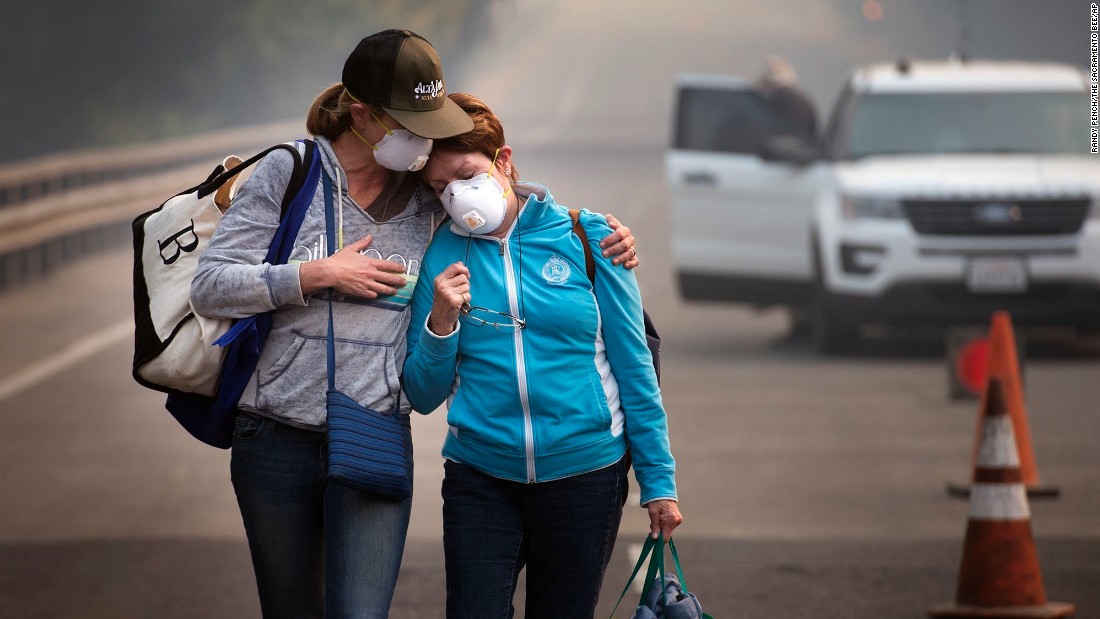 Photos: Wildfires blaze in CaliforniaColby Clark, left, comforts her mother, Bonnie Trexler, after law enforcement escorted them to Trexler's home in Napa, California, to retrieve medicine and personal items on Wednesday, October 11. Trexler was one of the lucky few in her neighborhood whose home was spared. Deadly wildfires have been tearing through the state, destroying homes and businesses and prompting evacuation orders.Hide Caption 1 of 32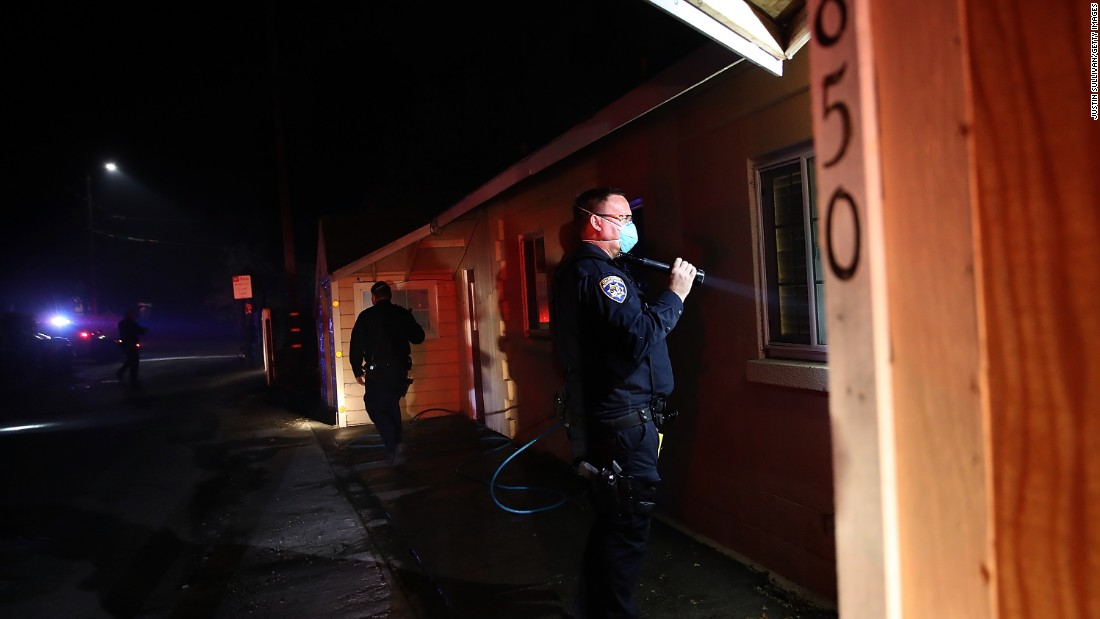 Photos: Wildfires blaze in CaliforniaHighway Patrol officers go door to door to ask Sonoma residents to evacuate their homes as a wildfire approaches on October 11.Hide Caption 2 of 32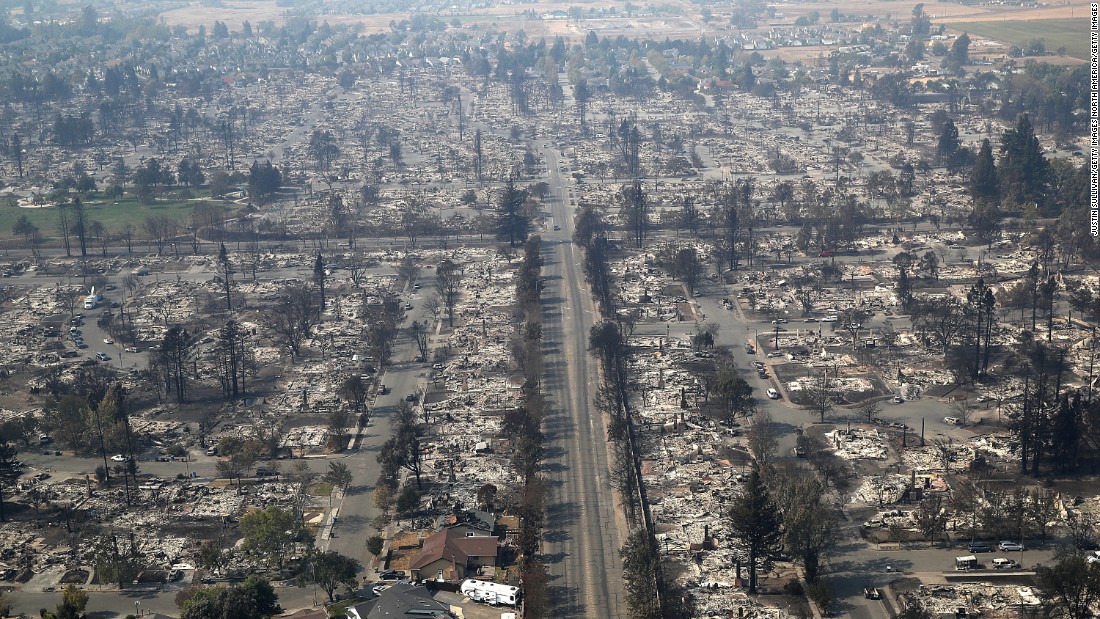 Photos: Wildfires blaze in CaliforniaHomes are destroyed in the Coffey Park neighborhood of Santa Rosa on October 11.Hide Caption 3 of 32
Photos: Wildfires blaze in CaliforniaThe sign of a Firestone store malfunctions in Santa Rosa on Tuesday, October 10.Hide Caption 4 of 32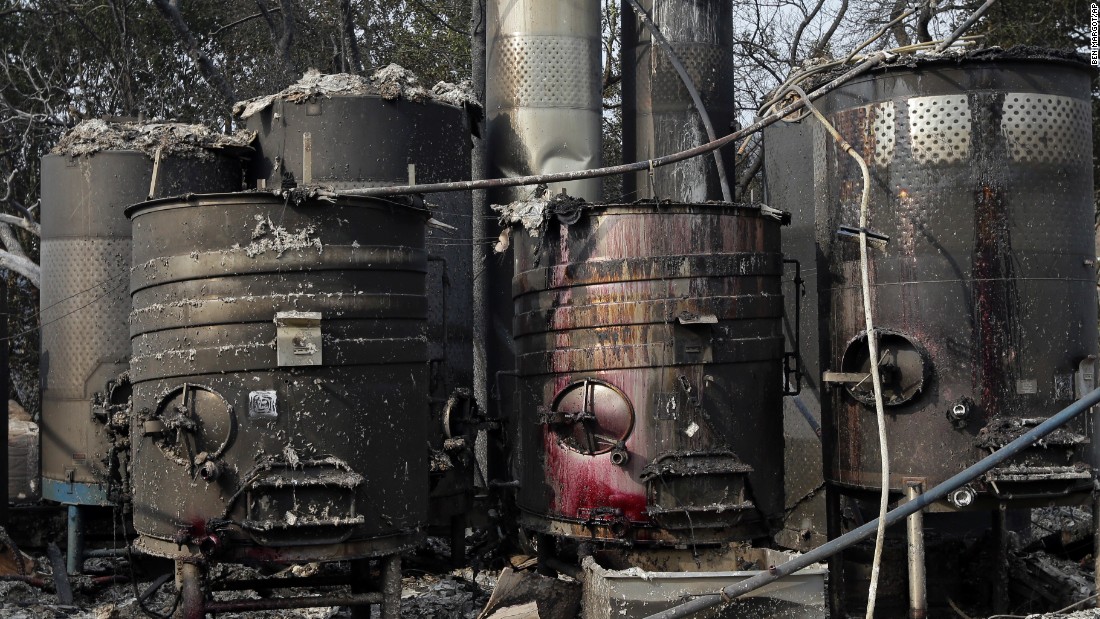 Photos: Wildfires blaze in CaliforniaDamaged winemaking vats and tanks stand in ashes and debris at the Paradise Ridge Winery in Santa Rosa.Hide Caption 5 of 32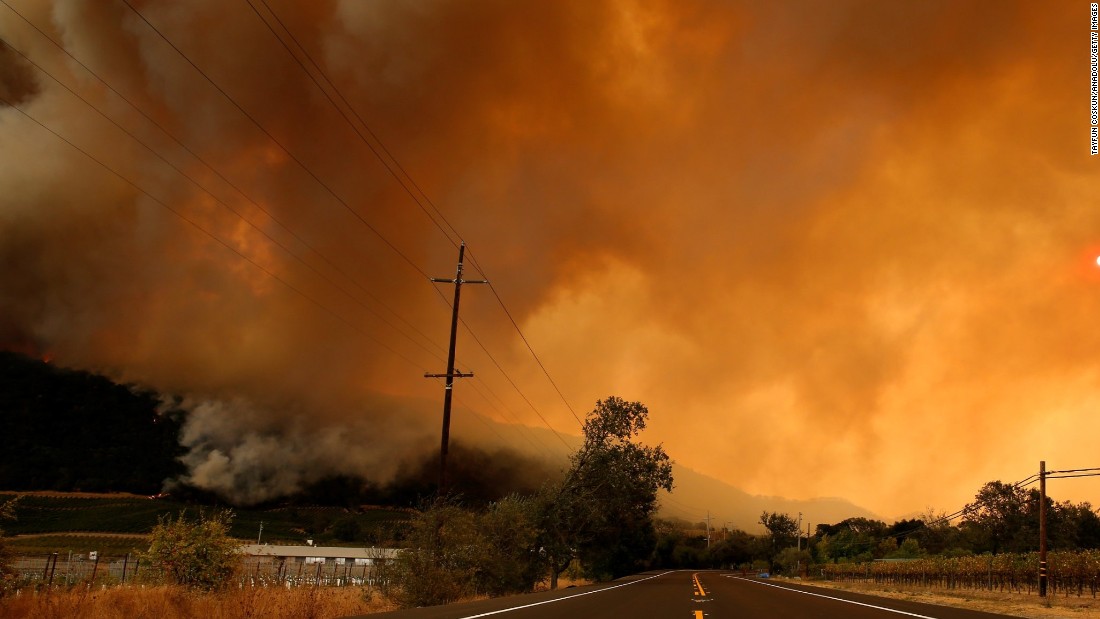 Photos: Wildfires blaze in CaliforniaSmoke clouds the sun from wildfires burning in Santa Rosa and Napa Valley on October 10. Hide Caption 6 of 32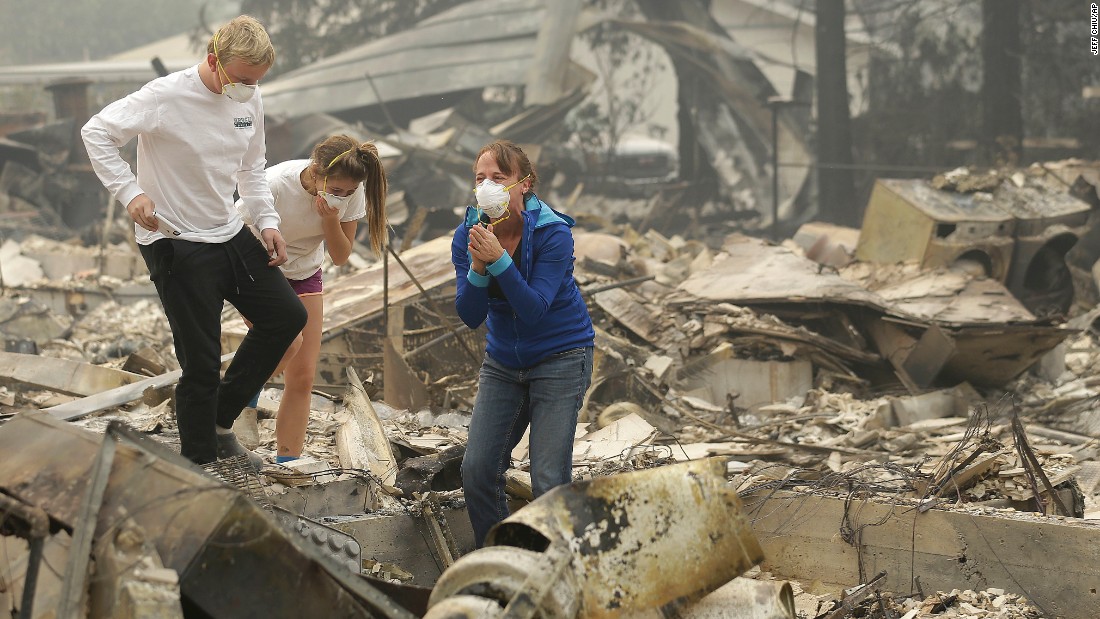 Photos: Wildfires blaze in CaliforniaMary Caughey, center in blue, reacts after finding her wedding ring in the remains of her home in Kenwood on October 10. Hide Caption 7 of 32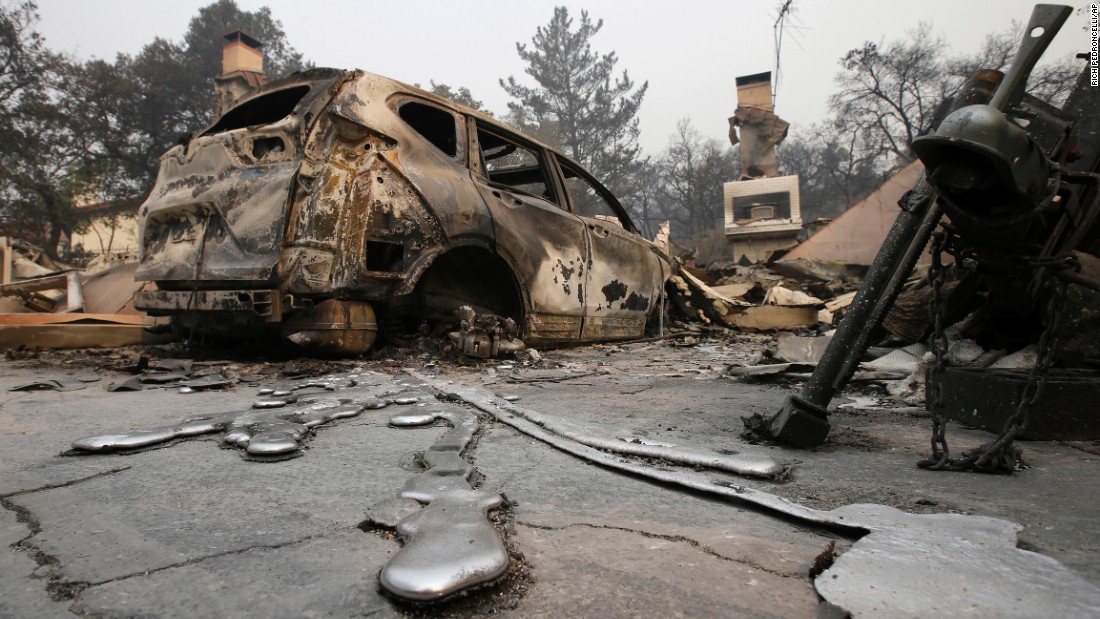 Photos: Wildfires blaze in CaliforniaPuddles of melted metal trail away from a burned-out car near Napa on October 10. Hide Caption 8 of 32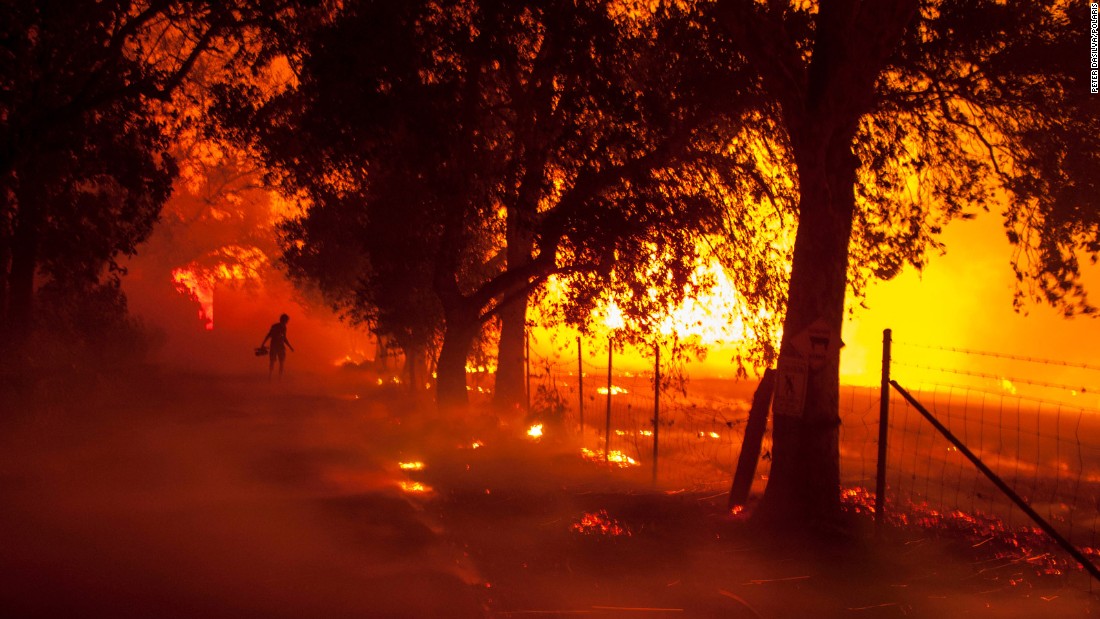 Photos: Wildfires blaze in CaliforniaA TV cameraman inches closer to a burning building at a winery in Napa Valley on Monday, October 9. Hide Caption 9 of 32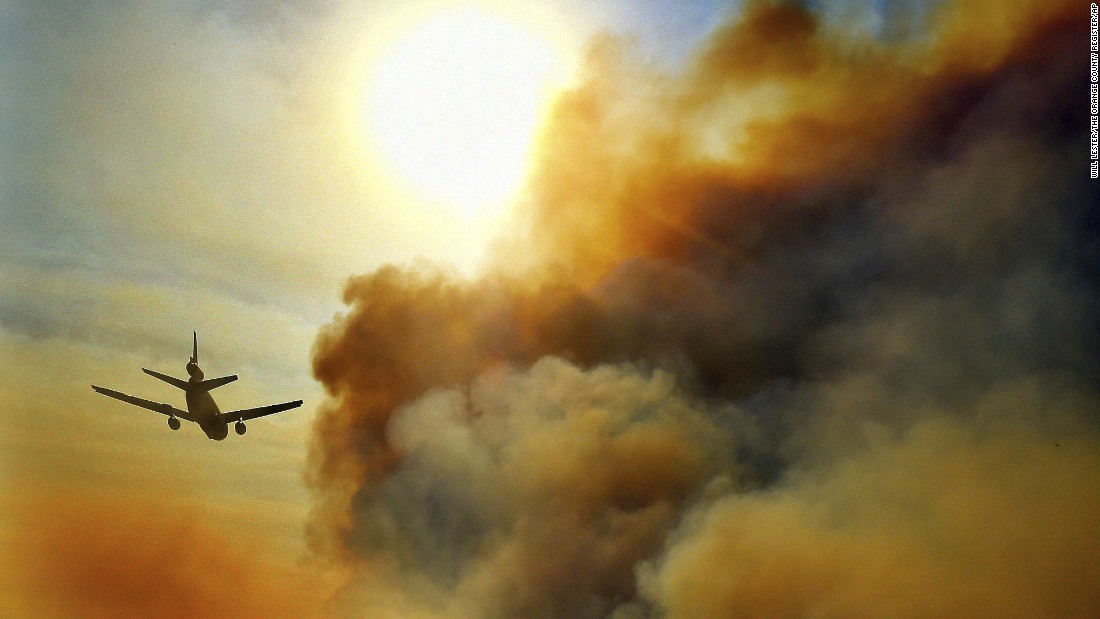 Photos: Wildfires blaze in CaliforniaA firefighting plane helps battle a blaze just north of Tustin on October 9.Hide Caption 10 of 32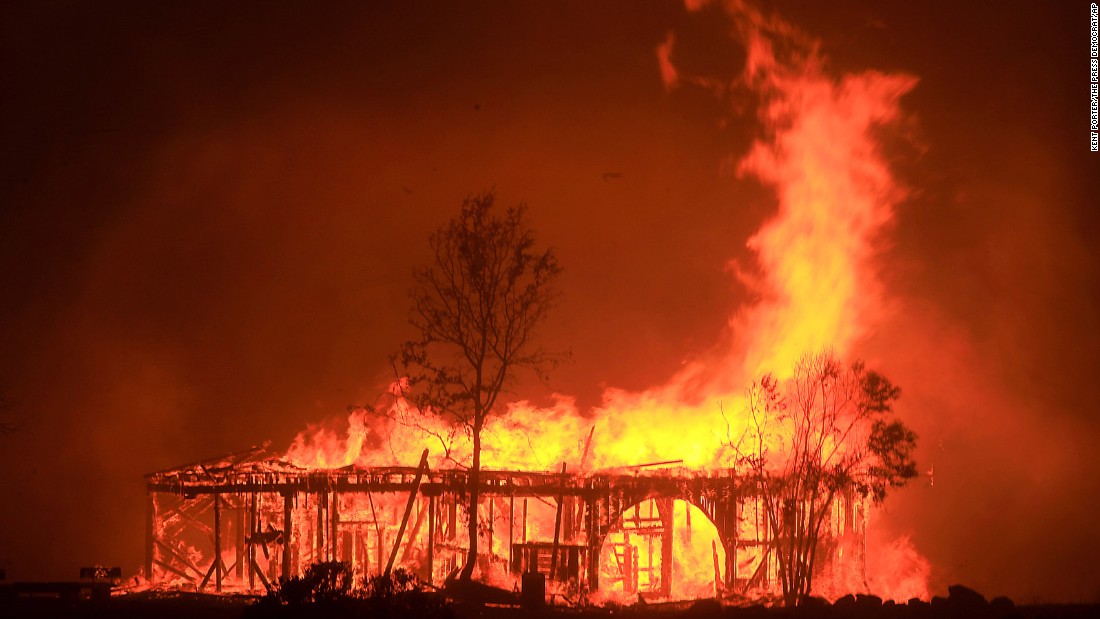 Photos: Wildfires blaze in CaliforniaA historic barn burns in Santa Rosa on October 9.Hide Caption 11 of 32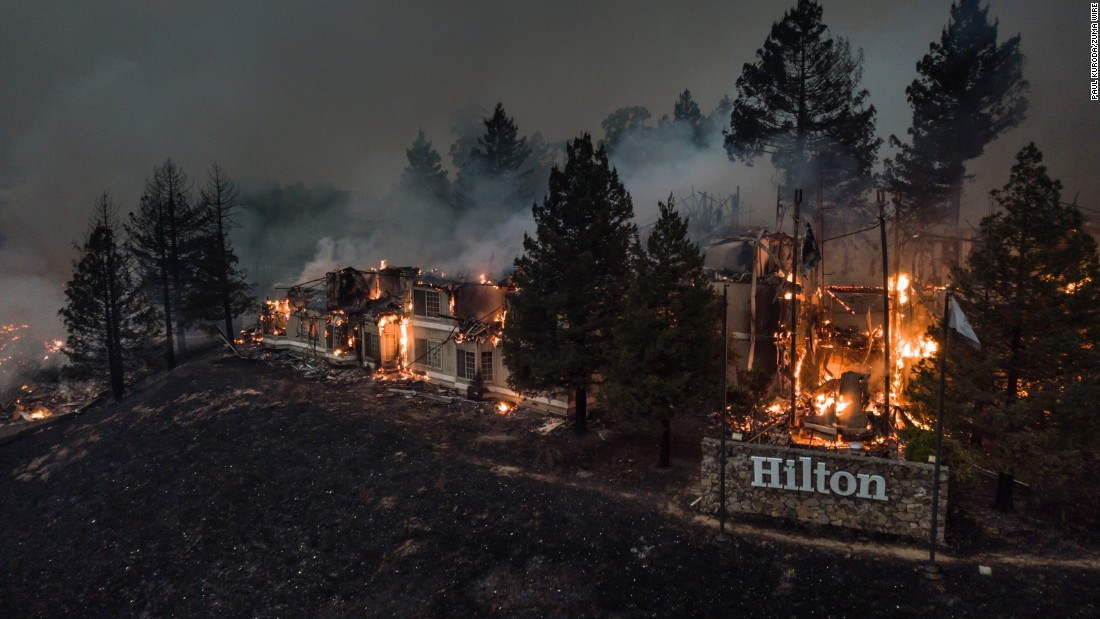 Photos: Wildfires blaze in CaliforniaThe Santa Rosa Hilton Hotel burns to the ground on October 9. Hide Caption 12 of 32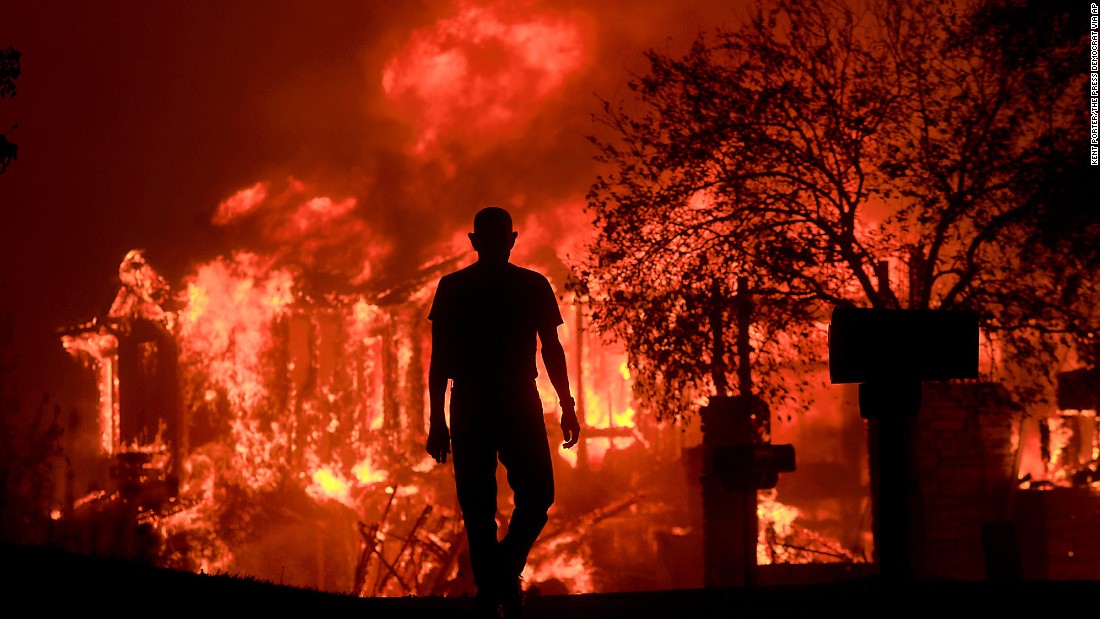 Photos: Wildfires blaze in CaliforniaJim Stites watches as part of his neighborhood burns in Fountaingrove on October 9. Hide Caption 13 of 32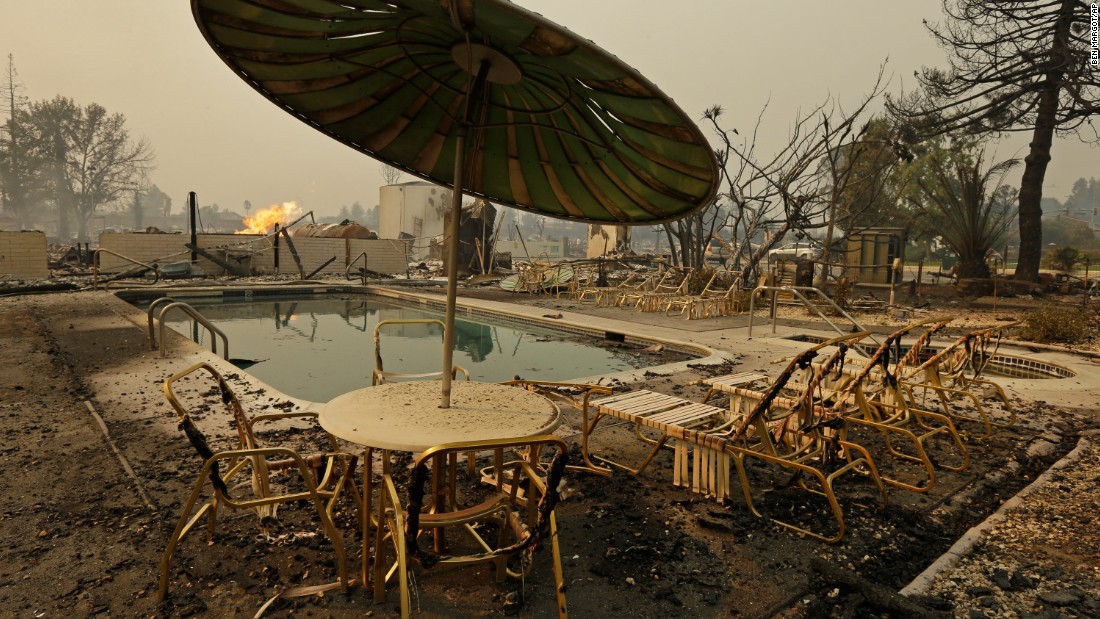 Photos: Wildfires blaze in CaliforniaFire burns from an open gas valve near the pool area of a Santa Rosa trailer park on October 9.Hide Caption 14 of 32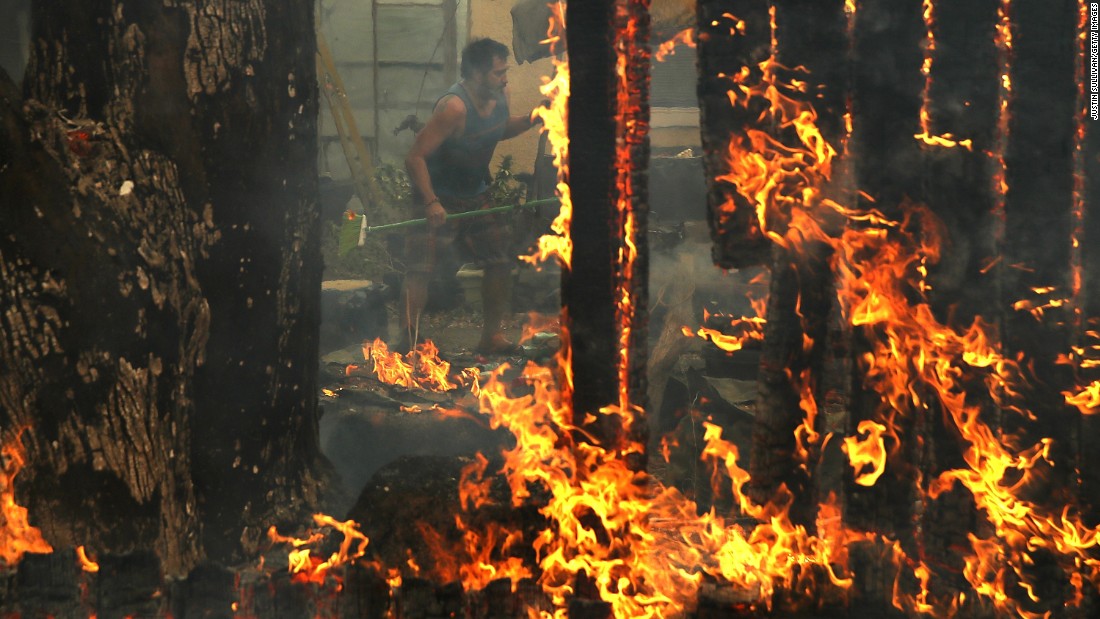 Photos: Wildfires blaze in CaliforniaA man rushes to save his house as a wildfire moves through Glen Ellen on October 9.Hide Caption 15 of 32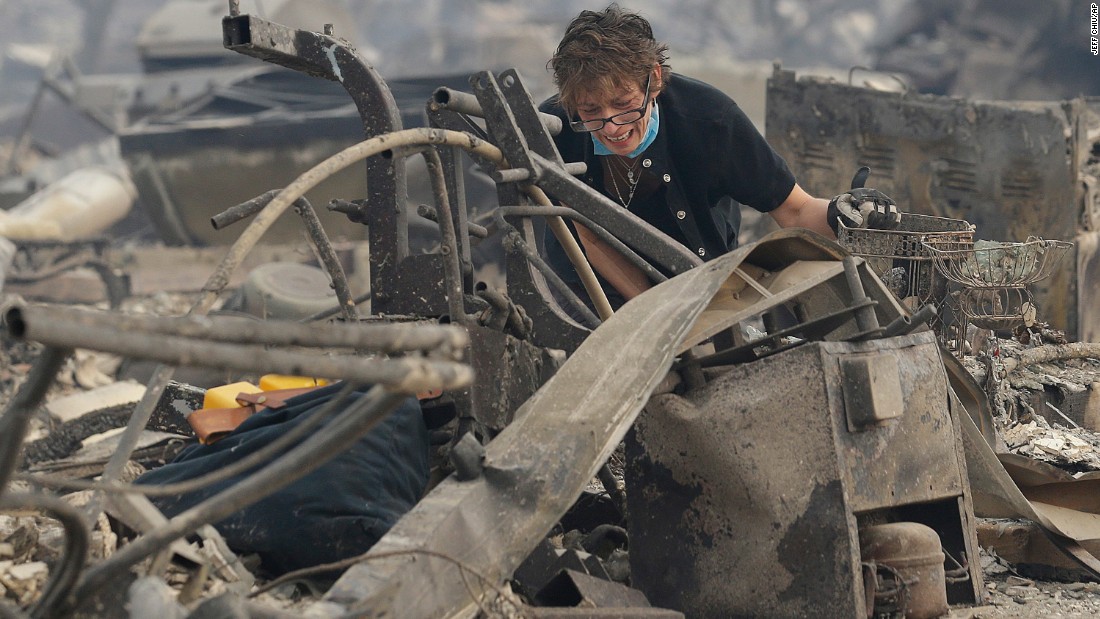 Photos: Wildfires blaze in CaliforniaKristine Pond searches what's left of her family's home in Santa Rosa on October 9.Hide Caption 16 of 32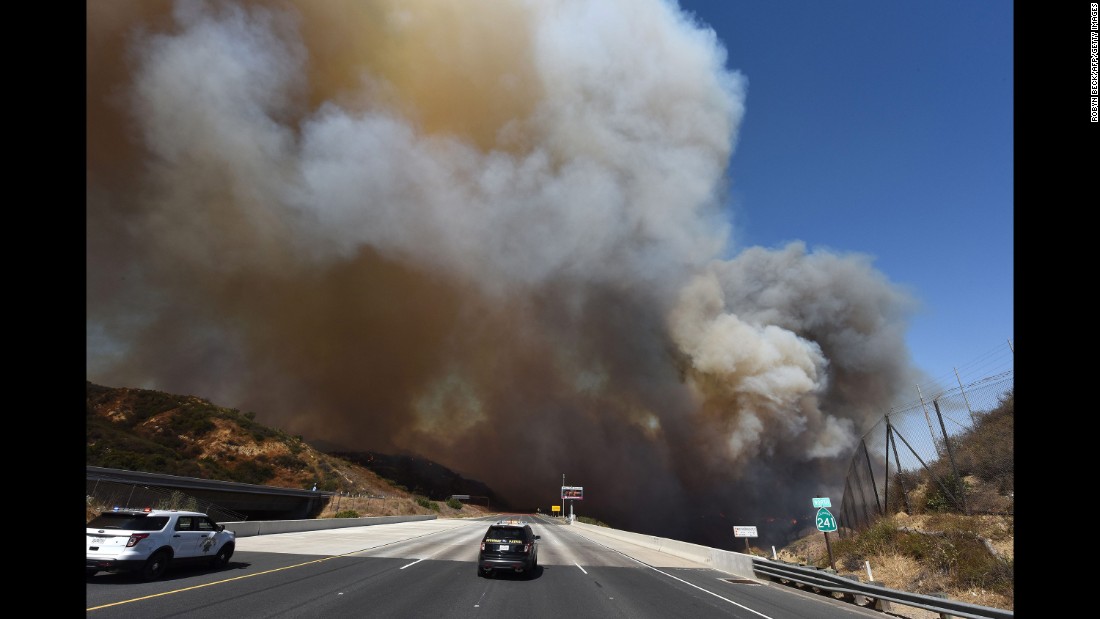 Photos: Wildfires blaze in CaliforniaPolice cars block State Route 241 as smoke rises above Orange on October 9.Hide Caption 17 of 32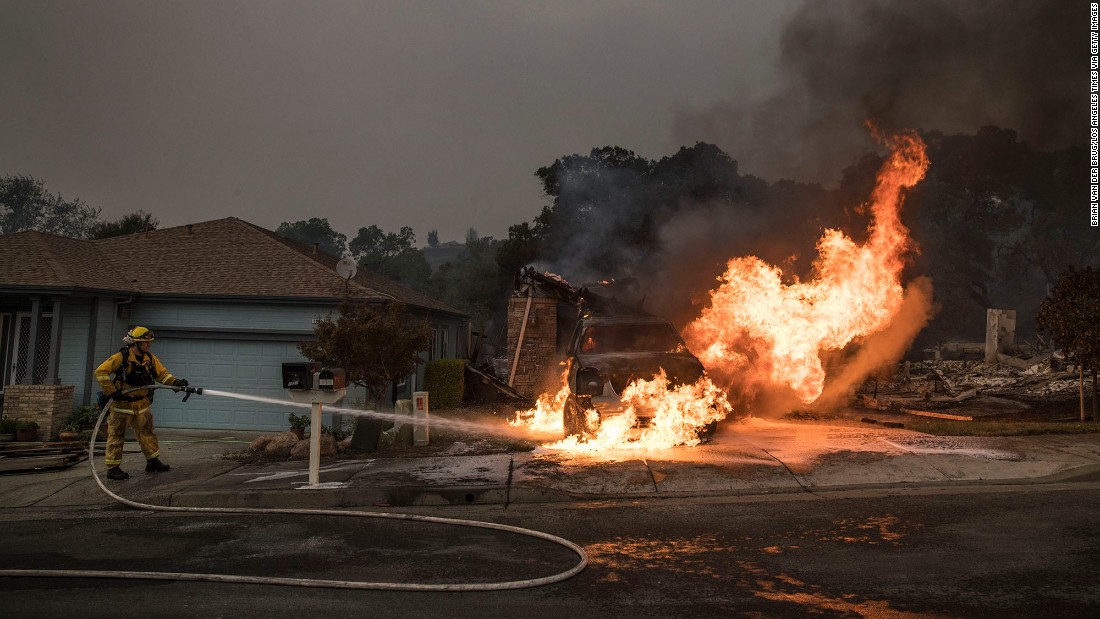 Photos: Wildfires blaze in CaliforniaA firefighter douses flames in Santa Rosa on October 9. Hide Caption 18 of 32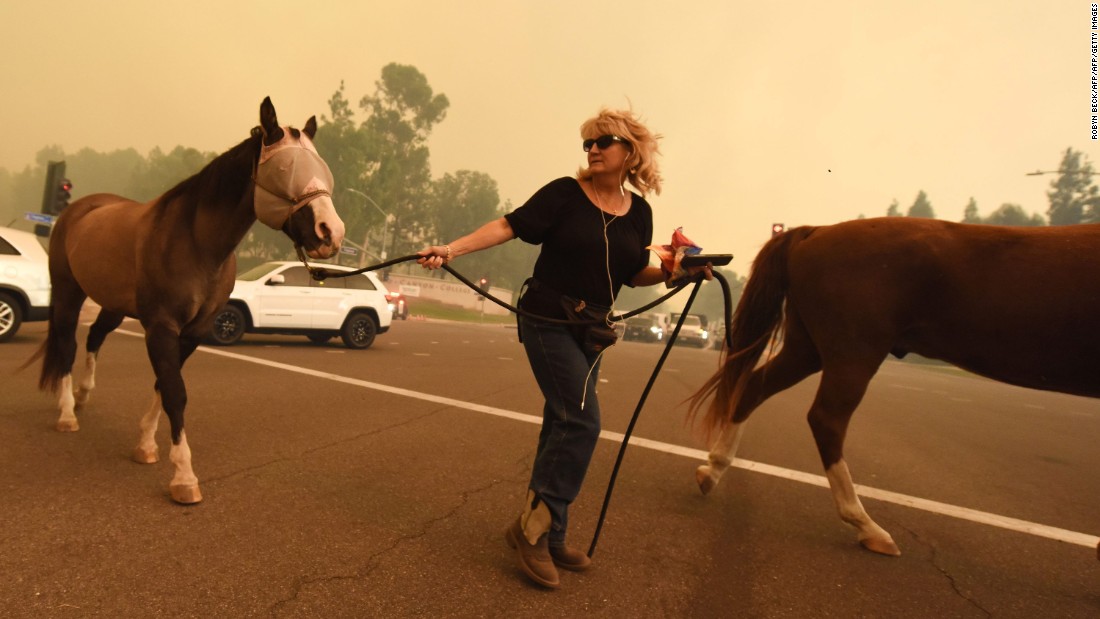 Photos: Wildfires blaze in CaliforniaA woman moves horses in Orange as strong Santa Ana winds blow smoke from the Canyon 2 fire toward them on October 9.Hide Caption 19 of 32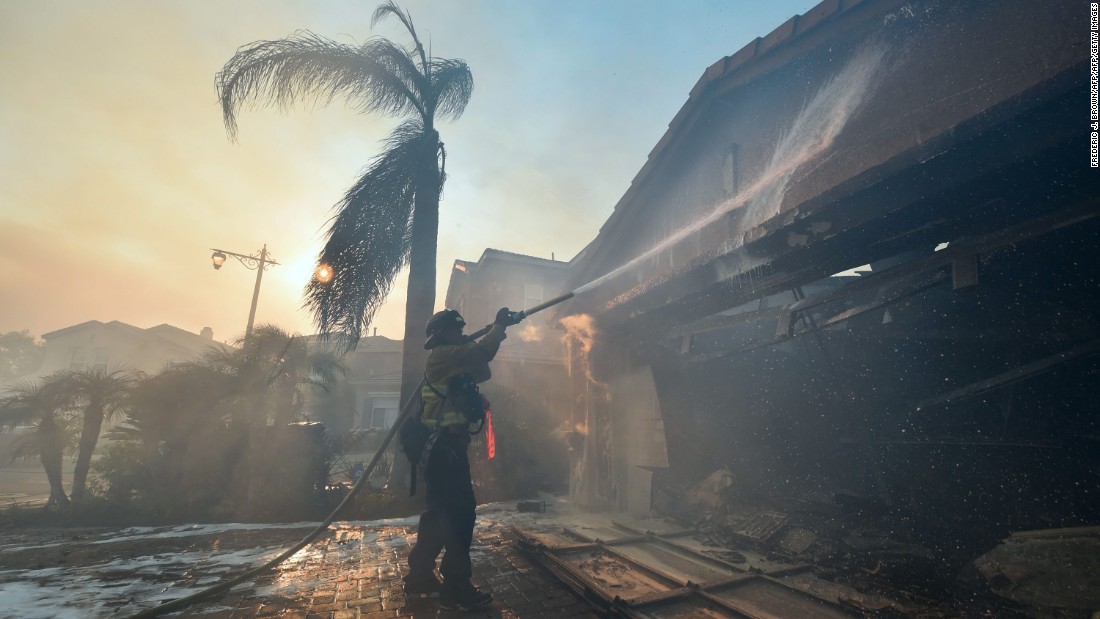 Photos: Wildfires blaze in CaliforniaA firefighter douses flames at a home in Anaheim on October 9.Hide Caption 20 of 32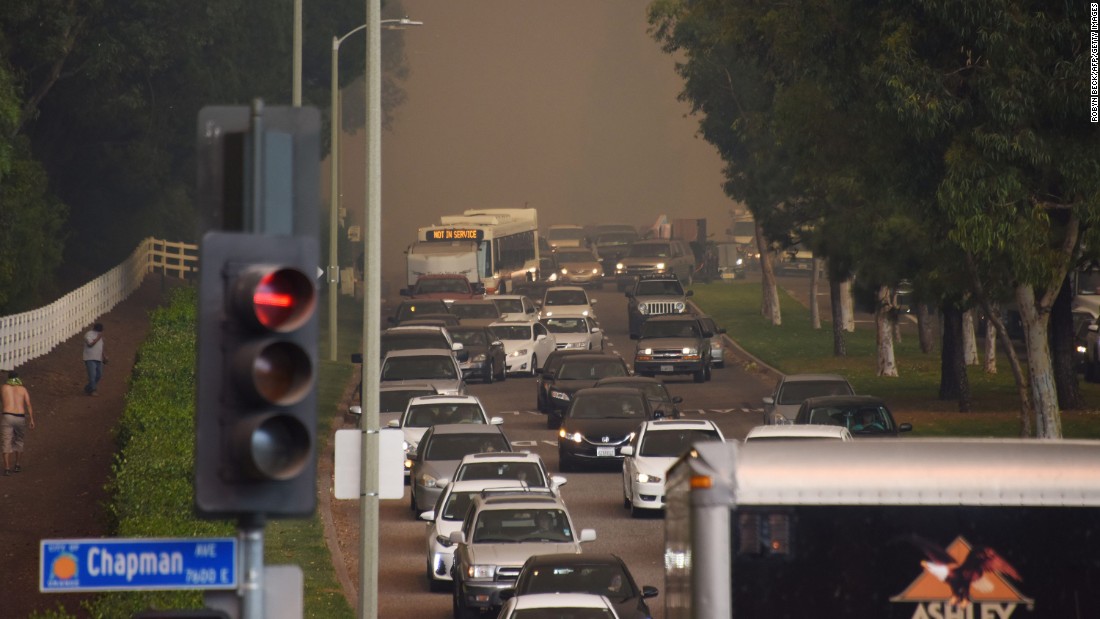 Photos: Wildfires blaze in CaliforniaTraffic backs up as people flee Orange on October 9.Hide Caption 21 of 32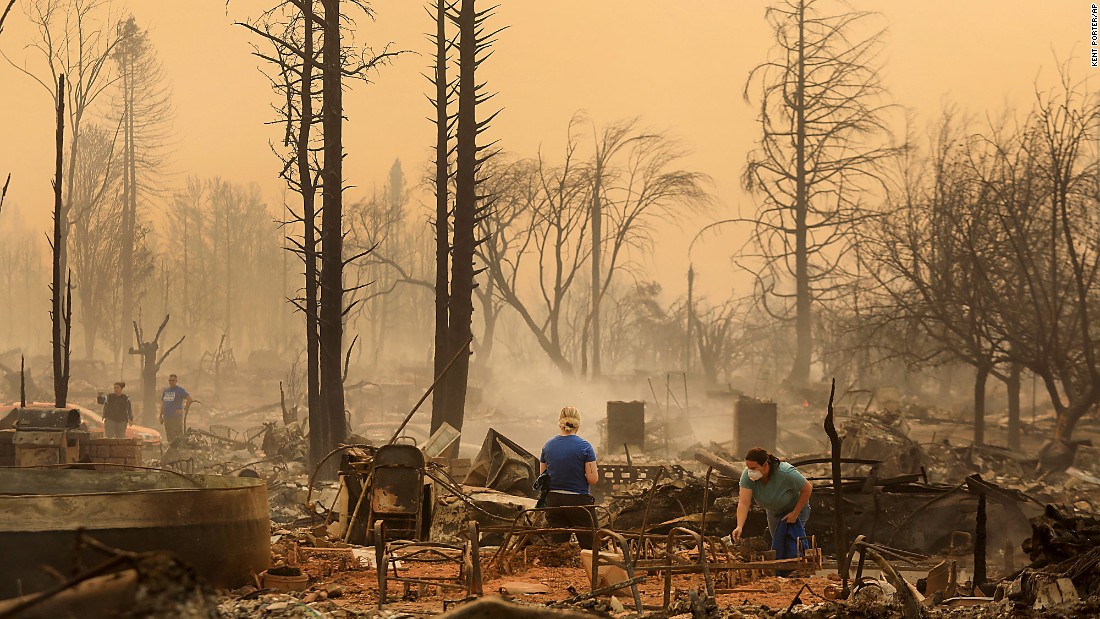 Photos: Wildfires blaze in CaliforniaSanta Rosa residents sift through the remains of a burned home on October 9.Hide Caption 22 of 32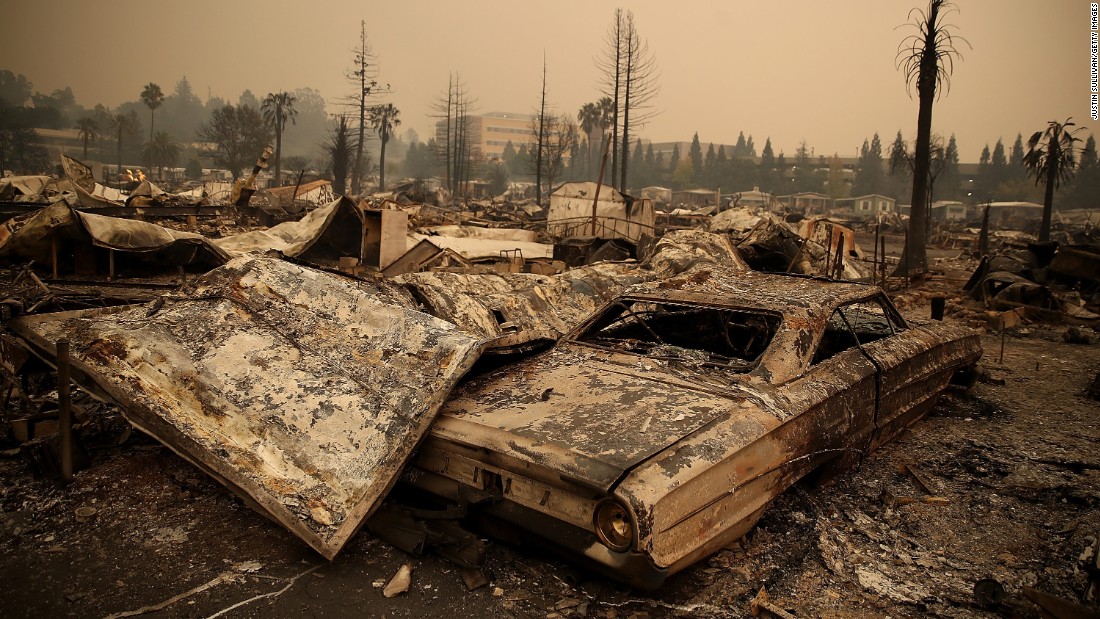 Photos: Wildfires blaze in CaliforniaThe remains of fire-damaged homes and cars smolder at a Santa Rosa trailer park on October 9.Hide Caption 23 of 32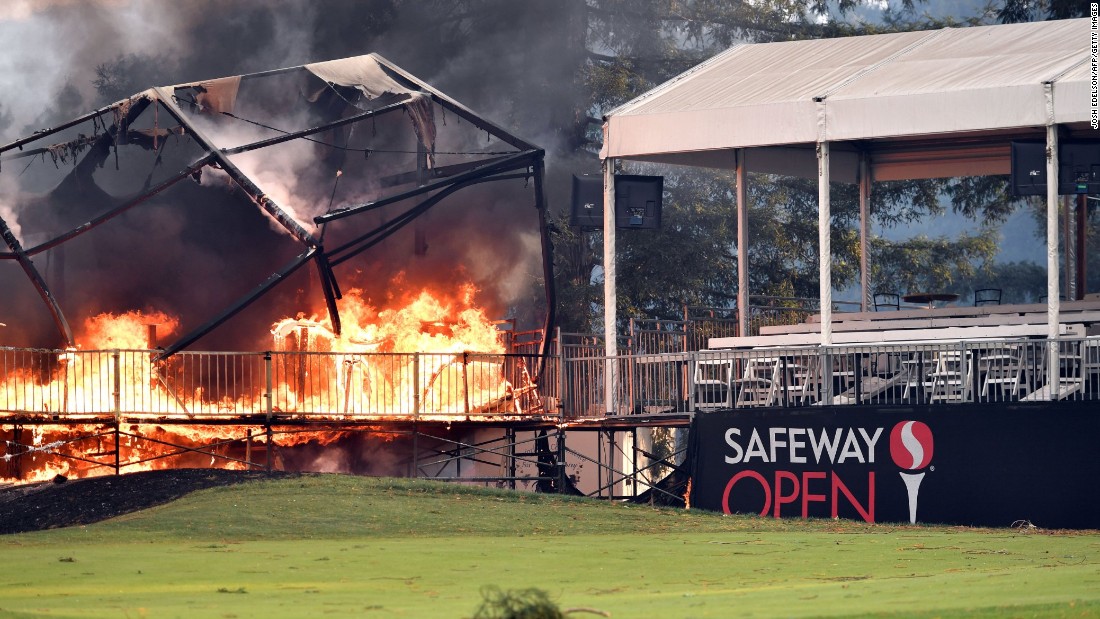 Photos: Wildfires blaze in CaliforniaA tent structure built for the Safeway Open golf tournament burns in Napa on October 9.Hide Caption 24 of 32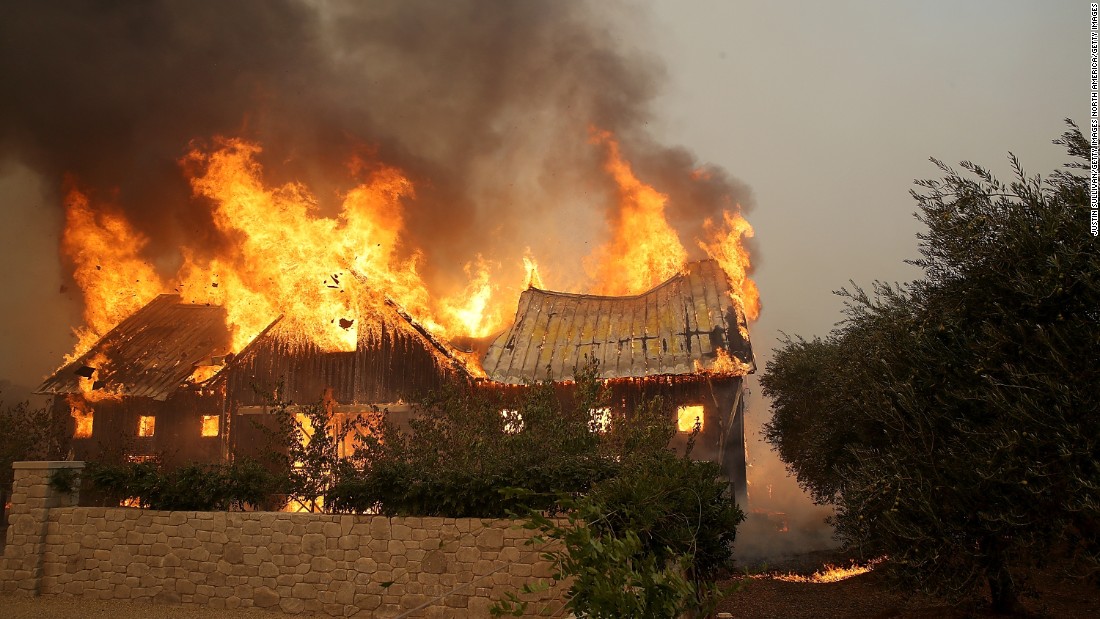 Photos: Wildfires blaze in CaliforniaFire consumes a barn in Glen Ellen on October 9.Hide Caption 25 of 32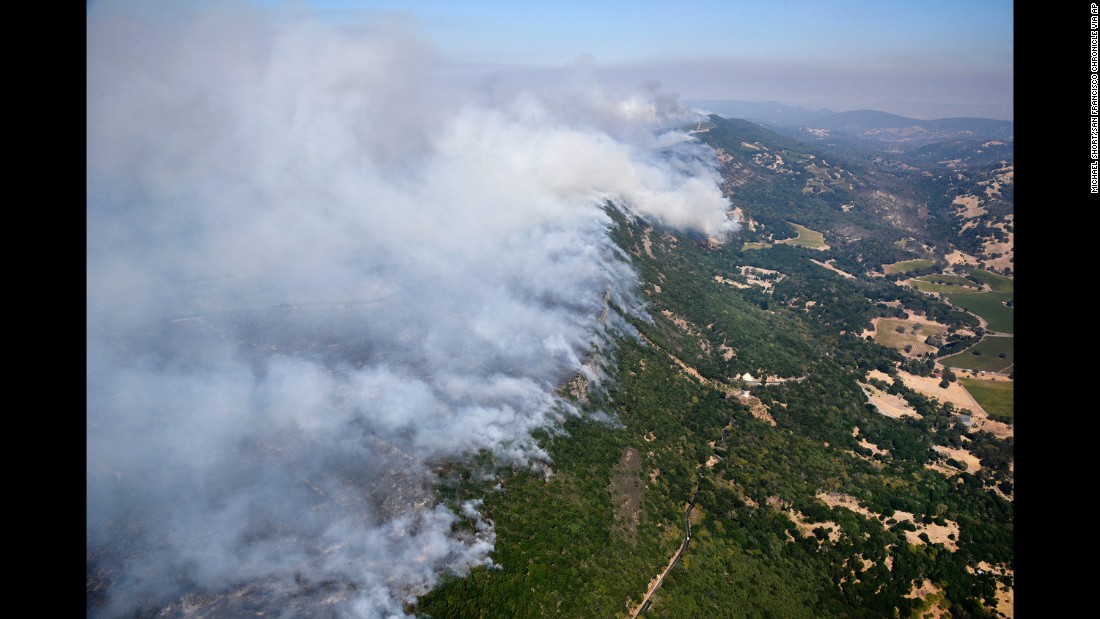 Photos: Wildfires blaze in CaliforniaSmoke rises in the hills east of Napa on October 9.Hide Caption 26 of 32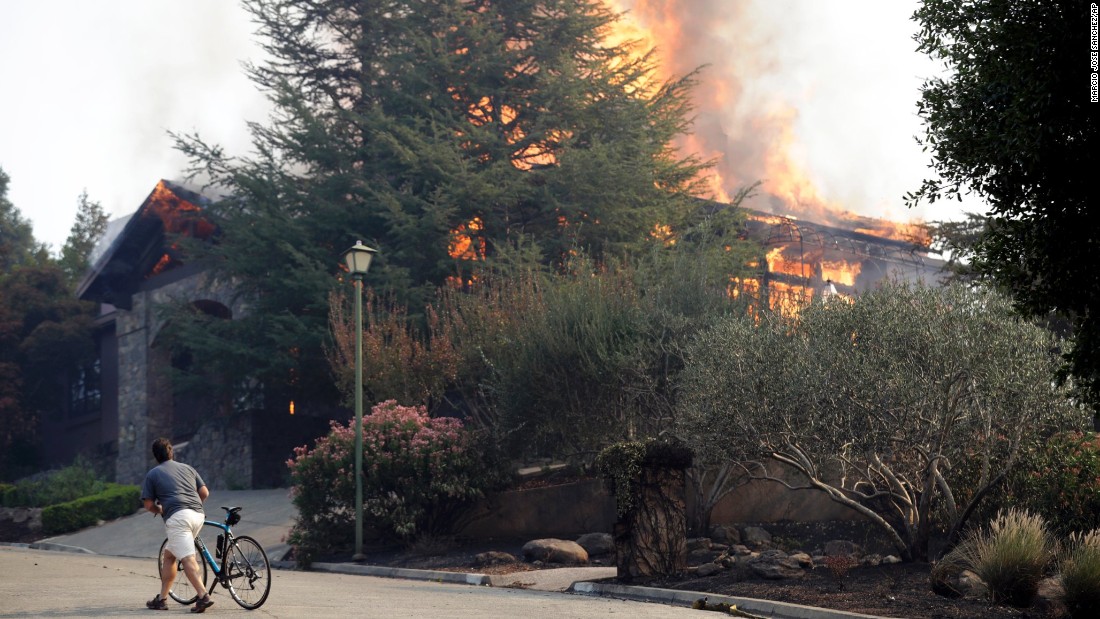 Photos: Wildfires blaze in CaliforniaA man passes a burning house in Napa on October 9.Hide Caption 27 of 32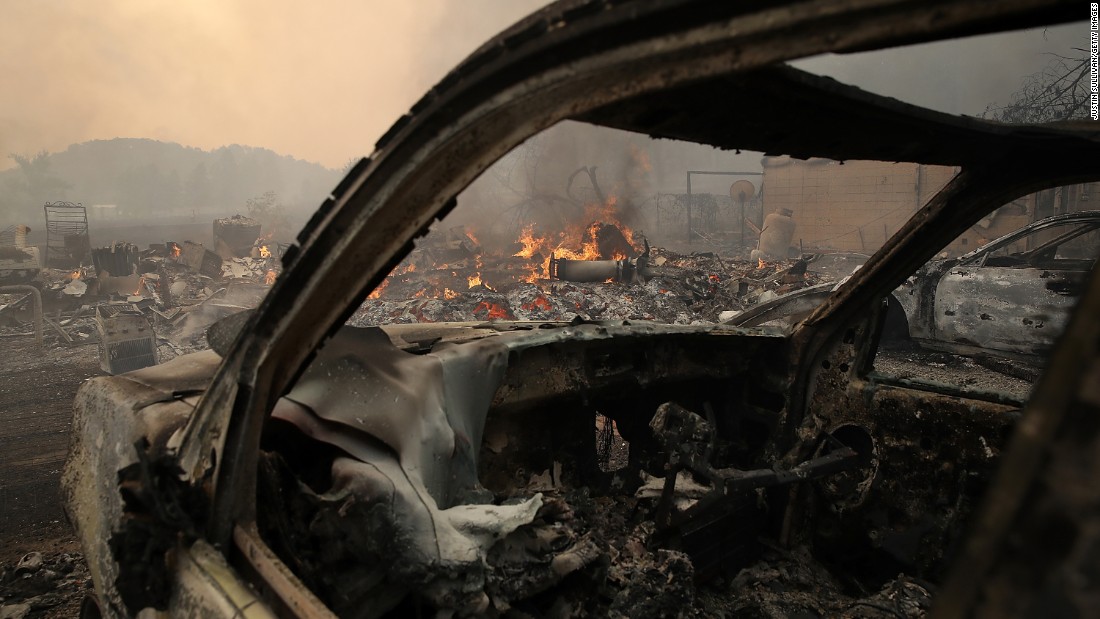 Photos: Wildfires blaze in CaliforniaThe remains of fire-damaged homes are seen in Glen Ellen on October 9.Hide Caption 28 of 32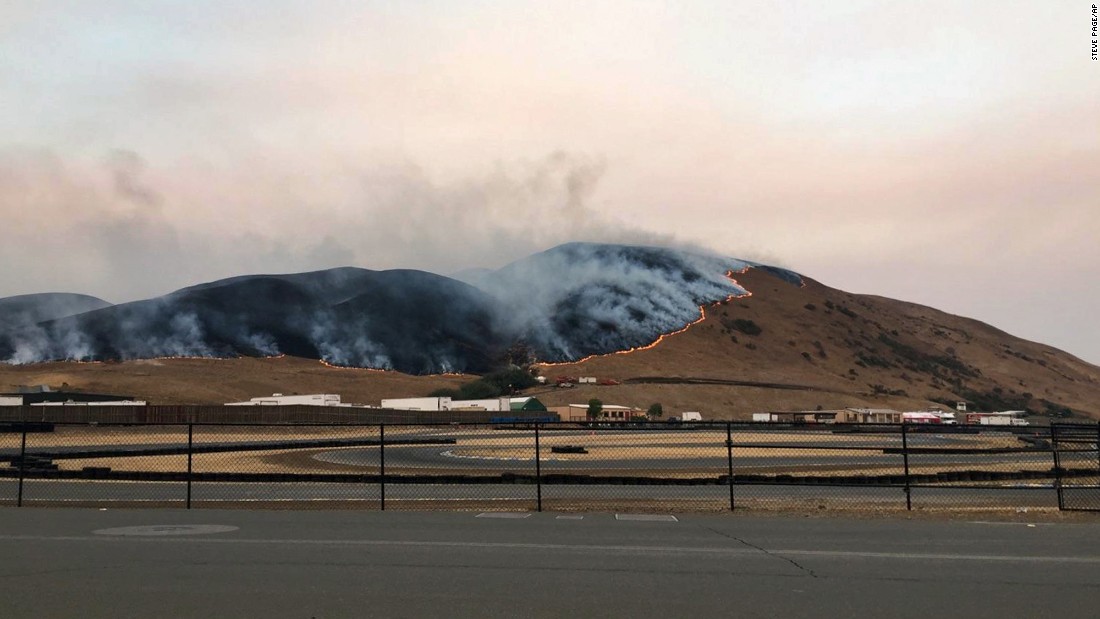 Photos: Wildfires blaze in CaliforniaA wildfire burns behind the Sonoma Raceway on October 9.Hide Caption 29 of 32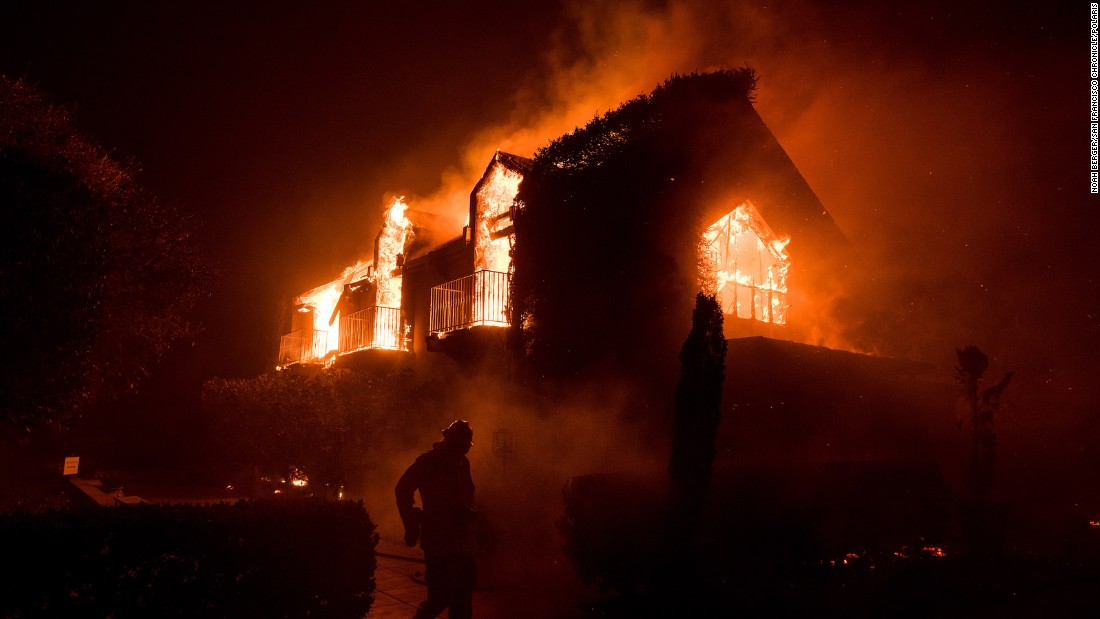 Photos: Wildfires blaze in CaliforniaA building burns in Napa on October 9. Hide Caption 30 of 32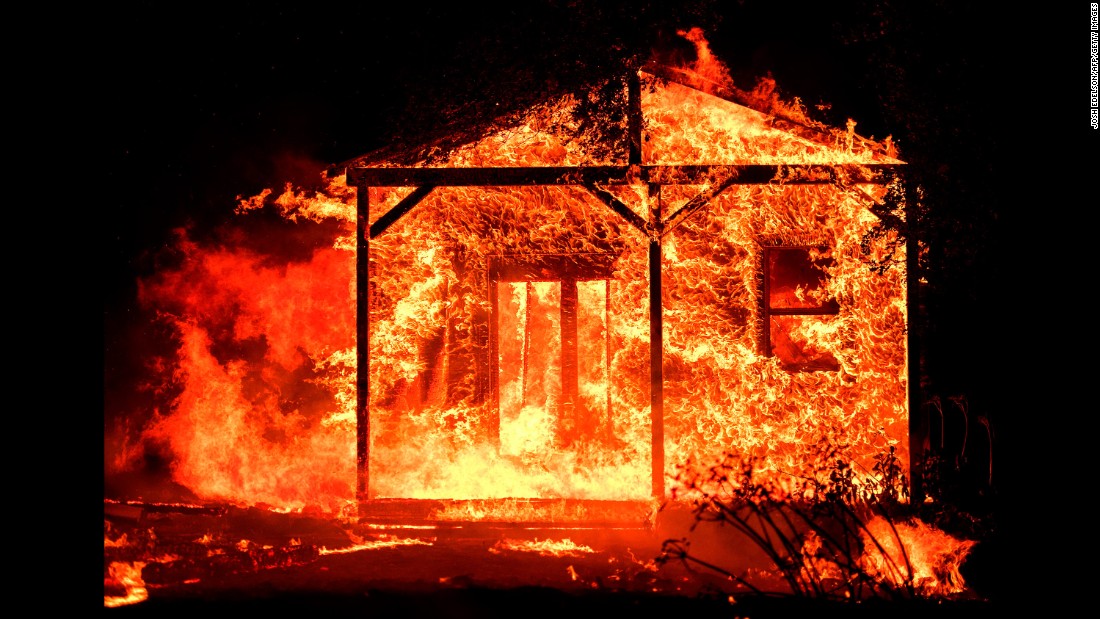 Photos: Wildfires blaze in CaliforniaFlames overtake a building in the Napa wine region on October 9.Hide Caption 31 of 32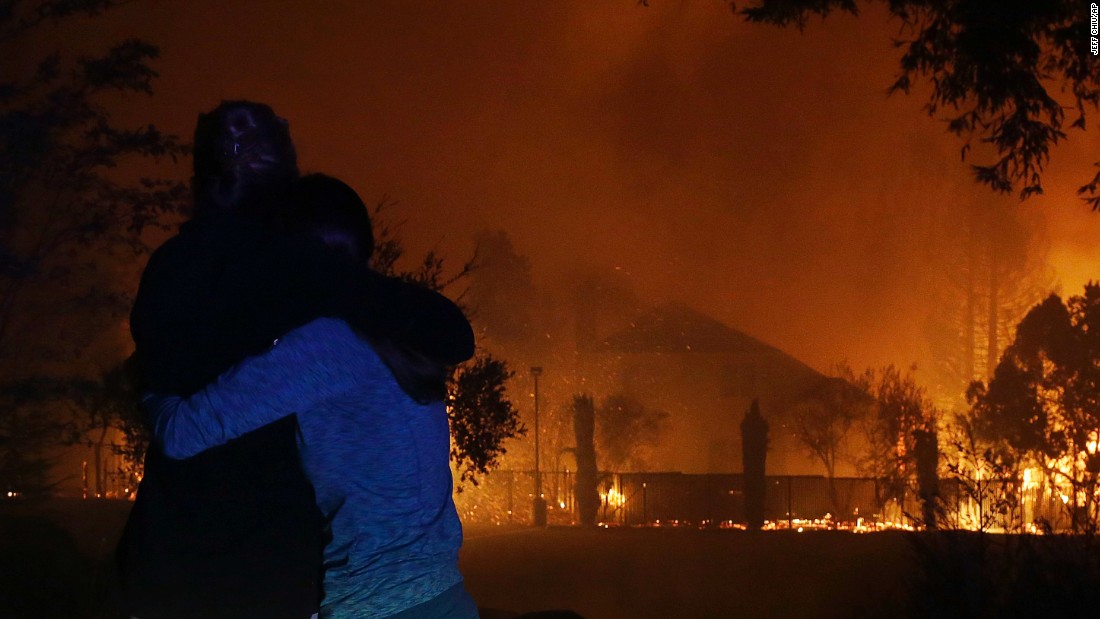 Photos: Wildfires blaze in CaliforniaTwo women hug as they watch houses burn in Santa Rosa on October 9.Hide Caption 32 of 32
































• More than 2,800 residences in Santa Rosa, California, have been destroyed by wildfires, Mayor Chris Coursey told reporters on Thursday.• Wildfires have burned more than 191,000 acres throughout California.• Winds could be especially gusty Friday night through Saturday as new Red Flag warnings were issued for the weekend, according to the National Weather Service. No rain is expected for almost a week.How to help the victims of the California wildfires• Almost 8,000 firefighters are trying to contain the blazes, officials said Thursday. They're using 820 firetrucks — at least 170 from out of state — 73 helicopters and more than 30 planes. Many of the fire victims are elderly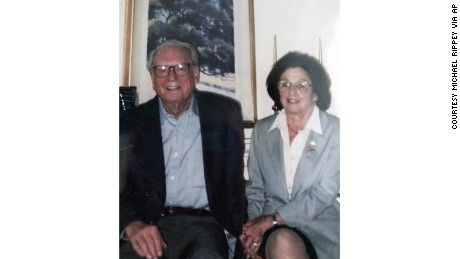 Wildfires kill couple married for 75 years and leave 250-plus missingAt least 400 people are reported missing in Sonoma County alone, where a fire wiped out thousands of homes in Santa Rosa, a city of about 175,000 people. Deputies are having to wait for houses to cool before they can enter to look for the missing, said Giordano, the county sheriff. The Sonoma County Sheriff's Office identified 10 victims Thursday, and most of them were over the age of 70. The youngest was 57 and the eldest was 95.In Sonoma, Napa and Mendocino counties, which have been hardest hit by the fires, nearly 20% of the population is over the age of 65, according to census data. Pregnant woman flees on bikeEvacuees who escaped the oncoming flames described harrowing ordeals. Charity Ruiz, who is pregnant, had been in a car with her family trying to evacuate from their Santa Rosa neighborhood, but got stuck in a traffic jam."Honestly, I've never in my life felt like I was going to die like that moment," Ruiz told CNN affiliate KPIX. "Not just me, but my girls and unborn baby."Unable to wait any longer, Ruiz walked back and got her bike from her house and rode out of the neighborhood with her two girls in the toddler trailer. "I can ride a bike, but I'm pregnant so it was hard," she told the station. Ruiz had been scheduled to deliver her baby next week. She and her kids made it out of harm's way, but their home burned to the ground. Peanut's creator's home lost to wildfireThe fires have been fast and ruthless, shifting without much notice and destroying at least 3,500 structures.One of them is the Santa Rosa home of Charles Schulz, the creator of the comic strip "Peanuts." Schulz had died in 2000 in his Santa Rosa home. His widow, Jean, 78, evacuated from the home Monday shortly before the flames reduced it to rubble, his son Monte Schulz said. The fire destroyed precious reminders of the life his stepmother and his late father had built together, along with memorabilia, Schulz told CNN. Exhausted firefighters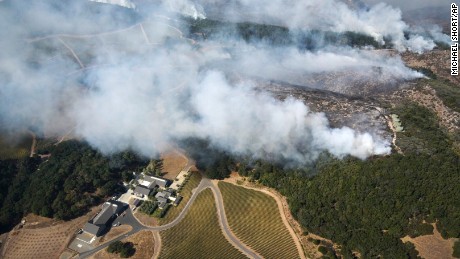 How did Northern California fires become so devastating? Sleep-deprived firefighters are working to contain the wildfires, even as some of their own homes have been hit. Many firefighters have been working for days with little rest — but supervisors are trying to pull them off duty to get rest as firefighters from out of state arrive."We are finding people on the line that have just been going to work and staying out there for day after day after day," Napa County Fire Chief Barry Biermann said Thursday. "We're identifying them. We're getting them in as soon as we can to get rest, especially now that we have more reinforcements coming."
Source Link:
http://www.cnn.com/2017/10/13/us/california-fires-updates/index.html
[-0.611002]
Comments
comments