(CNN)
Does anyone else listen to relaxing music playlists while they work? I've been really into them lately — the ones with chirping birds and gentle rain sounds, the whole shebang. It feels like you're at a spa, or in a very bucolic Hallmark movie surveying a sun-drenched glen as you wait for your lover to appear. One time I was so intensely focused my husband had to gently point out that my soft, dreamy five-hour music compilation was in fact one two-minute melody on a loop! Two hours in, and I hadn't noticed. Maybe there is such a thing as TOO relaxing. Our favorites this week Get going with some of our most popular good news stories of the week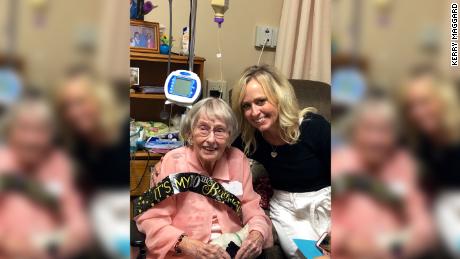 An epic Uber drive A 400-mile Uber drive sounds like a nightmare, for both a passenger and a driver. But there was no other choice for two sisters stuck at the Minneapolis airport who were trying to get to their aunt's 100th birthday party in Edgerton, Minnesota … 200 miles away. Their flight had been canceled, so in a desperate last move, they called an Uber and hoped someone would be up to the task. Sure enough, a man arrived a few minutes later and agreed to the unexpected trek (and his name was Jesus, you can't make this stuff up). "I feel that they need to be attending the birthday and I enjoy driving, so yeah, it worked out well," the driver told CNN. "It's an important occasion, and if I was in their place, I would appreciate very much someone bringing me there when there was no other way." Sisters Kerry Maggard and Deb Eggers said the driver was "so sweet" and the ride was really pleasant. The party was over by the time they arrived, but their family knew what was up, so everyone waited for them to make their grand entrance and enjoy some time together with their aunt.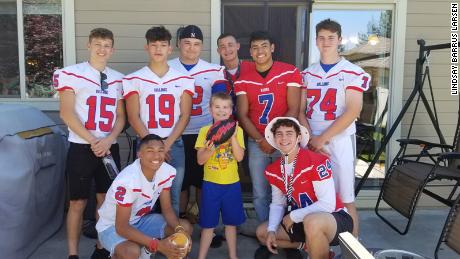 Read MoreA party for champions All Christian Larsen wanted was a ninth birthday party so he could invite all his friends. (Isn't that what every 9-year-old wants?) But sadly, only one person out of the entire guest list RSVPed. Christian has autism, and his mom Lindsay says the kids at his school in Meridian, Idaho, don't really interact with him or don't know how. After she posted about her heartbreaking situation on Facebook, a friend made a few phone calls and eventually reached the coach of a nearby high school football team, the Nampa High School Bulldogs. The coach and the players immediately agreed: It was time for a little birthday magic. Coach Dan Holtry and his team showed up to Christian's birthday party chanting his name and making him feel like a star. They sang songs and played with the other few children who attended. Christian's mom said her son talked about it for days and called it the "best birthday ever."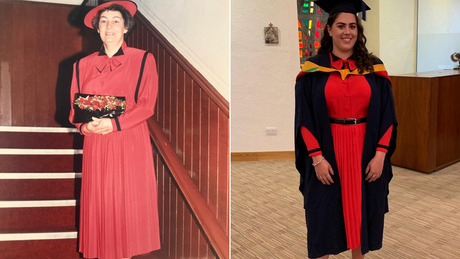 A beloved dress Jade Stephenson had always loved her grandmother's wedding dress, so when she learned the 80-year-old couldn't travel to attend her graduation from Liverpool Hope University in Liverpool, England, she decided to pay a very fitting tribute. Under her cap and gown, she sported the smart red frock much to her grandmother's delight. For Stephenson, it was more than just some vintage fashion choice: It was to honor two beloved people in her life. "I originally tried the dress on a few years ago, so I knew what it looked like on and her face then lit up," she told CNN. "So I knew that asking her if I could wear it for graduation would make her smile. Also, my grandad died in 2009 and to me, it felt like part of him was there with me on such a special day." It feels like every family has a story like this somewhere in their history, and they're all just so cool to hear. Raise a glass to…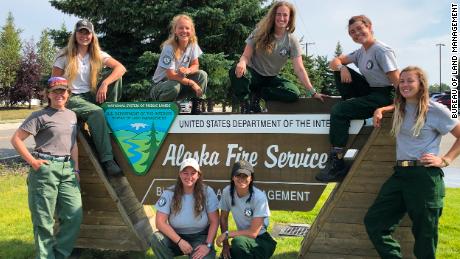 The Bureau of Land Management's Women's Fire Crew, who shipped off to Alaska this week to battle some of the more than 200 wildfires burning there. The year-long program, founded in 2016, is a collaboration between the BLM in Wyoming and the Montana Conservation Corps. Most of the amazing women who make the program have conservation experience or some other relevant training but come out the other end as serious wildfire experts who often land wildfire-related jobs. More of this, please. A bright idea
Guests at the Mountain Horse Farm can cuddle a cow for $75 an hourApparently "cow cuddling" is a popular stress-relief trend in Europe. Why are Americans just learning about this now?! Suzanne Vullers and her husband have just added a "cow cuddling" experience to their bed-and-breakfast in upstate New York after Vullers took a trip back to her native Netherlands and saw cow cuddling firsthand. Cute animals, peaceful cuddling and a beautiful setting? How quickly can we make this happen? "I think animals can teach you something that along the way we have forgotten," Vullers says. "We have created a world which is absolutely amazing in many ways but also disconnects us a little bit from the outside world and I think animals have a way of reminding us of that and connecting to the outside world."You gotta see this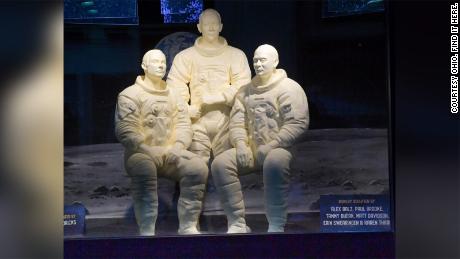 It's state fair season, and you know what that means: BUTTER SCULPTURES. Feast your eyes (but not your mouth) on this incredible sculpture at the Ohio State Fair that honors the Apollo 11 astronauts who landed on the moon 50 years ago. Imagine being so talented you can turn butter into life-sized space legends. Alexander Balz, one of the artists, said the hardest parts to sculpt were the spacesuits. Heroes among us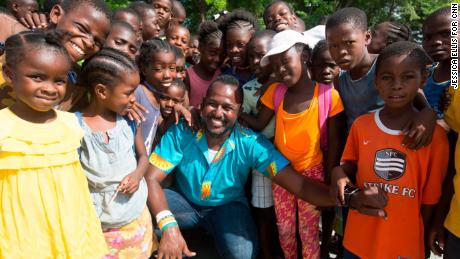 A boxing coach who's helping students stay on the right path. A 'cat guy' who catches and releases stray cats so they can be spayed and neutered. A woman who makes sure abuse survivors can keep their pets by their sides. These are just some of the incredible Heroes CNN is honoring this year. Do you know a hero? Nominate them to be a 2019 CNN Hero! Nominations close this Wednesday, July 31st, so get cracking. You can find the nomination form here. Wanna get away?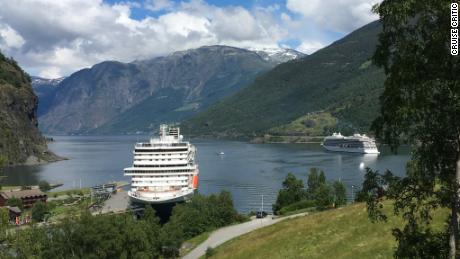 This gorgeous mountainscape is Flam, Norway, rated one of the best cruise ports in the world and the top-rated port in the Baltic and Scandinavia region. Travel experts say the colorful beauty of Scandinavia has gotten a big tourism boost in the last few years, possibly because of the popularity of "Frozen" and the picture-perfect aura of the northern lights. I'm going to be there next week, so I'm a little biased. If you've been to Stockholm, Flam or Copenhagen, hit me up with some travel tips! Hear, hear! "It's the strangest thing that the time that could be the most stressful, I am feeling the most joy. I think it's because I've learned more than ever that there are people that support me, that love me."- Actress Selma Blair, who talked to "People" magazine this week about her life with multiple sclerosis. She says some of her famous friends have done things like start a meal train to make sure Blair and her 8-year-old son have good things to eat during challenging times. Tell us something good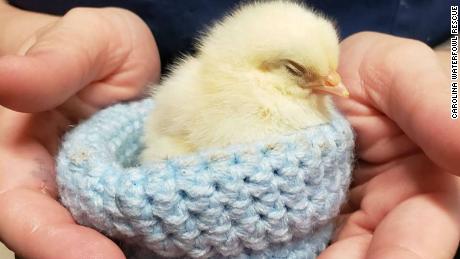 Tokyo, JapanBack in May, we told you The Carolina Waterfowl Rescue was asking folks to donate knitted bird nests. A Japanese knitting group sent a huge bunch of beautifully-crafted nests, and they were such a hit, the head of the group came to North Carolina to visit! Yuto Hayamizu is a computer researcher at the University of Tokyo, and he started knitting seven months ago. "I wanted to understand what is actually going on in their place. It was a bit difficult to imagine how actually bird nests were used," Hayamizu told me about his visit. "Another purpose was help baby bird feeding volunteers. So, last week I fed baby birds for six hours a day. That made me to understand their activity and usage of bird nests very well." He says more than 40 people have gotten together at his meetups in Tokyo just to knit bird nests. Thank you to Yuto Hayamizu for sharing this story.Shameless animal video There's always time for cute animal videos. That time is now. Every cat owner knows the struggle of trying to make a bed while your cat is in FULL ATTACK MODE. The linens, they must go! Now imagine having eight cats battling the sheet monster at the same time. Frustrating for you, but adorable for everyone else. (Click here to view)
Source Link:
https://www.cnn.com/2019/07/27/us/the-good-stuff-072719/index.html
[0.57968]
Comments
comments