(CNN)Bulgaria's national soccer team has been ordered by UEFA to play its next home game behind closed doors as punishment for the "racist behavior" of its fans during a Euro 2020 qualifier against England.
The Bulgarian Football Union has also been fined $94,000 (€85,000) for the "racist behavior of its supporters and the throwing of objects" and "causing disturbances during a national anthem." $83,000 of the fine was for the "racist behavior." The disciplinary arm of European football's governing body also ordered Bulgaria to play a second match behind closed doors. However, that punishment is suspended for a "probationary period" of two years.Bulgaria's next Euro 2020 home qualifier is against the Czech Republic on November 17.The punishment and fine follows UEFA's investigation into the behavior of some Bulgarian fans during England's 6-0 victory at the Levski Stadium in Sofia on October 14.Read MoreThe game was twice temporarily halted in the first half after England debutant Tyrone Mings alerted officials to the abuse being directed at both himself and his fellow black teammates from various parts of ground.As well as the monkey chanting, some Bulgarian fans made Nazi salutes during the Euro 2020 qualifier.READ: All eyes on UEFA after football's night of shame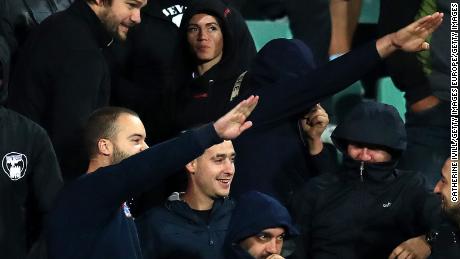 Bulgarian fans gesture during the qualifier between Bulgaria and England.The Bulgarian Football Union was also ordered to display banners with the wording "NO TO RACISM" by UEFA's disciplinary arm.England were also fined €5,000 ($5,500) for "causing a disturbance during a national anthem."After the match, Bulgaria's coach Krasimir Balakov resigned, as did the Bulgarian Football Union's executive committee.The president of Bulgaria's football association Borislav Mihaylov stepped down following the game after pressure from the country's Prime Minister Boyko Borissov.Authorities in Bulgaria have so far identified 16 suspects and made 12 arrests after the England game.
'We feel Uefa's entire disciplinary process in response to racial discrimination should be overhauled.'Our statement in response to Uefa's ruling on the racist abuse directed at England players. #KickItOut pic.twitter.com/HvazZ8xjs4
— Kick It Out (@kickitout) October 29, 2019 In the game's aftermath, world governing body FIFA also asked UEFA to notify it of any punishment potentially handed down to the BFU."This would allow any sanctions imposed to be extended worldwide," said a FIFA statement.The English Football Association stressed their commitment to stamping out racism in football in coordination with UEFA and other governing bodies."Our priority remains our players, support team and fans and we will do all we can to ensure they never have to endure such circumstances again," said the FA statement. "While we acknowledge UEFA's ruling today, a huge challenge still exists around racism and discrimination in society. Football has its part to play, and must do so, but it is for all to recognize the seriousness of the problem."While those responsible for such deplorable behavior at home or abroad need to be held to account, we should not lose sight of the importance of education programs in finding a long-term solution."That has to be the way forward to help address the root cause of such disgusting behavior."All parties involved — the Bulgarian Football Union (BFU), the FA and UEFA, have the right to appeal against the decision.The game against England was already being played in a partially-closed stadium after UEFA imposed penalties on Bulgaria after it had been found guilty of racist behavior in matches against the Czech Republic and Kosovo in June.UEFA's decision on Tuesday comes on the heels of the Serbia national team's punishment for the "racist behavior" of its supporters during it's 4-2 defeat by Portugal in September. It was ordered to play its next home game behind closed doors.Visit CNN.com/sport for more news, features, and videos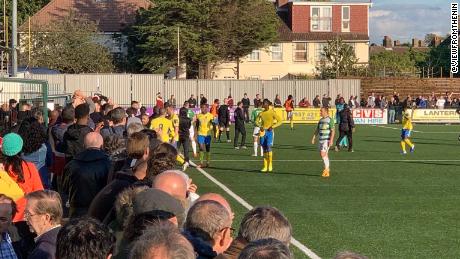 Haringey players congregate during a stoppage in the game vs. Yeovil. It also comes on the same day as an English FA Cup match between Haringey Borough and Yeovil Town is being replayed after the first game was abandoned in the 64th minute following racist abuse directed at Haringey's players from fans. Haringey's goalkeeper, Valery Douglas Pajetat, was reportedly spat at and hit by an object thrown from the Yeovil Town end.Haringey manager, Tom Loizou, made the decision to withdraw his team following the abuse. Two men were arrested by police on suspicion of racially aggravated common assault.Loizou called for those found guilty to be "banned for life."
Source Link:
https://www.cnn.com/2019/10/29/football/bulgaria-racism-football-uefa-spt-intl/index.html
[-0.535404]
Comments
comments