New York (CNN Business)"Lordy, what a day."
That's how Stephen Colbert began Tuesday night's "The Late Show" following a wild day of news in Washington. The CBS host used his opening monologue to react to the big story of the day, and arguably one of the biggest stories in a long time: House Speaker Nancy Pelosi announcing a formal impeachment inquiry into President Donald Trump."You really feel the ground shifting under your feet," Colbert said. "But if you're home, you've got a seatbelt on your couch. No. 1, why? No. 2, buckle up."The CBS host then listed off many of Trump's notable scandals over the last two years from Russia, to campaign violations, to "faking the weather with a sharpie." Colbert said that every time, people would ask, "is this the thing?"Read More"And every time, it wasn't the thing," Colbert added. "But here's the thing, there's a new thing and it might be the thing."Colbert was referring to reports that Trump pressured the Ukrainian president in an effort to weaken his political rival, Joe Biden.Colbert then showed a clip of Pelosi announcing the impeachment inquiry, which led to a long and loud standing ovation from his audience. Following the reaction, Colbert had only one question for his audience."Okay… but how do you feel?" Colbert joked.
TONIGHT: Is this the thing?! #LSSC pic.twitter.com/WfIfZZoOkt
— The Late Show (@colbertlateshow) September 25, 2019 Colbert then said that the country finally has a check on the president."Up until now, we've only had a check from the president to a porn star," he said.Colbert wasn't the only late night host to talk impeachment on Tuesday night. On ABC, Jimmy Kimmel said that Pelosi had previously been very reluctant to launch an impeachment inquiry.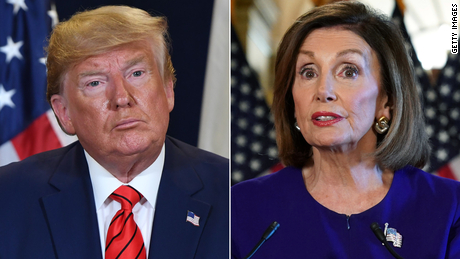 What Pelosi's impeachment move means in the legal fight over Trump's records"Once again, Donald Trump is doing what he does best — forcing a woman to do something she didn't want to do," Kimmel quipped.Kimmel added that many members of the House now back "some type of impeachment.""I didn't know there were types of impeachment," Kimmel said. "Like, is there diet impeachment?"Kimmel also noted that Trump would be the third president to face impeachment proceedings."And he is already promising that if he does it will be the biggest and most beautiful impeachment in history," Kimmel joked.Then there was Trevor Noah on Comedy Central's "The Daily Show," who said that the president of the United States is once again in big trouble."After two years of avoiding it, Trump may finally face articles of impeachment, which believe me he is not happy about," Noah said. "It's impeachment which Trump hates, plus articles which he hates even more."
Source Link:
https://www.cnn.com/2019/09/25/media/stephen-colbert-jimmy-kimmel-trevor-noah-late-night-impeachment/index.html
[-0.450057]
Comments
comments